Invigorating Showers: Your Guide to the Best Natural Body Washes
Unleashing the Power of Nature, Right in Your Shower
Posted on June 11, 2023
Written by: 100% PURE®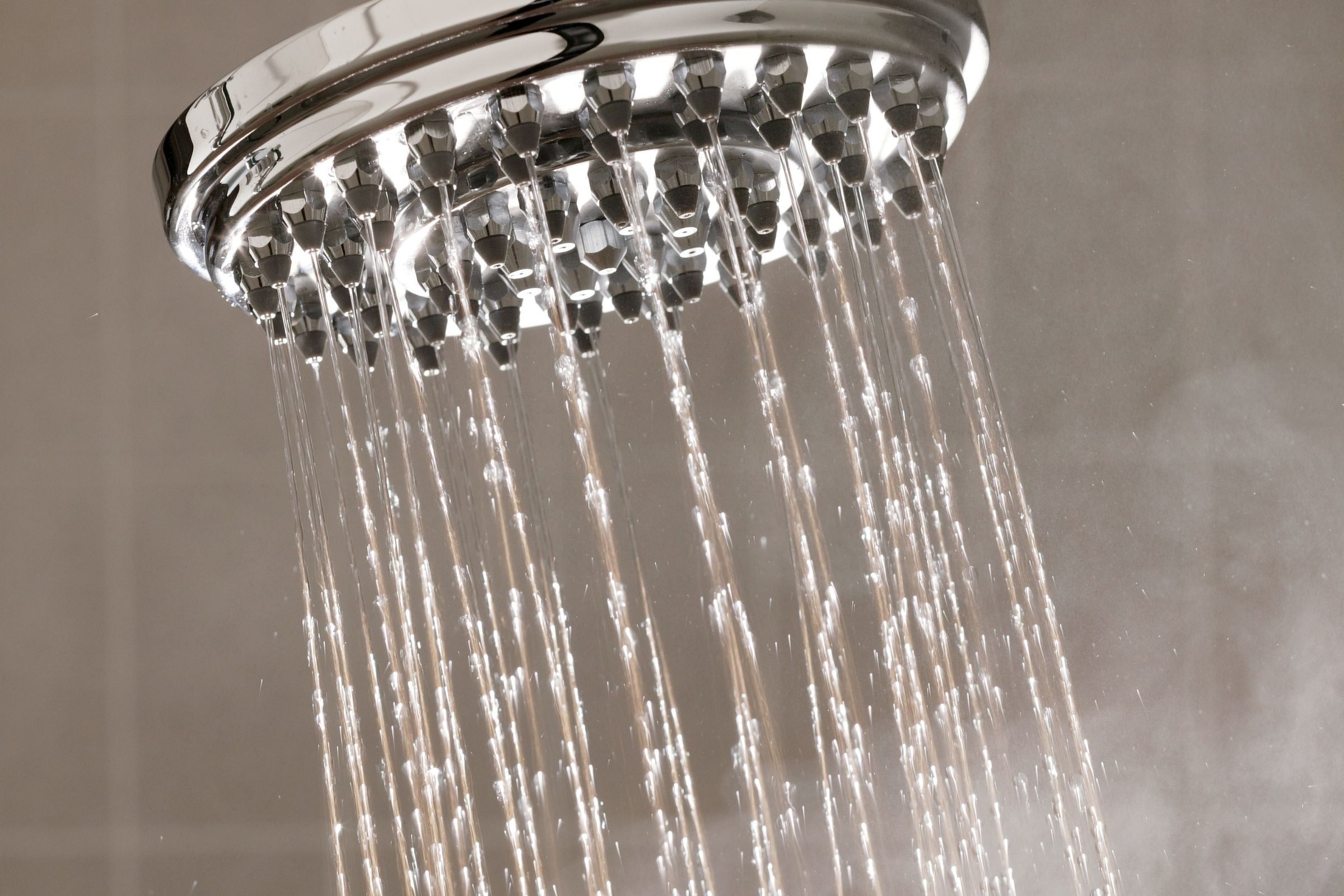 Are you ready for a shower experience that brings out the best in your body? Natural body washes offer an abundance of healing, nourishing, and revitalizing ingredients to help keep you feeling healthy all over.
If you're looking to make a switch from conventional products, this guide is sure to inspire you with the perfect natural body wash. With its diverse selection of botanical extracts and oils, plus toxin-free formulas, it will help transform your regular bathroom routine into one full of life! Without further ado, let us show you how beneficial these luxurious yet affordable products can be for both your skin and overall health.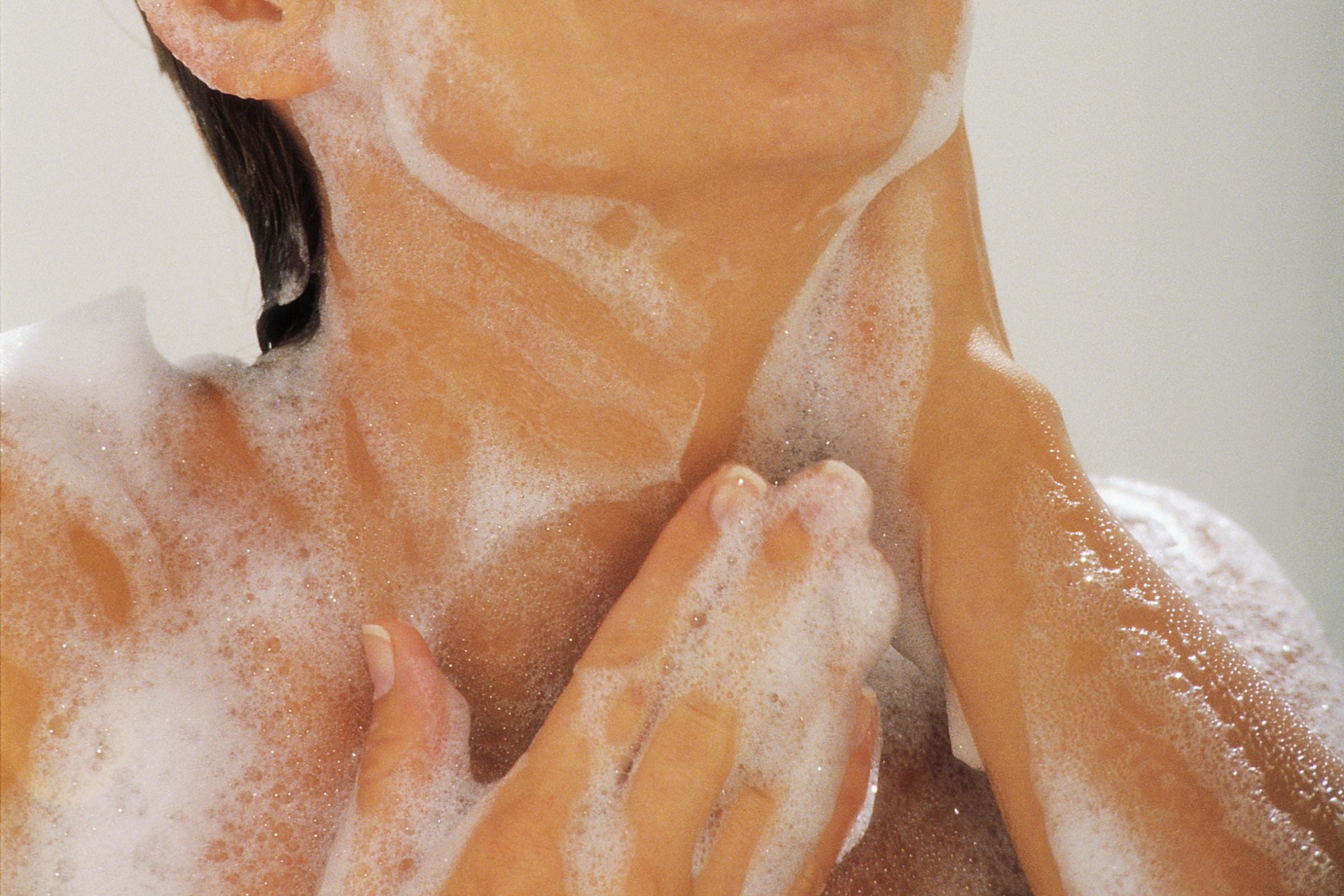 Why Choose Natural Body Washes?
When it comes to personal care products, including body washes, there has been a growing trend toward choosing natural options. Natural body washes offer a host of benefits that make them a preferred choice for many individuals. In this section, we will explore the reasons why choosing natural body washes is good for your body, your soul, and the planet.
Harmful Ingredients in Conventional Body Washes
Conventional body washes often contain a variety of harmful ingredients that can have negative effects on our health and the environment. These ingredients include sulfates, parabens, synthetic fragrances, and artificial colors. Sulfates, such as sodium lauryl sulfate (SLS) and sodium laureth sulfate (SLES), are commonly used as foaming agents but can strip the skin of its natural oils, leading to dryness and irritation. Parabens, a type of preservative, have been linked to hormone disruption and potential health risks. Synthetic fragrances and artificial colors may contain chemicals that can cause allergies and skin sensitivities.
Natural Body Washes Are Gentle and Nourishing for the Skin
One of the key advantages of using natural body washes is that they are gentle and nourishing for the skin. Natural body washes are formulated with plant-based ingredients that are known for their soothing and moisturizing properties. These ingredients, such as aloe vera, chamomile, and coconut oil, help to hydrate and protect the skin without causing dryness or irritation. Additionally, natural body washes are often free from harsh chemicals, making them suitable for individuals with sensitive skin.
Natural Body Washes Are Environmentally Friendly and Cruelty-Free
Natural body washes are not only beneficial for our skin but also for the environment. Many conventional body washes contain chemicals harmful to aquatic life and contribute to water pollution when washed down the drain. In contrast, natural body washes are typically made with biodegradable ingredients that are less harmful to ecosystems. Moreover, reputable natural body care brands often prioritize sustainability and ethical practices, ensuring that their products are cruelty-free and not tested on animals.
Ingredients that Promote Overall Wellness
Natural body washes are often enriched with a wide range of natural ingredients that promote overall wellness. These may include botanical extracts, essential oils, and vitamins that offer various benefits for the skin. For instance, ingredients like lavender oil and chamomile extract can have calming effects on the skin and senses, while tea tree oil has antibacterial properties that can help maintain skin health. Natural body washes allow you to indulge in the goodness of nature and experience the therapeutic effects of these plant-based ingredients.
By choosing natural body washes, you can take a proactive approach to care for your skin and overall well-being. These products are designed to be gentle, nourishing, and free from harmful chemicals, making them a safer and healthier option. Additionally, opting for natural body washes supports eco-friendly practices and encourages the use of sustainable ingredients. So, next time you reach for a body wash, consider making the switch to a natural option that will benefit both you and the planet.
Key Ingredients to Look for in Natural Body Washes
When it comes to choosing a body wash, opting for natural and chemical-free products can be beneficial for both your skin and the environment. Natural body washes often utilize ingredients derived from plants and essential oils to provide nourishment, hydration, and a refreshing cleansing experience. Here are some key ingredients to look for in natural body washes:
Moisturizing Oils
1. Coconut Oil: Known for its excellent moisturizing properties, coconut oil helps to hydrate and replenish the skin. It contains fatty acids that form a protective barrier on the skin's surface, preventing moisture loss and leaving the skin feeling soft and supple.
2. Almond Oil: Almond oil is rich in vitamin E, antioxidants, and fatty acids, making it a fantastic choice for moisturizing and soothing the skin. It can help alleviate dryness, improve skin texture, and promote a healthy glow.
3. Argan Oil: Derived from the kernels of the argan tree, argan oil is packed with essential fatty acids, vitamins, and antioxidants. It has exceptional moisturizing and nourishing properties, helping to restore and revitalize the skin. Argan oil is particularly beneficial for dry and damaged skin, as it absorbs quickly without leaving a greasy residue.
Newsletter
Subscribe
for more blog updates and exclusive discounts
Refreshing Essential Oils
1. Lavender: Lavender essential oil is widely known for its calming and soothing effects. It has a gentle aroma that can promote relaxation and reduce stress. In body washes, lavender oil can provide a refreshing and aromatic experience, leaving you feeling rejuvenated and balanced.
2. Citrus (Lemon, Orange, Grapefruit): Citrus essential oils, such as lemon, orange, and grapefruit, offer refreshing and uplifting scents. They provide a burst of freshness and help awaken the senses. These oils also have natural antibacterial properties and can provide a clean and refreshed feeling.
3. Eucalyptus: Eucalyptus essential oil has a cooling and invigorating effect on the skin. It is often used in body washes for its refreshing aroma and its ability to promote a sense of clarity and revitalization. Eucalyptus oil can also help soothe tired muscles and ease respiratory congestion.
By choosing body washes that contain these natural ingredients, you can enhance your shower experience while nourishing and caring for your skin. Remember to check the ingredient list carefully and opt for products that are free from harsh chemicals, sulfates, and artificial fragrances. Embrace the power of nature's offerings and enjoy a luxurious and refreshing body cleansing routine.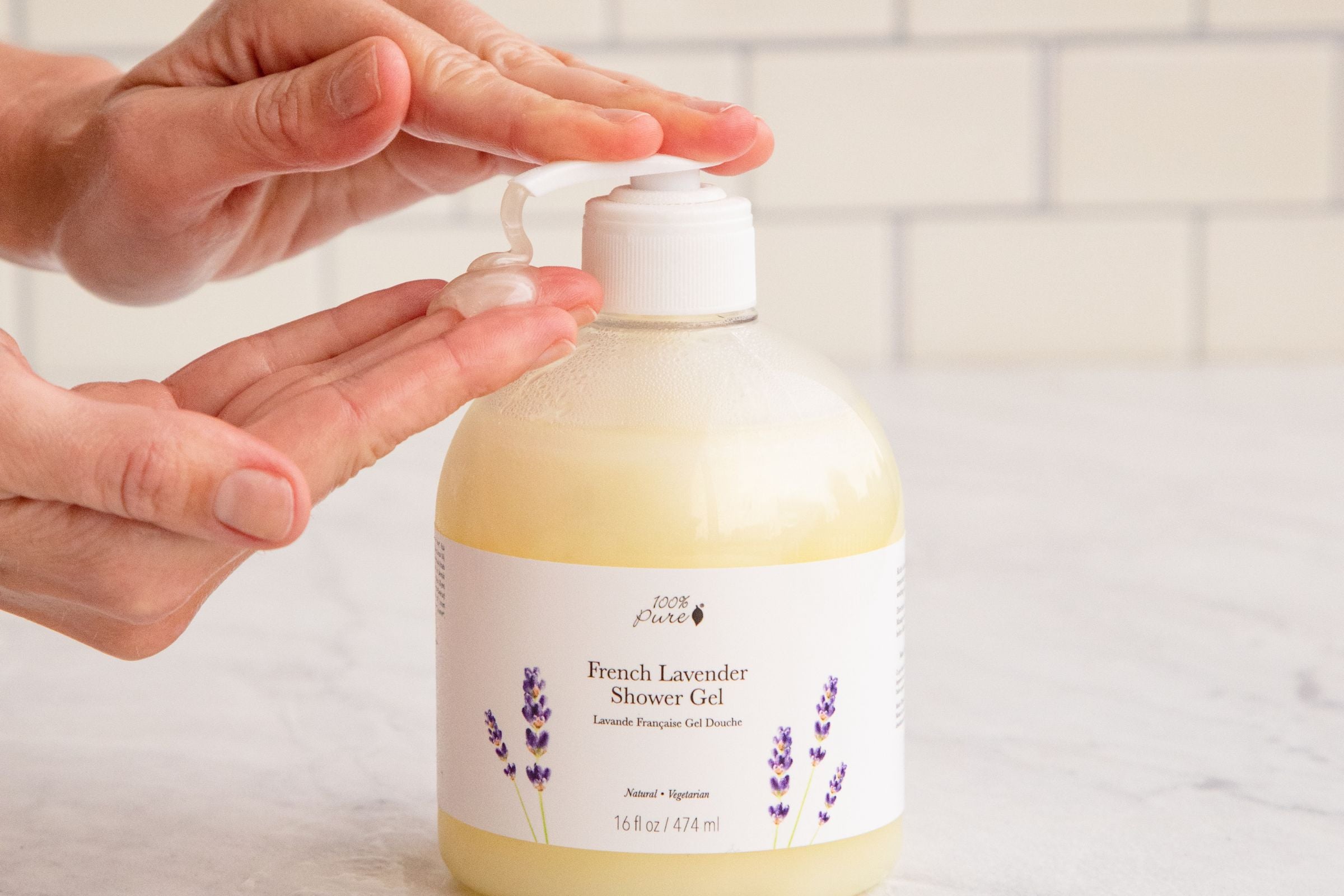 Top 100% PURE Natural Body Washes
If you're planning to switch to natural body washes, you're on the right track to healthier skin. At 100% Pure, our range of natural body washes is not only gentle on your skin but also enriching. Infused with potent fruit extracts, nourishing vitamins, and gentle cleansing agents, our body washes are free from harsh chemicals and synthetic fragrances. Experience the rejuvenation and softening power of aloe vera, the clarifying benefits of tea tree oil, or the purifying effectiveness of charcoal. Why settle for chemical-laden body washes when nature has everything your skin needs? Treat your skin to the best and enjoy the wholesome goodness of our natural body washes.
French Lavender Shower Gel
Cleanse and hydrate your skin with our richly foaming shower gel! Infused with aloe and rose hydrosol, it effectively washes away dirt, oil, and impurities while quenching your skin's thirst. Our sulfate-free formula boasts a gentle coconut oil surfactant that maintains the skin's delicate lipid barrier. Infusions of red algae and green tea lock in essential moisture and gently tone the skin, leaving you with a revitalized and nourished feeling. Plus, enjoy the soothing scent of lavender for a calming shower experience.
Eucalyptus Shower Gel
Indulge in a luxurious shower experience with our foaming shower gel that effectively cleanses dirt, oil, and impurities while quenching thirsty skin with aloe and rose hydrosol. Our formula infused with red algae and green tea provides valuable moisture to the skin and lends a gentle toning effect. Using only gentle coconut oil surfactants, we've created a sulfate-free eucalyptus body soap that won't disrupt your skin's delicate lipid barrier. Enjoy the revitalizing scent of peppermint and eucalyptus as you nourish and cleanse your skin.
Coconut Shower Gel
Experience the ultimate cleansing and hydrating with our Coconut Shower Gel. Its richly foaming formula effectively removes dirt, oil, and impurities while replenishing thirsty skin with aloe and rose hydrosol. Infused with red algae and green tea, it helps to preserve moisture and gently tone your skin. Free from harsh detergents, our sulfate-free body wash uses gentle coconut oil surfactants to protect your skin's delicate lipid barrier. Plus, indulge in the sweet, tropical scent of coconut every time you shower. Treat your skin with the nourishment it deserves!
Honey Almond Shower Gel
Step into a world of indulgence with our luxurious shower foam body wash. Our sulfate-free formula deep cleanses and rehydrates your thirsty skin with the healing properties of aloe and rose hydrosol. Infused with red algae and green tea, this nourishing shower gel gently tones your skin while locking in essential moisture. Gentle coconut oil surfactants maintain your skin's delicate lipid barrier. Immerse yourself in the refreshing scent of sweet, honey-glazed almonds and feel the difference in your beautiful skin.
Frequently Asked Questions about Natural Body Washes
Can natural body washes effectively cleanse the skin?
Yes, natural body washes can effectively cleanse the skin. They are typically made with plant-derived cleansers and essential oils that help remove dirt and impurities from the skin.
Are natural body washes suitable for sensitive skin?
Yes, natural body washes are often suitable for sensitive skin. They generally avoid harsh chemicals, artificial fragrances, and dyes that can irritate sensitive skin. However, if you have very sensitive skin or specific allergies, it's important to check the ingredients and potentially test the product on a small area of the skin first.
Do natural body washes produce enough lather?
Whether a natural body wash produces a lot of lather can depend on the specific product and ingredients. Some natural ingredients can produce a satisfying lather, while others may not lather as much but still effectively cleanse.
Are natural body washes safe for the environment?
Yes, natural body washes are typically more environmentally friendly than their synthetic counterparts. They often use biodegradable ingredients, and the companies that produce them are more likely to use sustainable manufacturing practices and recyclable packaging. However, it's always good to check the company's specific environmental policies.
Conclusion
Self-care does not always have to be an elaborate practice, it can be something as simple as switching out your shower routine. Using natural body washes with essential oils and moisturizing oils is just one way to give yourself a bit of TLC, while also doing what's best for your body. Natural body washes are made up of feel-good ingredients like aloe vera and shea butter, and won't leave your skin feeling dry or irritated. End to end, using natural body washes can not only perk up your mood but also provide gentle care for your skin. The next time you reach for a bottle in the shower aisle, consider exploring our range of natural body washes and treat yourself to something special. After all, there is no better time than now to make sure you prioritize self-care!
We carefully hand-select products based on strict purity standards, and only recommend products we feel meet this criteria. 100% PURE™ may earn a small commission for products purchased through affiliate links.
The information in this article is for educational use, and not intended to substitute professional medical advice, diagnosis, or treatment and should not be used as such.
Sign up to our email newsletter for more blog updates and exclusive discounts.
< Older Post | Newer Post >