Listing the top 10 contour makeup rules that could make or break your look
Posted on September 17, 2018
Written by: 100% Pure®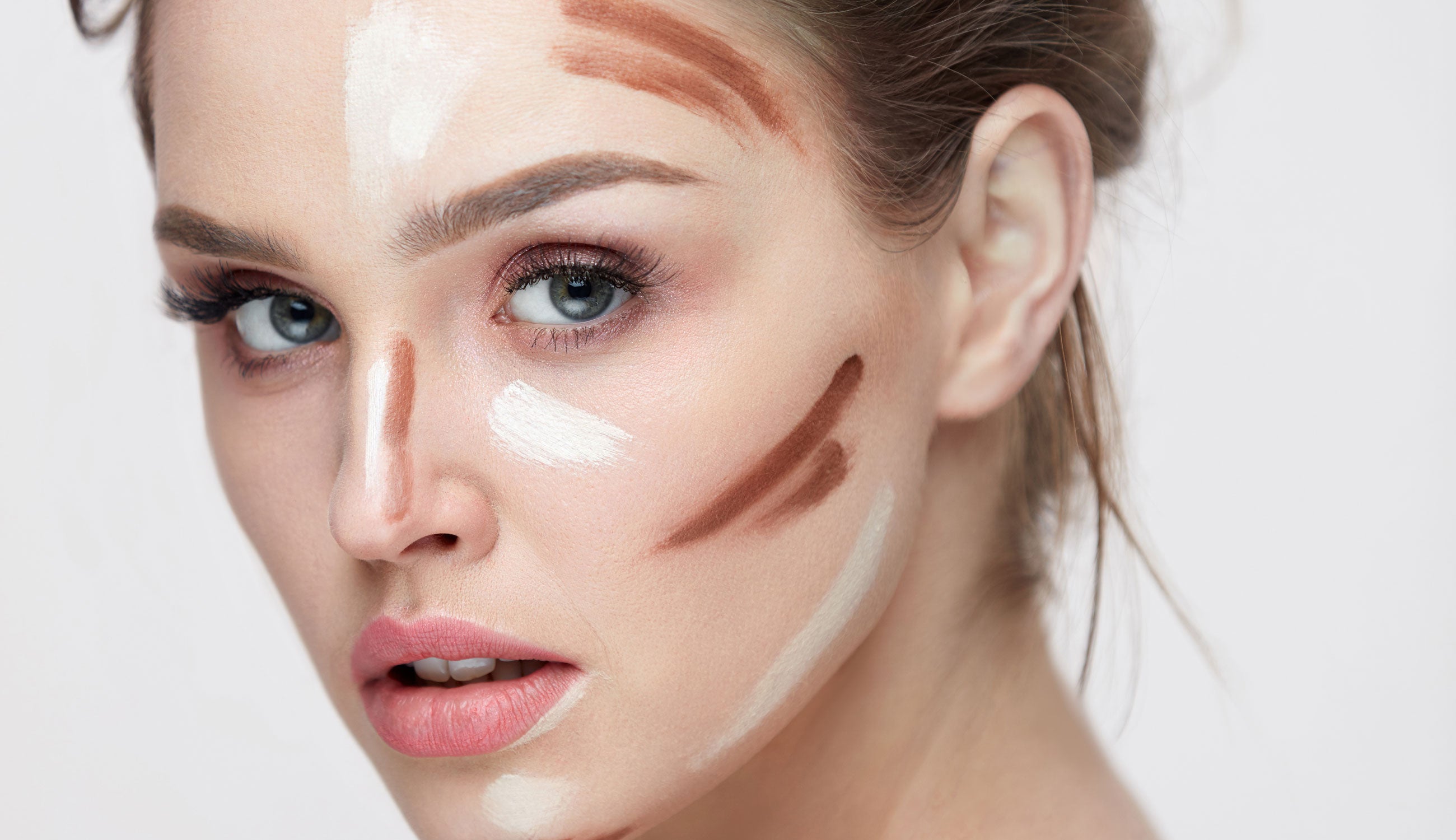 In the short amount of time since we've mastered contouring, it has quickly become the accessory we can't leave the house without. Contour is to the face what coffee is to us in the morning – it just perks everything up! Maybe contour is something you're still working up to trying, or maybe you've been wearing it for some time but are looking to brush up on the basics. Here we'll share a quick list of do's and don'ts for contour makeup, and fruit pigmented® contour makeup that can get the job done right.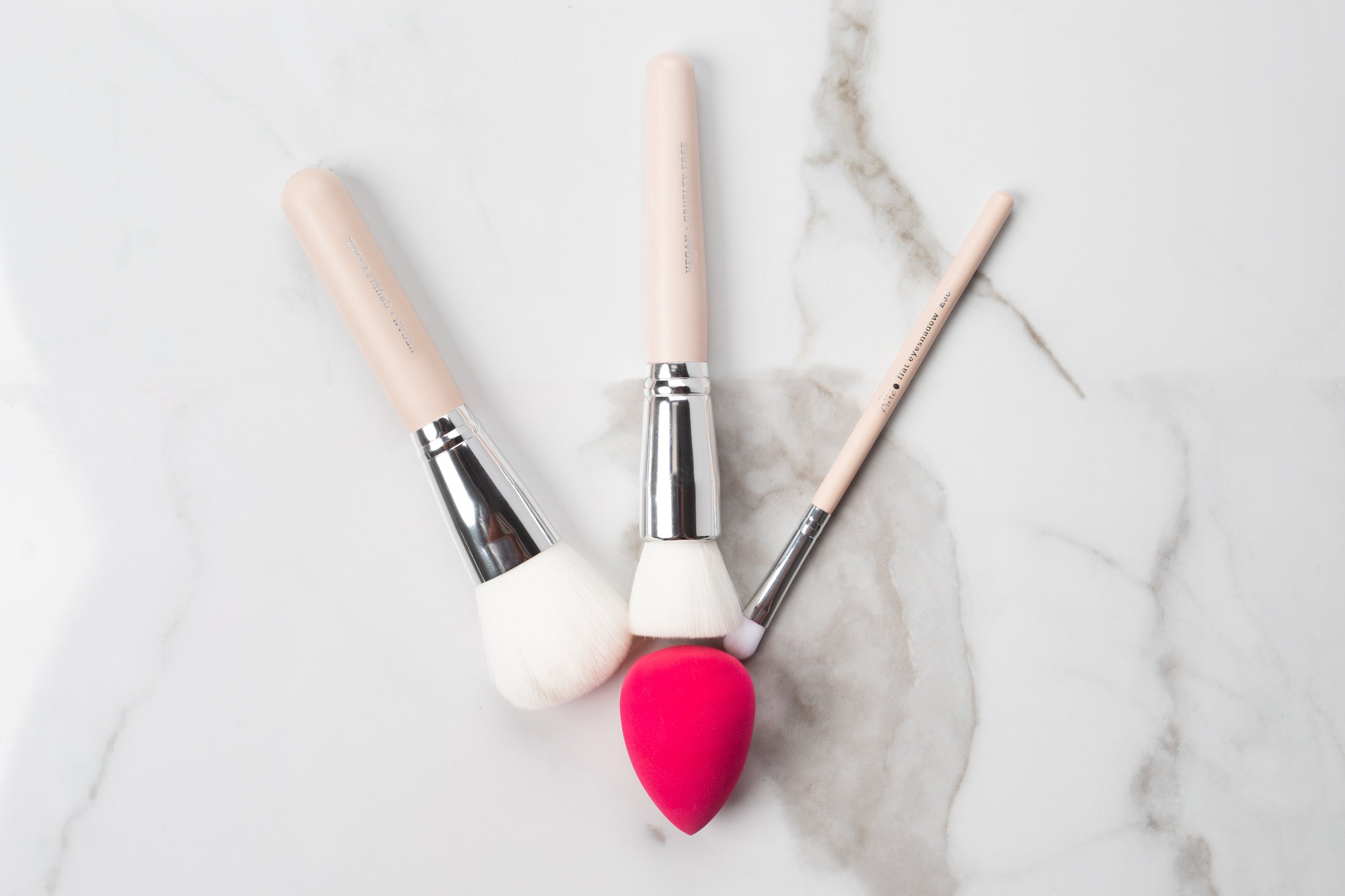 Tools of the Trade
Here are the tools you'll need to create flawless contour makeup:
Fruit Pigmented 2nd Skin Concealer
This lightweight, fruit infused concealer is the perfect creamy consistency to add a luminous highlight that contrasts our contour just right.
Non-Latex Makeup Blender Sponge
Our soft, latex-free sponge is a great tool for baking powder products onto the skin, or setting crease-prone areas like the under eyes and around the mouth
Our flat, mid-sized kabuki is perfect for applying contour. Use the rim of the brush to precisely apply contour powder, the flat top to press powder into the skin, or buff out product for that airbrushed finish. Also try our Flat Shader Brush for detail highlight work around the eyes.
Powders
We can't start the contour process without powder! First, set the foundation with a bit of Bamboo Blur Powder; this helps ensure a seamless blend. Then using your brush of choice, blend our Fruit Pigmented Powder Foundation over the top in a "3" formation. Optional: finish the look with a glaze of glow using any of our powder luminizers for a fresh, dewy look.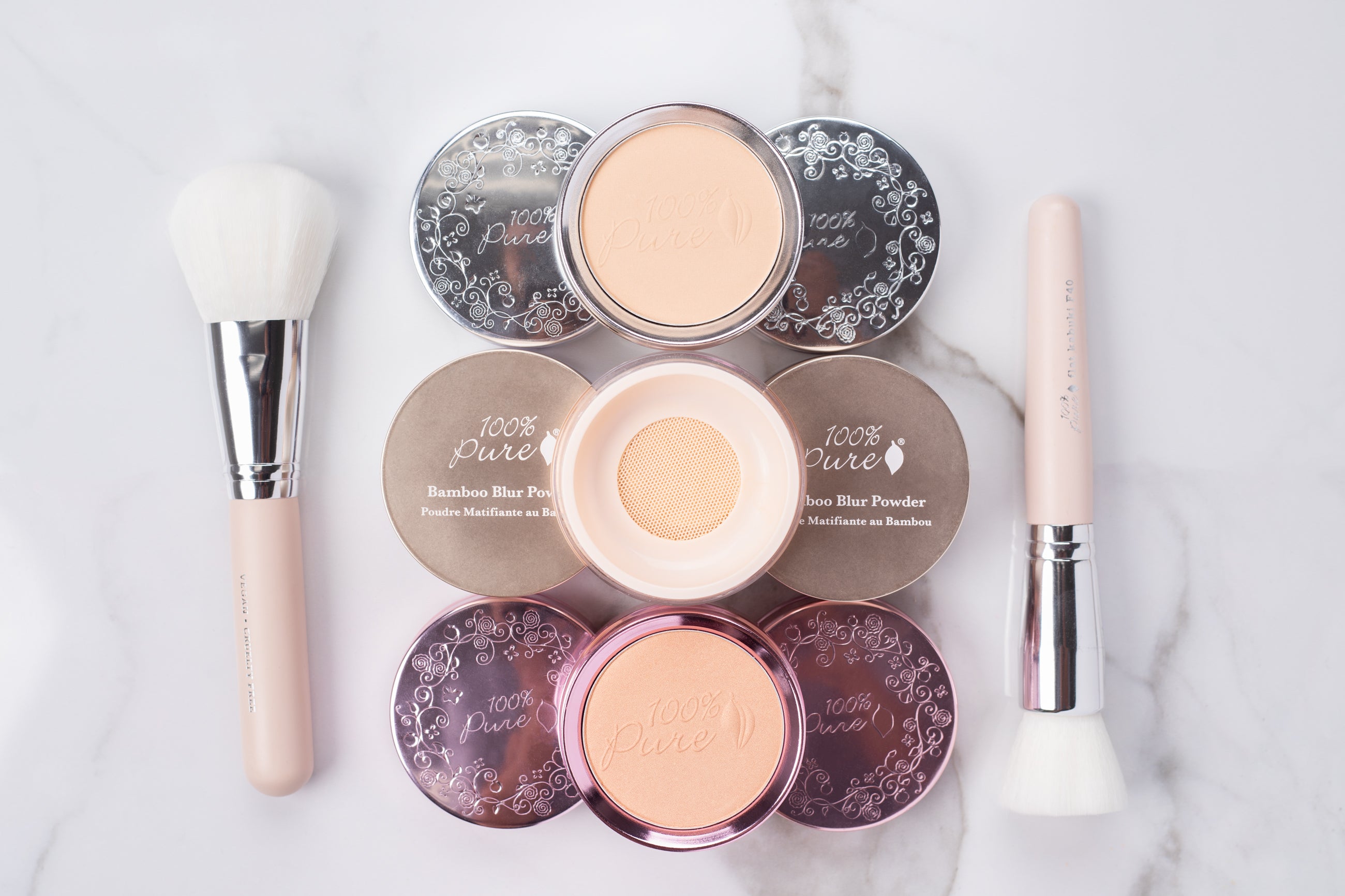 The Do's & Don'ts of Contour Makeup
Wearing contour is easy --it's achieving a spot-on application that can be tricky. We think we've done well, until we look into the mirror and see a sharp line of contour cut across our cheeks. To ensure that the application is seamless, smooth, and flattering, we make sure our skin is properly primed, that we are using the right tools, and that we slowly build up product rather than having to backtrack and sheer product down. Contouring is about working smarter, not harder!
DO: Use Matte Makeup
A contour is supposed to mimic a shadow that would naturally be cast on our face due to bone structure. To create that look, we want to use a product that does not catch the light in any way, so all matte products are a must!
DON'T: Use Shimmer Products
As we mentioned above, we want our contour to be deep and dark like a shadow. Products with any shimmer in the formula pick up and reflect light, causing that area of the face to protrude rather than recede. Shimmer products should only be used for areas we want to enhance or highlight.
DO: Blend and Bake
'Baking' isn't only for the kitchen, and 'blended' isn't only reserved for margaritas. Blending and baking are two techniques that are like peanut butter and jelly for applying contour. Baking is the process of pressing in an excess amount of powder to a certain area. This sets the area for a serious hold, but also creates clean lines and dimension. Blending on the other hand is using your skin tone, neutral colored concealer, or translucent powder to balance the contour with the rest of the makeup. Be sure to gently blend out (don't over-blend and erase your hard work) the bake and contour for a flawless application.
DON'T: Go Too Dark
It's important to be mindful of shade matching products to the skin. Everything we apply to our faces looks lighter in the pan than it actually does on the skin. It is safe to use contour products that are 1-2.5 shades darker than our base skin tone, and remember to be conscious of how it is applied. Avoid bringing the contour down too low around the hairline, along the full jawline, or too much around the chin. This can create a muddy, bearded look.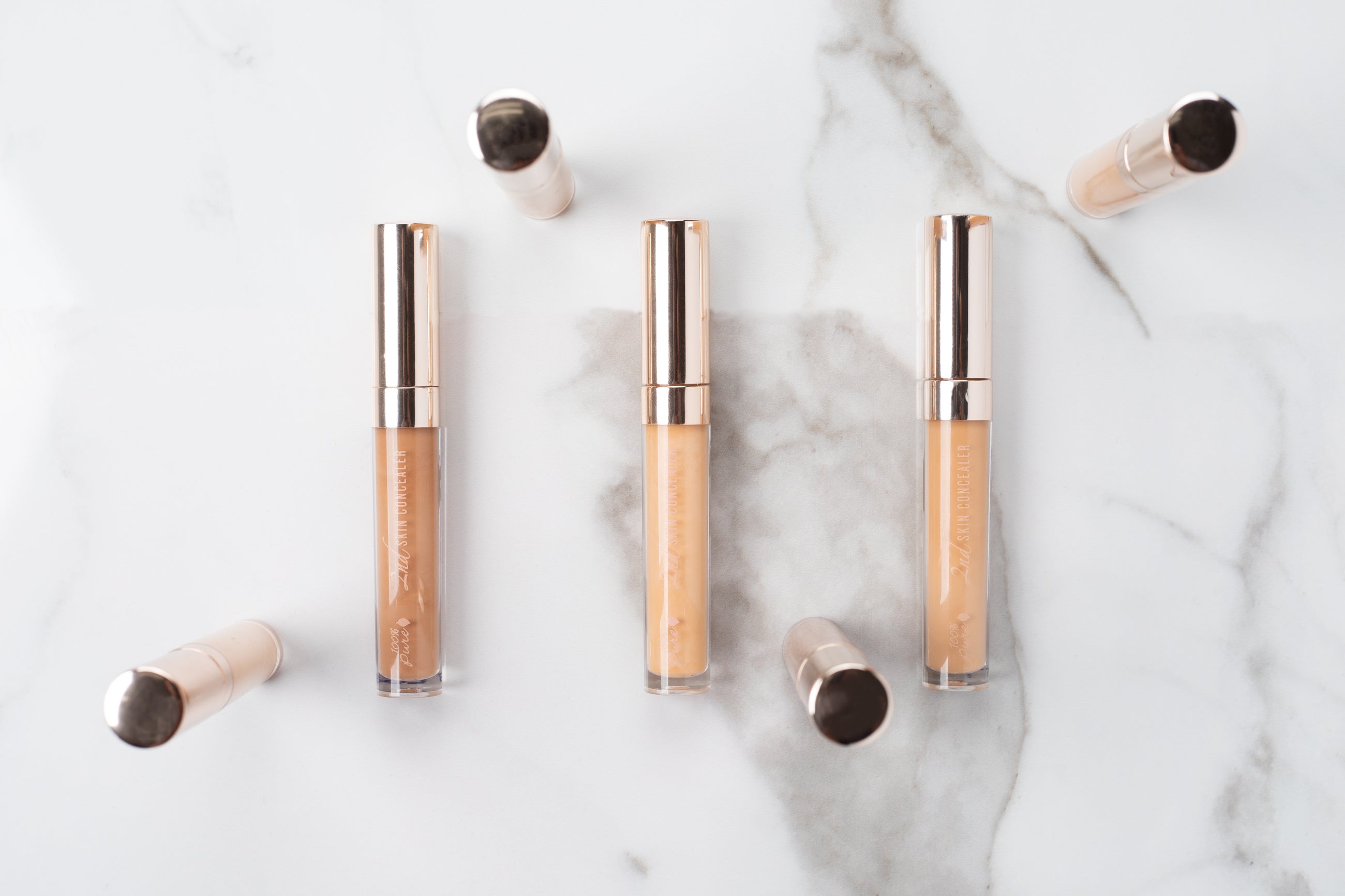 DO: Match Undertones
While our overall skin shade is very important for foundation matching, with regards to highlight and contour, tone matching is most important. Look for golden, neutral, or cool toned products that match your skin tone, in a range of lightness or depth between 1-2 shades darker or lighter.
DON'T: Skip Blending
Adding contour and highlight after our base brings dimension back to our appearance, but if we forget to blend things out we'll look stark and cartoonish like a mannequin. Blend more than you need to, rather than going for a stark, bold look. If you accidentally over-blend, go back in and re-apply only where needed.
DO: Use Natural Light
While it may be convenient to slap on some makeup in the flickering fluorescent light of your bathroom, or the dark shadowed interior of your car (guilty), natural and indirect sunlight will definitely result in the most natural-looking makeup application. Applying your makeup in bad lighting is a direct route to dreaded clown-face!
DON'T: Apply Before Foundation
There's a reason we refer to foundation as our base: because it should be applied first. When we add contour and highlight over top, the existing base tempers the shades and blends everything together in the most flattering way.
DO: Remember the Rule of 3
This rule is simple and easy. Simply imagine the number 3 along the side of your face. The top curve should be along your hairline, the center point just under the cheekbone, and the final curve around the outer jaw.
DON'T: Contour Everyday!
While it's easy to get obsessed with contouring (guilty again), don't feel the pressure to do this everyday! Contouring is great for enhancing the features and is perfectly suited for formal outings and evening makeup. But when overdone, contouring can age the face, or make you feel like you don't look like 'you' if you're not fully contoured. Skip the contour once in awhile, and it'll make you appreciate it that much more when you do apply it again.
Still hankering for more contour and highlight makeup tips? Check out the basics of contouring with bronzer, how to contour a round face, and the ultimate guide to contouring and highlighting!
We carefully hand-select products based on strict purity standards, and only recommend products we feel meet this criteria. 100% PURE™ may earn a small commission for products purchased through affiliate links.
The information in this article is for educational use, and not intended to substitute professional medical advice, diagnosis, or treatment and should not be used as such.
Sign up to our email newsletter for more blog updates and exclusive discounts.
< Older Post | Newer Post >