5 Licorice Root Benefits for Skin
How licorice root goes beyond the candy aisle to serve gentle brightening benefits to skin
Posted on November 6, 2022
Written by: 100% PURE ®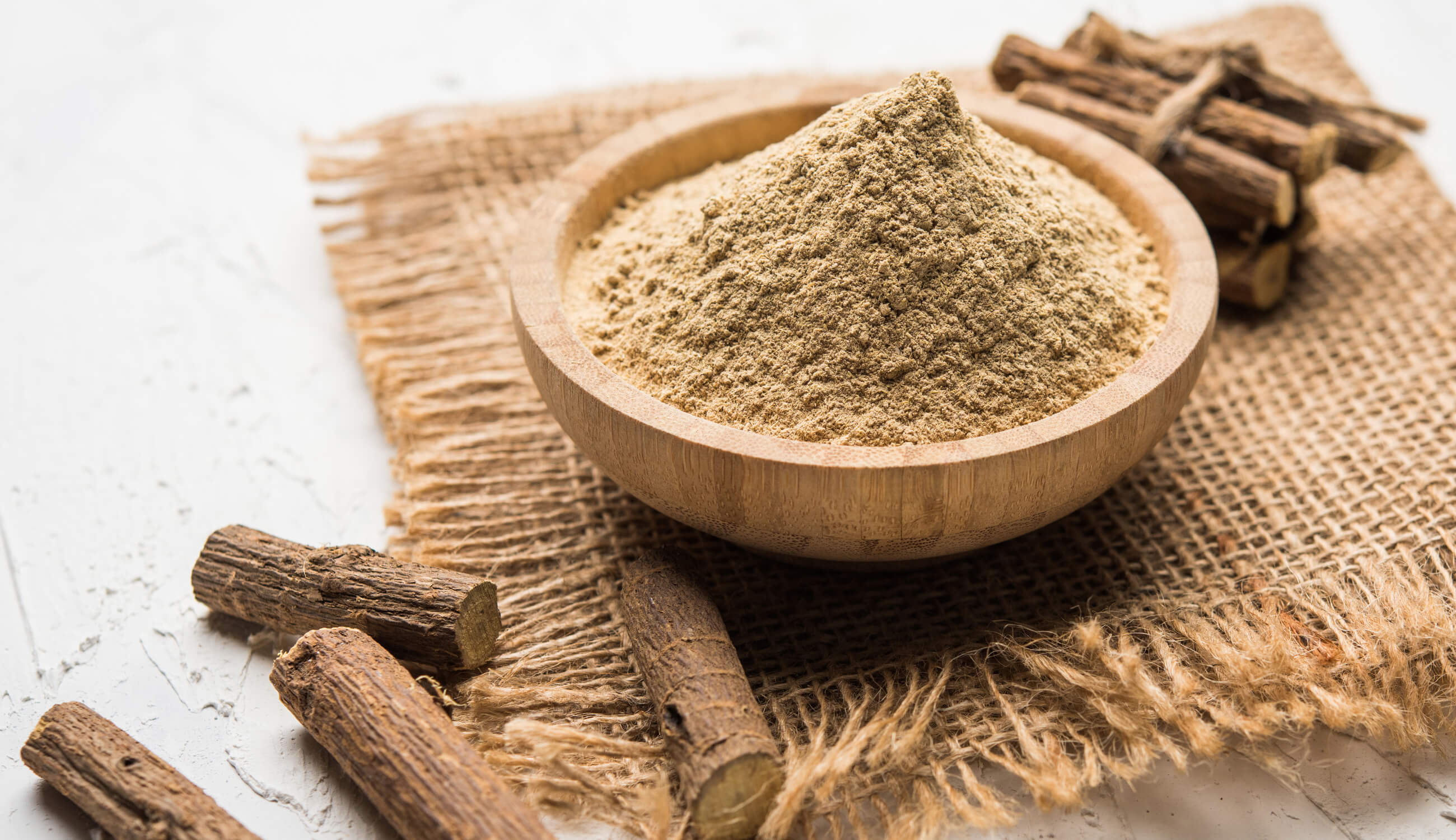 Most will know licorice as the pungent candy that they loved (or hated) as kids. Around the world, it's also used a sweetener and medicinal treatment. In its original form, it's a fuzzy and leafy plant with a large root system; in its dried and trimmed form, it looks like little more than a simple stick.
Around here, we savor licorice for its skin brightening and soothing benefits for dull, lackluster skin. You might've seen licorice root extract on a few of our ingredient lists – while you might enjoy the pungent herbal taste of this confectionary delight, licorice root benefits go far beyond taste!
Health Benefits of Licorice
This simple stick has a wealth of health benefits hiding in its unassuming presentation. Egypt was found to be implementing the root for herbal remedies and medicinal uses in ancient times. Even today, emerging research suggests licorice root can soothe internally and externally.
The active compound in the root not only gives licorice powder its flavor but provides the health benefits of antioxidants, along with anti-microbial and anti-inflammatory properties. Topically, as licorice powder is antimicrobial, it's a purposeful and powerful component to anti-acne skin care. It can be used to treat inflammatory conditions like eczema.
Licorice powder also has a healing effect on the body. Studies have shown significant impact when treating internal inflammation, with conditions like ulcers, acid reflux, and heartburn. It's also been a helpful treatment for healing the throat after a cold or viral infection. It's even shown promise with respiratory aid for conditions like bronchitis and asthma.
The root is often included in candies and mints, as it is helpful for freshening breath and fighting off cavities. Though with excessive internal use there are some potential side effects with this root, overall, the benefits of this root certainly surprised us.
5 Key Licorice Root Benefits for Skin
Licorice boasts a number of active ingredients and properties that give your skin some serious love, especially when it comes to protecting and brightening. Here are just a few of the reasons why licorice root benefits your skin: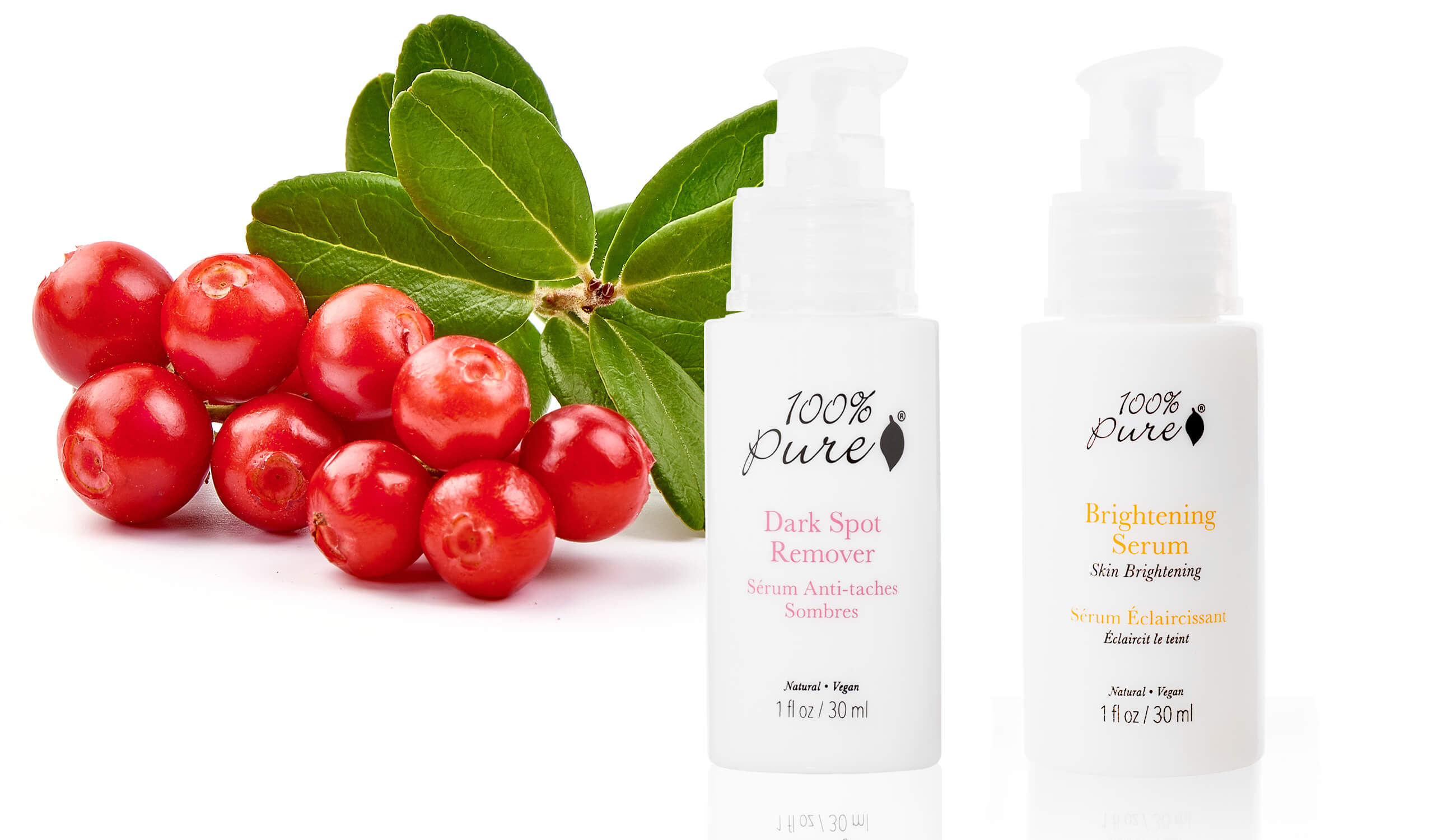 #1: Helps hyperpigmentation
Improving hyperpigmentation is one of this plant's most well known attributes. Hyperpigmentation occurs when your skin produces more melanin in certain patches or spots than in others, giving skin an uneven tone and darkened appearance.
This often happens because of free radical exposure: free radicals can damage melanin-forming skin cells and prompt them to produce excess pigment. Licorice root combats this process by hindering melanin and free radical production. That's part of why gentle, effective dark spot removers contain licorice root extract to help even out skin spots.
#2: Carries glycyrrhizin, a powerful antioxidant
Licorice does well in treating atopic dermatitis, rosacea, and psoriasis – and you can thank glycyrrhizin (glys-err-eye-zin) for that! It's the acid responsible for making licorice taste sweet. The official name for the licorice plant is Glycyrrhiza glabra root, which is what you'll find as the key ingredient in our Brightening Serum.
Glycyrrhizin is anti-inflammatory, which means less redness and irritation for inflamed, irritated skin. As an antioxidant, it protects our skin against free radicals. Some of the most obvious signs of free radical damage show up on our epidermis, and sun damage is one of the most prevalent stressors in daily life. This is why it's so important to protect yourself from UV rays with a clean, cruelty-free sunscreen!
#3: Contains glabridin, a UV-fighting super ingredient
Glabridin (glab-rye-din) is one of the most active ingredients in licorice root extract. This substance helps diminish any dark spots you have from scarring or sun damage. It also prevents pigmentation from UVB rays by inhibiting tyrosinase, an enzyme that causes dark pigments after sun exposure.
Newsletter
Subscribe
for more blog updates and exclusive discounts
#4: Pregnancy-safe retinol alternative
During pregnancy and while nursing, mothers have a laundry list of things to avoid. Unfortunately, this typically includes some of the most powerful and transformative aspects of our skin care routines, such as retinol and hydroquinone. As mentioned, licorice root has potent brightening and toning properties. That makes it a great way to continue treating the skin during and after pregnancy.
*Some research suggests that pregnant women should avoid ingesting licorice root extract while pregnant, but most research points to it being safe for skin. If you're interested in using licorice as an alternative to retinol but are still concerned with potential risks, discuss using it topically with your primary care physician.
#5: Protects skin with Licochalcone A
This defensive licorice root benefit comes to us from another active ingredient, Licochalcone A (lick-uh-chal-cone). It helps your skin produce higher levels of antioxidants, fortifying your skin's defenses and preventing UV damage in the process. Not to mention, it can protect skin from damage even after unprotected exposure to UV rays.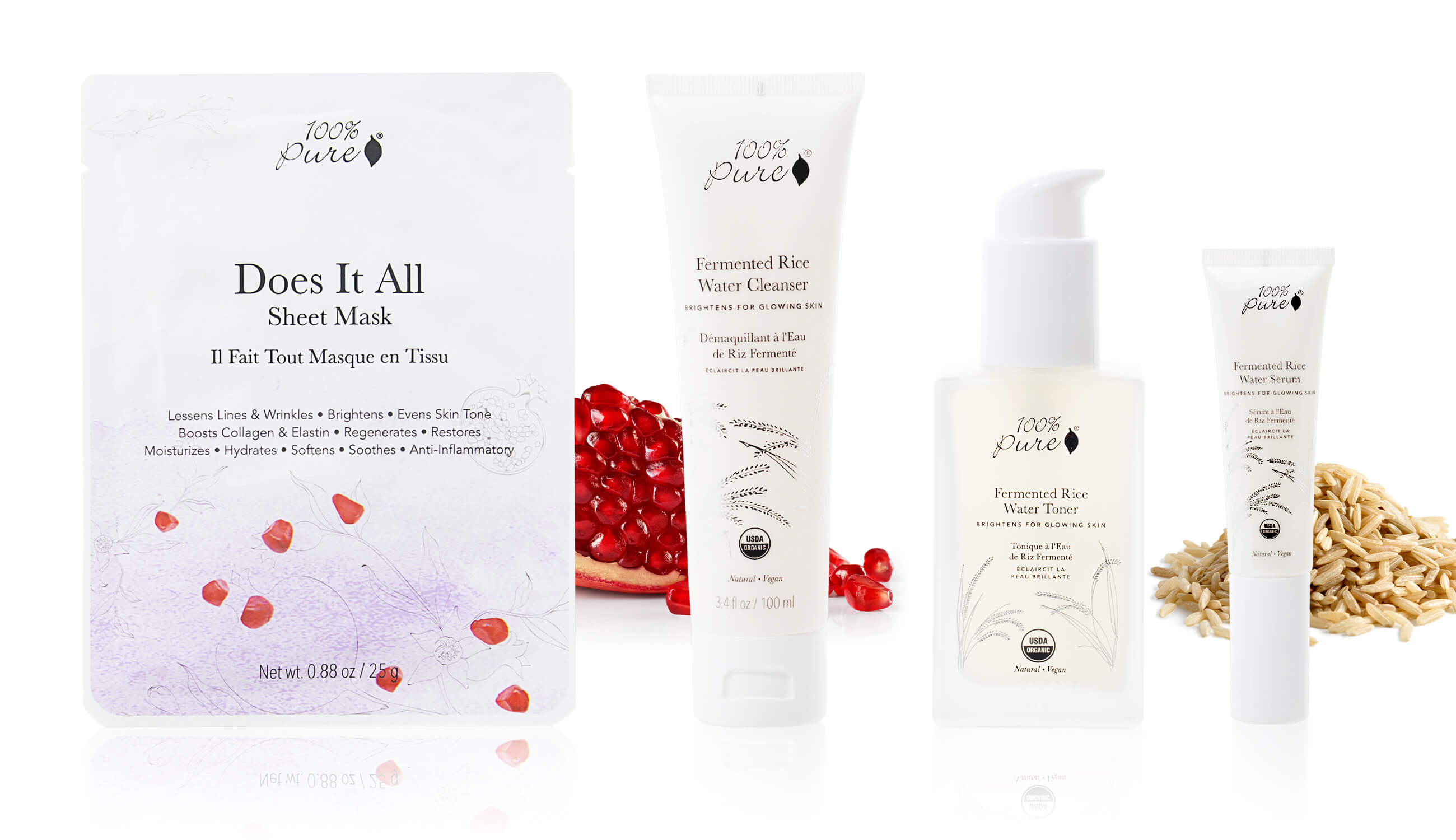 Nourishing Skin with Licorice Root Extract
In addition to brightening hyperpigmented skin, you can also utilize licorice benefits to boost dull skin, too! Try our Dark Spot Remover, Brightening Serum, or Does It All Sheet Mask for a more radiant, even skin tone. You can incorporate one or all of these products easily into your regular skin routine.
If you're looking for a triple dose of licorice in a regimen centered around brightening and evening skin tone, try our Fermented Rice Water products. In each product, sake (fermented rice) brightens and moisturizes while complementing the long list of licorice root benefits. You can use our Fermented Rice Cleanser, Toner, and Serum – or simply take your pick of what you'd like to try!
PRO TIP:To effectively tame extra pigment, be consistent in your use of brightening products. Prolonged use of gentle skin lighteners like licorice will result in a noticeably brighter, more vibrant complexion.
If you're concerned about sun damage, use serums with Vitamin C and licorice root to not only even out your skin but prevent further UV damage. Both ingredients subdue discoloration and contain antioxidant power, which we know keeps sun damage at bay. To fully protect your skin, remember to apply sunscreen afterwards!
Topical gels with licorice root extract can do a great job at soothing irritated skin. Licorice is super beneficial for those struggling with atopic dermatitis, or general skin conditions involving redness and irritation (like acne and eczema). You can even try a DIY mask with aloe vera gel and licorice root powder.
Anti-aging benefits are another place where licorice root can boast its protective properties. The extract fights against oxidative stress, which is known to accelerate visible signs of aging. It encourages your skin to protect itself against harmful elements and, in turn, will reward you with fresher, more supple skin for longer.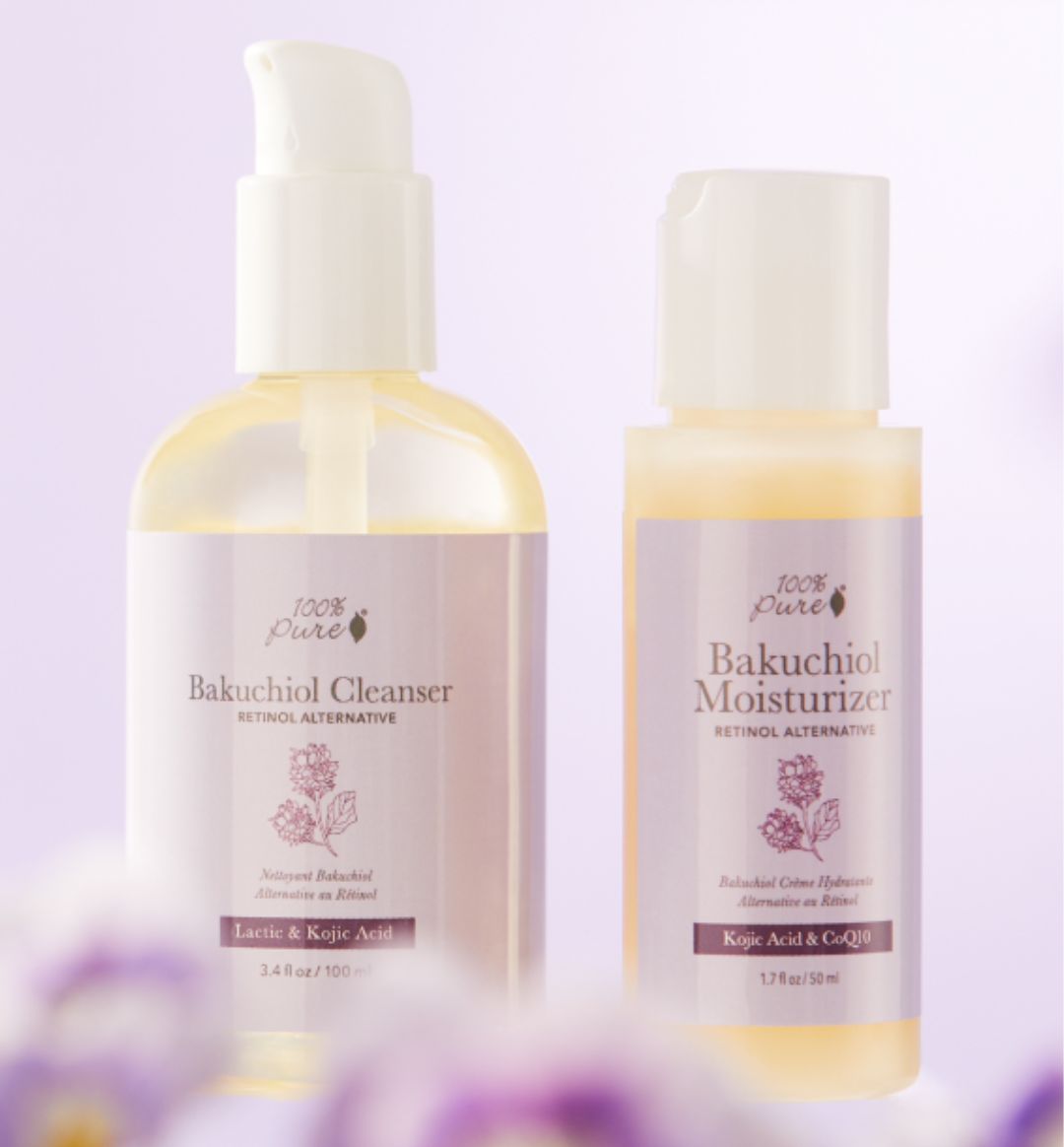 Top Products with Licorice Root
Whether it's from dryer temps outside to wet and windy elements, we all struggle with dull skin at one point or another. When dullness kicks in, it can leave us with lackluster, unhappy complexions. Besides its anti-aging and sun-damage-correcting superpowers, licorice root is an all-star at boosting dullness and soothing irritated skin.
We followed that train of thought to create skin care starring licorice root with some other hero ingredients like caffeine to turn tired, unhealthy skin into a glowing and gorgeous complexion. Check out some of our fan-favorite's:
We created this gentle, but powerful duo to provide a safe and natural alternative to retinol. Our rejuvenating Bakuchiol Cleanser is a gentle yet powerful cleanser that washes away impurities to stimulate cellular turnover for a smoother complexion. Featuring licorice root, this dream clean lightens age and sun spots for a more even skin tone and visibly lessens the appearance of lines and wrinkles.
Our antioxidant rich Bakuchiol Moisturizer packs a gentle but powerful punch to soften and hydrate the skin. Formulated with deeply hydrating hyaluronic acid and squalane, as well as licorice root, this powerful botanical stimulates cellular turnover, boosts collagen production, lightens age and sun spots while lessening the appearance of lines and wrinkles.
If you're looking for an A.M. skin care dream team, go with a caffeine boost for day use. We love our new Coffee Bean Face Cream, which was formulated to be gentle, deeply hydrating, and rejuvenating to counteract environmental damage and achieve age-defying skin. Powered with green coffee extract for the much-needed enhanced blood flow boost for the skin and brightening licorice root, this cream transforms the face for supple skin and a lively, healthy glow.
The whole face gets a dreamy coffee treat with this restorative, brightening, tightening, and protecting Coffee Bean Face Serum. Offering the same your-skin-but-better benefits of our new coffee bean moisturizer, this superstar serum was formulated to reverse sun damage, and brighten and tighten your skin with licorice root for an immediate healthy glow. Powered with a trifecta of skin-caffeinated goodness with green coffee extract, caffeine, and green tea EGCG, this serum boosts circulation for the skin and transforms the complexion for a healthy, vibrant glow!
Whether you're struggling with sun-induced freckles and spots, acne scars, or simply want skin to look a little brighter, we're convinced that licorice is a winner. If you're looking for a natural alternative to chemical brighteners or a gentle ingredient for inflamed skin, you can't beat the impressive benefits of licorice!
We carefully hand-select products based on strict purity standards, and only recommend products we feel meet this criteria. 100% PURE™ may earn a small commission for products purchased through affiliate links.
The information in this article is for educational use, and not intended to substitute professional medical advice, diagnosis, or treatment and should not be used as such.
Sign up to our email newsletter for more blog updates and exclusive discounts.
< Older Post | Newer Post >