Natural makeup, natural look
Posted on March 22, 2017
Written by: Lindsey R.
In college, I learned to fend for myself and turned to the drugstore for my favorite eyeliner, concealer and chapstick to keep my life simple. Concern over cosmetics ingredients was a distant whisper in my already confused, saturated consciousness; how could I know? I had never been educated about the dangers of conventional makeup, let alone the benefits of choosing the proper makeup for my skin.
My interest in a natural beauty routine began with skincare, when I used to work for Whole Foods Market-- where my knowledge concerning safety of natural vs. processed ingredients really hit its stride. I was barely 21, and my biggest concern was choosing skincare that would be safe for my precious epidermis. It soon occurred to me that my makeup would need to follow suit in regards to transparency of ingredients, though I was having trouble finding desirable alternatives to my familiar drugstore brands.
Lots of label reading and disappointment followed; much to my chagrin, I continued to use those same old brands when I grew tired of limited natural options. After a while, I slowly minimized my makeup routine to use only what I knew worked for me; mascara, concealer, eyeliner and blush.
With the convenience of social media showering me with ideas and inspiration for makeup looks, I slowly grew into a makeup fan. As a painter I was drawn to the color, the plays on light, the transformations--- still, not many brands could be proud enough of their ingredients to mention them. That was a red flag. When I started at 100% Pure in 2016 I felt I was at ground zero of the natural makeup movement, and finally in a place where I could explore, support and nurture a love for makeup in a safe environment.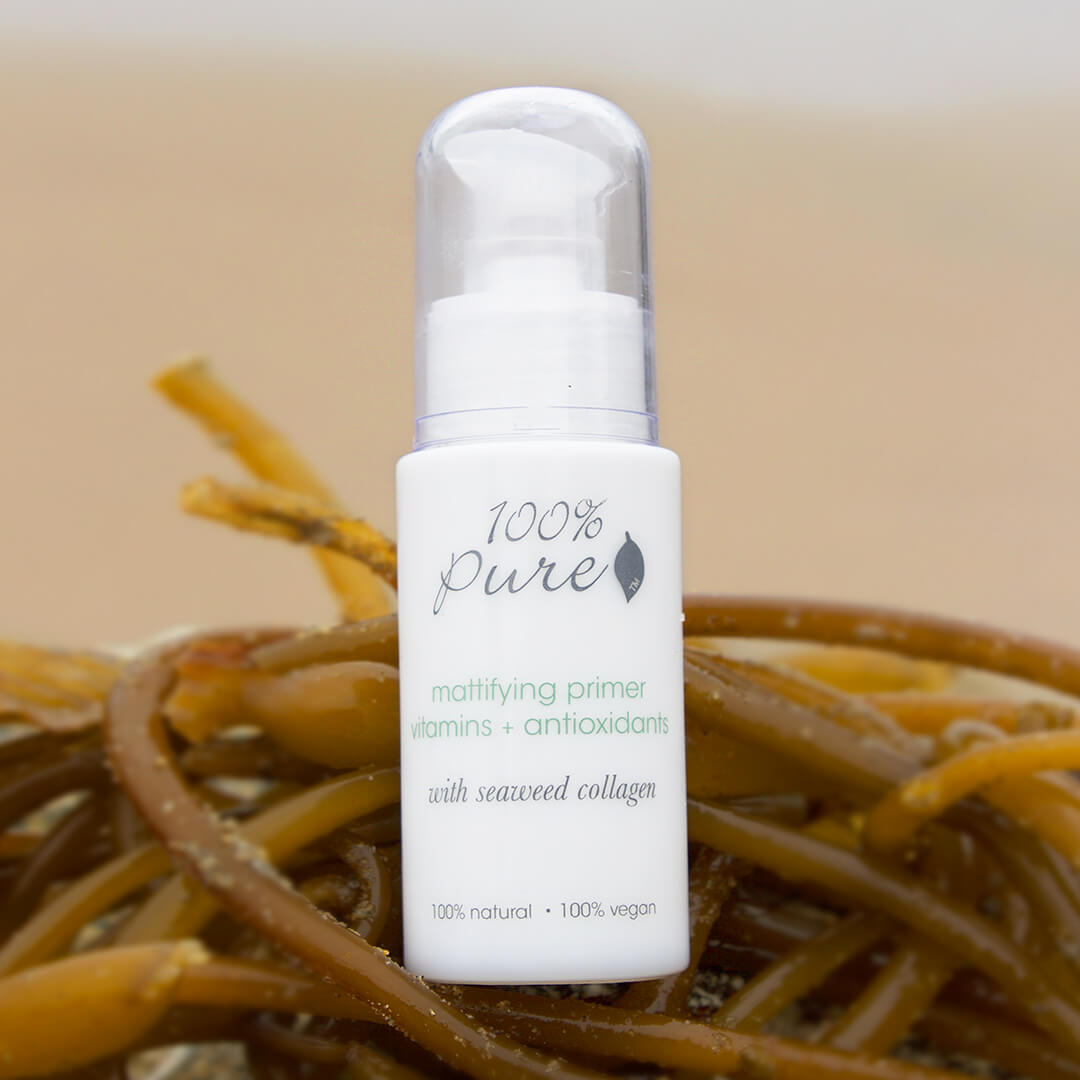 Priming
Before applying makeup, I like to make sure my skin is fairly bare. I will rinse my face then spritz on my favorite toner. Depending on how my skin has been feeling, could be to Jasmine Green Tea Tonique to hydrate, Mint White Tea Tonique to counteract oil, or Purity Hydrating Tonique if I'm sensing a breakout. Last, I'll add a thin layer of moisturizer.
If I'm planning on wearing a full face (foundation, cheeks, mascara, lids, brows), I'll apply our Mattifying Primer. The feather light formula glides on, and I only need a dab to prime my entire face. I apply gently with clean fingertips as I would a moisturizer, then I'm primed and ready to go!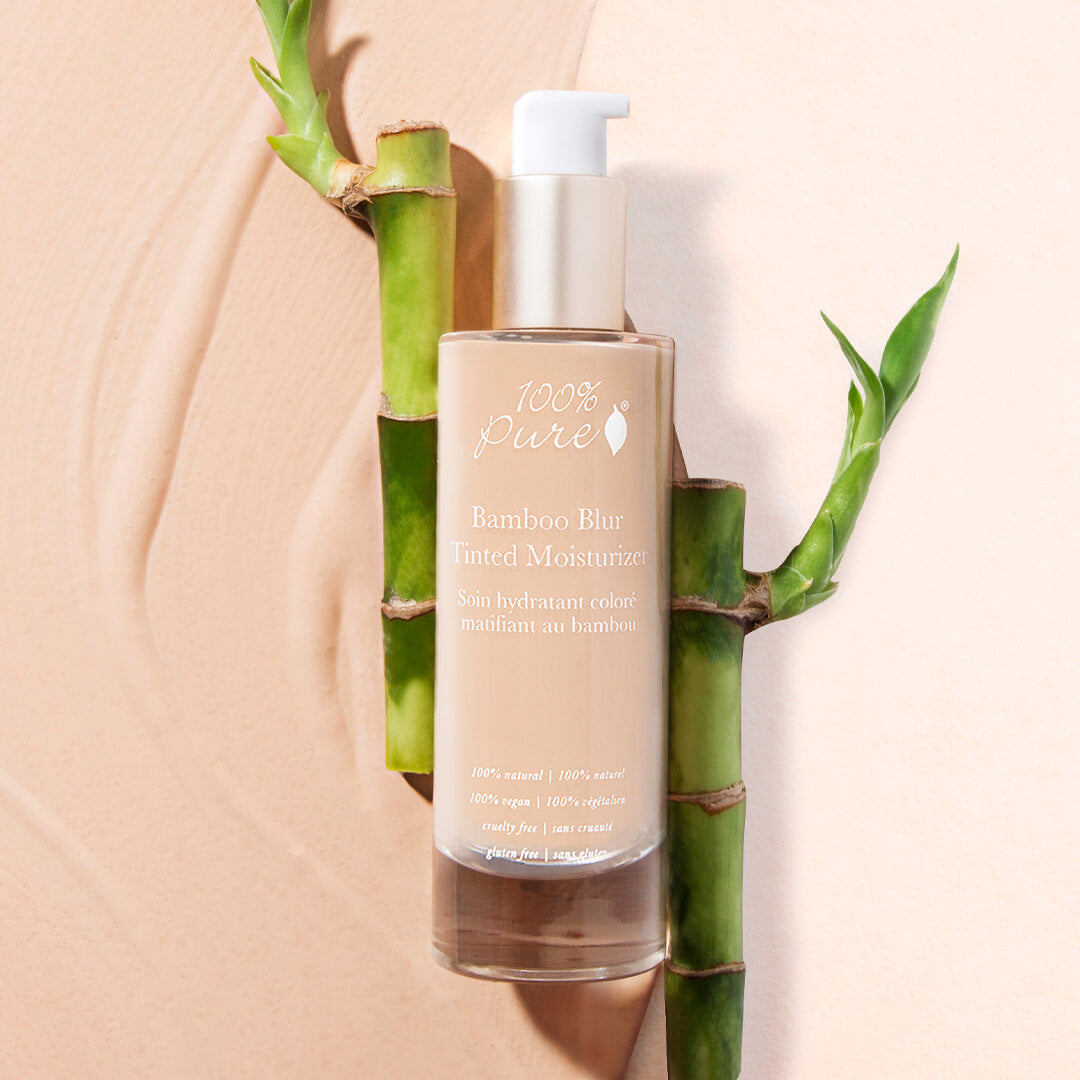 Foundation
My favorite part of my makeup application is the foundation phase. If you crack the code with just the right products, your skin can be soft focused, glowing, dewy or perfectly matte. I prefer a soft focus look with hints of radiance, and I achieve this through a four step process. It's the longest and most critical phase, as it sets the tone for the rest of my look. With my normal skin type, I prefer that my foundations toe the line between matte and dewy because it feels like just the right balance for my skin.
I start with our Cruelty Free Flat Kabuki Brush to apply a thin layer of BB cream all over, focusing on my cheeks, nose, and around my brow bone. I love our BB cream because it has SPF 15, a soft shimmer from mica and refreshing aloe and lavender. It feels thick at first, but once applied to the skin it blends smoothly, leaving behind a hydrated, glowing finish.
I then apply a dab of our Full Coverage Foundation to my hand and go back in with the Kabuki brush to apply a thin layer over the BB cream. The shimmer from the BB cream still shows through, but the Full Coverage mattifies the dewiness a bit, which I prefer for a work-day look. I save the full-on dewdrop glow for the weekend, since it feels more light and casual! I top the foundation off with our velvety, blendable 2nd Skin concealer on any dark spots that show through. Finito!
Special update: as a part of the Product Development team, I got to try our brand new Bamboo Blur Tinted Moisturizers before they were released! They're launching very soon, and I cannot WAIT for other people to join in my obsession. The formula glides on like a moisturizer, and seconds after application softens as it oxidizes because of the bamboo silica. You're left with the seemingly impossible result of soft-focus matte, with a dewy weight and feel. It lasts all day, and doesn't leave shine or streaks. I applied with both a beauty sponge and our kabuki brush, both with fantastic results! I can't wait for you all to try!!!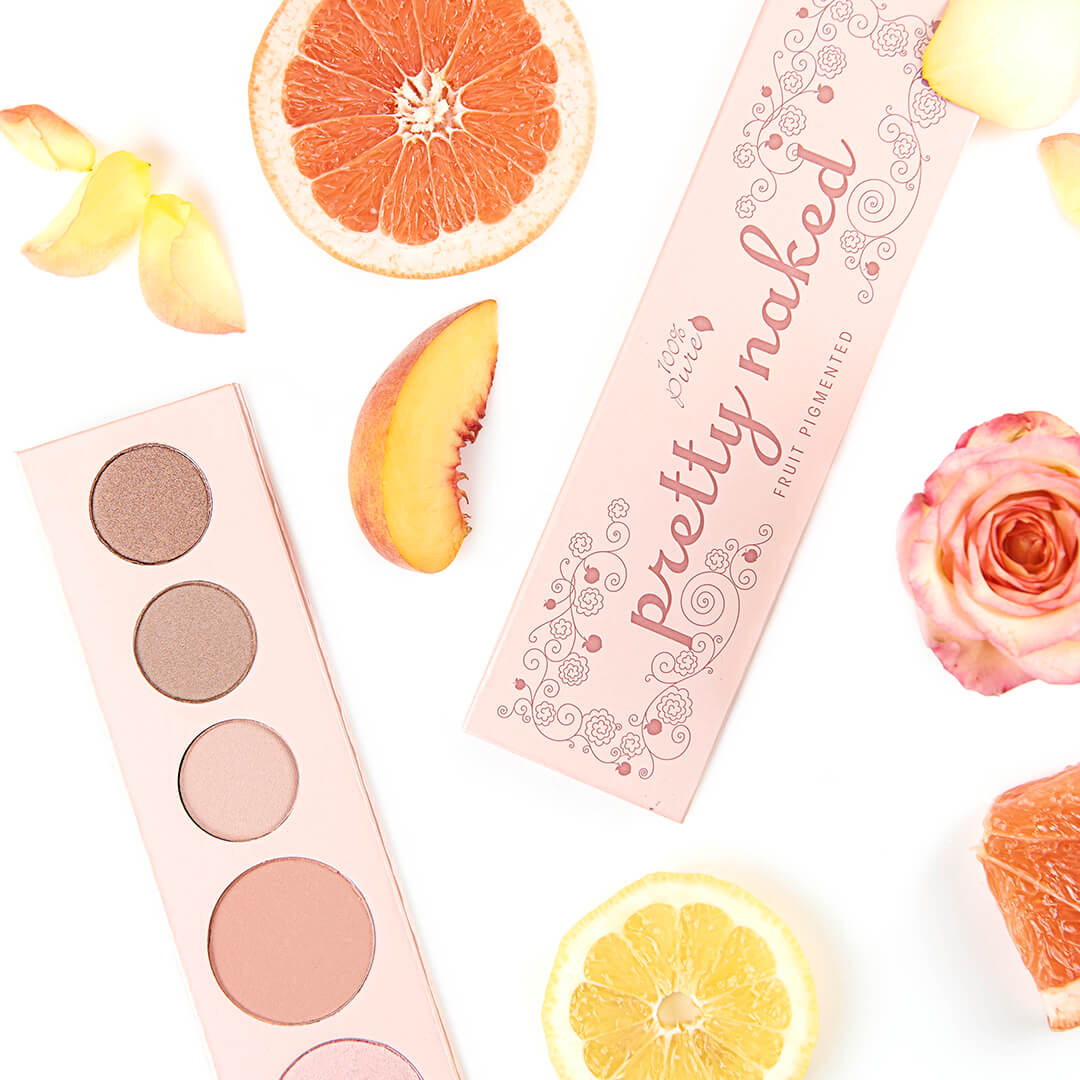 Cheeks and Highlights
Because my skin is on the fair side, I opt for lighter shades on my cheeks. I start with our Cruelty Free blush brush, then dab into one of our luminizers. If I plan on doing a warmer look, my favorite is the Siren luminizer in our Fruit Pigmented Mermaid Palette; its sheer, rosy undertone and copper shimmer warm up my cheeks while adding a highlighting effect. For natural or cooler looks, I use the Fruit Pigmented Pretty Naked Palette luminizer, which gives the perfect dusting of iridescence to the apple of my cheeks.
If I'm wearing a bare face or BB cream and want some color on my cheeks, I grab Pink Grapefruit Glow Lip & Cheek Tint to keep with the creamy, dewy feel. There are so many wonderful things about this little product-- where do I begin? First, I love that you only need a tiny bit to pigment your whole cheek. Second, I can't deny that I love the process of drawing on my face like a little kid with a crayon! Just remember to use clean fingers when rubbing in formula, or our Kabuki brush will work too. I also love the yummy scent; it reminds me of delicious-smelling Smackers products that I used when I was a kid but without the toxic, synthetic ingredients! I even gave my minimal-makeup mom one of our Lip & Cheek Tints, and she loved it for both lip and cheek. She loved the ease of application, the cute package and of course the delicious flavors!
In the summertime-- or anytime I feel like glowing-- I have a secret weapon. Unbeknownst to many, our little Halo Fruit Pigmented Satin Eye Shadow is the ultimate multi-tasker. After adding blush or highlighter, I use clean fingers to dab Halo on my upper cheek bone for a deeper highlight. I also dab on my cupid's bow and at the inside corners of my eyes to brighten things up.
Eyes
I've always had issues keeping mascara or eyeliner from smudging and creating that grungy, under-eye mess. I use our mattifying primer on my under and upper lashline if I'm wearing eyeshadow to keep it in place; especially if it's a metallic or glitter base. If it's a loose eyeshadow, I dab a bit of primer on my hand then pick up a bit on our Cruelty Free Flat Shader Brush . Then, I gently dip the primed brush into my loose eyeshadow and apply to my lid-- it's especially helpful when using eyeshadow to line your under-eye because it holds it in place for hours.
My favorite shadows are always nudes or warm metallics. I adore our Flax Seed pressed shadow, which I use from my Pretty Naked palette, because for me it's an everyday shade. All of our Satin eye shadows are so good that I can't take the time to list my many favorites… Their texture is buttery smooth and glides on with ease, and the shade selection is simply gorgeous.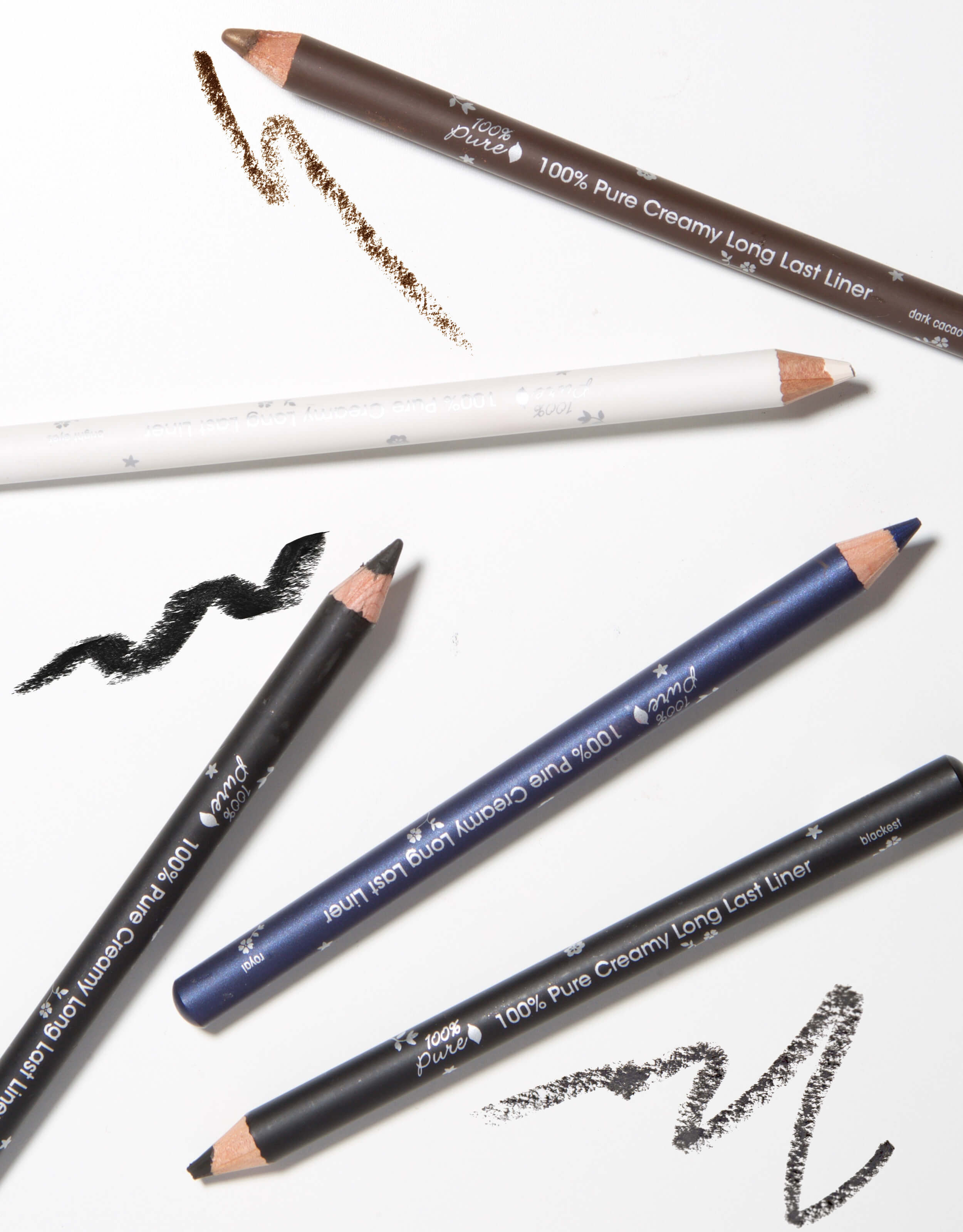 Our Creamy Long Last Eyeliner is one of the absolute best I've tried, because it lasts hours without as much as a smudge. Depending on my mood or outfit, I like to switch between 3 liners: Royal, Blackest and Dark Cocoa. I use our Cruelty Free Smudger Brush to create a smokey effect, or add a thick, metallic Fruit Pigmented Dual-Ended Creamstick over the top to enhance the drama.
My most favorite mascara is our Dark Chocolate Maracuja. The maracuja oil helps it to glide on without clumps, while lengthening and keeping lashes separated. I also love that Pro-vitamin B5, Vitamin E and seaweed are formulated into the mascara to condition and strengthen my lashes. Aside from the cosmetic benefits, it smells like delectable dark chocolate, thanks to the cocoa powder that pigments it!
Lips
Not to be forgotten, my lips love a good pampering too. While it's admittedly something I won't apply everyday, I do have my favorite shades and rules for wearing. First, I prime my lips with balm to make sure they stay moisturized! For day, I like either a taupe-brown or soft nude. I am obsessed with our Truffle Lip Caramel, because it tastes like a cupcake and has just the right amount of glossy pigment.
I am a firm believer that our Blood Orange Semi-Matte lipstick is the perfect red for anyone. It shows subtles differences on every skin tone, and on me it has that deep, brick red that makes me feel like an old Hollywood starlet! Another shade that I love is the Prickly Pear, which is totally stunning in the summertime with bronzed skin and a bare face. Since these lipsticks are ultra pigmented, it helps to use a lipliner or lip brush to apply.
In an environment where a passion for makeup is accepted and encouraged, it's easy to find new things that you never thought could work for you, and that build your confidence as you explore new makeup horizons. Intimate knowledge of our products' ingredients is what has turned my entire makeup collection to our own brand, and is what keeps me there.
We carefully hand-select products based on strict purity standards, and only recommend products we feel meet this criteria. 100% PURE™ may earn a small commission for products purchased through affiliate links.
The information in this article is for educational use, and not intended to substitute professional medical advice, diagnosis, or treatment and should not be used as such.
Sign up to our email newsletter for more blog updates and exclusive discounts.
< Older Post | Newer Post >