The Best Places to Use Rose Oil In Your Routine
Why you should try rose oil and how it benefits your skin
Posted on April 26, 2022
Written by: 100% PURE®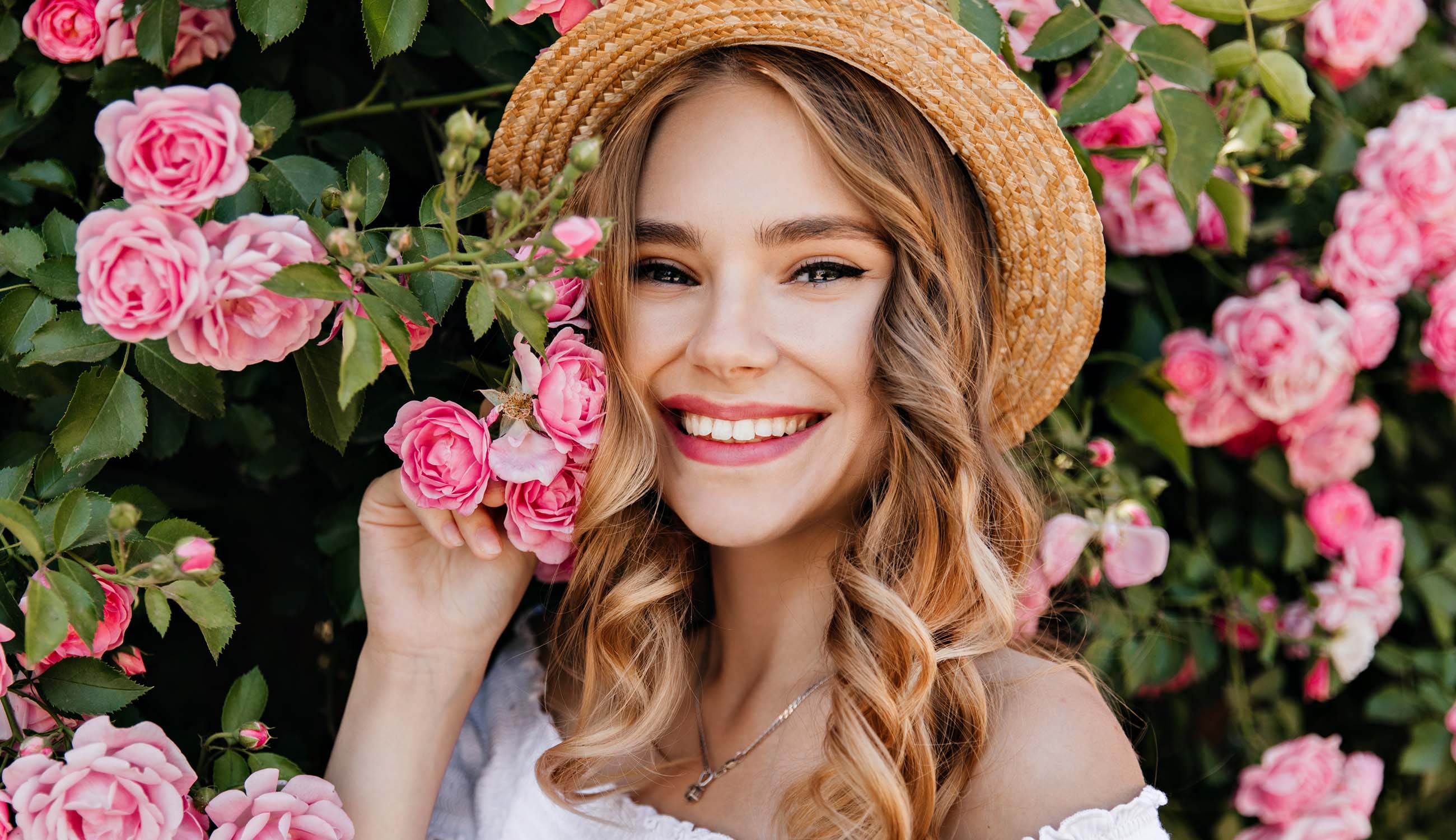 True love may just be forever, at least with our favorite floral ingredient. Roses have been incorporated into beauty care routines practically as long as beauty routines have been a thing.
There's a reason this simple, elegant flower makes its way into cosmetic formulas worldwide. Though we've come to know rose as a simple and somewhat safe ingredient, this lovely bud is far from boring. With Mother's Day just around the corner, let's celebrate the unofficial flower of the holiday by sharing some of the best ways to use rose oil in any beauty routine.
What Makes Rose Oil Unique?
Rose oil isn't like other oils – it's a cool oil. On a serious note, rose oil truly is not like other oils. There are tons of different oils out there that we see in all our skin care products. From the vague "vitamin E oil" to something not so great for facial skin, like sweet almond oil, there's no way to specialize in everything.
With slugging being the hottest new skin care trend of the season, everyone is searching for the best skin oil to brighten, moisturize, and create radiant skin. And, of course, there are way too many options. It can be tough to figure out which choice is best.
Rather than researching every kind of new oil product out there, we realized rose oil is tried and true for a reason. Going back to this basic could mean that (outside of being allergic to roses) rose oil might just be the best oil for everyone. Here's why:
Rose oil is a great skin oil for brightening. It supports an even complexion, helps heal acne scarring, and reduces blemishes.

Rich in antioxidants and fatty acids, rose oil promotes youthful skin.

All skin types can use rose oil. It is gentle enough for even reactive skin to give this oil a chance.

Soothing, healing, and calming, rose oil is beautifully anti-inflammatory for every skin type, especially acneic and acne-prone skin.

Rose oil is great to address rosacea as it is anti-redness.

Skin conditions like eczema and even wounds on the skin can benefit from rose oil's healing benefits.

Lightweight but deeply hydrating, rose oil can condition skin without leaving an oily residue.

A rose would smell as sweet whether we're applying it to our skin or plucking it from the garden. And that delicate, fragrant aroma actually has aromatherapy properties. Rose is uplifting to the mood and fights feelings of sadness and depression. Calming on the skin and spirit, we can imagine using this oil with a jade roller or gua sha in our evening skin routines. It'll make for the most peaceful of sleep and dreams.

Rose oil is an all-purpose, day or night oil great for layering with other products, wearing alone, or even applying to the lips and hair.
Where Rose Oil Makes the Biggest Difference In a Skin Care Routine
Ready for the ultimate glowy skin? Rich in linoleic acid and a healthy collagen boost, rose oil has the benefits if we can unlock the best way to apply it in our skin care routine. Let's talk about how we should get our rose oil or if any formulations are superior. We'll also explain ways to build a rosy routine for the skin.
Rose ingredients to look for when shopping for rose products include rose oil, rosehip oil, rosehip seed oil, rose water, rose hydrosol, and rose essential oil. Let's decode these a bit because all of these can get confusing.
Newsletter
Subscribe
for more blog updates and exclusive discounts
Rose oil comes from the petals of the rose plant, but did you know rose bushes bear fruit? Rosehips (aka rose fruit) are edible, though they're much more popular for beauty applications. Rosehip oil and rosehip seed oil are extracted from the seeds and fruits of the rose plant. And rosehip oil can be a lot richer and more beneficial as well.
While rose oil and rosehip seed oil are quite similar, rose water and rose hydrosol are not. There are a few too many technical terms for skin care ingredients if you ask us.
While rose hydrosol sounds suspiciously like rose water, they're quite different. Rose water is infused with rose oil (which is already extracted from natural roses). Then there's rose hydrosol, the dreamy remnants of distilled water and pure rose petals. It's the better choice for pure rose power, so it's a star ingredient to see on a product formula.
While all of these ingredients are slightly different and good for different things, the important thing to note is that they will help contribute to many of the rose benefits we know and love, regardless of ingredient type.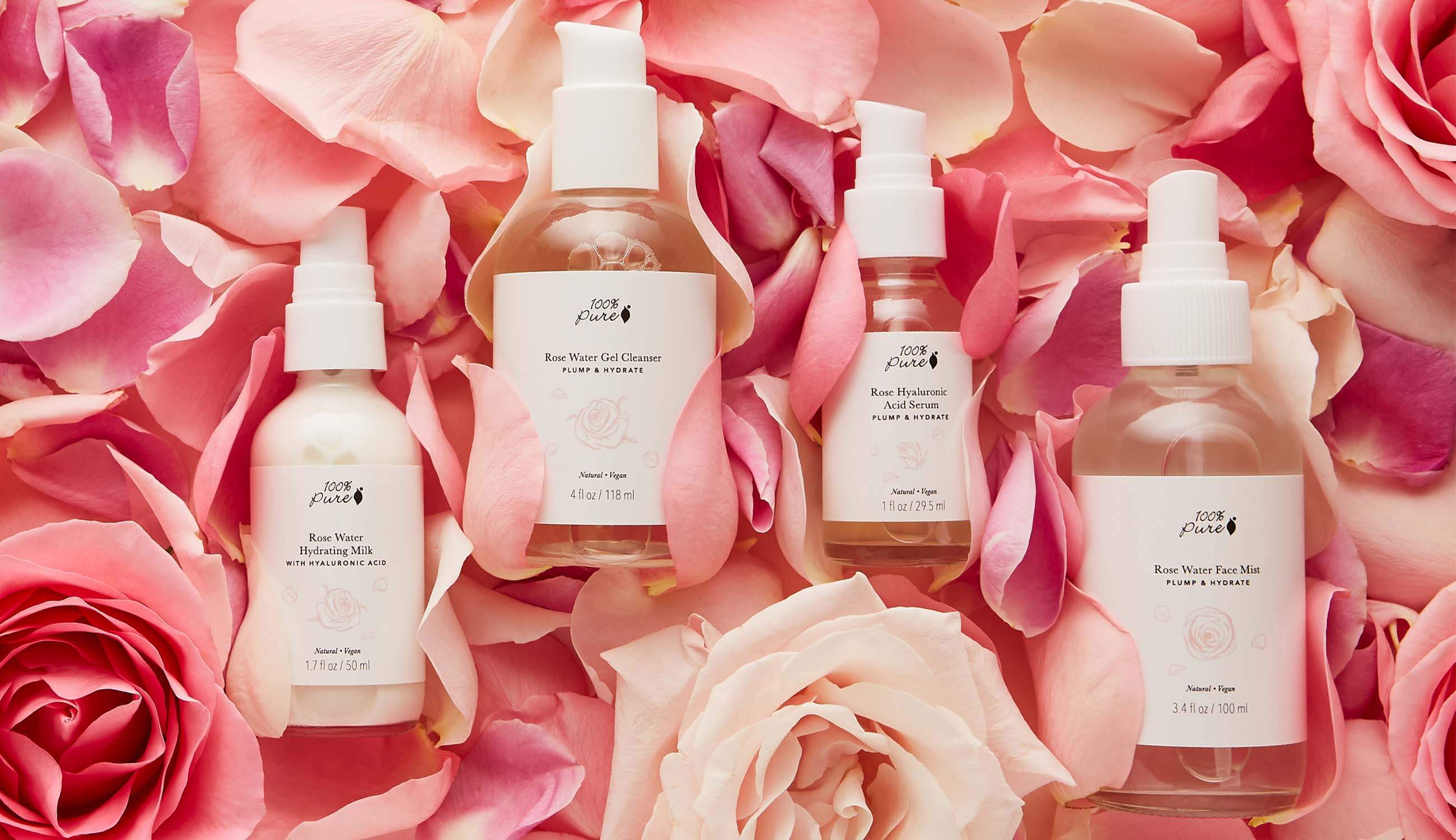 Skin Care Formulas with Rose Oil
Now for the good stuff. Rose is both simple and luxurious, and the skin truly loves this ingredient. Here's how we get it into our routines:
Rose Water Hydrating Milk
Amazing for lightweight, buildable hydration, this milk hydrator is excellent for all types of skin. As the primary ingredient, rose hydrosol acts as a moisturizing and hydrating element. It helps fight redness and irritation after application. Amazing for brightening as well, this hydrating milk is perfect for recovering blemished skin.
Rose Hyaluronic Acid Serum
Perfect for layering after a clarifying toner or exfoliant, this ultra-hydrating serum is designed to calm, heal, and restore youth to the skin. Use this serum in concert with brightening products for balance, soothing, and super long-lasting hydration.
Rose Water Face Mist
A midday refresh, or ideal for prepping the skin for makeup and care products, this lightweight face mist combines the strength of rose hydrosol and calming chamomile. Take this face mist on the go or in a travel bag. You can also keep it in the main skin care rotation to prep, prime, and refresh the skin.
Rose Water Gel Cleanser
Finally, we've found a gentle cleanser that's calming for all skin types. Rose oil and rose hydrosol come together to create a silky, soft cleanser that sweeps into pores to remove debris. It also addresses blemishes, inflammation, redness, and dryness for a more even complexion.
We carefully hand-select products based on strict purity standards, and only recommend products we feel meet this criteria. 100% PURE™ may earn a small commission for products purchased through affiliate links.
The information in this article is for educational use, and not intended to substitute professional medical advice, diagnosis, or treatment and should not be used as such.
Sign up to our email newsletter for more blog updates and exclusive discounts.
< Older Post | Newer Post >