Can You Grow a Witch Hazel Plant at Home?
How (and why) to grow a witch hazel plant for endless DIYs
Posted on April 20, 2022
Written by: 100% PURE®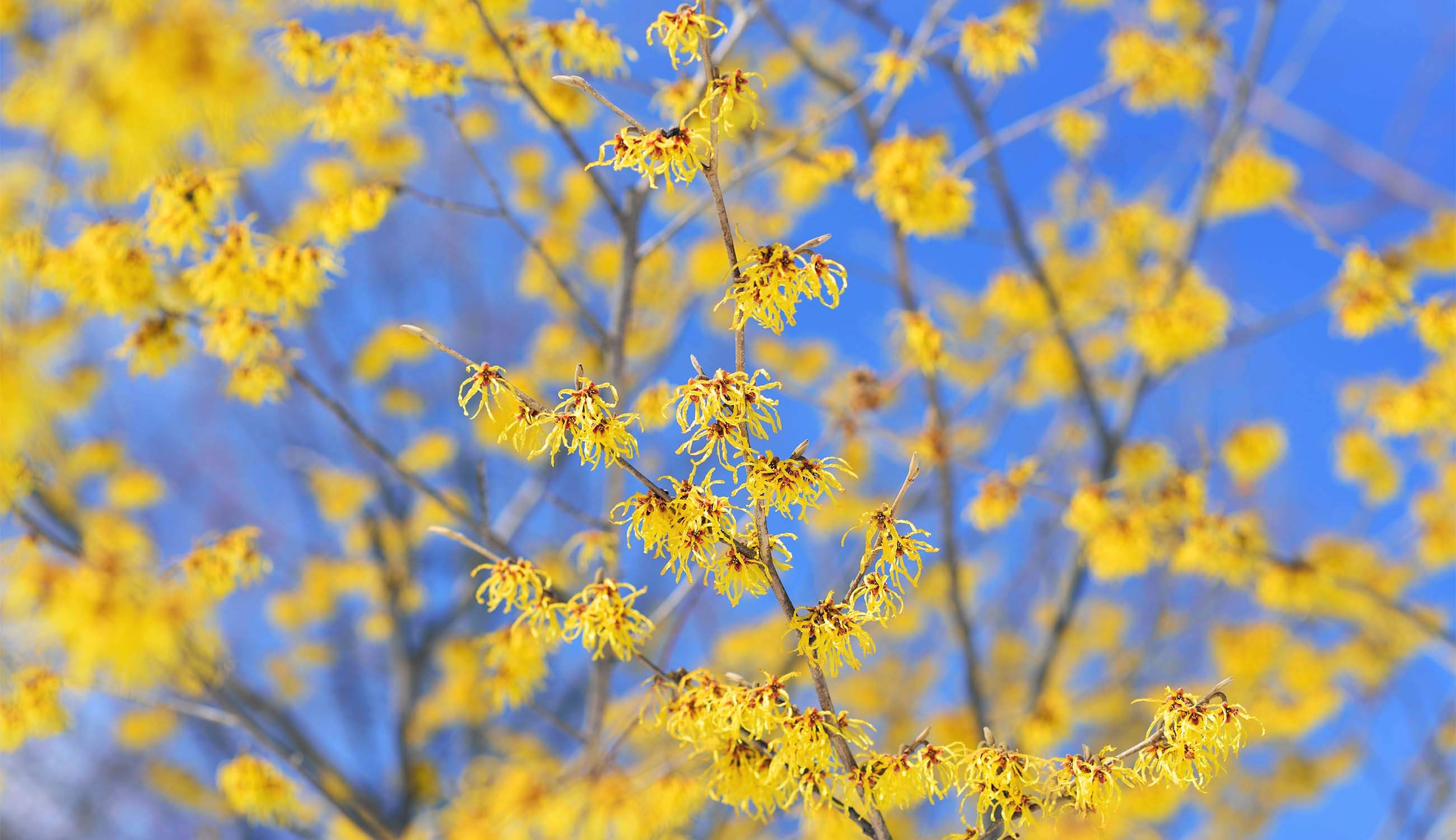 You'd be hard-pressed not to come across a mother or grandmother who hasn't at least heard of or praised the benefits of witch hazel. The 'beauty botanical' has been a mainstay in skin care for decades for almost every skin concern.
So what is the hype behind witch hazel that still reigns it supreme? We've heard this classic natural ingredient truly treats our skin right. But we need all the details on witch hazel benefits.
Let's take a closer look at this timeless ingredient to see where and how it might enhance our skin care routines. We'll also share growing tips and DIY recipes for your own witch hazel plant and toning spray.
What Exactly Is the Witch Hazel Plant?
Witch hazel, also called winter-bloom, is a petite blooming tree or large shrub with soft yellow fringe-like petals. As hinted by the name, these trees could be seen blooming in the dead of winter, even in icy conditions. That's a sure sign of a powerful plant holding medicinal or healing properties – or perhaps, even mystery.
Is the unassuming clear liquid endorsed by witches, or has some concrete historical tracings? Turns out, American Natives as well as people around the world have used witch hazel throughout history. They've used it with both oral and topical applications for digestive issues as well as inflamed skin.
The signature yellow flowers are not a component typically used for creating extracts or essences. The witch hazel plant's leaves, branches, and bark are typically distilled to create the witch hazel astringent we're most familiar with. We love its skin-soothing, anti-inflammatory, and antioxidant properties.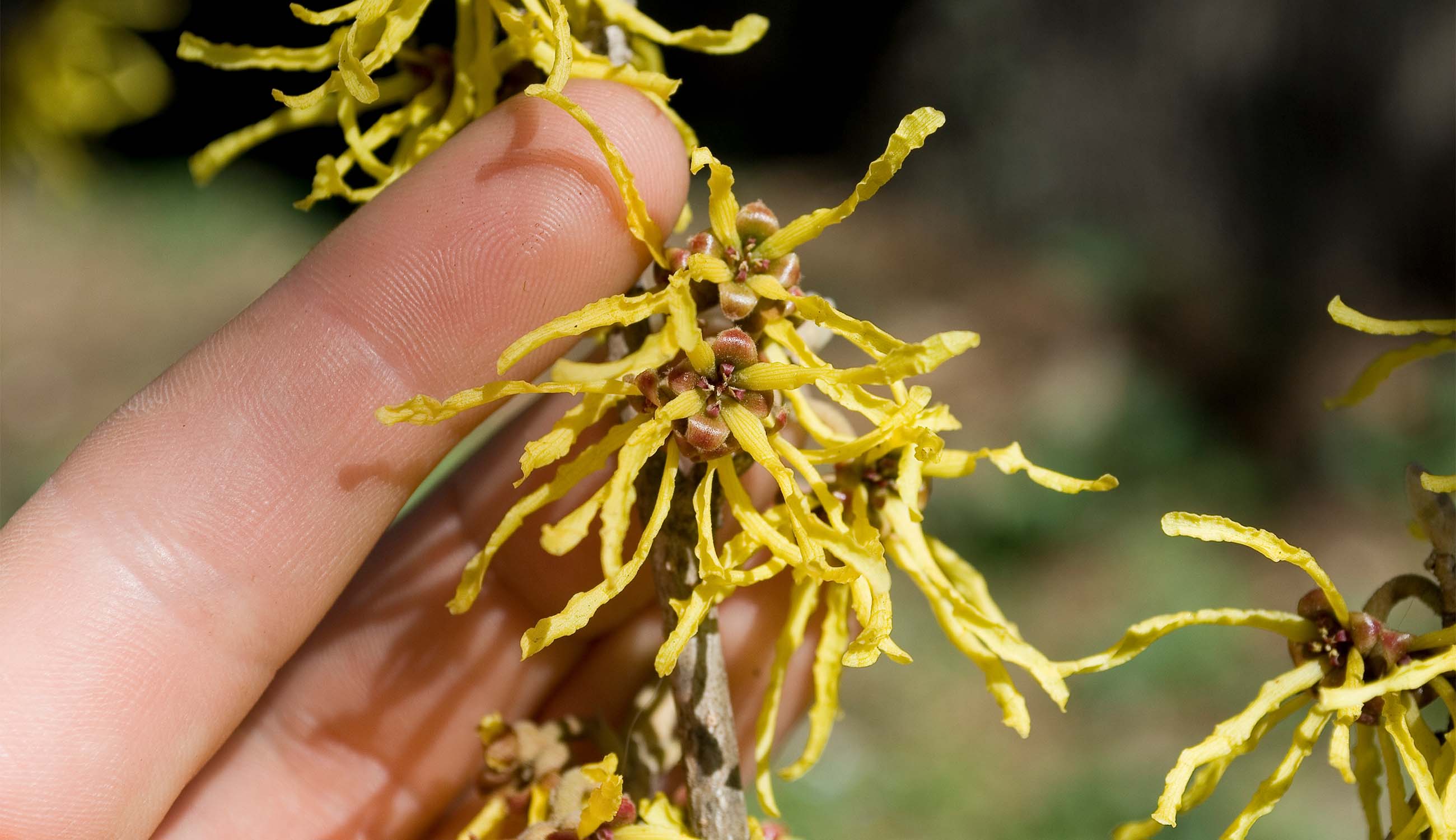 What Are the Witch Hazel Plant's Benefits for Skin?
We know witch hazel has boundless benefits for the skin, as evidenced by the botanical's recorded decades of usage. We're cheering for witch hazel because it's more effective at removing oil from the skin without stripping it the way conventional toners and astringents can do.
Newsletter
Subscribe
for more blog updates and exclusive discounts
And the skin benefits of the witch hazel plant don't stop there! Here are some of the top reasons we're obsessed with this botanical super-soother ingredient.
#1: Anti-inflammatory
Witch hazel contains several antioxidant and anti-inflammatory properties, including gallic acid and tannins. Thanks to this and its anti-inflammatory powers, witch hazel can reduce pesky redness, soothe the skin, and treat sunburns.
Speaking of soothing the skin, pick up a Tea Tree Clear Complexion Cleanser for a soothing wash that will clear impurities for a refreshed complexion.
#2: Tightens pores
Natural astringent formulas that contain this superstar ingredient can also help to minimize the appearance of pores – win-win! Another aspect of using witch hazel is knowing that it is a clarifying ingredient.
It's precisely why our Tea Tree & Willow Clarifying Astringent is a fan favorite! This anti-inflammatory toner nourishes, hydrates, softens, and purifies. Plus, it accomplishes all this without stripping, dehydrating, or irritating skin.
#3: Antiseptic
For those with breakouts caused by random skin irritation, large pores, excess oil, acne, or all of the above, witch hazel has great antiseptic properties.
For those with a blemish here or there, or perhaps an oily T-zone, our Tea Tree Concentrated Spot Treatment with witch hazel can neutralize excess oiliness only where we need it.
#4: Firming properties
Since witch hazel contains tannins, which are chemicals that compress the proteins in your skin, applying it to skin also gives a temporary tightening feeling.
#5: Anti-aging
Witch hazel has been touted as a natural, anti-aging product. Thanks to naturally occurring tannins, it can help diminish free radicals and signs of aging due to UV exposure.
How to Keep a Witch Hazel Plant at Home
Ready to try your green thumb? It's easier than you might think to grow your own witch hazel – no witchery, magic spells, or potions needed. Here's how you can grow this magical plant indoors:
Get a large container
You can start a witch hazel bush outdoors, but it will grow much better as an indoor plant. Then, you can transfer it outdoors so it can grow more. You'll need a container about 16 inches in diameter and 16 inches deep.
Give it sun
If it's warm outside, place the container in an area where it can get some sunshine. But when witch hazel truly shines is during the winter months.
PRO TIP: Your witch hazel plant will bloom in the fall and winter, adding a colorful hue to the dark and dreary colors of winter. That's a (green) thumb's up!
Water
Make sure to test the potting soil daily and water when the top 2 inches become dry. Make sure to give it water until it all drains at the bottom of the pot where the roots are located.
Add fertilizer
Once a month during the spring and summer months (growing seasons), add water-soluble plant food (aka fertilizer) for extra nutrients.
Prune
Prune your witch hazel right after it flowers in the late winter or early spring. This will help maintain a clean shape and encourage blooming.
How to Make Your Own Witch Hazel Toning Spray
Conventional toners and astringents contain harsh chemicals that can be harmful to your skin and health. With these factors in mind, why not mix up your own DIY formula?
Here's one of our favorite witch hazel DIY recipes:
Witch hazel + rosewater toning spray
Rose water helps to keep the skin's surface looking dewy, healthy, and vibrant, while helping to reduce oiliness. Meanwhile, hard-working witch hazel reduces excess oil and keeps your skin in balance.
These ingredients are also excellent for acne-prone, oily, and mature skin. That makes this DIY toning spray a strong option for any skin type!
Step 1: Prune witch hazel plant
Prune a few handfuls of twigs and small branches. Then locate the branch bark ridge (dark, raised area of compressed bark). Make your cut just outside the bark ridge and collar to allow the tree to heal its wound.
Step 2: Boil the twigs, bark, or leaves of the witch hazel plant
Using distilled water, bring the plant parts to a boil. Then simmer for at least half an hour. Set in a cool place overnight, then strain into a glass jar.
Step 3: Combine ingredients
Then combine 1 tablespoon of rose water and 1 ½ cups of water of your witch hazel extraction in a sterilized spray bottle. Shake the ingredients to combine, and mist on your face. Store your new toning spray in the fridge.
What's the takeaway? So far, we can firmly say that witch hazel benefits to calm, clarify, and quench our largest organ – the skin – make this ingredient a total win in our books. And the benefits are only as far away as your own witch hazel plant!
We carefully hand-select products based on strict purity standards, and only recommend products we feel meet this criteria. 100% PURE™ may earn a small commission for products purchased through affiliate links.
The information in this article is for educational use, and not intended to substitute professional medical advice, diagnosis, or treatment and should not be used as such.
Sign up to our email newsletter for more blog updates and exclusive discounts.
< Older Post | Newer Post >