Planning Your Spring Getaway? Pack This Travel Kit
The ultimate must-have travel kit for your spring vacation!
Posted on March 7, 2022
Written by: 100% PURE ®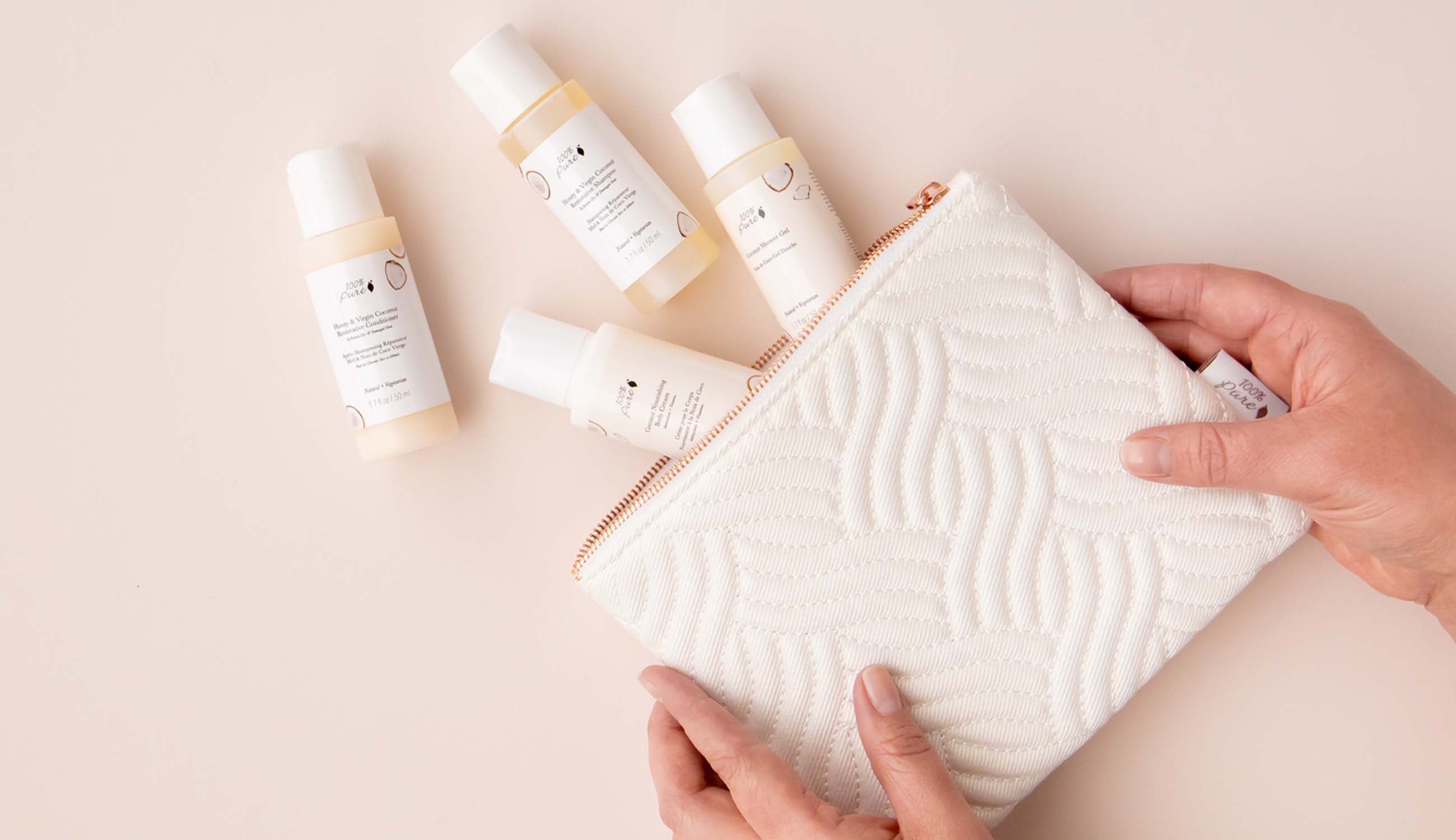 With plans for spring getaways and the big 'break' ramping up, it's time to consider what you are going to pack to keep your glow on the go. After all, traveling is all about having fun and the excitement for your destination – not thinking longingly of shampoo or body cream that you left behind.
That's why we've created this travel kit: so that you can skip those "oops" moments, and enjoy your travels to the fullest. Whether you're road-tripping it with your squad or scrambling to the airport for a tropical getaway, we've got your hair and body needs covered.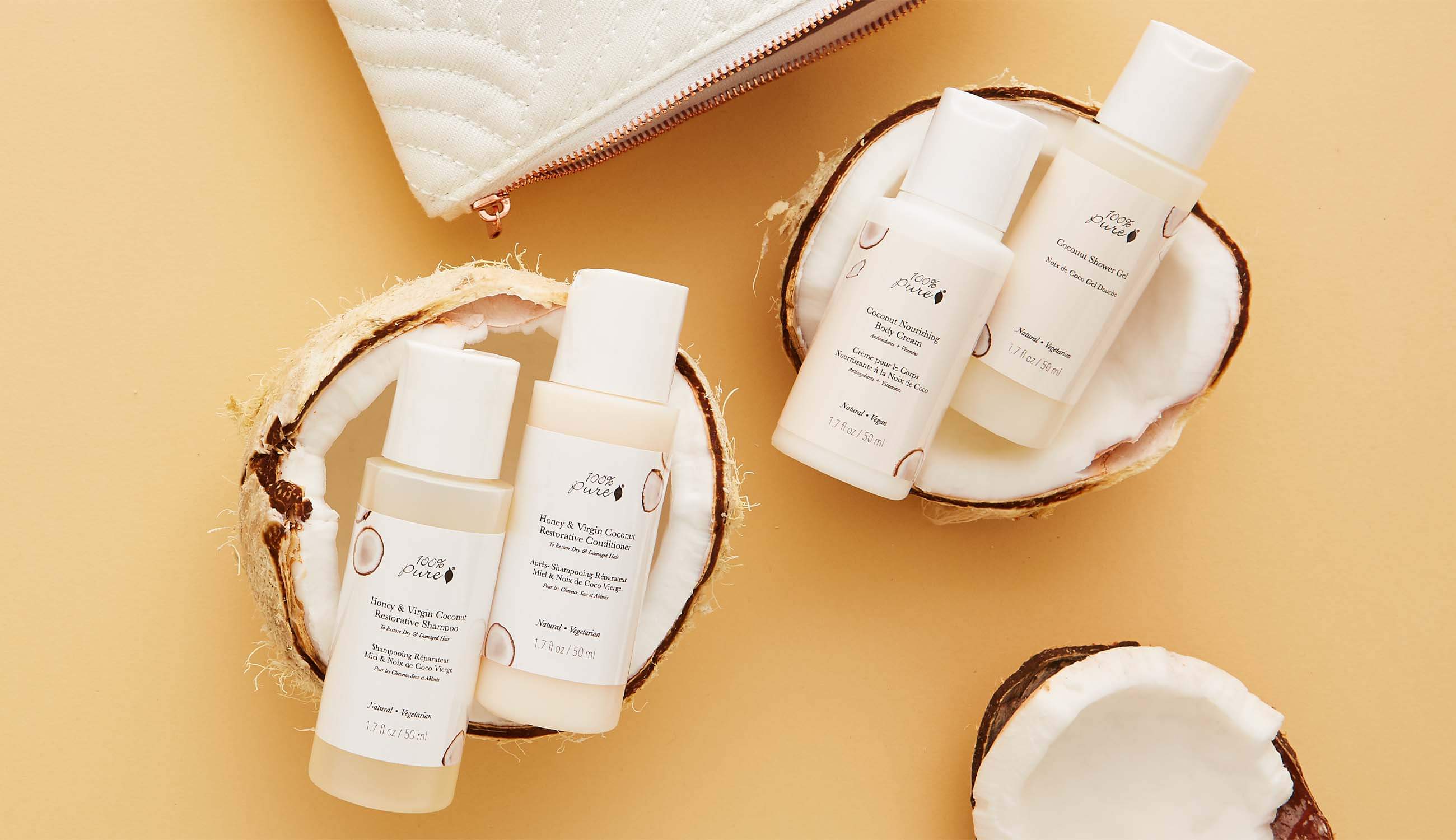 Hair and Body Essentials for Travel: What's in Our Travel Kit?
Body care and hair essentials can get really complicated, really quickly. Many of our bathtubs and shower caddies are littered with lotions and potions from shampoos and hair masks to body gels and exfoliating washes – not to mention loofahs and body mitts.
When you're traveling, taking this entire entourage with you isn't always an option, especially if you need a travel kit for your carry-on luggage. Luckily, we have some great, multi-functional products out there to simplify your life.
Without further ado, let's introduce our new travel kit of head-to-toe mini-size products with a tropical coconut scent – plus an eco-friendly bamboo zip bag!
#1: Honey & Virgin Coconut Restorative Shampoo 1.7oz Leaving your beauty blender behind is a downer, but don't leave your hair stranded. Give your tresses the love and smell of a tropical paradise with a restorative shampoo featuring the holy grail: coconut oil! This is your travel-friendly little gem for healthier, stronger, and glossier locks.
#2: Honey & Virgin Coconut Restorative Conditioner 1.7oz Just as a toothbrush won't work well without paste, our shampoo is going to need a trusty companion to work best. Our naturally restorative travel kit conditioner features the healing properties of coconut oil that will intensely nourish your locks while transporting you to a tropical paradise.
#3: Coconut Nourishing Body Cream 1.7oz By now, you've probably figured out that coconut oil is a treasure that's here to stay. And while you may skimp on some sleep during your spring getaway, don't neglect your body care. Our luxuriously creamy travel kit body cream provides youthfully supple skin. Plus, it's infused with the scent of sweet, tropical coconut.
#4: Coconut Shower Gel 1.7oz A spring trip and a spa-like retreat? Yes, please! Drape yourself in the scents of the tropics with our coconut shower gel. In addition to the aloe and saponified coconut oil for the perfect gel texture, this shower gel smells like waking up in an island paradise – even if you're nowhere near the shore.
#5: Quilted Bamboo Fiber Pouch Beauty bags are a vital part of keeping your treasured favorites ready to grab for last-minute trips! We had tropical essence and eco-friendliness on our minds with our bamboo zip bag. It features beige bamboo fiber material in a woven, quilted design finished. The finishing touch is an elegant rose gold zipper.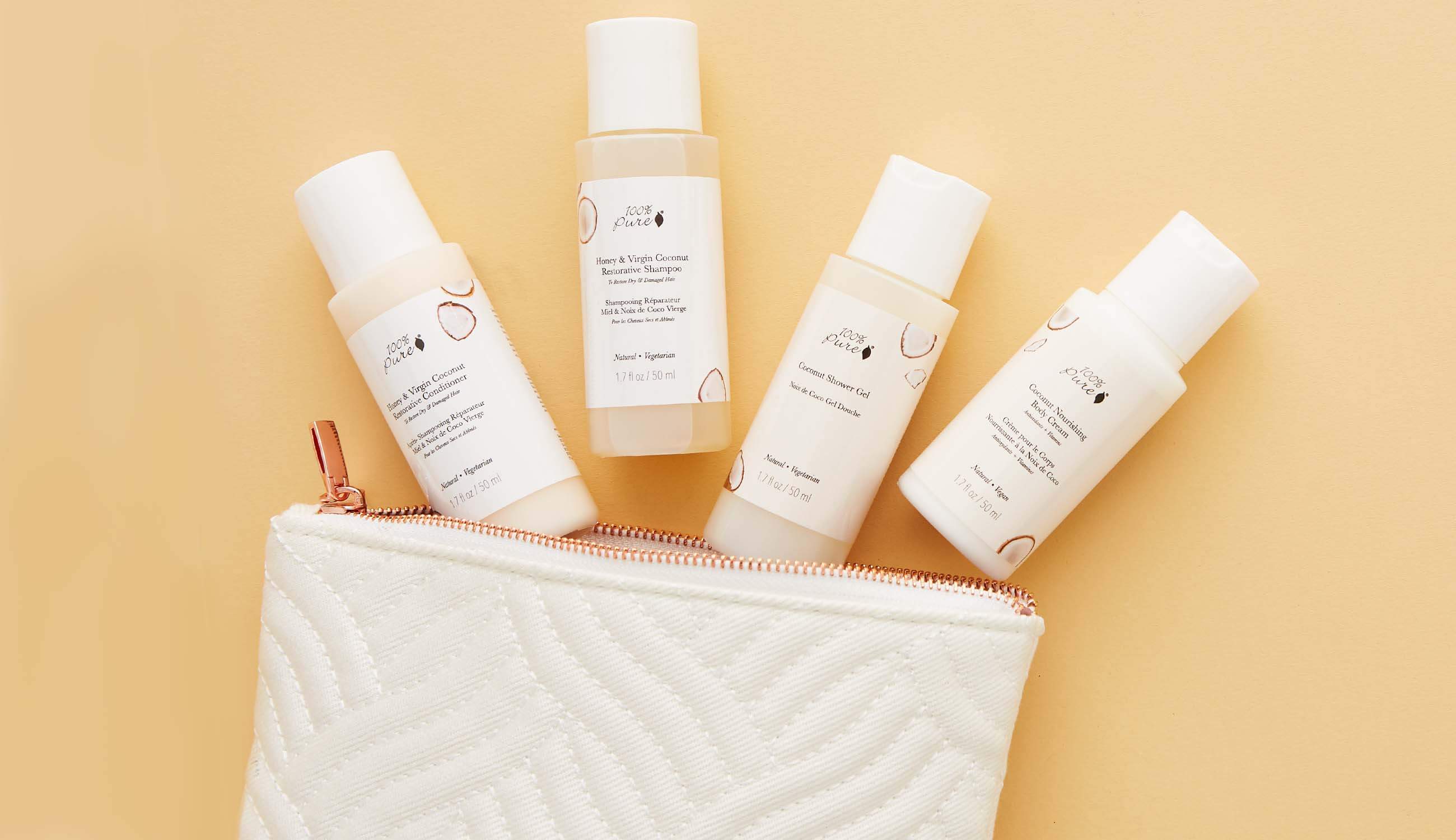 What's Considered 'Travel-Friendly'?
If you'll be heading to the airport to go on your spring getaway, you'll want to make sure everything in your carry-on is organized and meets the TSA's limits. That's why our lovely travel-friendly companion is perfect for such needs.
The TSA limits the amount of liquids that can be brought onto the plane in your carry-on with its 3-1-1 rule. The caveat is that each container can only hold 3.4 ounces (100 milliliters) – but we have your back with 1.7-ounce products in our bamboo fiber pouch travel kit.
Opting for a travel kit is more than just meeting TSA guidelines or the added convenience – though creature comfort is a huge benefit! It's presenting a new way of using products so that we actually finish them before they expire. It's helpful when we can easily bring them along in our increasingly mobile lives. Plus, you get to try a product you might not normally buy with minimum investment.
Whether you're headed to a fancy resort, a wilderness adventure, or an island paradise, our vacay-travel kit will keep you looking your best with minimal hassle. Pair these must-haves with the products that you usually pack in your trusty overnight bag, whenever you're apart from your typical skin care routine. Take some of the best lip care products for spring with you, too!
So, get out there and glow, and enjoy your vacation along with some tropical hair and body essentials!
We carefully hand-select products based on strict purity standards, and only recommend products we feel meet this criteria. 100% PURE™ may earn a small commission for products purchased through affiliate links.
The information in this article is for educational use, and not intended to substitute professional medical advice, diagnosis, or treatment and should not be used as such.
Sign up to our email newsletter for more blog updates and exclusive discounts.
< Older Post | Newer Post >