National Coconut Day Celebration
The wonder of pure coconut oil for smooth, supple skin
Posted on June 26, 2020
Written by: 100% PURE ®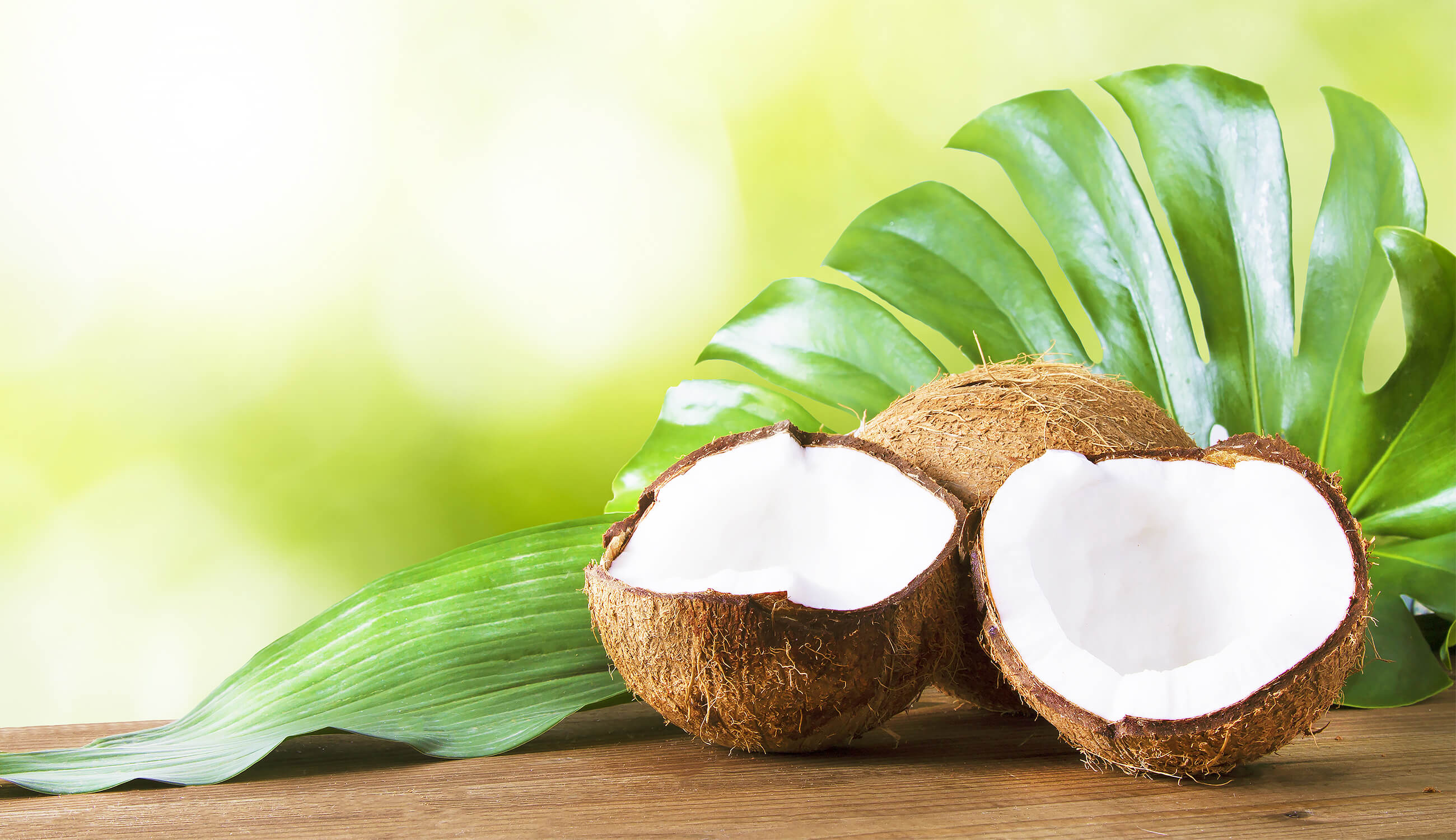 Whether it's undiluted or in a skin care product, we're a huge fan of pure coconut oil. Pure coconut oil has a wide range of functions for every part of your body – from adding shine to hair to whitening teeth to softening cracked feet, this superfood is the definition of versatile!
Coconut Oil: A History
It's no understatement to say that coconut oil has been around for a while. This mild-tasting coconut byproduct has been used in international trade since the 1860s. It's used in modern medicine, but has its roots in Ayurvedic medicine, being used for over 5,000 years in this traditional practice. In fact, Ayurvedic medicine is where the idea of oil pulling with coconut oil came from!
We might know coconut oil primarily as a cooking ingredient, but it's also been popularized as a natural skin moisturizer. We know it for its antibacterial, antifungal, and anti-inflammatory properties. Its main antibacterial and anti-inflammatory ingredient is lauric acid: a fatty acid that conditions skin and hair. It's one of the key factors linking research to coconut oil for faster wound healing.
Coconut oil is rich in antioxidants; these compounds can help skin and hair fight against free radicals that cause hyperpigmentation, advanced skin aging, and sun damage. Antioxidants are best used to prevent damage before it happens. This antioxidant content also helps lengthen the shelf life of coconut oil and other products it's in.
Coconut Oil for Your Whole Body
100% PURE™ body care, hair care, and skin care products contain cosmetic grade coconut oil, also known as virgin coconut oil. That means no drying and no solvents – just pure, all natural coconut oil. While there are concerns that coconut oil can be comedogenic, many skin types can still use it on their face (even for acne), while everyone can use it for hair and body.
PRO TIP: To avoid breakouts, always be sure you're using the right products for your skin type!
For the national celebration of this beloved fruit – happening each year on June 26th – we wanted to compile a list of our favorite products. Specifically, ones that use coconut oil as an active ingredient. So, if you're looking to add nourishment to all aspects of your routine, check out our top coconut oil products below!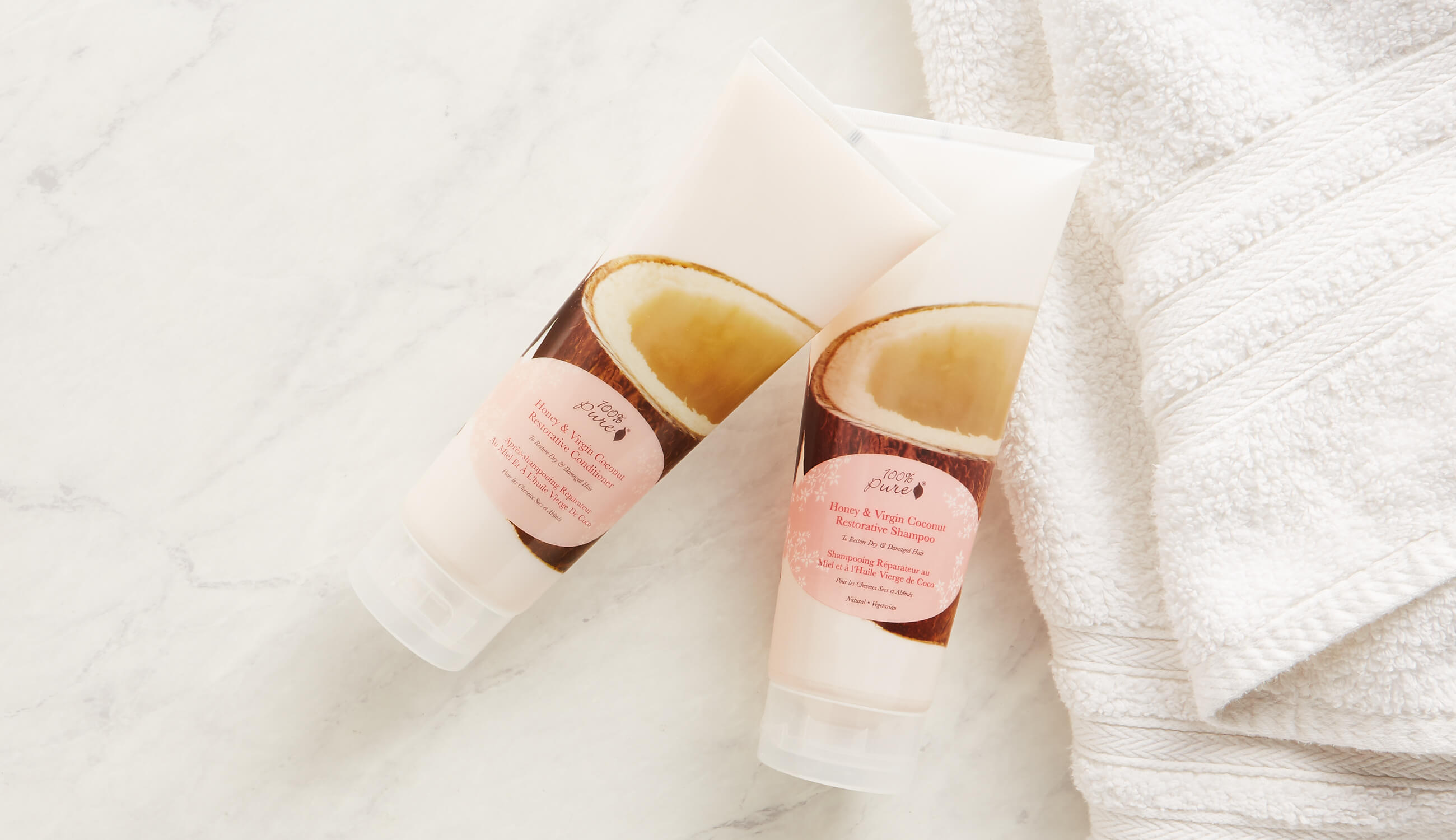 Coconut Oil for: HAIR
Honey & Virgin Coconut Shampoo
Saponified coconut oil plays an important role in this gently cleansing shampoo. What exactly does "saponified" mean? Essentially, pure coconut oil that's been saponified has become a gentle cleansing ingredient. This process means mixing coconut oil with an alkaline, creating a creamy lather. The end product also contains plenty of glycerin, an ingredient that brings moisture to your skin and hair. This leads to stronger, deeply conditioned strands.
Honey & Virgin Coconut Conditioner
While our shampoo softens and strengthens hair, the pure coconut oil in this conditioner adds shine and helps seal in hydration. We use virgin coconut oil in this formula as a deep moisturizer. Complemented by avocado butter and other natural oils, you have a rich formula for even the driest of hair.
Apply this conditioner on wet hair from the ears down. Wait for a few minutes and rinse with cool water. Remember to use conditioner only from the ears down — using conditioner on your scalp can leave it feeling heavy and greasy!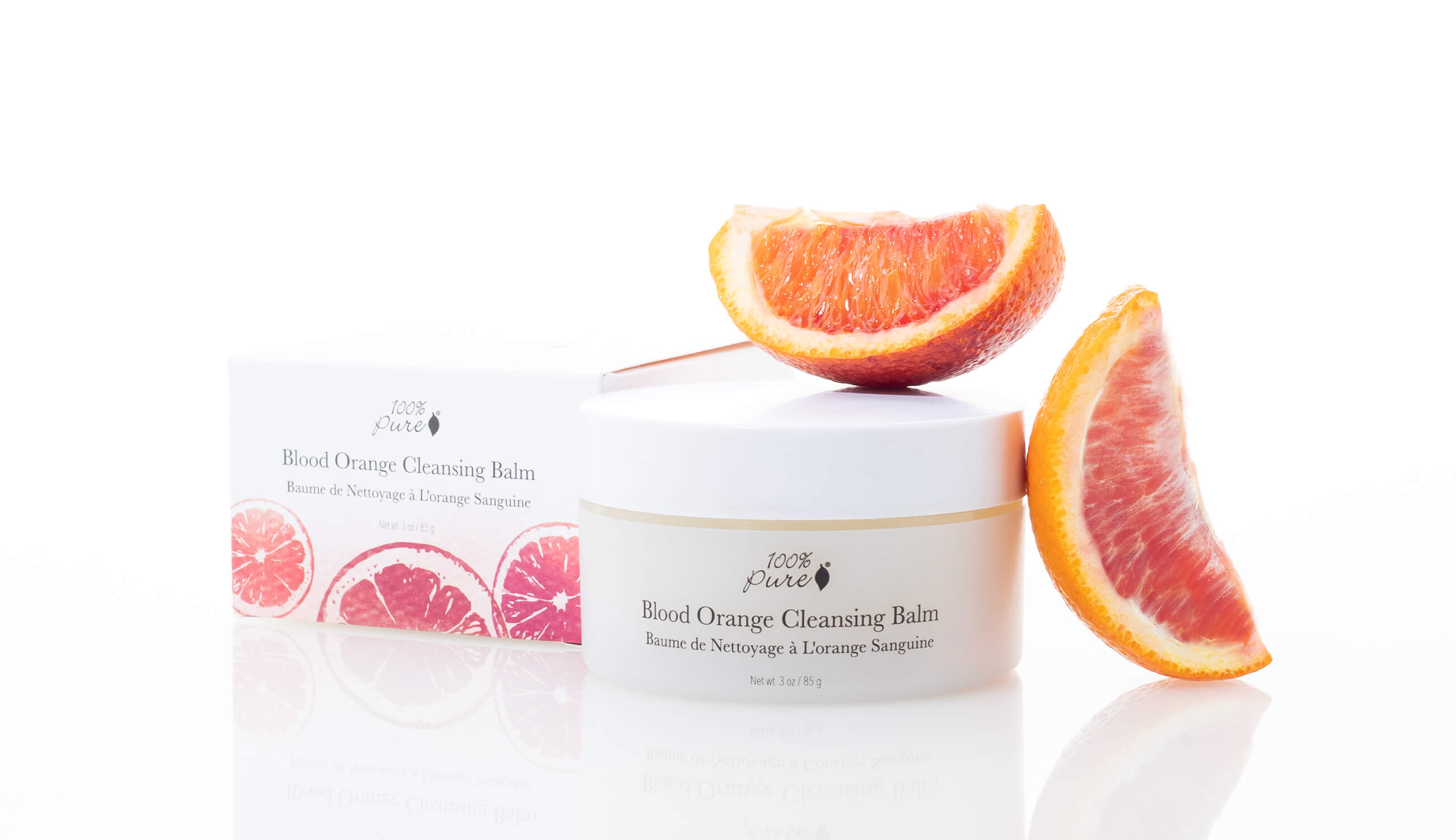 Coconut Oil for: FACE
Blood Orange Cleansing Balm
Cleansing balms are one of our favorite products to thoroughly remove ALL the makeup, sunscreen, sweat, and grime from our skin. What makes this balm even better is its inclusion of pure coconut oil.
While it might seem counterintuitive, coconut oil molecules can actually help remove excess oil from our skin! The coconut-based surfactants in this balm bond to excess oil, to deeply cleanse while preventing natural oils from being stripped in the microbiome.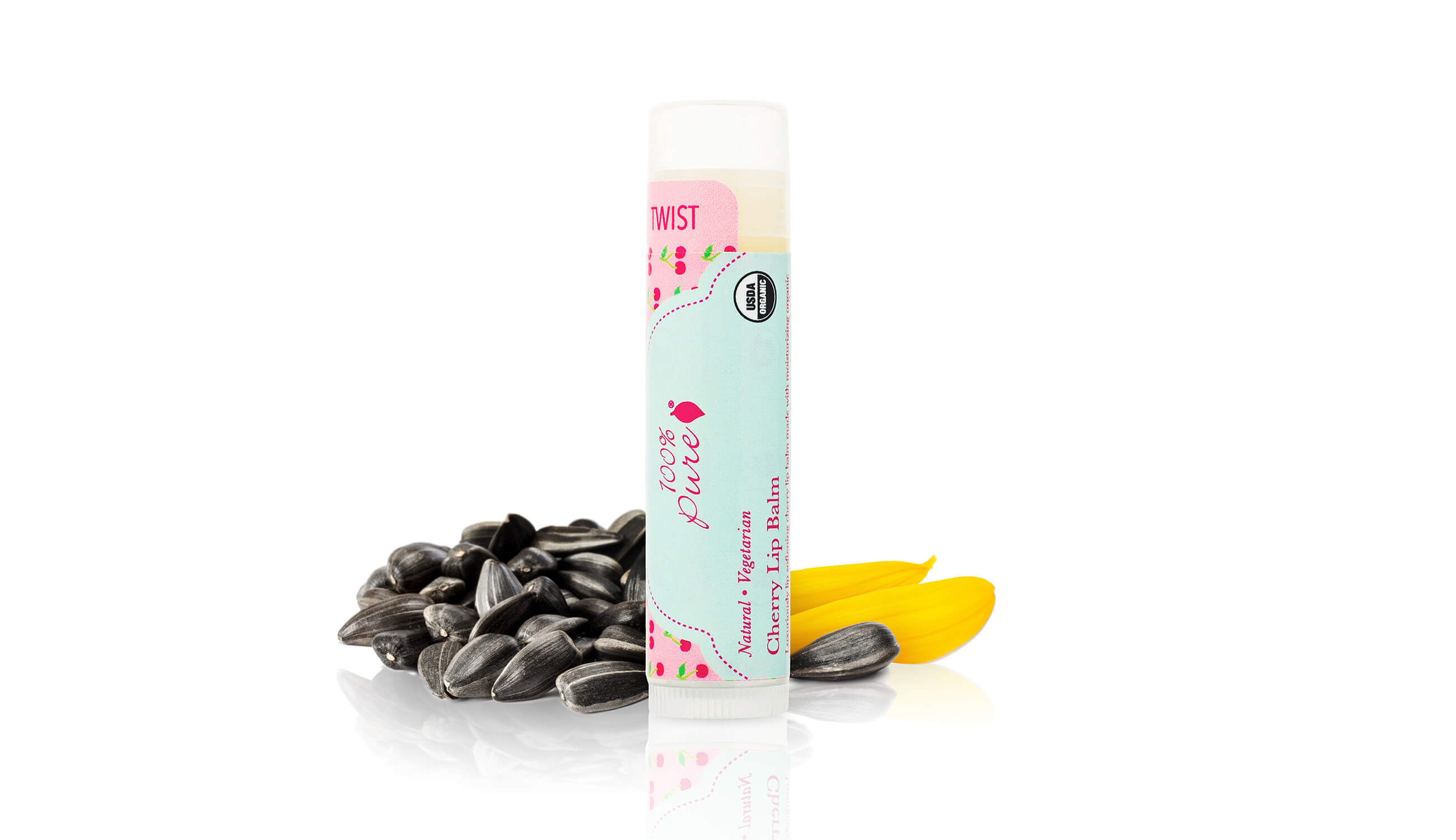 Coconut Oil for: LIPS
Cherry Lip Balm
Pure coconut oil is a wonderful emollient and occlusive ingredient; emollients soften the skin, while occlusives seal in moisture. Our tasty cherry-flavored lip balm pleases your taste buds while coconut oil smooths and moisturizes lips.
For best results, exfoliate beforehand to remove dead skin cells, and apply a hydrating lip serum. Exfoliation allows nourishing ingredients to better moisturize your lips, while a lip serum will add much needed hydration to chapped lips – all before you seal it in with an occlusive lip balm.
If you have dry lips: apply a lip balm when you wake up, after eating and drinking, and before bed.
Coconut Oil for: MAKEUP
Long Last Brows
Pure coconut oil in this natural brow gel allows pigment to glide easily over your brows – without clumping! It also has the added benefit of conditioning and moisturizing your brow hair while you fill them in. This can help strengthen eyebrow hairs, allowing them to fill in naturally and reduce breakage from vigorous makeup removal. You may even protect yourself from specific skin conditions like eyebrow dandruff!
After removing makeup at the end of the day, you can even use pure coconut oil to restore brow health while you sleep. Take a small amount of solid oil (not enough to run down into your eyes), and warm it between clean, dry fingertips. Gently massage into your brows using an upward motion, being sure to contact both skin and hair. Use a clean spoolie to distribute the coconut oil through every strand, then head off to bed!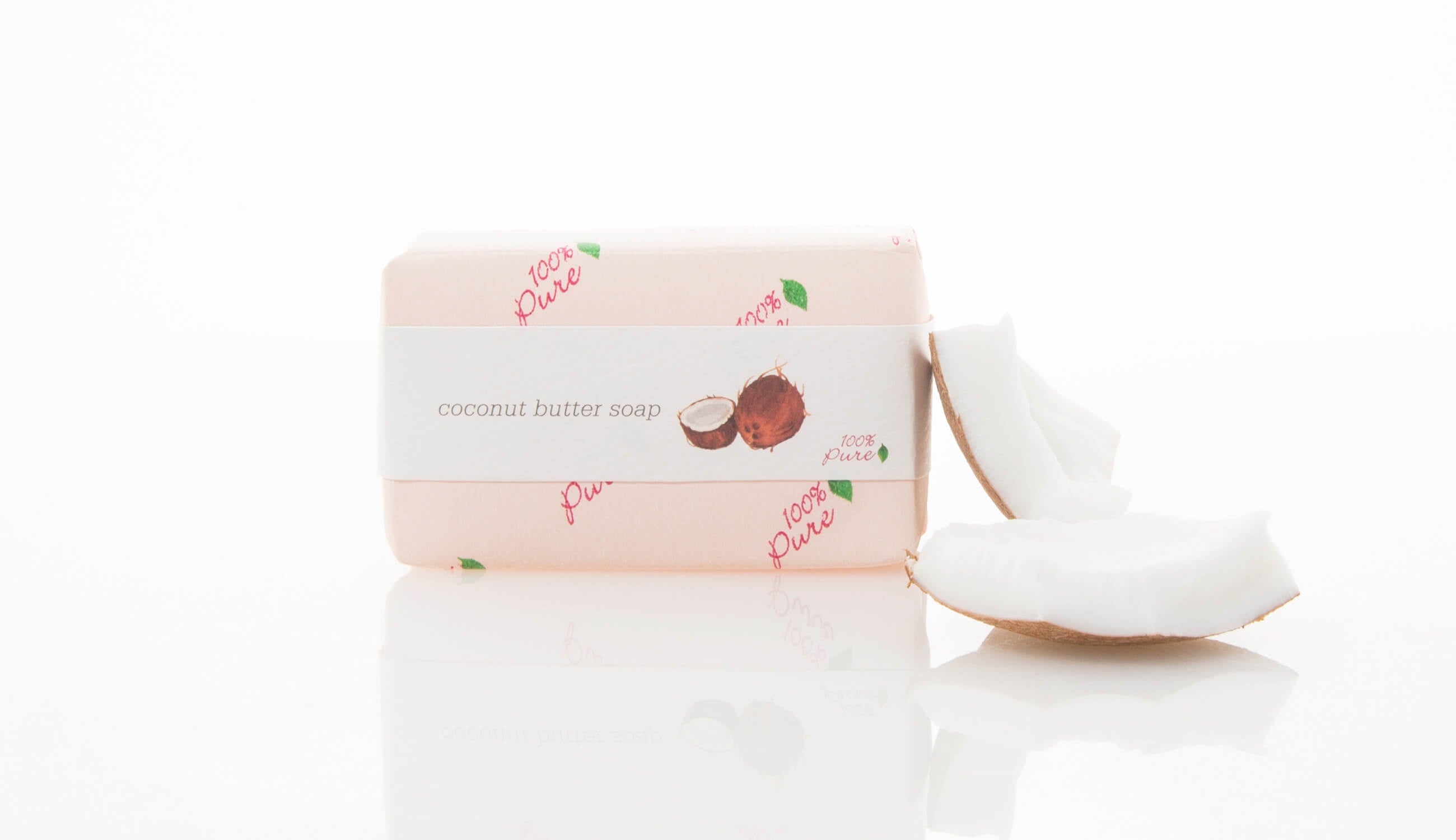 Coconut Oil for: BODY
Coconut Butter Soap
Coconut butter can be a tasty snack, but the butter in this formula isn't meant to be eaten! This richly lathering bar soap uses saponified coconut oil for a gentle cleansing experience. Shea butter – the "butter" part of this soap – works alongside pure coconut oil to soften our skin.
That said, we often treat our face quite well, but we tend to use harsher detergents and soaps on our bodies. It must be repeated: our bodies deserve the same level of care, too! For an extra nourishing experience, follow up with a body butter or silky body oil.
TLDR: pure coconut oil can be safely used in almost any kind of skin care product. While this antioxidant-rich ingredient can be incredible on its own, using it alongside other natural moisturizers can help amplify its effects. So get on the bandwagon and reap the benefits of pure coconut oil!
We carefully hand-select products based on strict purity standards, and only recommend products we feel meet this criteria. 100% PURE™ may earn a small commission for products purchased through affiliate links.
The information in this article is for educational use, and not intended to substitute professional medical advice, diagnosis, or treatment and should not be used as such.
Sign up to our email newsletter for more blog updates and exclusive discounts.
< Older Post | Newer Post >