A guide to every 100% PURE nail polish, complete with shade descriptions and a category breakdown!
Posted on January 4, 2019
Written by: 100% PURE®
It's manicure day, and you're stuck sitting in front of your nail polish collection. Which color should you choose? Wait, let's reverse that - are your polishes 10-free? You'll first want to make sure the shade you're using is free of nasty ingredients like formaldehyde, camphor, and toluene, before you even THINK about putting it on your precious nails!
Once you've committed to the 10-free lifestyle, you can move onto the fun part: color selection. Matching your nail polish to your outfit, your eyes, your purse - whatever floats your boat! We've got a color guide to 10-free nail polishes in the shimmery, red, pink, or nude categories. We'll make it easy for you to find your perfect manicure (or pedicure) BFF!
Shimmer Nail Polish
A buildable shimmer polish is the secret weapon in your makeup kit. You can go barely-there shimmer, neutral shimmer, or full-blown shimmer queen! These colors are perfect on their own, but also make stunning top coats for solids.
I 🖤 You: Sheer, baby pink shimmer
Ambrosia Melon: Sheer, pinky coral shimmer
Souffle: Semi-sheer, deep cocoa brown with silver metallic sheen
Pinkerton: Semi-sheer, pale pink with soft silver shimmer
Sugar: Sheer, brown sugar-gold with fine grains of warm sparkle
Wedding: Sheer, nude peach with warm gold shimmer
PRO TIP:Try an ombre effect with your shimmer polish! Start by wiping excess polish from your brush. Then, on either a base coat or clear coat, start from the tip of the nail and lightly brush downwards, stopping at the center of your nail. You'll give the lightest shimmer effect to the tips of your nails, while still showing the color beneath!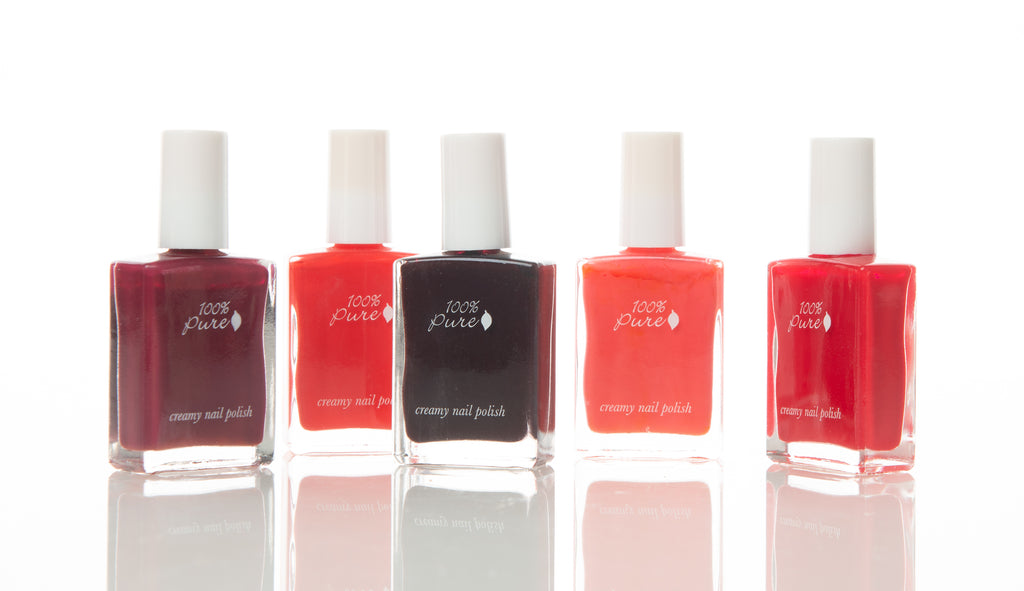 Red Nail Polish
Practically nail polish royalty, red is a shade that will never go out of style. It looks stunning on any skin tone, comes in dozens of varietals, and makes for a safe go-to when you can't choose a shade for your manicure. Red is especially striking on pale skin, and looks positively elegant on deep skin tones.
Tomato: Bright tomato red
Pie: Deep, burgundy wine red
Jam: Deep, classic red with a slight berry undertone
Watermelon: Vibrant medium red with an orange undertone
Wedding: Sheer, nude peach with warm gold shimmer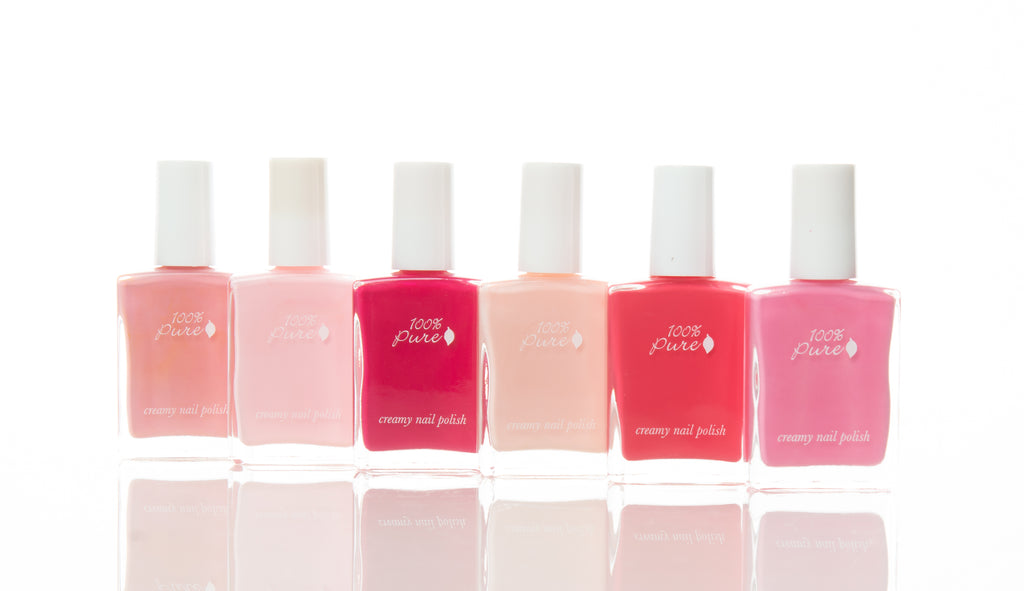 Pink Nail Polish
Pinks are complimentary on cool skin tones - those with undertones of pink or blue - but that doesn't mean warm skin tones can't wear them! On golden or olive skin, cooler pinks tend to pop, while warmer or more neutral pinks will enhance skin's glow. Choosing a pink polish is like choosing a red one: once you find "your" pink, it becomes your signature shade!
Crush: True bubblegum pink
Innocence: Soft, pastel pink
Kiss: Deep magenta pink
Juice: Vibrant coral pink
First Love: Ultra light pink with a beige undertone
Soul Mate: A warm pink with peachy nude undertones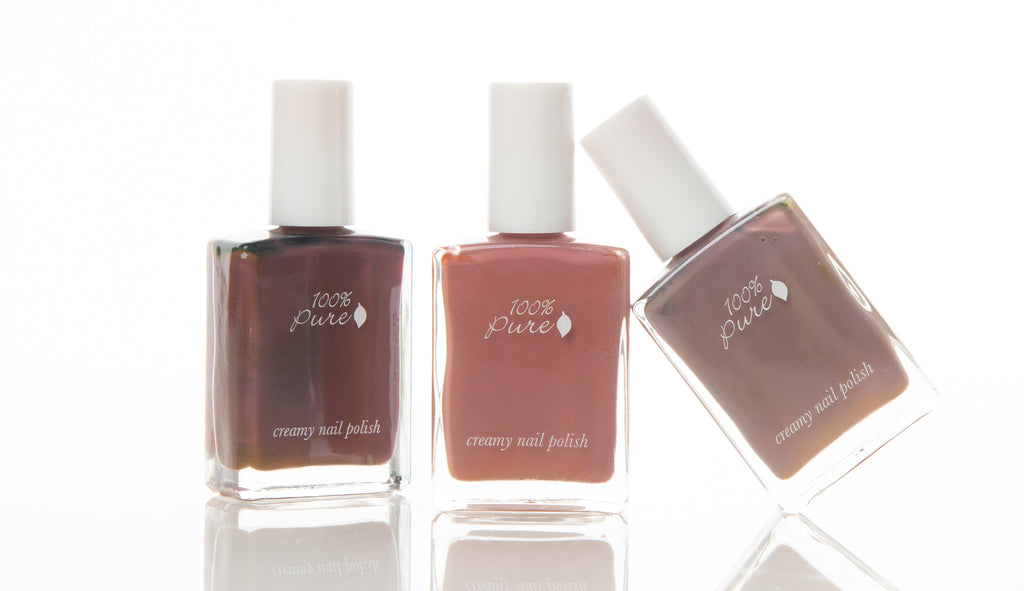 Nude Nail Polish
Can you ever go wrong with going nude? We think not. Nudes are - you heard it hear first - always the answer to an uninspired manicure day. Not feeling the reds, pinks, or glitter? Nudes are safe, reliable, and can be played up for a professional or glam look.
Gelato: Medium, grey nude with a purple undertone
Velveteen: Deep, dusty pink nude with a warm brown undertone
Tart: Deep cranberry nude with a brown undertone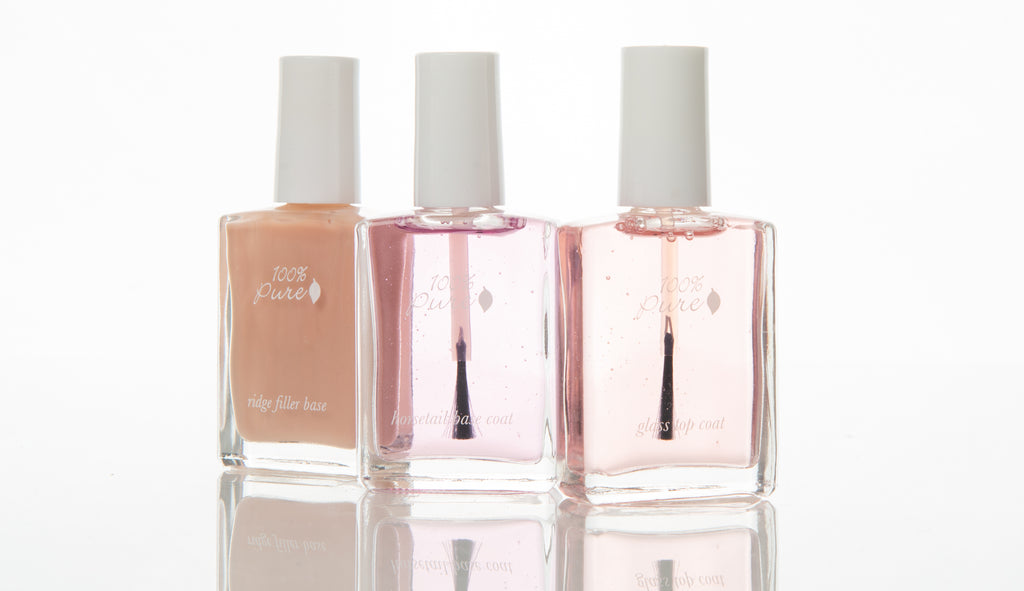 For a Professional Manicure Finish
For the full manicure effect, you can add either a ridge filler, base coat, or top coat - or, all three. Ridge fillers help to even the texture of your nail for a more smooth, seamless polish application. Base coats use strengthening ingredients like horsetail to fortify and protect the nail while you wear your polish. Finally, top coats are designed to protect your color from chipping, cracking, and thinning. Always apply a top coat if you're looking for a professional finish, or simply want your color to last longer!
We carefully hand-select products based on strict purity standards, and only recommend products we feel meet this criteria. 100% PURE™ may earn a small commission for products purchased through affiliate links.
The information in this article is for educational use, and not intended to substitute professional medical advice, diagnosis, or treatment and should not be used as such.
Sign up to our email newsletter for more blog updates and exclusive discounts.
< Older Post | Newer Post >