Hyaluronic Acid Vs. Sodium Hyaluronate
What is sodium hyaluronate, and how does it help skin?
Posted on October 14, 2021
Written by: 100% PURE ®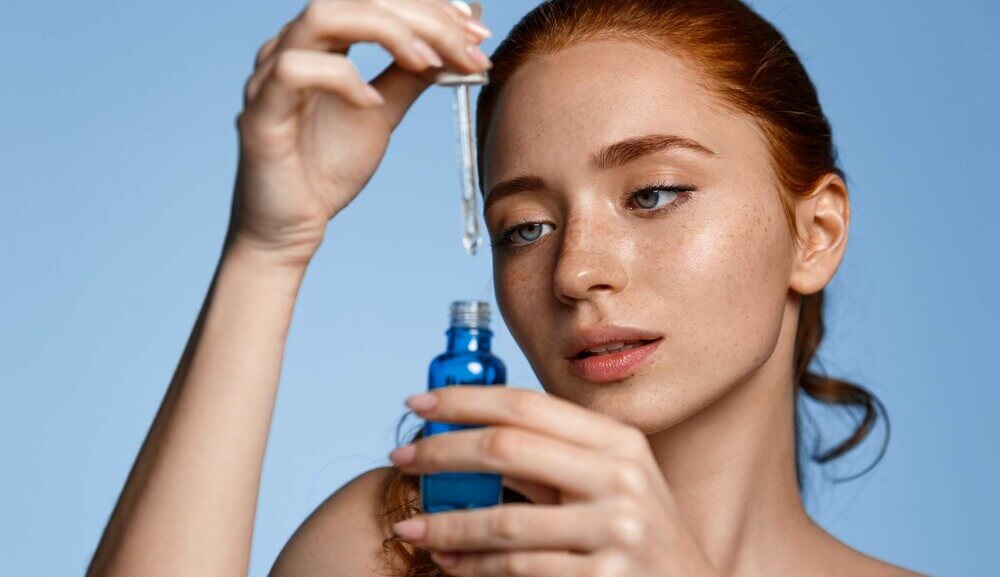 There are two beloved ingredients commonly found in skin care products that tend to cause some head-scratching: hyaluronic acid and sodium hyaluronate. Although they sound alike and have similar, stellar hydration-attracting powers, these substances are quite different!
Follow along as we break down the similarities and differences between hyaluronic acid and sodium hyaluronate in skin care – plus where you can find them. It's time to clear up the confusion!
What Is Hyaluronic Acid?
Although somewhat tongue-twisty to say (and trickier to spell), hyaluronic acid is a sugar molecule that naturally occurs in our bodies, including our skin and joint fluid. Without the super substance, our eyes and joints would not function properly due to a lack of needed moisture and lubrication.
Hyaluronic acid also plays a big part in skin health, and for good reason. The trendy ingredient is on (and sometimes in) everyone's lips as a hydration superstar that can bind to water to plump up your skin. The result: dewier, more hydrated skin!
What Is Sodium Hyaluronate?
If you guessed one prominent ingredient in sodium hyaluronate to be salt, then you're on the right track! The ingredient is actually extracted from hyaluronic acid, making it the sodium/salt form of the buzzy sugar molecule. Like hyaluronic acid, sodium hyaluronate provides much-needed moisture and lubrication for joint and eye health.
This seasoned veteran is no stranger to skin health, hence why it's often mentioned interchangeably with hyaluronic acid. For instance, your fave serum may say "hyaluronic acid" on the front of the bottle, while the back of the bottle lists "sodium hyaluronate." You're still left with dewy skin – but it's even plumper and more hydrated!
How Do Hyaluronic Acid and Sodium Hyaluronate Function in Skin Care?
Both hyaluronic acid and sodium hyaluronate benefits go beyond ultra-hydration for our joint, eye, and skin health. They also deliver intensive benefits for the overall healthy functioning of all your skin cells. Happy cells mean happy skin!
What does this all mean? Let's highlight how hyaluronic acid and sodium hyaluronate each function in skin care so you can achieve skin superstar status!
Hyaluronic Acid
It's safe to say this hydrating skin care gem has proudly made its way into every type of product. Regardless of your skin type or concern, a regimen that supports adequate hydration is essential!
That's where hyaluronic acid can make a huge difference!
Has large molecules that coat the skin and prevent water loss

Works as a humectant to deliver and retain hydration in the skin

Locks in moisture, revealing a fresh, dewy complexion

Penetrates the dermis, giving a bouncy, plump effect to skin

Enables collagen to function properly for firmer skin

Compatible with almost every skin type – even sensitive

Helps promote moisture balance in oily and acne-prone skin types

Encourages cell turnover and collagen for a more youthful complexion
Sodium Hyaluronate
Not so fast – this water-soluble gem has its own place in the skin care world, too! Since sodium hyaluronate is the salt form of hyaluronic acid, it has similar skin functions to the famed sugar molecule form.
That's where sodium hyaluronate can bring your skin care game to another level!
Has small molecules that can penetrate the top layer of the skin

As a humectant, it pulls and traps water from the air for maximum hydration

Helps with transepidermal water loss, restoring and trapping hydration where you need it

Smooths out fine lines and wrinkles with its famed plumping action

Balances moisture for excess dryness or acne-prone skin

Rather than just coating skin, it improves hydration from the underlying skin layers

Its lower molecular weight means molecules will inevitably soak deeper into your beautiful skin
Why Are Hyaluronic Acid and Sodium Hyaluronate Mentioned Interchangeably?
Don't be surprised if you turn your favorite hyaluronic acid serum around and find sodium hyaluronate on the ingredient label instead. With such similar benefits and functions on the skin, it's no wonder these two semi-sister ingredients are used interchangeably in the beauty industry.
While hyaluronic acid and sodium hyaluronate are all-star hydrators and come to the aid of practically every skin-care woe or concern, we've wised up to the important differences between the two. It's precisely why we love these hydration heroes in our formulas! Here are two of our faves.
 Rose Hyaluronic Acid Serum
If you're experiencing redness or discomfort, our Rose Hyaluronic Acid Serum is here to deliver happier skin. We included rose hydrosol and calendula – both praised for their soothing and calming effects – along with white tea for a boost of antioxidants. All the while, your skin is also receiving the benefits of sodium hyaluronate for ultra-hydration and plump, dewy-looking skin.
Multi-Vitamin + Antioxidants Potent PM Serum
The best time for your lovely dermis to repair itself is at night. With our supercharged Multi-Vitamin + Antioxidant Potent PM Serum, hyaluronic acid benefits the skin by replenishing moisture. Skin-loving vitamins like niacinamide and vitamin C work harmoniously together. They help minimize the appearance of fine lines and wrinkles, while evening out skin tone.
While there are plenty of skin care products that inject your dermis with some moisture, none are going to take your hydration needs to the next level like hyaluronic acid and sodium hyaluronate. Both forms have advantages, and both promote a radiant, plump complexion. At the end of the day, there's really no wrong way to hydrate.
We carefully hand-select products based on strict purity standards, and only recommend products we feel meet this criteria. 100% PURE™ may earn a small commission for products purchased through affiliate links.
The information in this article is for educational use, and not intended to substitute professional medical advice, diagnosis, or treatment and should not be used as such.
Sign up to our email newsletter for more blog updates and exclusive discounts.
< Older Post | Newer Post >