How to Use Setting Powder
Create a smooth, flawless finish for any skin type
Posted on May 14, 2020
Written by: 100% PURE ®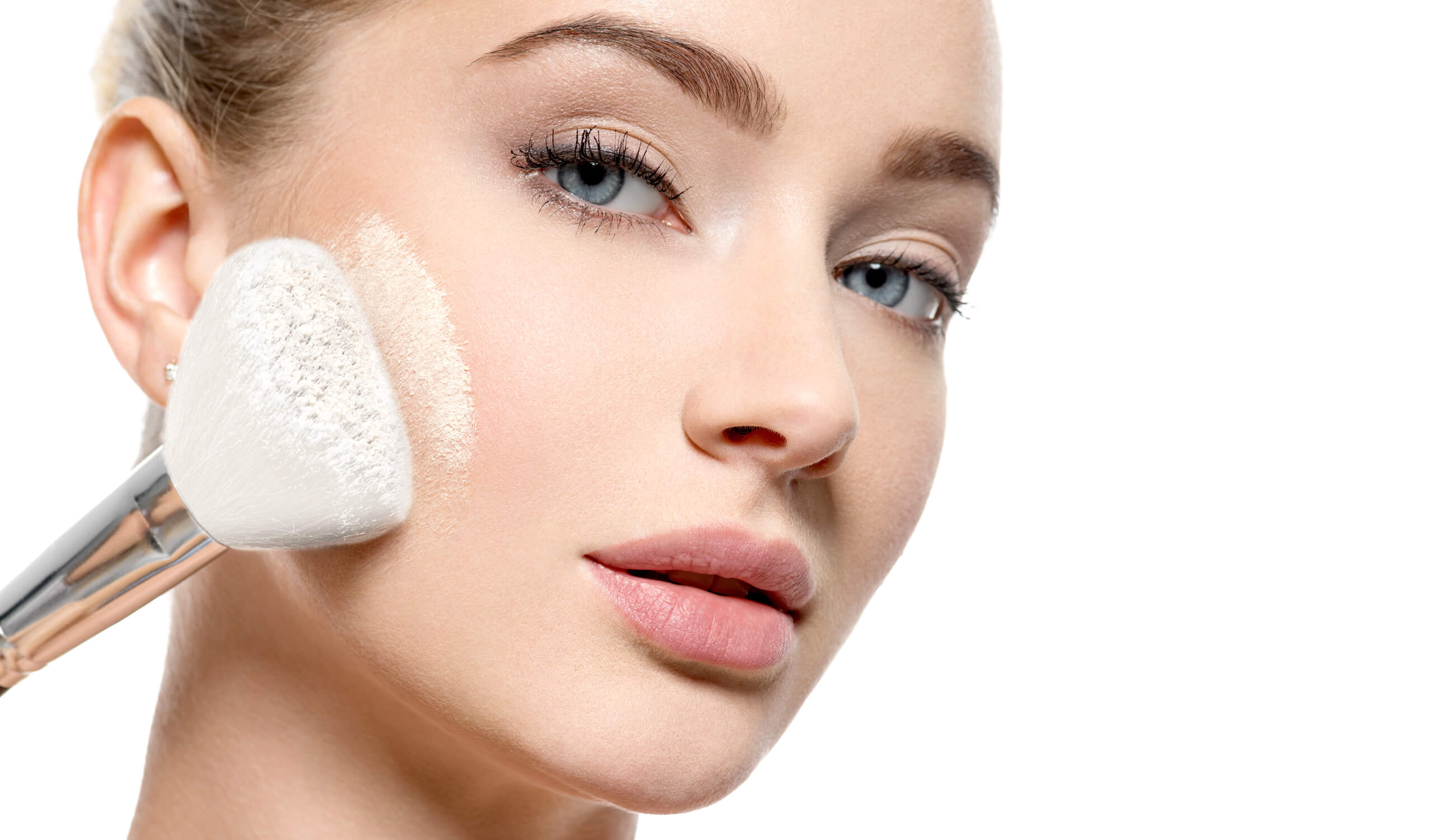 For those who love setting sprays or dewy foundation, a setting powder can seem unnecessary. Powders in general garner a reputation of being only for oily skin, or super matte looks.
Here's the truth: setting powders have more range than we give them credit for. They extend the longevity of our makeup, and any skin type can make setting powder work for them. It all comes down to the technique, and perfecting the application for your specific needs.
Using our award-winning Bamboo Blur Powder, we'll break down all the wonderful ways to employ your setting powder for gorgeous results.
What Is Setting Powder?
Setting powder is a type of makeup powder meant to keep your foundation in place. In addition to making sure your face doesn't budge, setting powders can help absorb oil, blur the appearance of pores, conceal fine lines, and soften your makeup look.
They can come in pressed or loose powder forms, and in tinted or translucent shades. Pressed powder comes compressed and flattened in its packaging. Loose powder comes in a jar or tub, and the particles are picked up through a mesh or plastic screen.
Tinted powder matches your skin tone; translucent powder is sheer, suiting a wider range of skin colors. Tinted powder also provides a bit more coverage to help correct skin tone, brighten, and reduce the appearance of redness. Translucent powder mattifies and softens without adding any coverage at all.
Both tinted and translucent powders can come in either pressed or loose form.
Setting powder differs from powder foundation since it doesn't provide a ton of coverage. If you're wondering how to use setting powder, here are a few options:
Setting foundation or highlighter

Mattifying oily areas (even on makeup-free skin)

Baking under eyes, jaw, chin, and around the nose
The main concern with powder is that it will lead to creasing, enhance fine lines, or exacerbate dryness. While setting powders do have the most benefits for oily skin, all skin types can benefit from a setting powder. The trick is finding out how to use setting powder the right way, and picking a clean, non-toxic formula that works with your skin type.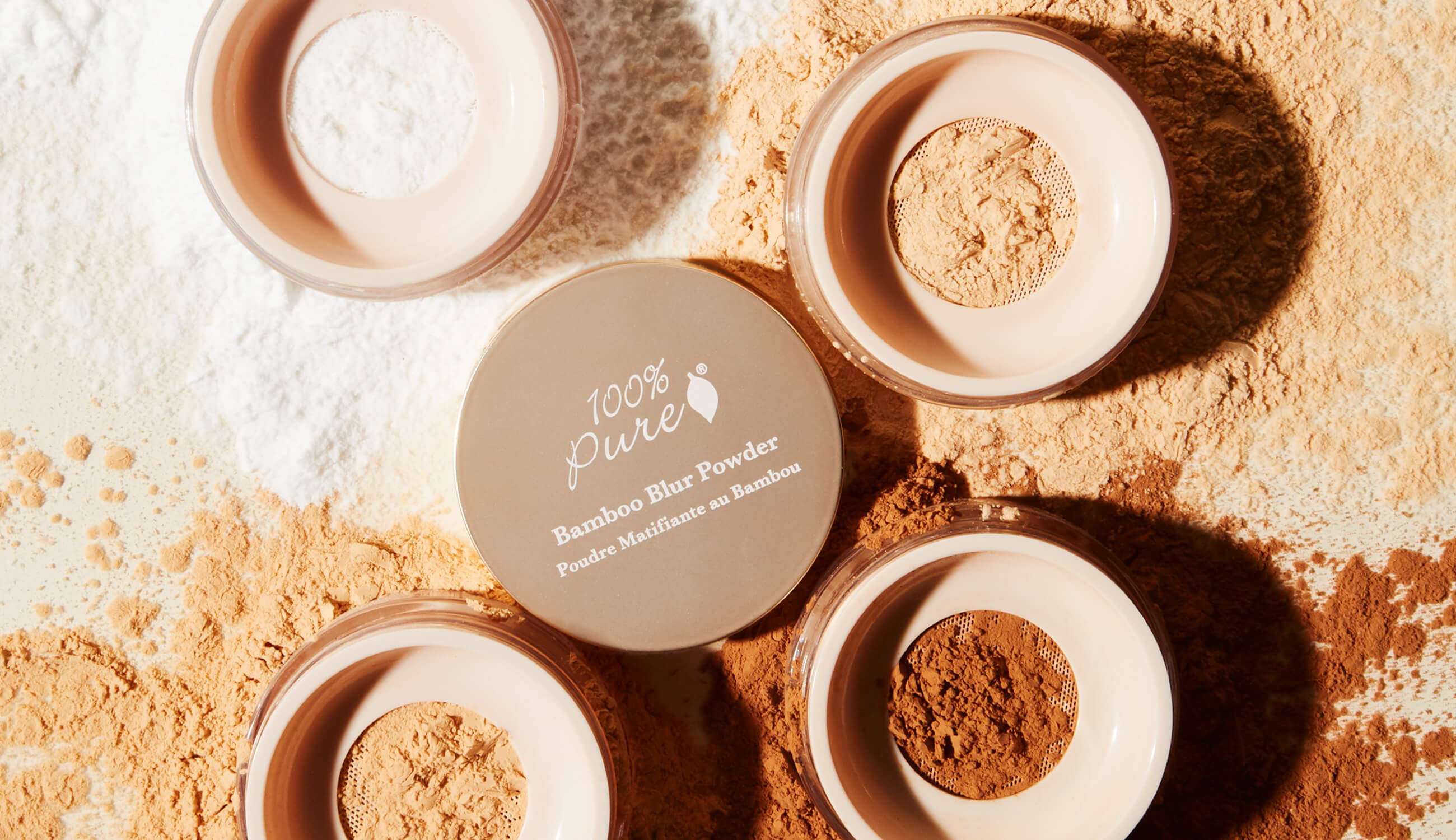 How to Use Setting Powder for Different Effects
The versatility of a setting powder is immense. Learning how to apply a setting powder to suit different events or types of weather is valuable for making makeup that lasts all day, every day. We'll dish details below on how to use setting powder for a range of makeup finishes!
For a full matte look
STEPS:
1) Hydrate and prime the skin
2) Apply a liquid, cream, or powder foundation and blend it into your skin
3) Pat down with a blending sponge or puff to absorb any extra liquid
4) While your foundation is still damp, use tinted or translucent setting powder on every part of your face
For a controlled, semi-matte look
STEPS:
1) Hydrate and prime
2) Apply liquid, cream, or powder foundation
3) Pat down any extra liquid
4) Focus your setting powder on areas that are prone to oiliness, like the t-zone
For a soft and glowy look
STEPS:
1) Hydrate and prime
2) Apply liquid, cream, or powder foundation
3) Pat down any extra liquid
4) While your foundation is damp, use your tinted setting powder to achieve a matte look
5) Once you reach the highlighter step, apply as normal
6) If you use a cream or liquid highlighter, use a fine coat of translucent powder to soften your highlight
For a dewy look
STEPS:
1) Hydrate and prime
2) Apply liquid or cream foundation
3) Blend and pat down extra liquid
4) While your foundation is damp, use a light hand to apply your tinted or translucent powder
5) Use a setting spray to add dewiness back to the skin
PRO TIP: Wondering how to use setting powder and avoid caking or creasing? Use cream or liquid products first, then setting powder. After powder, the most you should use is a setting spray.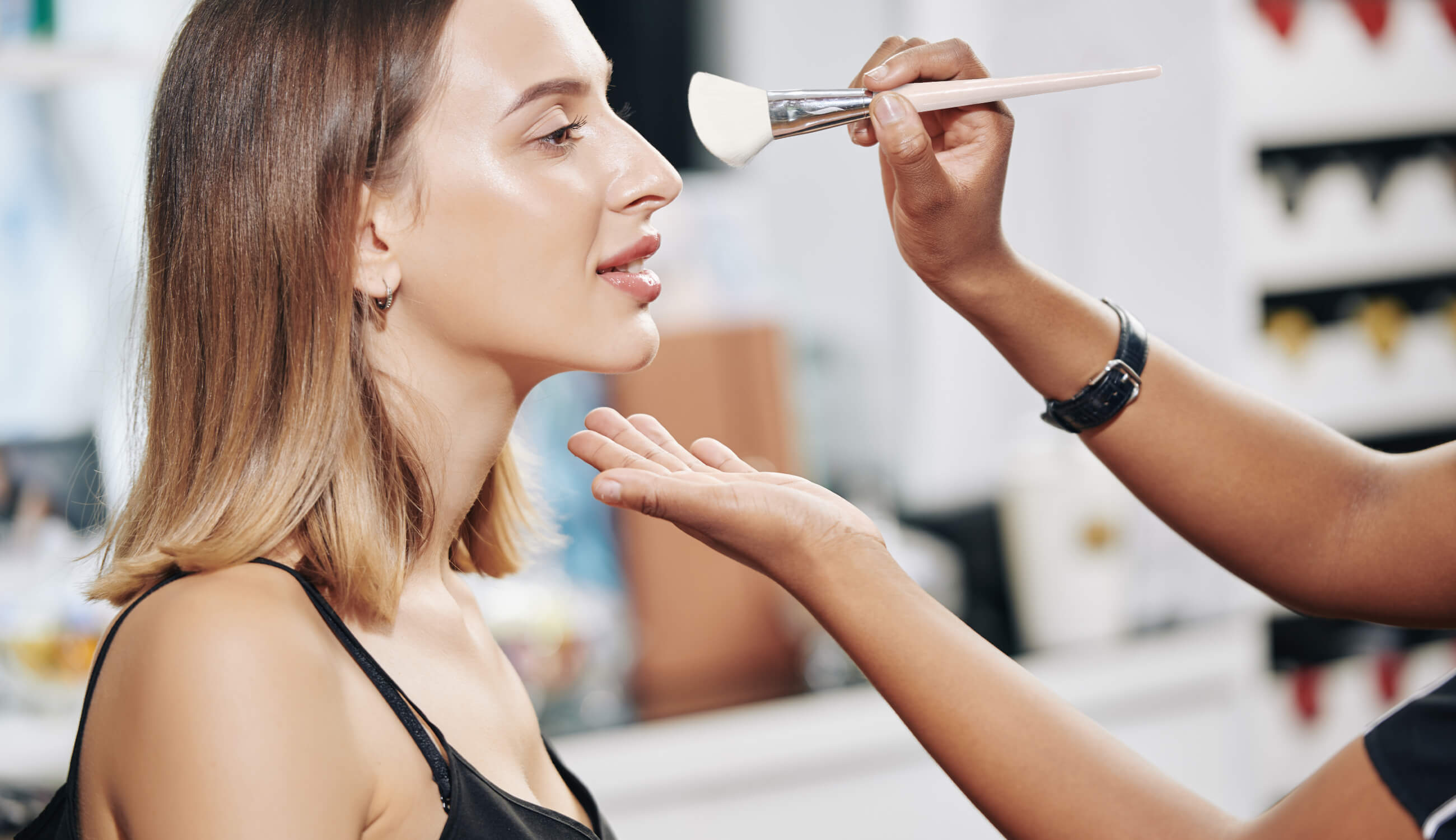 How to Use Setting Powder to Bake
Baking is a 5 to 10 minute process, where you apply a visible layer of powder on the skin to set your concealer. After those 5 to 10 minutes are up, you dust the excess powder off.
Throughout the day, sweat and oil production rehydrates our skin – and when oil or sweat meets a liquid product, a slippery makeup disaster is bound to happen. The baking process is meant to give the liquids in your foundations and concealers time to evaporate, so that they won't interfere with your natural lipids. This means that if you've baked, your makeup will stay put, even if you sweat.
How to Bake with Powder in 7 Steps
Step 1: Hydrate and prime
Step 2: Apply foundation and blend
Step 3: Apply a thick layer of concealer under your eyes and blend (or highlight skin as desired)
Step 4: Blend some translucent powder into your concealer. Feel free to use powder on areas you want to highlight, like the bridge of your nose, jawline, and chin.
Step 5: Here comes the baking: dampen your makeup sponge and pat a thick layer of loose, translucent powder over these areas
Step 6: Wait 5 to 10 minutes
Step 7: Dust the powder off, apply blush or bronzer, and start your day!
Tips and Reminders
Wondering how to use setting powder without all the caking and creasing? We have a few tips and reminders to keep you cake-free:
As mentioned, don't use creams or liquids after your setting powder. This can alter the texture of your powder, leading to a patchy mess. The exception is a small amount of liquid highlighter – otherwise, stick to powder bronzers, highlighters, and blush.

Practice a nourishing skin routine starting your makeup. Hydrate the skin well and use a smoothing primer; this will plump up and help fill in fine lines or wrinkles. This means less powder settling into your creases.

Setting powder isn't just for foundation – you can use setting powder on bare, makeup-free skin. Setting powder will help to control shine throughout the day.

Less is more! You don't need to use a ton of powder – this is especially important if you use powder foundation or have drier skin.
The most important takeaway is to use setting powder in ways that work for your unique skin. Put the needs of your skin first, and makeup perfection will follow!
We carefully hand-select products based on strict purity standards, and only recommend products we feel meet this criteria. 100% PURE™ may earn a small commission for products purchased through affiliate links.
The information in this article is for educational use, and not intended to substitute professional medical advice, diagnosis, or treatment and should not be used as such.
Sign up to our email newsletter for more blog updates and exclusive discounts.
< Older Post | Newer Post >