How to Execute Your Green Tea Routine
A quick guide for applying green tea for acne, sensitive skin, or oily skin in a customizable daily skin care routine!
Posted on January 15, 2019
Written by: 100% PURE®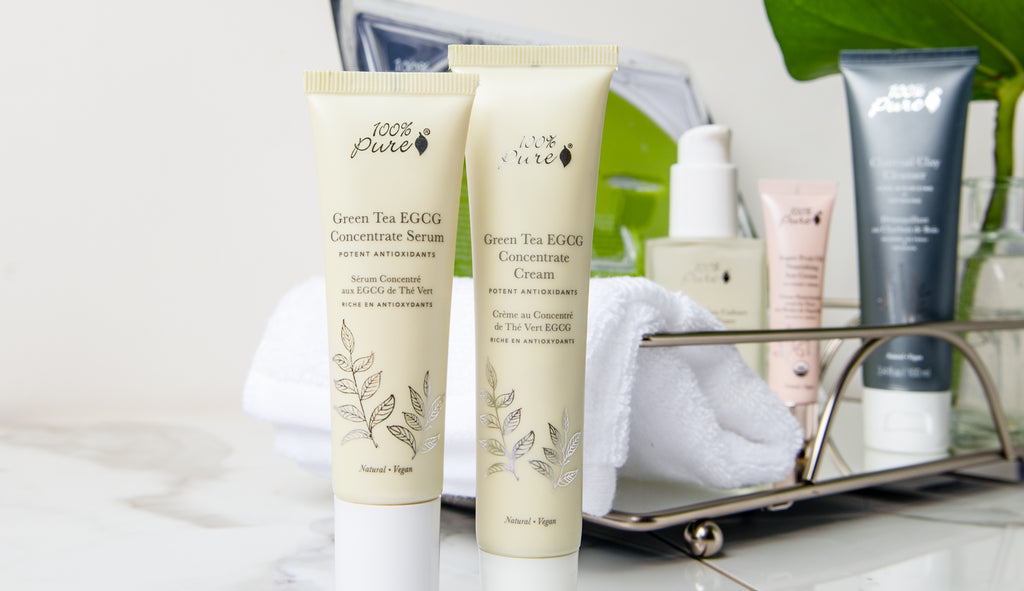 If you've been following us for a while, you'll know that green tea is incredible for both your health and your skin. We've introduced you to some powerful benefits of green tea extract, oil, and concentrate, and products that can be used daily for defense against free radicals and signs of aging. Now it's time to break down the HOW and WHEN of your routine! You can use products with green tea for acne, oily skin, and even sensitive skin - and we'll tell you how.
Why Do Certain Skin Types Need a Green Tea Routine?
You can use green tea topically for acne, oily skin, normal skin, and even sensitive skin. Sure - our green tea moisturizer is great for even dry skin types, too. However it's best to focus on the key ingredients of green tea and EGCG, and where they can have the most impact, and on which skin type.
Green tea has a different impact on each skin type. For acne-prone skin, green tea uses its catechins (a type of phenol and antioxidant) to kill bacteria which can cause acne. Green tea also offers both anti-inflammatory and skin-lightening effects for both active breakouts and traces of scarring from old breakouts. For both oily-prone and sensitive skin, the caffeine in green tea acts as a vasoconstrictor. This benefits oily skin by temporarily tightening pores and reducing oil output onto your skin, while helping to constrict blood vessels that cause excessive redness in sensitive skin types.
Start with a Complimentary Cleanser
Start your routine by washing your face with a cleanser suited for your skin type. Since our green tea products are best suited for oily, acne prone, and sensitive skin (and of course normal skin, too), we're highlighting matching cleansers that can fit into a green tea routine.
For acne-prone skin, start with the soothing and purifying Tea Tree & Willow Cleanser. This anti-inflammatory formula helps to soothe puffiness and redness located caused by breakouts. To reduce inflammation, we've included willow bark, witch hazel, and tea tree in this invigorating face wash.
For oily skin, kick off your green tea EGCG routine with another free radical fighting formula: the Charcoal Clay Cleanser. Much like the polyphenols and antioxidants in green tea, this cleanser is packed with free radical-neutralizing power. Sebum balancing charcoal and clay help to absorb excess oil, while astringent lemon water tightens pores to lessen the amount of sebum secreted onto skin's surface.
Argan Oil Creamy Cleanser should kick off your routine if you've got sensitive skin. Argan oil is silky and nourishing, but won't clog or irritated skin sensitivities. To use your cleanser of choice, pour a half dollar-sized amount of cleanser onto facial sponge or hands. Apply to wet face and neck, then gently and thoroughly massage in circular motions for at least 30 seconds. Finish by rinsing with warm water.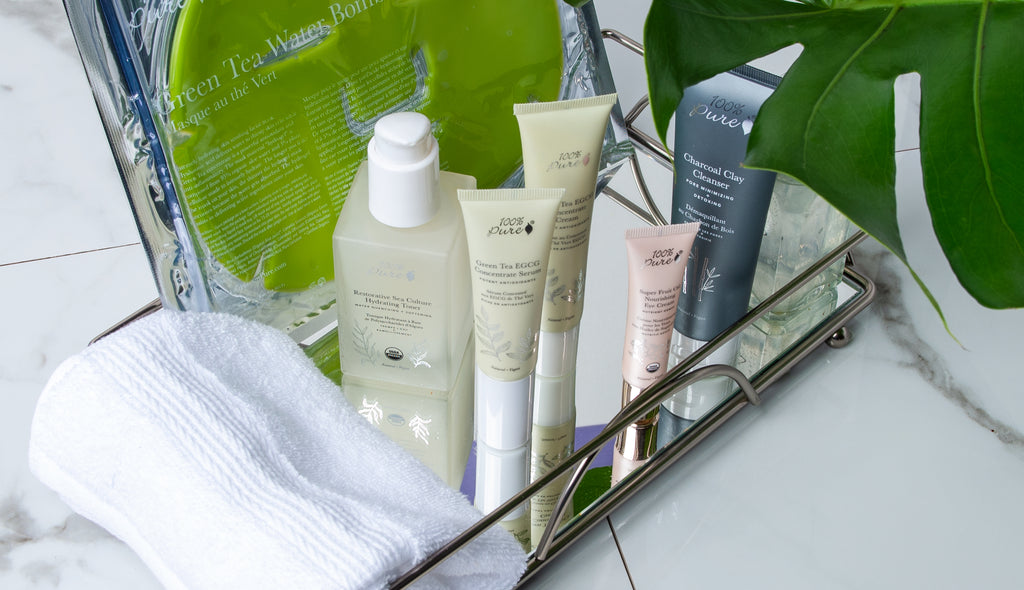 Follow with a Toner
Before using products with green tea for acne, you should prime your skin with a hydrating toner, which will help your pores absorb and accept nutrients from the rest of your routine. Those with acne should opt for our purifying and anti-inflammatory Tea Tree & Willow Clarifying Astringent. OIly skin types should opt for a balancing toner with light oil regulators like lemon and kojic acid. Our Fermented Rice Toner does the trick here, while boasting anti-aging and spot lightening abilities, which benefits those with dark spots, large areas of hyperpigmentation, or dull skin.
Sensitive skin types should opt for a toner that gently nourishes their skin with trace minerals, and restores soothing hydration. Our Sea Culture Hydrating Toner does just that, while using hyaluronic acid and organic glycerin to deeply penetrate and soothe red, inflamed skin. After cleansing or exfoliating, pump your toner of choice onto a cotton pad. Gently sweep onto face and neck.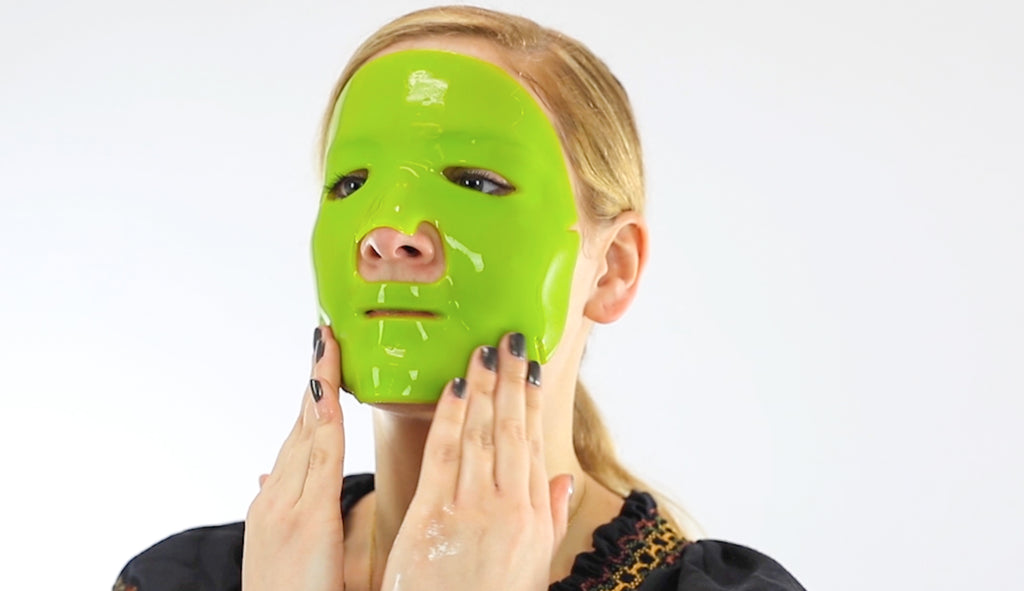 Apply a Face Mask to Lock in Nutrients
Next in our supporting green tea lineup is the masking step. Using a mask over your toner will not only double down on hydration, but will also deliver a longer application of nutrients into your skin. Those with cystic acne or more inflammation would benefit from a specific anti-acne mask formula, to reduce acne related redness and swelling; ours is made with seaweed, herbs, and plant ceramides to soothe and calm.
Acne-prone, normal, oily, and combo skin can all benefit from our Green Tea Water Bomb mask. This mask was recently praised on Greatist by contributor Jess Novak, who wore this mask right before going out one night. "I loved the effects so much I didn't even wear foundation", she said. This mask is made from 95% aloe water, and 5% plant cellulose - you'd be hard-pressed to find a more water-quenching mask for thirsty skin cells. It's infused with anti-inflammatory green tea concentrate, hyaluronic acid, and chamomile, too! Depending on your skin sensitivity level, it's best to patch test first if you have sensitive skin. You can always opt for a Bright Eyes Mask instead, to avoid similar hydrating, cooling benefits on your eye area - without an all-over application.
To use, gently remove mask from package, holding by the outer edges. Lying back slightly, drape mask over face while aligning with eye, nose, and mouth holes.
Leave on for 10-15 minutes, or longer if desired. Mask will start to shrivel as nutrients and water content leave the mask and are absorbed into skin. Discard mask after single use, and do not rinse skin. With clean fingertips, apply any excess solution from mask tray to face, neck, and decollete in a gentle massaging motion.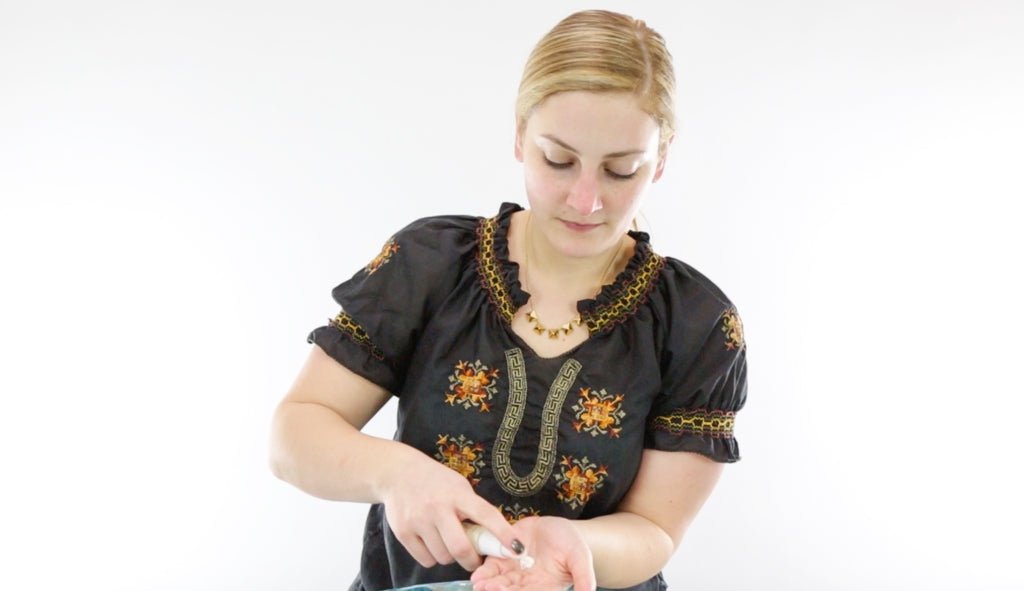 Add a Daytime Serum
The ideal step after a face mask is using a serum, which in this case would be our green tea-packed Green Tea EGCG Concentrate Serum. This serum makes the ultimate follow-up to a green tea mask, and can be layered with other moisturizers. For acne-prone skin types, this caffeine-rich formula made with green tea concentrate and yerba mate, plus purifying and antibacterial essential oils, makes an ideal partner to other acne treatments you apply before or after. Our serum is also suited for normal, oily, combo, and dry skin types (thanks to its lightweight lotion texture)
After cleanser, toner, and mask, apply pea-sized amount of serum onto clean fingertips. Gently massage into cleansed skin, taking care not to tug or pull.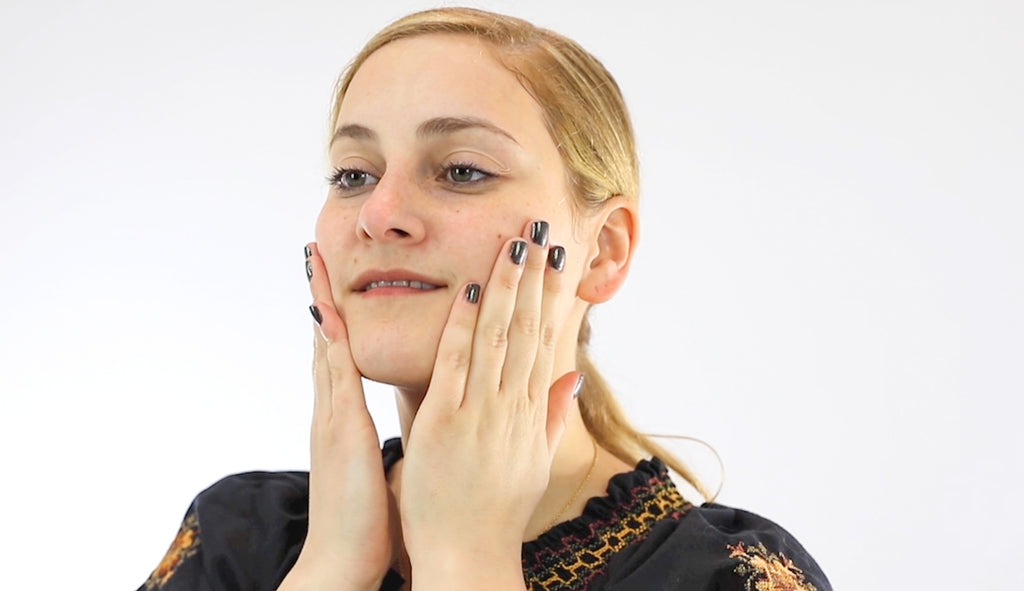 Grab a Green Tea Moisturizer
The best-selling Green Tea EGCG Concentrate Cream is a superstar when it comes to reducing redness and inflammation. With a light to medium weight, lotion texture, and light aromatic scent of herbals and florals, this face cream feels refreshing and nourishing for troubled skin. We used rosehip oil for evening skin tone (helpful for those dark spots and acne scars), avocado oil for deep moisture and nourish, and silky olive squalane for balancing oil and anti-inflammatory moisture. This daily moisturizer can be used for acne-prone skin, oily skin, sensitive, normal, and dry skin types.
After you've used your mask and/or serum, apply quarter sized amount to face and neck. Gently massage and press into skin, taking care not to pull or tug.
Dab On an Eye Cream
We couldn't think of a better choice for our green tea products than our caffeine-rich Coffee Bean Caffeine Eye Cream! This eye cream is great for depuffing eyes, brightening skin, and moisturizing the delicate skin of the eye area. Vitamin C adds brightening power, while supporting collagen production in crepey skin around the eyes, making it a great anti-aging option. Sensitive skin types may also enjoy our Super Fruit Nourishing Eye Cream, while those desiring more targeted wrinkle fighting would love our Retinol PM Eye Cream.
When using your eye cream, be sure to do so carefully. Using ring fingers, gently dab onto orbital eye area until absorbed. Take care not to pull or tug the delicate skin around the eye area.
Optional Additions to Your Routine
Use a nighttime serum
If you've got a lot of free radical damage to work on, acne scars, or sun spots, be sure to cycle in a PM serum that's packed with powerful vitamins to do the job. The best-selling Multi-Vitamins + Antioxidants Potent PM Serum is our most concentrated serum formula for anti-aging, acne, and reviving dull skin. While your daily green tea serum does the heavy lifting blocking damaging free radicals throughout the day, this baby pulls its weight all through the night.
Drink more tea
Drinking green tea is an incredible way to support skin and health from the inside out. Applying ingredients like green tea EGCG topically is wonderful for your skin, and you can enjoy its benefits internally as well with a cup a day. Both green and white teas are incredibly high in antioxidants, so make sure to sip those regularly! For a caffeine-free tea option with antioxidants, try either lemon balm or thyme tea. You can even use your drained and cooled tea bags for depuffing eyes!
Cycle in a skin detox
Green tea helps fortify and protect your skin from free radical damage, but once in awhile it's wise to detoxify your skin. You can do this with a blend of careful diet and targeted skin care. Check out our guide for skin detoxifying through diet and skin care!
Keep up with our blog for more trends, guides, and ingredient highlights!
We carefully hand-select products based on strict purity standards, and only recommend products we feel meet this criteria. 100% PURE™ may earn a small commission for products purchased through affiliate links.
The information in this article is for educational use, and not intended to substitute professional medical advice, diagnosis, or treatment and should not be used as such.
Sign up to our email newsletter for more blog updates and exclusive discounts.
< Older Post | Newer Post >