How to Do a Winter Skin Care Switch
Adjust your skin care routine for winter with a mix of occlusives, emollients, and more
Posted on December 21, 2021
Written by: 100% PURE ®
It's beginning to look a lot like – winter! 'Tis the puffy jacket and boot season with cracked hands, chapped lips, and itchy legs upon the wintry horizon. Much like we switch out our wardrobes each season, we should also change up our skin care routine for the dry, chilly season.
Have no frosty fear – winterizing our skin regimens is actually an easy transition! With a few switcheroos from lightweight products to more moisturizing counterparts, your skin will be merry and healthy in no time. Without further ado, it's time to ring in a winter routine!
How Winter Weather Affects Our Skin Care Routine
During winter as trees become bare and bears become scarce, our skin reacts adversely to the new temperatures. Winter brings ultra-stripping wind chills sans much humidity – making for dry, stale air and even drier skin. Add the operation of heaters, and skin could fall into the blustery realm of increased sensitivity, dryness, and irritation.
The good news is, wintry dry skin is avoidable if you're proactive about upgrading your skin care routine with ultra-hydrating and moisturizing ingredients. Quenching your skin with sufficient hydration and moisturization is crucial to avoid dry skin winter woes.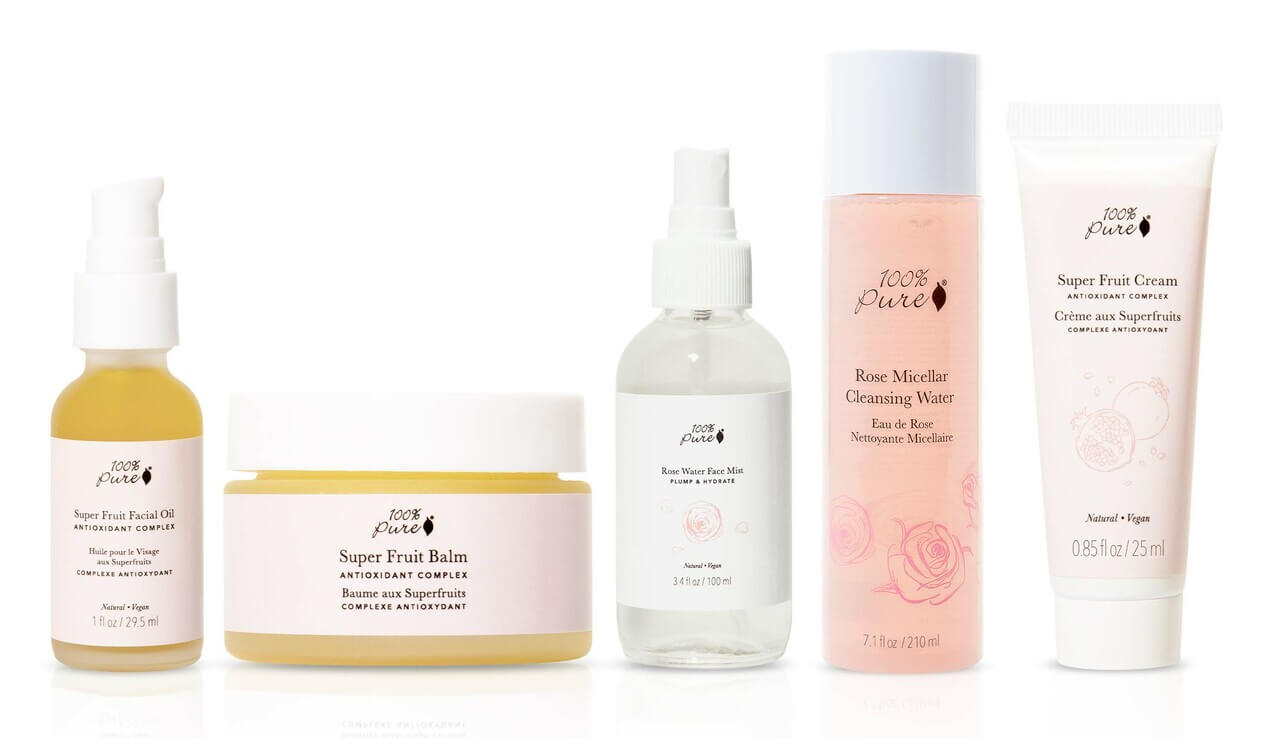 Products You Should Increase In Your Winter Routine
Brrr, the frosty wonderland months! It's when hydration and moisturization become your skin's crucial allies. Our best advice is to play it smart with an effective skin care routine. Instead of slathering on a lightweight moisturizer and calling it a day, you'll want to curate your regimen with ingredients effective at moisturizing, hydrating, and balancing your complexion.
Part of the balancing act in your winter skin care routine is to start fresh and end mega-moisturized. Replace your basic facial cleanser with a soothing and hydrating one-step cleanser like our Rose Micellar Cleansing Water. This micellar formulation is designed to feel mild yet work effectively, with calming florals and three ultra-quenching types of water.
As you carry on with toners, serums, and the like based on your skin type, one thing is a must for all winter skin – hydrate and moisturize well! Superfruits are mega multitaskers for healthy, hydrated skin. That's precisely why our trio of Super Fruit Cream, Super Fruit Facial Oil, and Super Fruit Balm are mega-hydration superstars.
Our Super Fruit Cream features a delectable, light, fruity fragrance with a rich, creamy, whipped lotion texture. Packed with acai oil, goji seed oil, aloe juice, and additional antioxidant-rich ingredients, this cream is perfect for quenching parched skin.
We also rely on our Super Fruit Facial Oil for sealing in moisture that might be sapped from cold air and heaters alike. It features ingredients like acai, goji, and sea buckthorn, all known for increasing hydration and balancing skin. With the low comedogenic ratings of its ingredients, this oil provides essential antioxidants to help protect against harsh environmental stressors. It's a great choice for any skin type.
Our final offering from the heavenly hydration gods is our ultra-rich Super Fruit Balm. This is our go-to when we have super dry skin. It features a light, fruit-forward scent with floral base notes and a solid balm/salve texture that, when massaged into the skin, instantly melts on contact.
Products You Can Reduce In Your Winter Routine
Our winter skin care routine plan is to focus on boosting glow and dewiness while retaining moisture as temperatures drop and winds rise. With this winter routine under your belt, parched skin will be a winter breeze to conquer.
But for a foolproof regimen, there are some facial products you can place in hibernation till next season. This means saying adios to summer faves like mattifying products, lightweight moisturizers, basic cleansers, harsh scrubs, exfoliants, and peels – until next summer.
Keep in mind that most astringents, especially oil-reducing toners, will strip your skin. Instead, opt for a nourishing hydration fix between moisturizer applications. Our Rose Water Face Mist delivers kisses of hydration with hyaluronic acid, aloe vera, and white tea – making it way more beneficial and healthier than your average astringent.
Since dry skin in winter tends to be a minefield, using stronger actives – including overusing retinols and facial peels – can increase your risk for dryness, redness, and flakiness. It's okay to exfoliate during the winter to remove dead skin cells, but be careful not to overdo it. You'll disrupt your skin's natural pH and be even more prone to dry, dehydrated skin.
Summer/Fall Products That Live On In Winter
Not all facial products need to hibernate during winter. These all-season rock stars are great or essential all year long and suit most skin types. Take sunscreen, for example. Proper sun protection is essential year-round – even in winter! It may be gray outside, but don't skimp on that SPF number.
You may have to say goodbye to sun-kissed cheeks, but you can welcome rosy ones in wintertime. Continue to use bronzer to accentuate your natural bone structure and blushy cheeks. While winter can dull our complexions, it's even more important to keep our glow on and continue to use natural antioxidant serums that will brighten, hydrate, and soften your skin.
We hope you've gained some great tips and insights on how to adjust your skin care routine for winter. Keep in mind that all of this advice is based on your skin type. Some of us with oily or combination skin types will still find mattifying or astringent products indispensable in winter.
Now that you've learned how to winterize your skin care routine, you'll be well on your way to hydrated, happy skin. Use all the steps or pick the products that you're itching to try the most to help your skin conquer the less likable facets of winter.
We carefully hand-select products based on strict purity standards, and only recommend products we feel meet this criteria. 100% PURE™ may earn a small commission for products purchased through affiliate links.
The information in this article is for educational use, and not intended to substitute professional medical advice, diagnosis, or treatment and should not be used as such.
Sign up to our email newsletter for more blog updates and exclusive discounts.
< Older Post | Newer Post >