Looking for more ways to complement your complexion? Take a look at these jewelry trends!
Posted on December 20, 2021
Written by: 100% PURE ®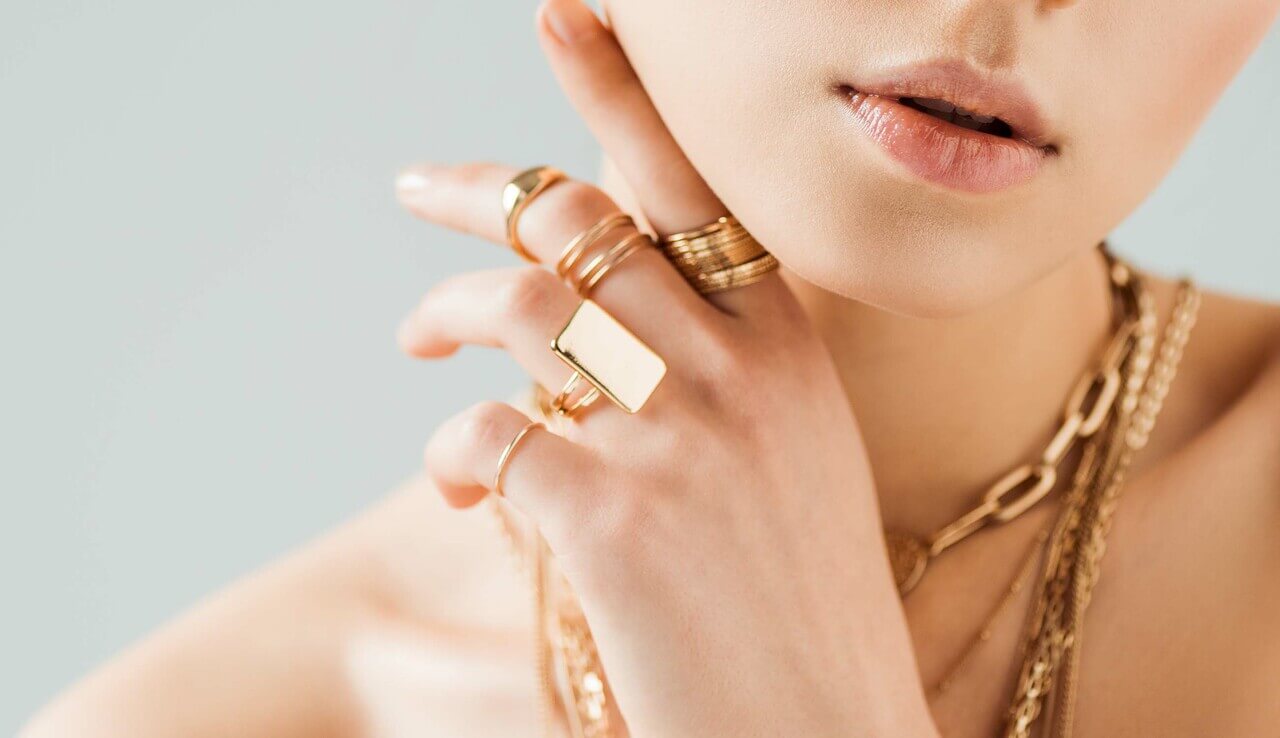 Sparkly? Glowy? We're describing more than just our skin and makeup this season. Jewelry is our second favorite thing to put on our skin, and the upcoming jewelry trends 2022 have us pretty excited for the new year. There's more of the 90s nostalgia, nods to the 70s disco scene, and whimsical elements that are equal parts elegant and fun.
Upcoming Jewelry Trends for 2022
Beaded Pieces
One of our favorite 90s trends is back, but with a cool-girl edge that's ageless and a bit more sophisticated. The beaded pieces we're seeing for jewelry trends 2022 embrace color in a bold way – even for usually neutral winter – and are not limited to bracelets, as we'd commonly seen beads in the 90s. This trend includes beaded bracelets and earrings that play with scale, pops of color, and even words or phrases that inject a bit of fun into any look.
Statement Chokers
For jewelry trends 2022, we're seeing a lot of statement chokers that play with scale and texture. In addition to bejeweled options, we're seeing chunky gold chokers that nod to the 80s, and really wide options as seen on runways such as Dior and Balmain.
Pearls
Speaking of pearls, jewelry trends 2022 show an interesting interpretation of pearls as both cool and classic. We're seeing them in all jewelry applications, but our favorite version has to be on large hoop earrings.
Natural Features
While we are seeing a lot of pearls specifically, other natural elements are in the spotlight, too. From gemstones to shells to even woven pieces with natural fibers, the use of raw materials will be on-trend for 2022.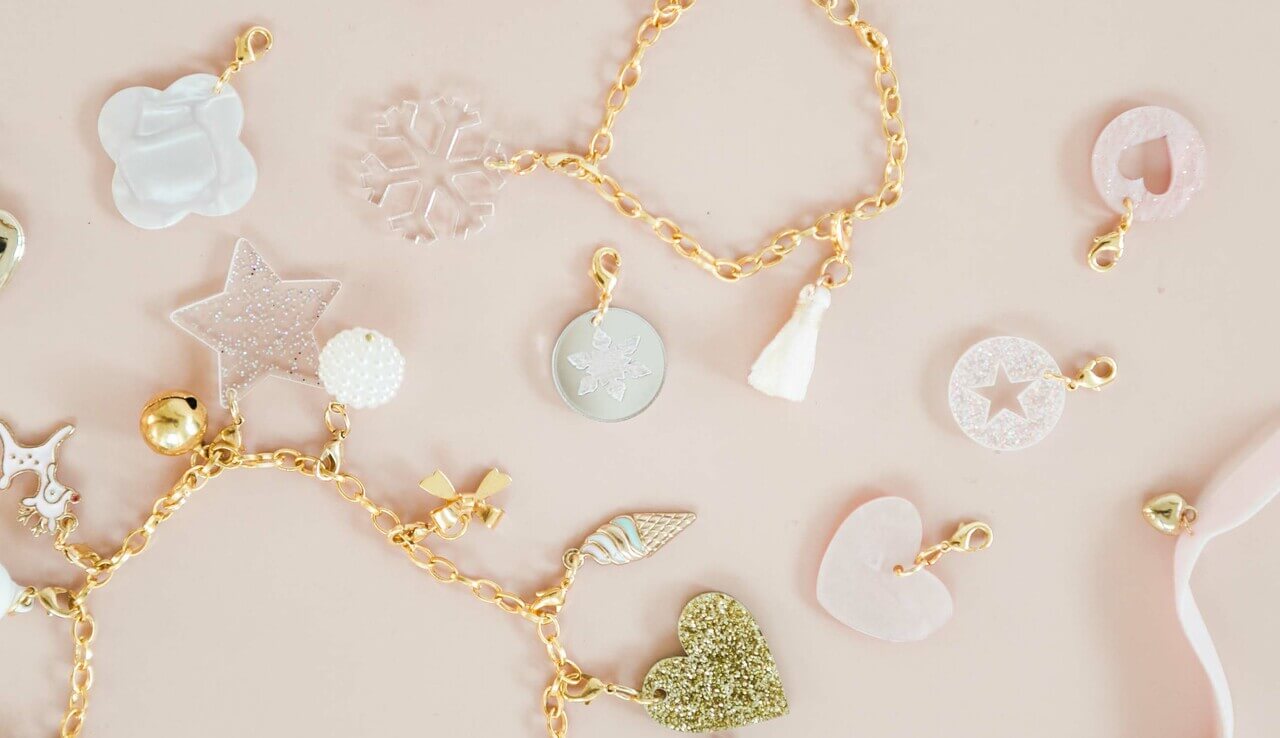 Charms
One of the themes this year is personalization, which we're seeing in the way of charmed earrings, bracelets, and necklaces. Huggies with tiny charms, charm bracelets with shells, pearls, and more are going to be hot trends for 2022 and beyond.
Arm Cuffs
Surprisingly, arm bands are coming back, flaunted by Prada, Tory Burch, and more. Both fabric and metal options were seen worn higher up on the bicep rather than the forearm. What's your take on this trend?
Drop Earrings
A long drop earring is one of the most universally flattering ways to accessorize, so we're pleased to see it highlighted in jewelry trends 2022. Fringe earrings, chain earrings, and long dangly or chandelier options were featured on practically every winter and spring 2022 runway.
Long Necklaces
Long chains hitting mid-chest with intricate details, or large charm and lariat necklaces are a surprising reemerging early 2000s trend for jewelry. Typically thinner in scale, but seen primarily in silver or colorful formats, these long necklaces pair well with the drop earrings we're also seeing in jewelry trends 2022.
5 Looks We're Loving for 2022 Jewelry Trends
#1: Thumb Rings
While there wasn't as much focus on rings for the upcoming jewelry trends 2022 season, we did see a focus on chain and pearl rings. We're loving these worn on the thumbs, adding a touch of bling and style, while being practical and edgy with the finger placement.
#2: Braided Elements
Natural textures are back in. These touches with chokers and long necklaces as well as bracelets are a fun way to introduce color and texture to any look.
#3: Chunky Pieces
All the chunky, statement necklaces and bracelets this year have us swooning. They're great for creating a signature look, filling in an open neckline or shorter sleeve, or layering for a look that focuses solely on accessories.
#4: Precious Metals
Gems and pearls are always a yes in our book. All year long we'll be seeing (and wearing) these in our ring stacks, beaded necklaces, and layered bracelets.
#5: Charms
This style is one of the more personal of jewelry trends 2022. It works for minimalists that want a simple charm on the neck or ears, and maximalists who want all the charms on every piece.
Jewelry Just for You
The topic always comes up when jewelry is mentioned – what's my undertone? When we're having a difficult time deciding between rose gold, gold, and platinum, we go for the vein test.
Holding up a hand or arm to the light, what color do your veins appear? For those with green veins, the skin is considered warm, while blue or purple usually indicates cool-toned skin. For a mixture of both, that typically suggests a neutral skin tone.
Warm tones tend to shine best in warmer jewelry, like gold and rose gold. And for the opposite, rose gold and silver often look best. While neutral undertones are flattered by both, mixing metals on any shade or tone of skin can create a flattering composition.
We hope you plan to indulge in one or more of these jewelry trends 2022! We also hope you're able to enjoy the last days of 2021 with your loved ones. Looking for last-minute holiday gift ideas? We have a quick guide that can help!
We carefully hand-select products based on strict purity standards, and only recommend products we feel meet this criteria. 100% PURE™ may earn a small commission for products purchased through affiliate links.
The information in this article is for educational use, and not intended to substitute professional medical advice, diagnosis, or treatment and should not be used as such.
Sign up to our email newsletter for more blog updates and exclusive discounts.
< Older Post | Newer Post >