Do You *Really* Need to Wear Sunscreen During Winter?
Investigating how critical SPF is to your winter routine
Posted on November 23, 2021
Written by: 100% PURE ®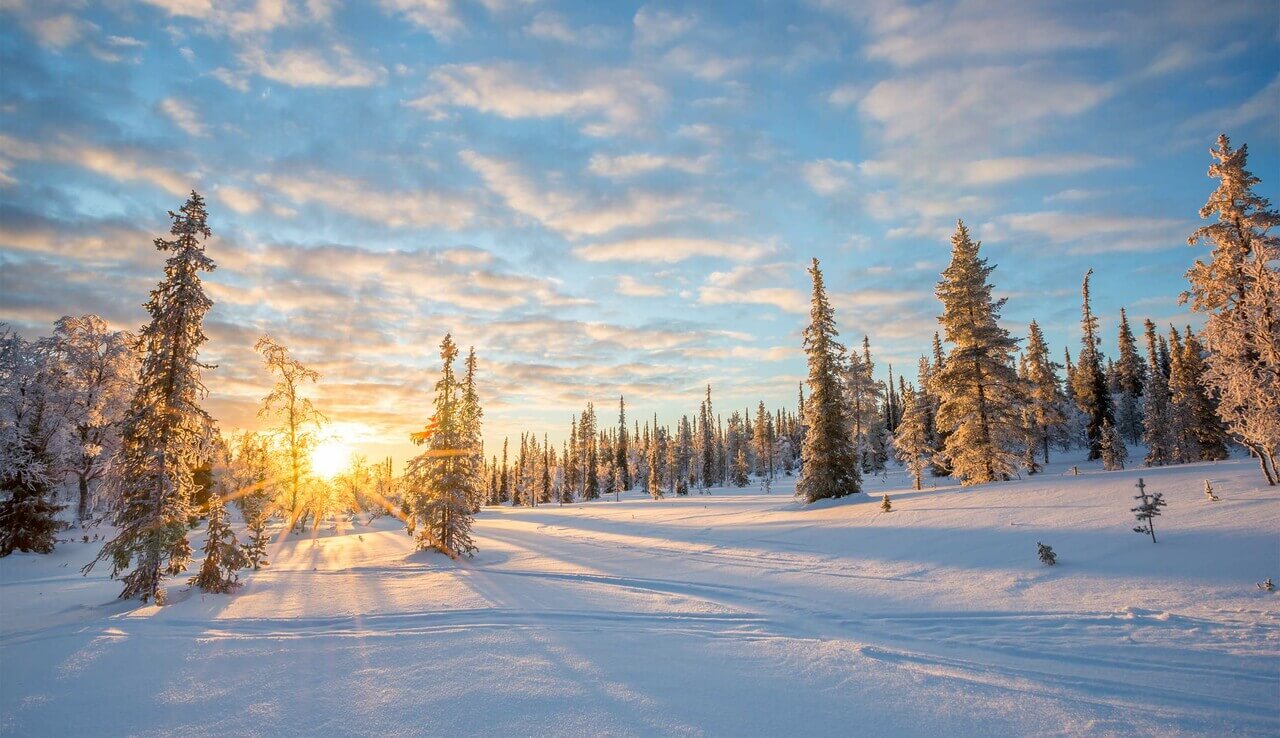 If you were to ask any dermatologist what they believed the most important skin care product was, most of them would probably say sunscreen. Sunscreen really seems like a no-brainer; the sun damages your skin, but sunscreen prevents this from happening.
However, there's been some controversy around sunscreen in recent years. That's made some people question the safety and efficacy of not only sunscreen in winter but throughout the entire year. So, do you really need sunscreen in winter? In this guide, we're revisiting important sunscreen facts and outlining why you should – or shouldn't – wear sunscreen in winter.
Why Use Sunscreen In Winter?
You might wonder, why bother with sunscreen in winter, anyway? It's cooler out, so you shouldn't have to worry about sunburns or photodamage, right?
As it turns out, this isn't quite accurate – because you can get a sunburn during the winter. Even though the sun is out less often during the winter, it's actually closer to the earth around this time of year. Not to mention, the ozone layer is thinner. As a result, the sun's UVB rays are quite strong during the winter. They're powerful enough to penetrate the skin, leading to sunburn and even skin cancer.
You're at an even greater risk of sunburn if you're spending your winter in an area where it snows. Ice and snow can actually reflect the sun's UV rays, exposing your skin even further to skin damage and photoaging.
Needless to say, sunscreen should be worn throughout the winter. And if you're in a snowy area, make sure to wear sunscreen with an SPF of at least 50.
Why Some Believe Sunscreen Is Just for Summer
Much of this controversy has been attributed to confusion and misinformation about skin care. Let's take a look at the facts.
Sun Exposure & Vitamin D
For starters, some researchers have emphasized the importance of sun exposure to our health; specifically, to our bodies' ability to produce vitamin D. While this is true, the controversy lies in the claim that sunscreen in winter (and all year long) inhibits our ability to process sun exposure properly.
A report in Dermatology Times addresses this issue. It clarifies that there is no evidence proving that sunscreen disrupts vitamin D production. It also explains that tests that have suggested otherwise do not take into account that most people don't properly apply sunscreen, leading to inconsistent methods. And even if sunscreen did disrupt vitamin D production, you can still obtain it from plenty of different supplements.
Some individuals are also particularly concerned with "chemical" sunscreens; specifically, the chemical oxybenzone.
Newsletter
Subscribe
for more blog updates and exclusive discounts
Oxybenzone
Oxybenzone is an inexpensive, yet effective form of broad-spectrum sun protection, but it's gained bad press over the past few years. The concerns regard the claim that oxybenzone acts as an endocrine disruptor and its link to coral reef bleaching.
However, the data on oxybenzone as an endocrine disruptor comes from trials where animals were given highly excessive amounts of oxybenzone – far more than any human would consume from applying sunscreen. While chemical sunscreens may be irritating to a small handful of individuals, mineral sunscreen makes a viable alternative.
As for coral bleaching, this also comes from research with skewed data. The evidence that oxybenzone causes coral bleaching largely comes from an artificial model that didn't accurately mimic the ocean's conditions, and the concentration of oxybenzone used far exceeded that of the ocean.
Frontal Fibrosing Alopecia
In more recent years, there's been a growing amount of concern for the link between sunscreen and frontal fibrosing alopecia (FFA), which is a common form of hair loss for post-menopausal women. While there may be a correlation, this doesn't by any means equate to causation.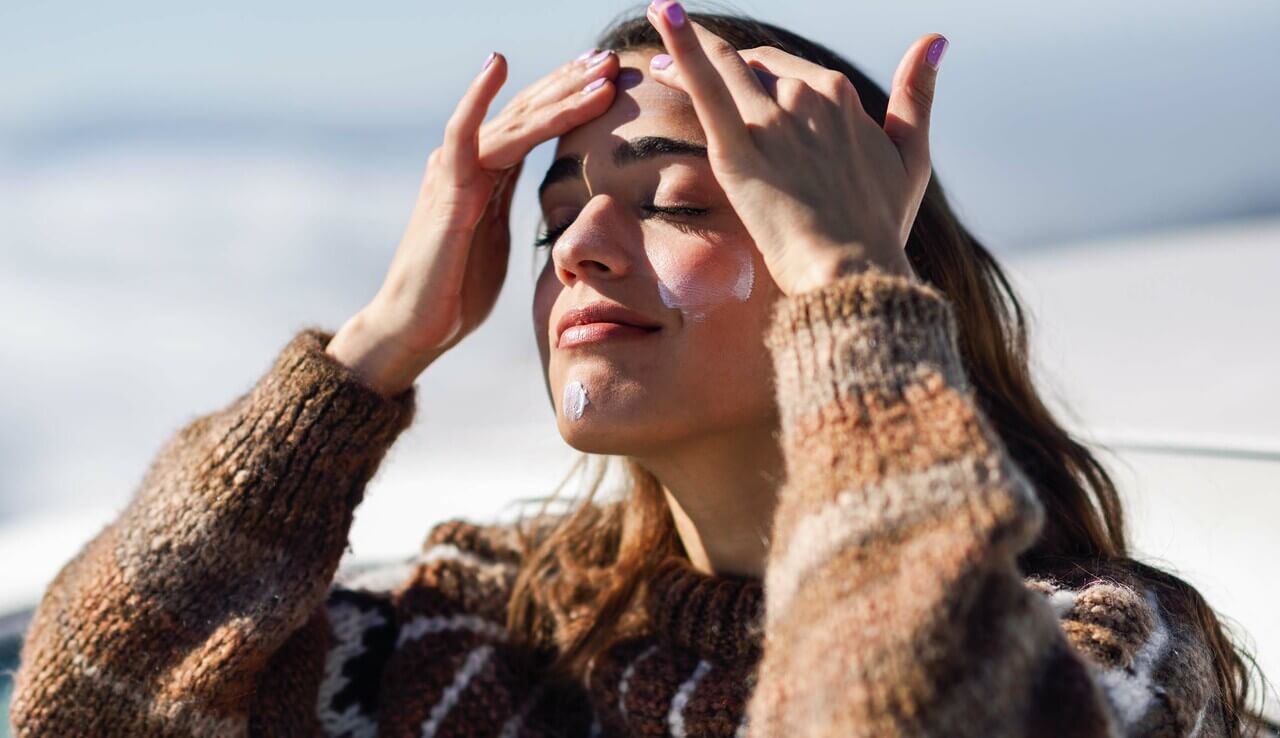 Sunscreen In Winter: The Bottom Line
Ultimately, using sunscreen in winter should be an essential part of everyone's skin care routine. Not only because it helps us maintain our skin's health, but because it allows us to experience the sun's positive effects, like improving our mood, without damaging our skin. Bottom line: sunscreen should be worn all year round.
Great Zinc Sunscreens for Winter
Ready to use sunscreen in winter? There's truly a type of zinc sunscreen or sun protection out there for everyone. As skin care formulations advance, we've gained access to countless sun protection products, whether it's a waterproof formula, an SPF powder, or even an SPF serum!
If you haven't found the perfect sunscreen for your needs yet, check out our list of the types of sunscreen in winter we recommend, below.
Mara Algae + Zinc Sea Kale Sunscreen Serum
This soothing sun serum provides not only non-nano sun protection, but packs a punch of marine antioxidants like algae, sea aster, and blue sea kale. That makes it perfect for sensitive and oily skin types.
Babo Botanicals Tinted Face Sunscreen Stick SPF 50
This hypoallergenic sun protection stick is perfect for both the slopes and all-day holiday shopping. Aside from offering an SPF of 50, this blend is also waterproof, sweat-resistant, and tinted for a beautifully blurring effect that those with combination skin will love.
W3ll People Bio Tint Multi-Action Moisturizer SPF 30
This multifunctioning moisturizer with SPF is truly ideal for everyday use. While it offers an SPF of only 30, it also nourishes the skin through reverse-emulsion technology. That makes it especially helpful for those with dry skin.
Marie Veronique Everyday Coverage Tinted Sunscreen SPF 30
This tinted sunscreen is perfect for everyday wear. It features a non-greasy, feather-light texture that those with combination and oily skin will adore.
Want more info on sunscreens and SPF? Here's an educational tasting menu:
We carefully hand-select products based on strict purity standards, and only recommend products we feel meet this criteria. 100% PURE™ may earn a small commission for products purchased through affiliate links.
The information in this article is for educational use, and not intended to substitute professional medical advice, diagnosis, or treatment and should not be used as such.
Sign up to our email newsletter for more blog updates and exclusive discounts.
< Older Post | Newer Post >