The 6 Best Zinc Sunscreens of 2020
Find the best mineral sunscreen for face, body, sensitive skin and more!
Posted on July 20, 2020
Written by: 100% PURE ®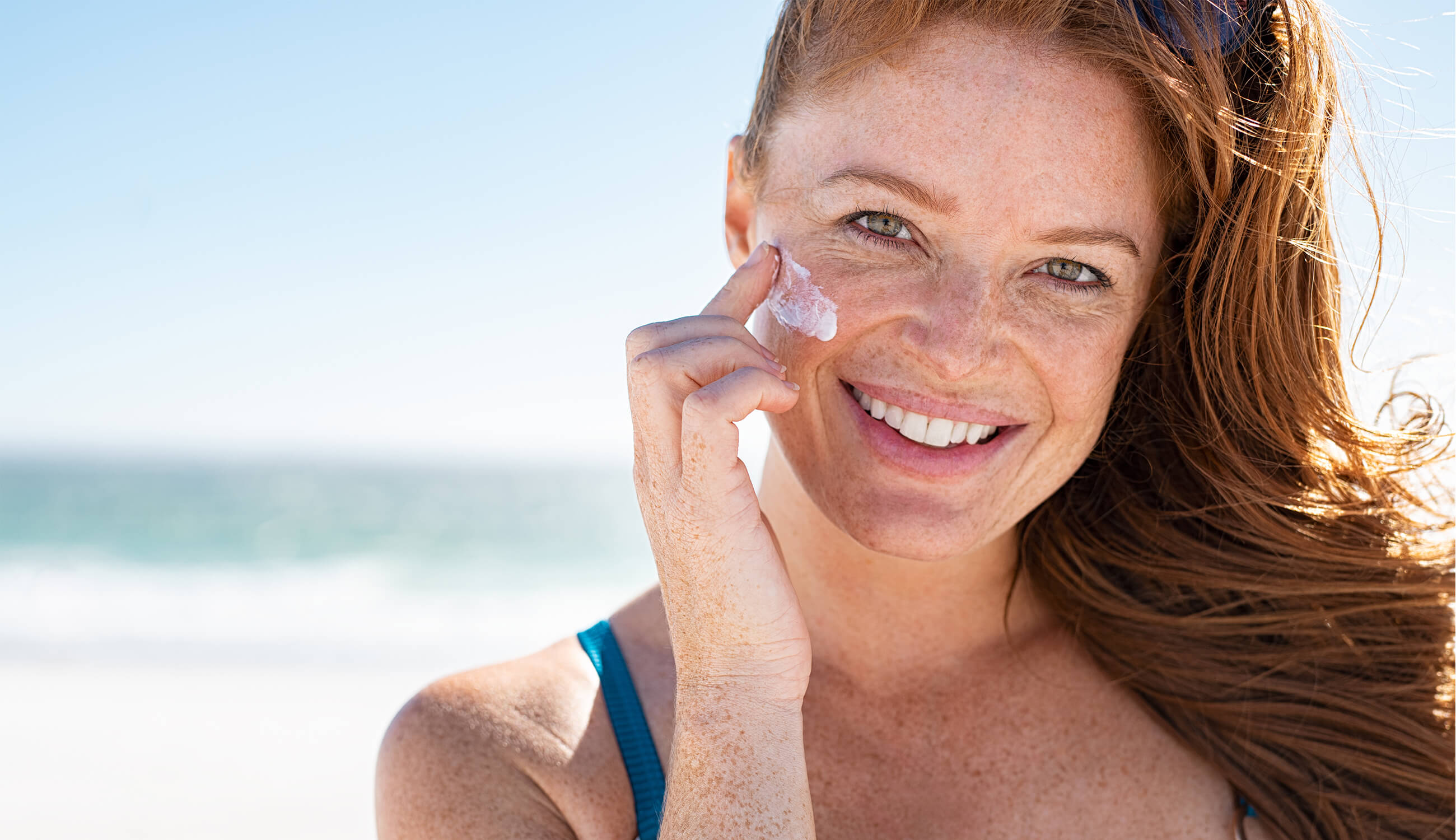 A good sunscreen is the one we make sure to wear. But the best sunscreen is free of chemical SPF agents, and leverages natural ingredients for quality sun protection.
What we've learned about sun exposure is that we're all better off playing it safe. A quick application of a zinc sunscreen – yes, even on days when we're indoors – helps protect and support long term skin health.
Our goal is to seek out and develop some of the best, most skin nourishing sun protection products on the market. Read on to see what we found!
Playing Favorites
When it comes to sharing the "best" of things, we typically don't rank products. We love finding great skin care and beauty, and everyone's "favorites" list will look a little different. But we take our sun care very (very) seriously, and that includes vetting quality ingredients.
When it comes to our own zinc sunscreens, we go the extra mile. We formulate without fragrances, synthetic preservatives, or petroleum compounds which can contain trace amounts of toxins like lead and arsenic. We include pure botanical elements in every one of our SPF products: from green tea to tomato lycopene. We believe that the healthiest way to do sun protection is by honoring our biggest organ with the highest quality natural ingredients – period.
Below you'll find our top 6 list of zinc sunscreens, featuring what we consider to be the healthiest and most effective mineral formulas on the market in 2020.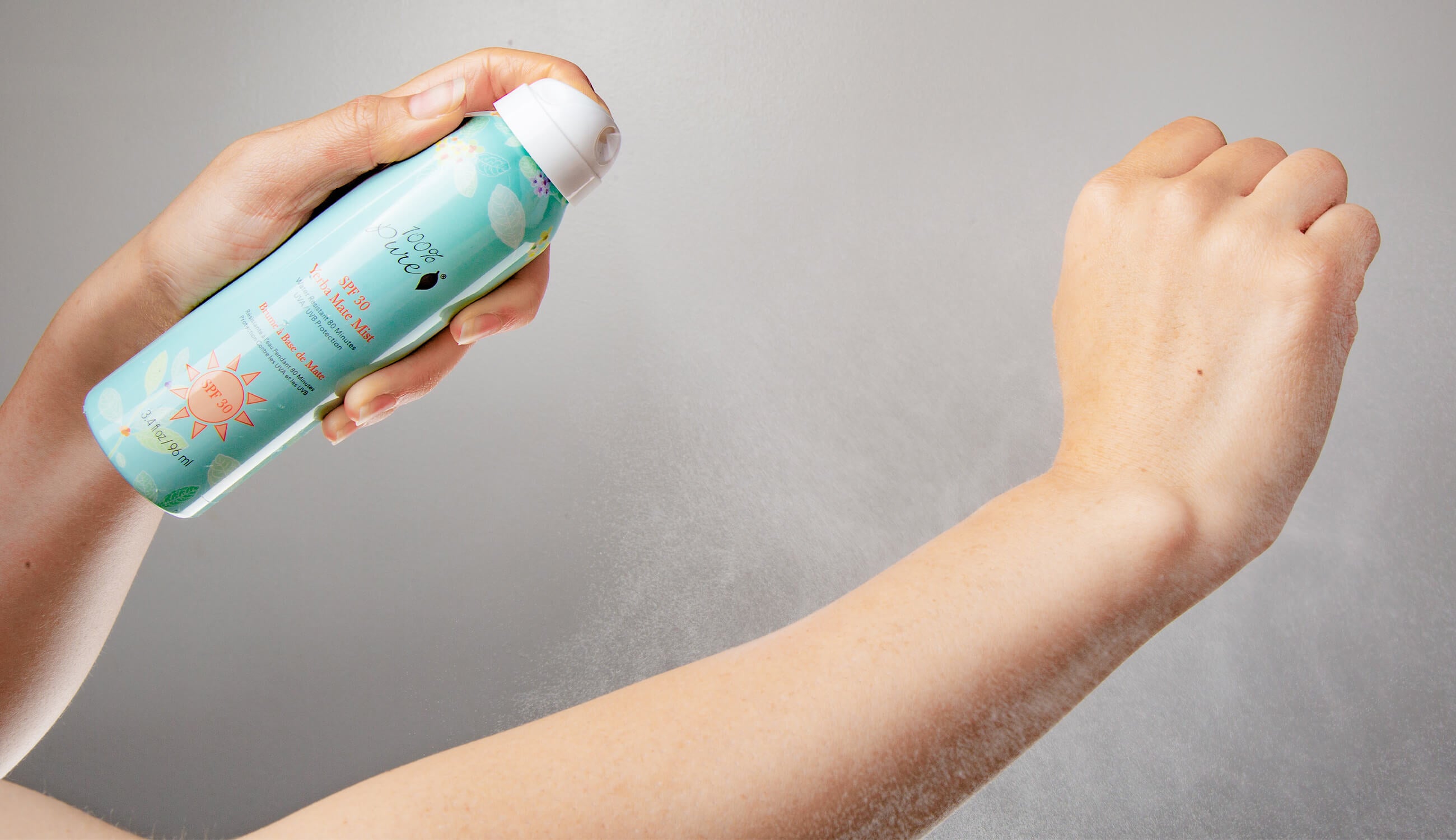 Lightweight, easy to apply, cruelty-free and vegan
Find your perfect mate with this lightweight mist made with nourishing yerba mate. This nutritious South American plant is rich in fatty acids and vitamins A, B, and C. This combination works to maintain elasticity and firmness, battle blemishes, and regulate skin's sebum production.
When it comes to sun protection, yerba mate makes this zinc sunscreen our favorite choice. The star ingredient helps to fight and eliminate free radicals that cause UV damage and signs of premature aging. It does this by supporting skin cell function, promoting generation of skin cells, and encouraging skin healing. Combined with natural antioxidant content and the protective nature of zinc sunscreens in general, this is always our first pick when recommending sun block options to friends.
PRO TIP: This mattifying spray formula is perfect for beach trips, combating oily skin, and easy reapplying on the go.
Vegan, antioxidant-rich, fragrance-free
If you take a glance at the ingredient list for this sunscreen option, you'll recognize many of the components found in a healthy diet. This non-greasy zinc sunscreen is easy to spread, and provides moisture and hydration with a weightless lotion texture.
Many of the chemicals used in mainstream sun care are harmful toxins that can be absorbed by our skin. They can accumulate in our bodies, and cause serious disruption to organ function and cellular health. This aloe-based formula contains no chemical sunscreen agents, no synthetic fragrance, and is packed with nourishing plant oils. It can be used for face or body, and is hydrating enough to replace your daily body moisturizer in a pinch.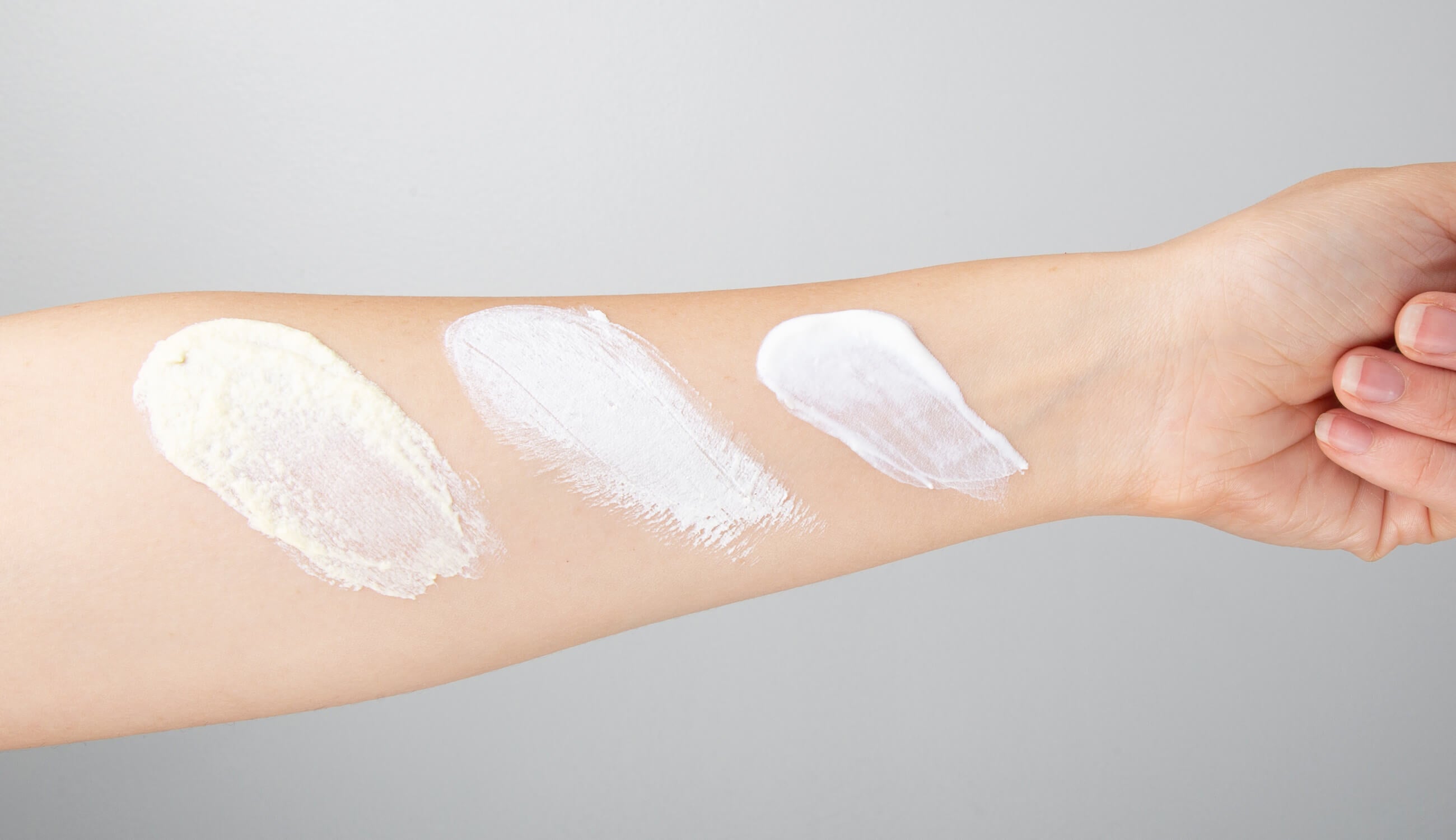 Reef safe, vegan, and cruelty-free
Soleil Toujours knows the importance of sun protection. "Keep the beauty you were born with" is their motto – we couldn't agree more. Sun protection is key in maintaining youthful radiance and healthy cellular function in your skin!
The Soleil Toujours SPF 45 zinc sunscreen makes the most of minerals, with a full-bodied formula that screens out everything but texts from your ex. Jojoba and sweet almond oils found in this formula maintain light, non-greasy hydration. Spearmint, tangerine, lime, lavender, and myrrh essential oils create a sultry herbal scent.
As a zinc sunscreen option, this formula ranks high on our list because of its blend of 5% zinc oxide. Joined by 4.8% titanium dioxide, this mineral sunscreen easily blends into skin without a heavy white cast. Although it feels weightless on your skin, the force of UV protection is definitely strong with this one.
Best for sensitive skin
Babo is writing the book on tinted mineral sunscreen, and this one is safe enough for sensitive skin. It can be worn alone, set with powder for a satin or matte finish, or blended with a single pump of your favorite foundation for enhanced coverage.
Hypoallergenic and paraben-free, this sheer facial sunscreen has it all: SPF 30 coverage, nourishing shea butter, calming calendula, and a hint of long-lasting coverage. Ideal for those with lightly tan to rich golden skin tones, this choice works perfectly for normal to very dry skin types seeking a bit of glow.
Water resistant and reef-safe
After reaching for your favorite facial zinc sunscreen on our list, add this one for full body UV defense. We tend to opt for the fragrance-free option, but this spray is also available in a tropical piña colada scent! Combined with its weightless spray texture, we can't help but sing the praises of this 70% organic sunscreen.
Unlike chemical sunscreens that have to be applied 20-30 minutes before sun exposure, this Coola option protects straight away. We attribute this to Coola's non-nano zinc oxide particle technology. Essentially this means that zinc particles create an instant physical barrier between our skin and UVA/UVB rays. This also makes this zinc sunscreen a great option for outdoor activity and water play, because the reef safe particles have very little impact on the environment and sea life.
PRO TIP: This formula also comes in a lotion option for extra moisture and application control.
Vegan, cruelty-free and hypoallergenic
Do you have sensitive skin, or often suffer breakouts from greasy sunscreens? We're right there with you. Many common sunblock ingredients leave our skin with a bit of clean up in the pimple department. Lucky for us, this Derma-E option bypasses blemishes for sun protection that keeps our skin fresh and smooth.
A clear, concise ingredient list tells us everything we need to know about this zinc sunscreen formula. The blend of ingredients isn't complicated, so it feels super light on the skin. We love the enhanced formula of this sunblock, with additions of protective vitamin C and fortifying provitamin B5. These components help to maintain the harmony of skin, while enhancing elasticity and encouraging skin repair.
If you love sunscreen as much as we do, check out our breakdown of natural sunscreens. Finish up your research with a refresher on the top SPF myths in the skin care world, plus the top places we forget to apply sunscreen!
We carefully hand-select products based on strict purity standards, and only recommend products we feel meet this criteria. 100% PURE™ may earn a small commission for products purchased through affiliate links.
The information in this article is for educational use, and not intended to substitute professional medical advice, diagnosis, or treatment and should not be used as such.
Sign up to our email newsletter for more blog updates and exclusive discounts.
< Older Post | Newer Post >