8 Ways to Relax and Reconnect with YOU
You need a day off – here's how to make the most of it
Posted on July 17, 2020
Written by: 100% PURE ®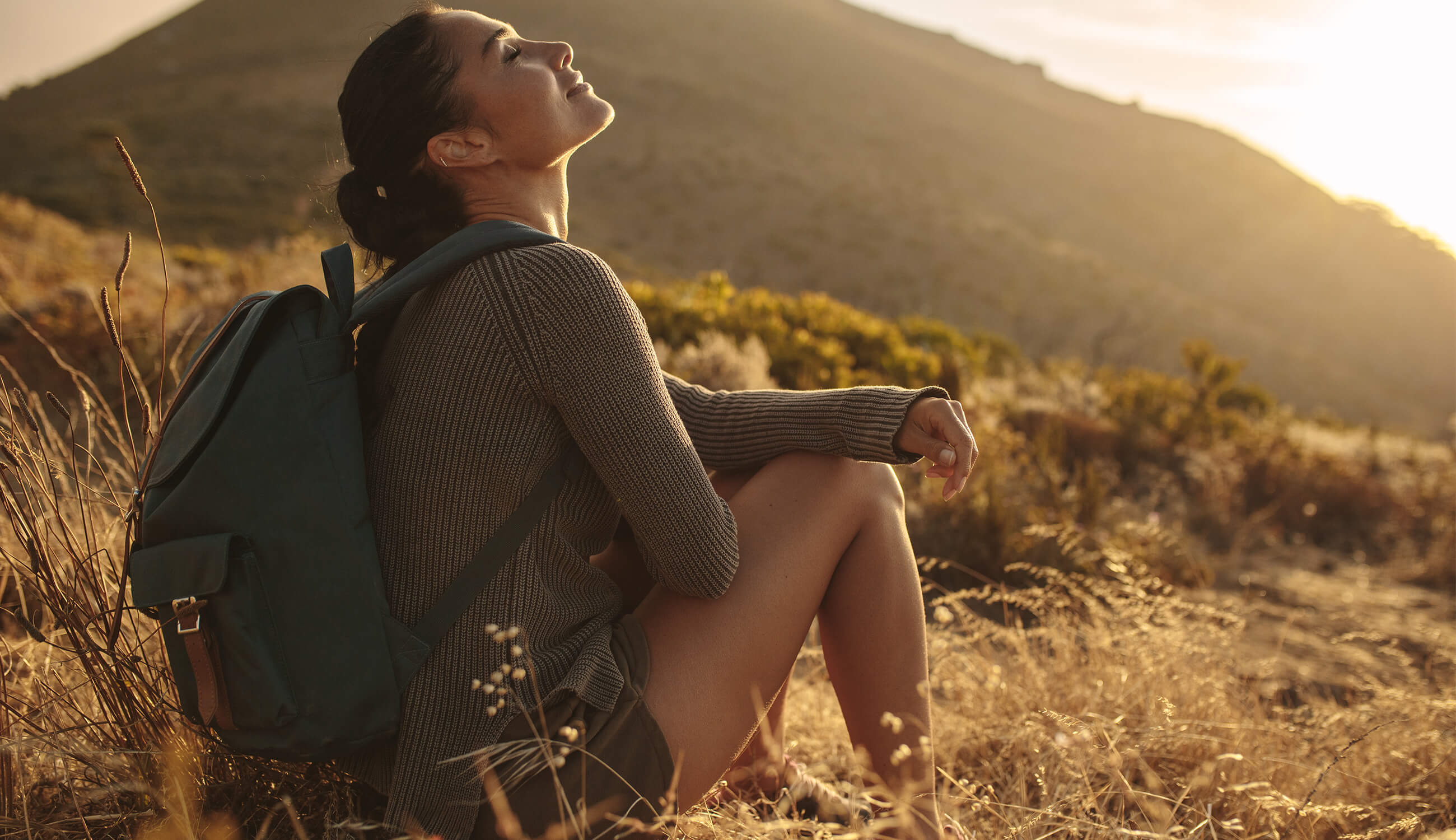 Social distancing, homeschooling, parenting, working from home – oh, my! While scrambling to find balance amidst this new way of life, how much time is left for you?
Directing focus on everything but ourselves means it's easy to lose oneself – and lose touch with our sense of wellbeing. It's time to slow down, unplug, and take a day off – yes, that means moms and caregivers, too. Standby for the best ways to reconnect with yourself and what matters!
8 Ways to Unplug and Reconnect with YOU
Reconnecting with yourself isn't just a suggestion – it's a necessity. Give yourself a chance to stop and disconnect from real or imagined daily tasks, in order to reconnect with what matters. Allow yourself to tap into your sense of wellbeing, take stock of interpersonal and emotional goals, and acknowledge how you feel in the present moment.
For moms or caregivers, we know a day off is a big ask – but don't write it off yet! On the heels of quarantine (and with uncertainty in the future), here are some ways to reconnect with you – without the distractions.
#1 – Get your body in motion
What better way to strengthen the connection to yourself than with strengthening your mind – and body – with exercise? We know breaking a sweat through movement has a significant number of benefits, especially stress reduction – and oh how we need some of that!
In order to get moving, you don't have to hit an official gym with your mask, gloves, hand sanitizer, and towels in tow. There are plenty of ways to get some me-on-me time through exercise, right in our own homes.
Online exercise videos
What we would do without the Internet and YouTube? There's a wealth of free info on the internet, including free exercise classes! Try guided yoga for stress, or a quick dance routine for stress relief (more on that later).
Local fitness studios
Check around your area for exercise studios that stream their classes. Busy moms or those with demanding work schedules can benefit from recorded classes to enjoy at your leisure.
Walk
If structured exercise isn't your thing, walks are a great way to enjoy quiet time and reflect on your wellbeing – all while getting in some beneficial motion. Walk outdoors, around your home, and if you have stairs, even better!
#2 – Become a bookworm
Just like any other muscle in the body, the brain requires exercise to keep it fit and healthy. The phrase "use it or lose it" is key when it comes to your mind – what better way to build brain brawn while tapping into your inner monologue than with books? Reading promotes better sleep by tiring the mind, while helping you relax and de-stress.
Be choosey with your genres: swap thrillers and gritty non-fiction for fantasy, mystery, or romance novels for a true "escape"!
PRO-TIP: Looking for some brain boosters while unwinding? Adult coloring books and puzzles are fun, affordable, and a great way to distract your mind from repetitive stressful thinking.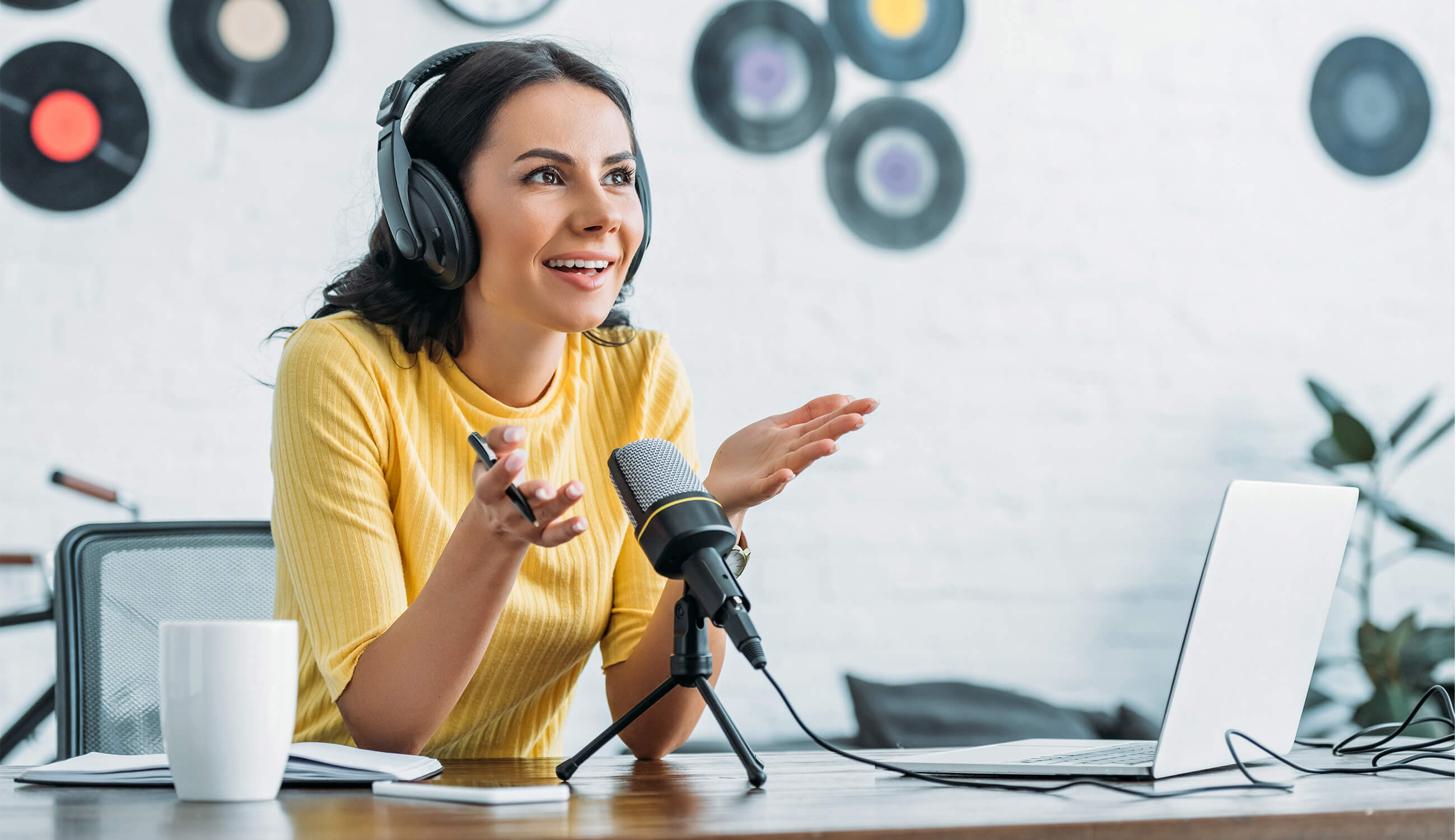 #3 – Download podcasts
Listening to a relaxing podcast can help you unwind after mentally exhausting day-to-day stressors. During these times of uncertainty, it's easy to get mentally caught up. When we do have some moments to ourselves, our minds aren't usually focused on wellbeing.
That's why podcasts are a great distraction! They're easy to turn on during household chores or while your kids are playing. From sleep podcasts and virtual travel guides to the recital of boring books, there's a plethora of podcasts to calm overactive minds and boost your mood.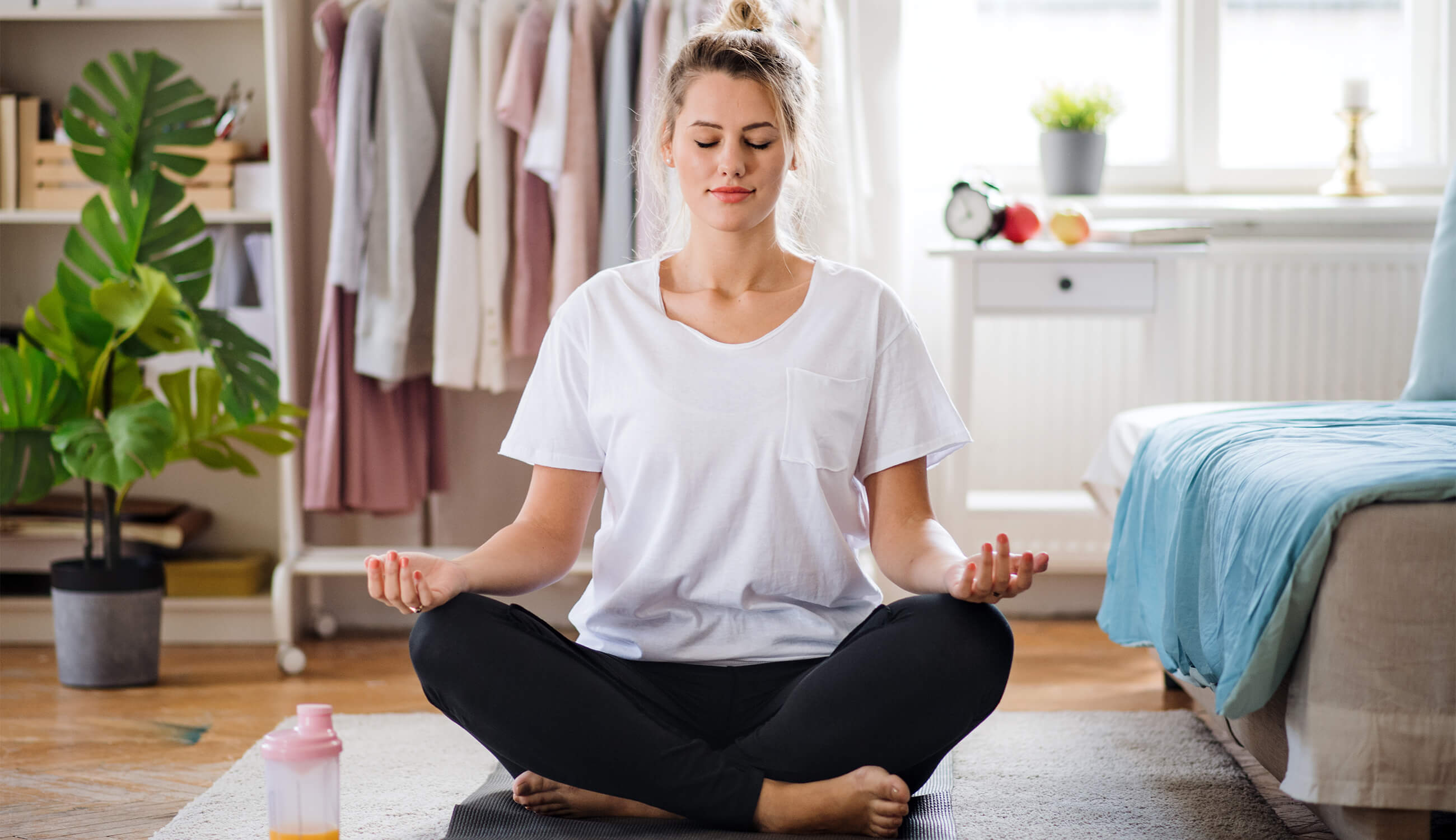 #4 – Make time for meditation
When we think of meditation, we think of relaxation. But learning how to relax is a little like learning meditation – with a little practice, you'll be masters of both! Though there are different styles of meditation, deep breathing is at the core of most meditation techniques, and is key for achieving total relaxation.
Close your eyes, relax your body and progressively deepen your breathing. Concentrate on your breath, trying not to focus on any thoughts or concerns. Remain in this position for 5–10 minutes or more, to relax and clear your mind. Focus on breathing from your belly, rather than your chest – diaphragmatic breathing is also a useful tool for calming yourself in moments of anxiety or panic.
#5 – Rediscover old hobbies
When was the last time you lost yourself in a hobby you love? Chances are it's probably been a while, that is if you can even recall what a hobby is these days! It's important for both your mental wellbeing and your emotional wellness goals to uncover a long-lost hobby, or discover a whole new one.
Hobbies are an excellent way to indulge your interests and spend time on something that isn't your daily grind. Some affordable home hobbies range from journaling or short stories to figuring out if you have a green finger for gardening.
#6 – Pamper yourself without guilt
Creating a home spa is all the rage these days, and for good reason! You can practically mimic the expensive spa experience in your home bathroom, without the added pandemic protocols. This is also the perfect occasion for the moms and caregivers out there to take the day off – recharging your batteries is a necessity if you're continually caring for others.
These personal care tips will take you from worker bee to queen bee in no time:
Try a facial massage
Giving yourself a facial massage can help encourage beautiful skin and ideally, a more relaxed state of mind. Massage stimulates blood flow in the skin for a smoother, more awakened complexion. Check out our guide to DIY facial massage techniques to begin!
Weave in spa essentials
For the ultimate in pampering, weave in some essentials for a true spa experience. Before soaking in an aromatherapeutic bath, clear your skin of impurities and debris. Our Blood Orange Cleansing Balm will do just the trick! Made with degreasing blood orange, this moisturizing cleanser will leave your skin ultra-soft and radiant.
After exiting your bath, finish with a nourishing and luxurious whipped body butter. Applying heavy creams right after a bath or shower will help lock hydration into your skin.
PRO-TIP: Want the ultimate DIY spa and skin maintenance? We've created an easy spa session for ultimate skin pampering. Don't forget about sheet masks for your face and eyes!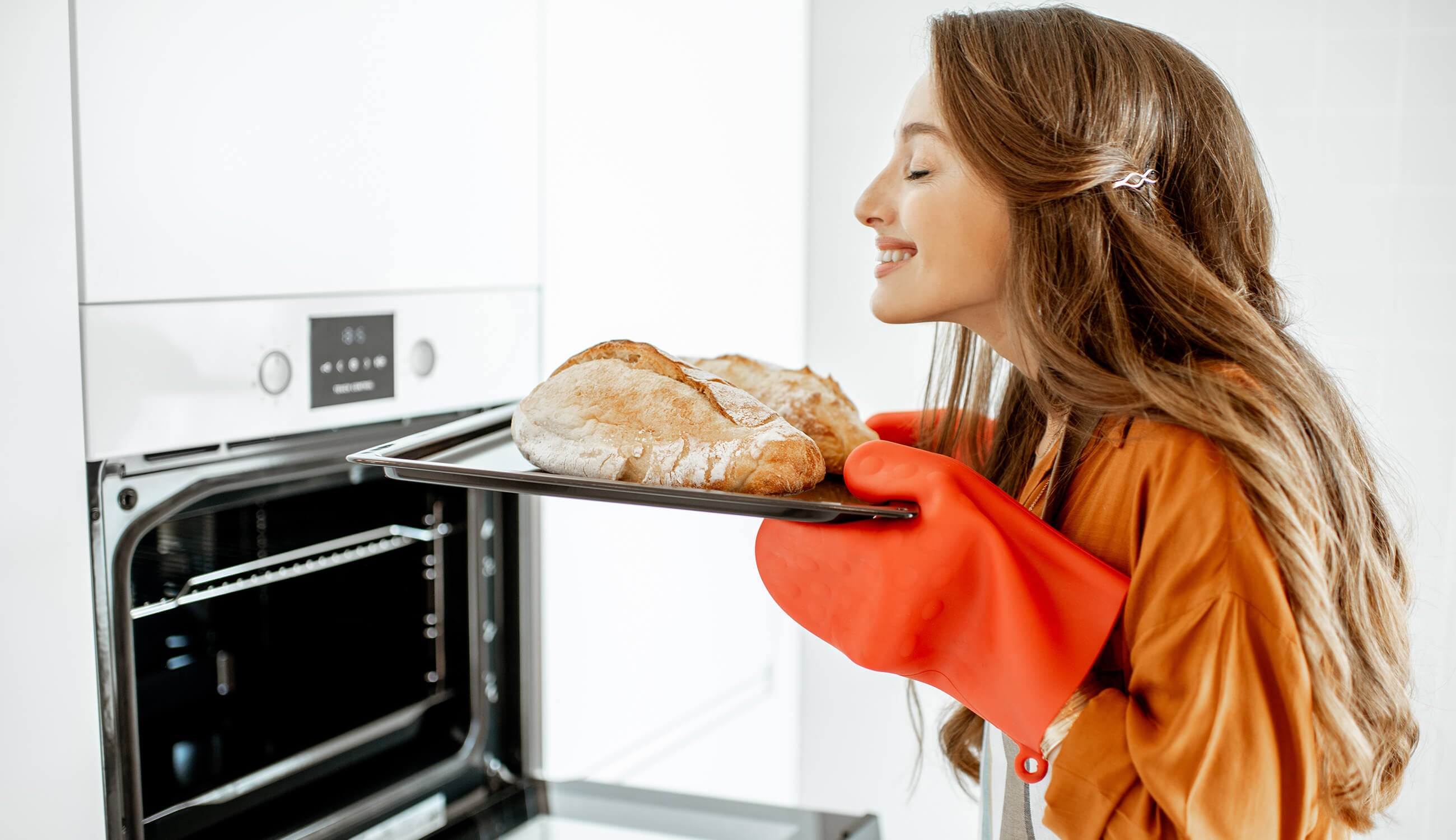 #7 – Try new baking recipes
After spending so much time within our own four walls, it's easy to lose sight of our neighbors and communities. What better way to uplift others than with some good old fashioned baked goods?
Whether it's a secret family recipe or something completely new, baking something to share can keep you connected with others in otherwise isolating times. Besides, it's always a good idea to make friends with your neighbors!
#8 – Just DANCE
Dance like nobody's watching! It's one of the best things you can do to reconnect with yourself and your wellbeing. Besides, you'll be killing two birds with one stone getting both exercise in and much deserved me time.
Any dance, movement, or motion can help your body and mind connect. While you're at it, sing like nobody's listening... trust us, just go with it!
Reconnecting to ourselves means slowing down and unplugging from the demands of day-to-day life. We're up against work and domestic schedules and activities, and sometimes outside stressors can make those demands a whole lot harder. Treating your self-care as a priority – deserving of a spot on your to-do list – is essential for your overall wellbeing.
While we can't always control what's going on around us, we can relish that all relationships stem and start from that vital relationship with yourself.
Need more tips for deep relaxation? Check out our guide to relaxing summer bath soaks and using lavender to improve your mood!
We carefully hand-select products based on strict purity standards, and only recommend products we feel meet this criteria. 100% PURE™ may earn a small commission for products purchased through affiliate links.
The information in this article is for educational use, and not intended to substitute professional medical advice, diagnosis, or treatment and should not be used as such.
Sign up to our email newsletter for more blog updates and exclusive discounts.
< Older Post | Newer Post >