Top Areas We Forget to Apply Sunscreen
These poor, scorched areas of skin could sure use some TLC – here's how to get them the care they deserve with natural sunscreen
Posted on June 19, 2019
Written by: 100% PURE®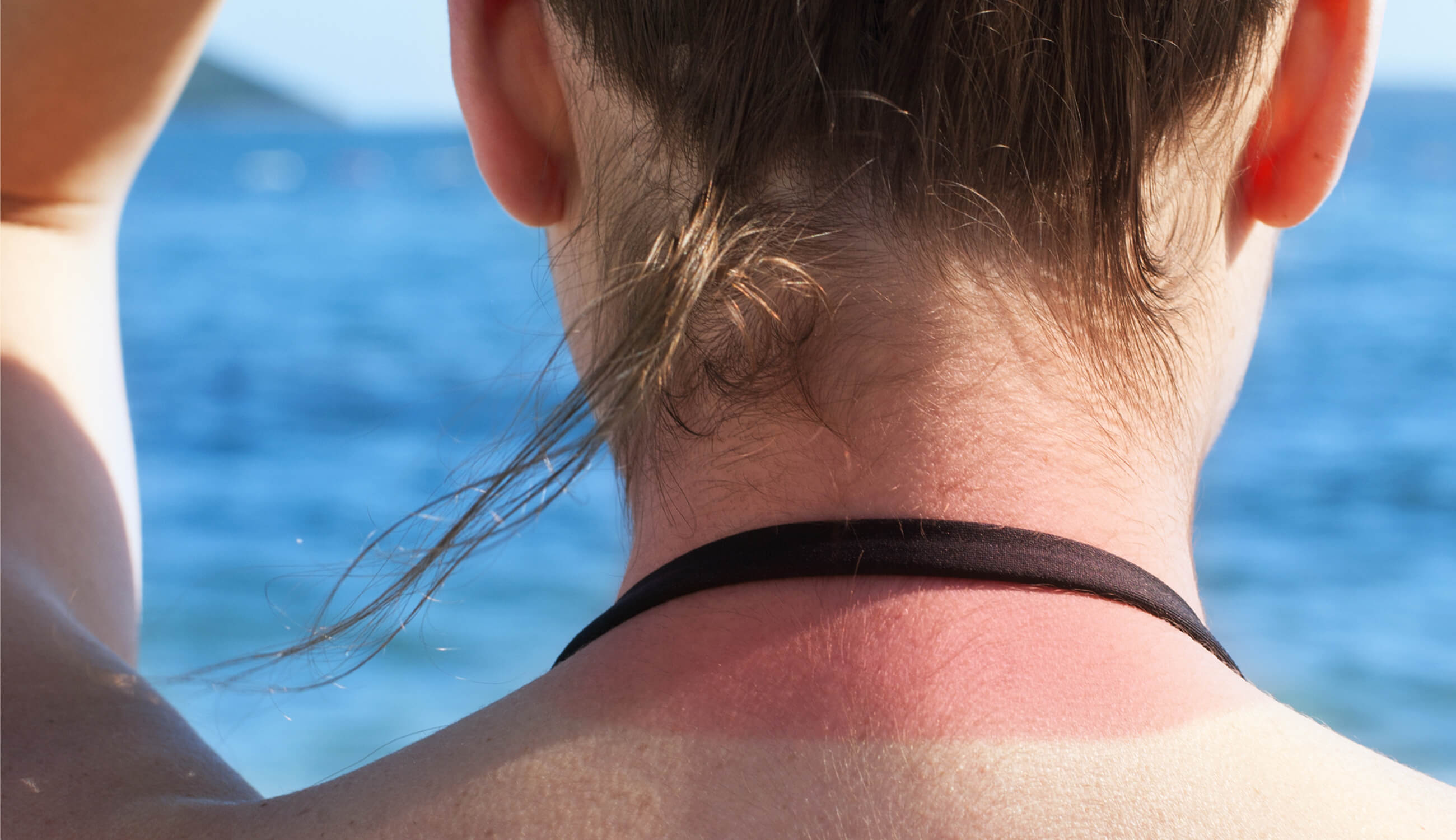 Is it hot outside, or is that just you? We see you with that glowing skin – but with rising temperatures announcing the arrival of summer, you're bound to be spending a lot more time outdoors. What's that mean for that flawless, glowing skin you've worked so hard to nurture? All that time spent in the sunshine might feel nice on the skin… but heightened exposure can spell O-U-C-H for your summer plans.
While we love the toasty warm sensation of sunshine kissing our skin, the insidious UV rays can actually cause an array of both short and long term damage to the skin. Damage can include – but isn't limited to – hives and rashes, burns, itching, and flaking. With a broad range of natural sunscreen formulas in your beach bag, you'll never end up with UV-vulnerable skin again.
We may not be there to help with rubbing sunscreen on your back, but we can at least share some handy tips for remembering common areas that we typically forget to apply natural sunscreen. Get the details below!
Everyone Needs Sunscreen Every Day – Here's Why
Before we get into the where's and why's of sun protection, here are a few more reasons why natural sunscreen is so important. We already know that overexposure to the sun can result in damaged skin and sunburns. One lesser known (or conveniently ignored) fact is that sun exposure can cause extreme premature aging. Prolonged UV exposure leads to laxity of the skin, enhanced fine lines and wrinkling, age spots and uneven complexion.
So maybe you're already familiar with the aging risks of sun exposure, but did you also know that the majority of skin cancers are caused by exposure to the sun? If taking 2 minutes to apply a powerful, natural sunscreen could make even a tiny difference in protecting the skin against cancer, is there even a question of whether or not to use it?
Symptoms of Sunburned Skin
Sun damage can happen in as little as just a few minutes, and those of us that have experienced it know the nasty side effects. Some of the most instant results are red and inflamed skin, aka a sunburn. Sunburnt skin appears red and swollen, and feels both hot and extremely sensitive to the touch. This type of burn is actually a second degree burn, meaning that the skin has sustained damage deeper than just the outermost layer of the skin.
After some time in the sun, the skin can also become itchy and dry. Extremely dried out skin can actually cause and accelerate second degree sunburns, since the skin's lipid barrier is already compromised. Preventing dry skin is part of the battle when it comes to fighting sun damage and its effects, which is why you should always look for a natural sunscreen with moisturizers built-in, or layer a moisturizer onto skin before you apply your sunscreen.
Common Areas We Forget to Apply Sunscreen
Do you ever forget to apply sunscreen? It happens to us all the time, and results in uneven tan lines, itching, swelling, and a whole host of other unfortunate reactions. We say, no more to forgotten sunscreen woes!
Below we'll share the top 11 spots that are often forgotten during your sunscreen application and the best type of sunscreen per area. We came up with this fun way to remember to apply sunscreen everywhere that you want better sun protection. Use 'HE-FLANKS-SHE' – yep, sounds weird, but let's review this handy acronym: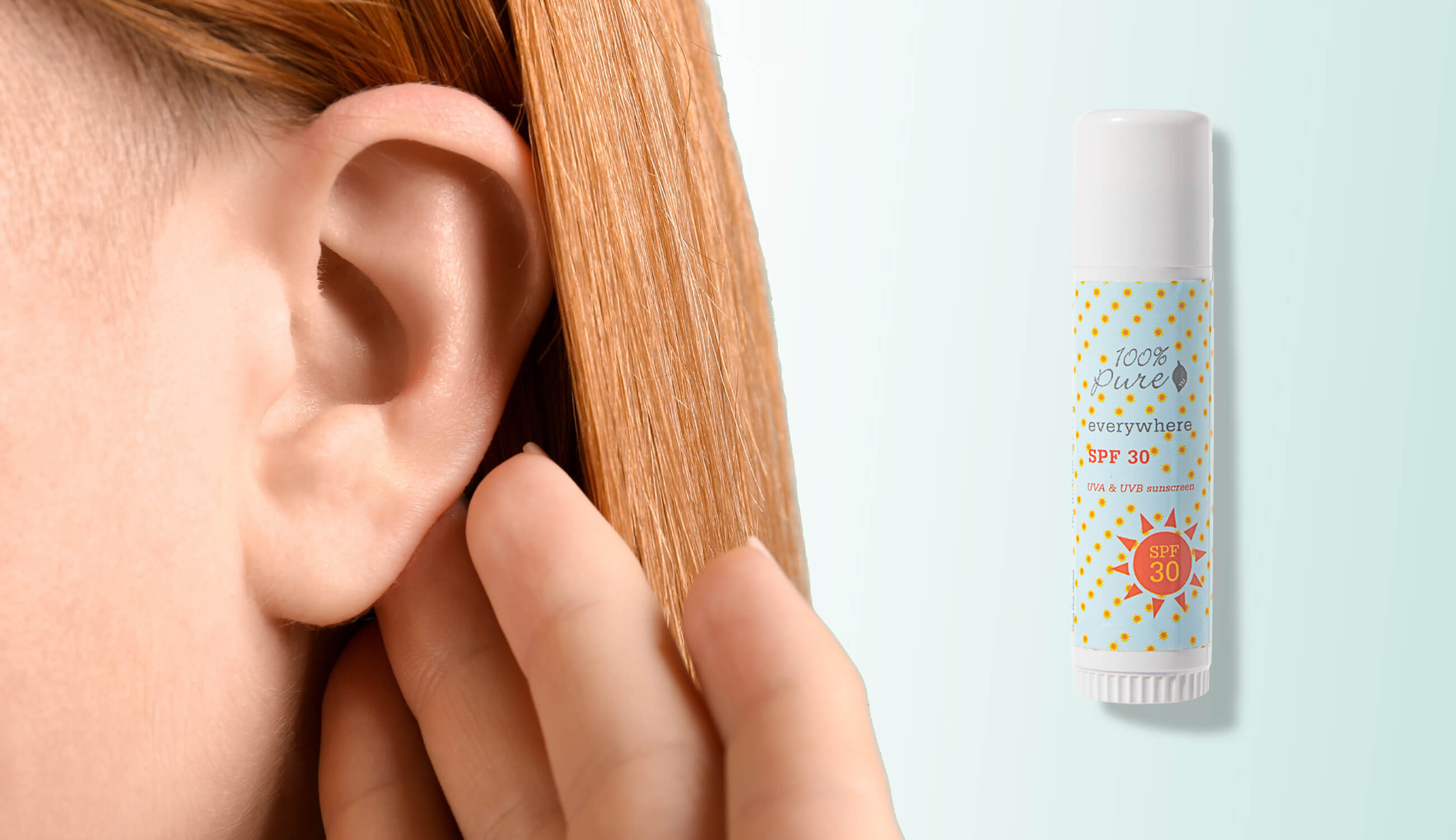 H-ands
We often forget the backs of our hands, while content with the meager amount that is absorbed into our palms when rubbing in our sunscreen. The backs of hands are always exposed (even when driving), so be sure to target that area first to ensure it is protected best. Use a natural sunscreen lotion to ensure the skin is fully covered, as your hands are used most and sunscreen can wear off quickly here.
E-ars
Many of us have hairstyles that moderately cover our ears, but even if that's the case, that doesn't mean our ears are protected. If exposed, ear skin is very likely to flake and dry out, and ears feel extra sensitive when burned. Apply your favorite sunscreen balm to both ears, being sure to get around the curves and edges of both top and bottom lobes.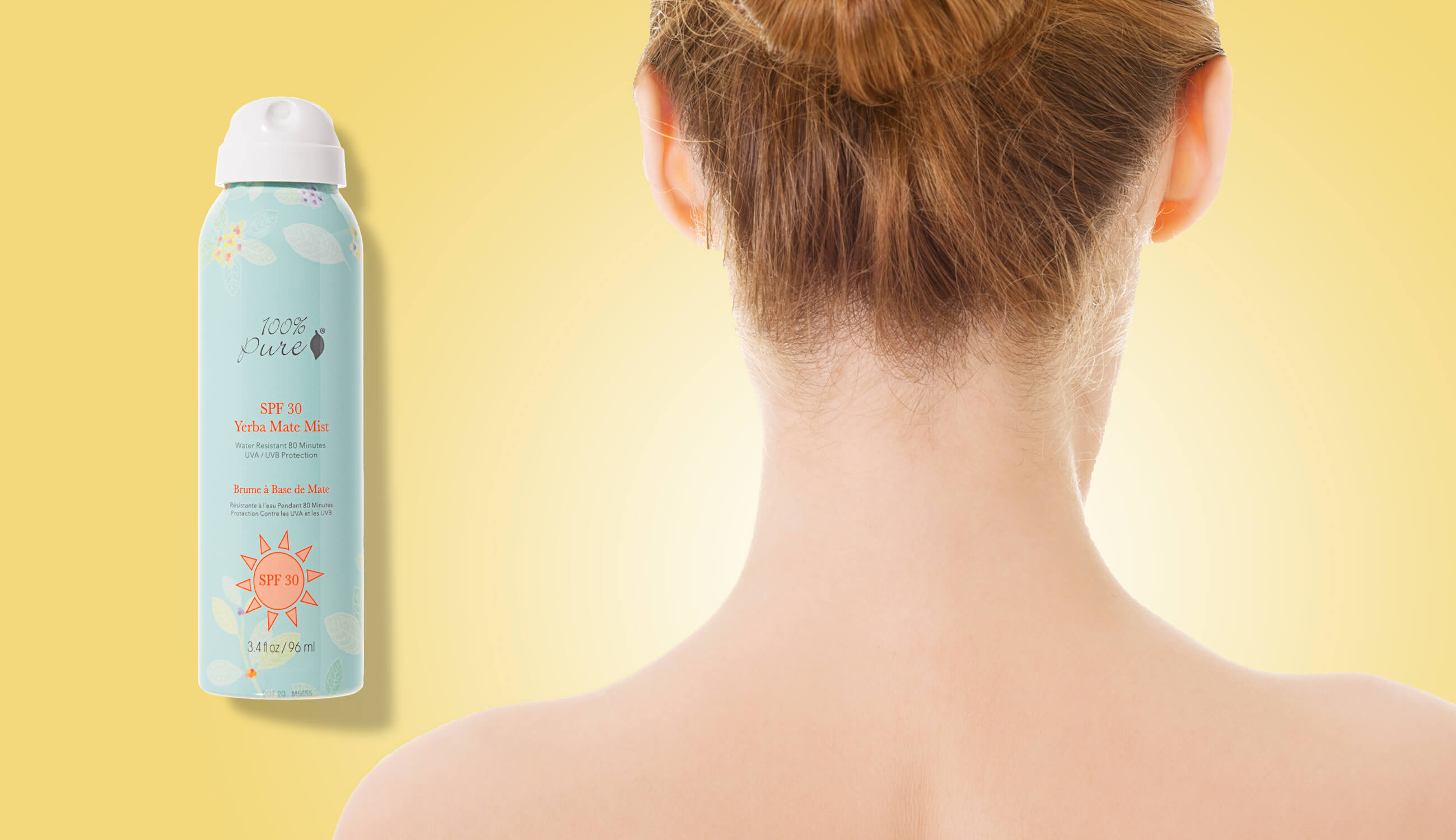 F-eet
Similarly to the hands, the tops of the feet are often also forgotten when it comes to applying sun protectant. If you are walking a lot in the gritty sand it is easiest to apply the Everywhere SPF Body Stick for a full blanket of coverage to really shield the feet skin.
L-ips
We are extra careful about what we put near our mouths, that's why an SPF boosted lip balm is the way to go here. The SPF will maintain your lip's natural, juicy pigment and the extra moisture will go a long way with kissing your summer love.
A-rms
Areas that are pressed together, like the underside of our arms to our sides, are twice as likely to be missed in your sunscreen routine. Use a sunscreen lotion like our Green Tea SPF 30 to treat skin with coveted ingredients like aloe, raspberry, and antioxidant-rich green tea. Massage it onto arms like your average body lotion to get every nook and cranny, so that there are no missed spots.
N-eck
Our Yerba Mate Mist SPF 30 is easy to spray over your shoulder and rub onto the back of your neck. This quick-drying, mattifying formula won't get gunked up in hair, and outlasts sweat and salty sea water while you enjoy your time at the pool or beach.
K-nees
Who ever really stops to think about the backs of their knees? We too are guilty of forgetting sun protection here, so make it easy on yourself by applying an easy, mess-free SPF spray. Sunscreen sprays can reach awkward, hard to reach areas and take only seconds.
S-calp
Oh scalp, how often we've hurt you – can you ever forgive us? Since most of it is covered by hair, we think of the scalp as properly protected, or simply not at all. We suggest applying sunscreen mist to the exposed areas of the scalp, or going in with something more heavy duty like our Everywhere Sun Stick SPF 30 for budge-free protection during water play.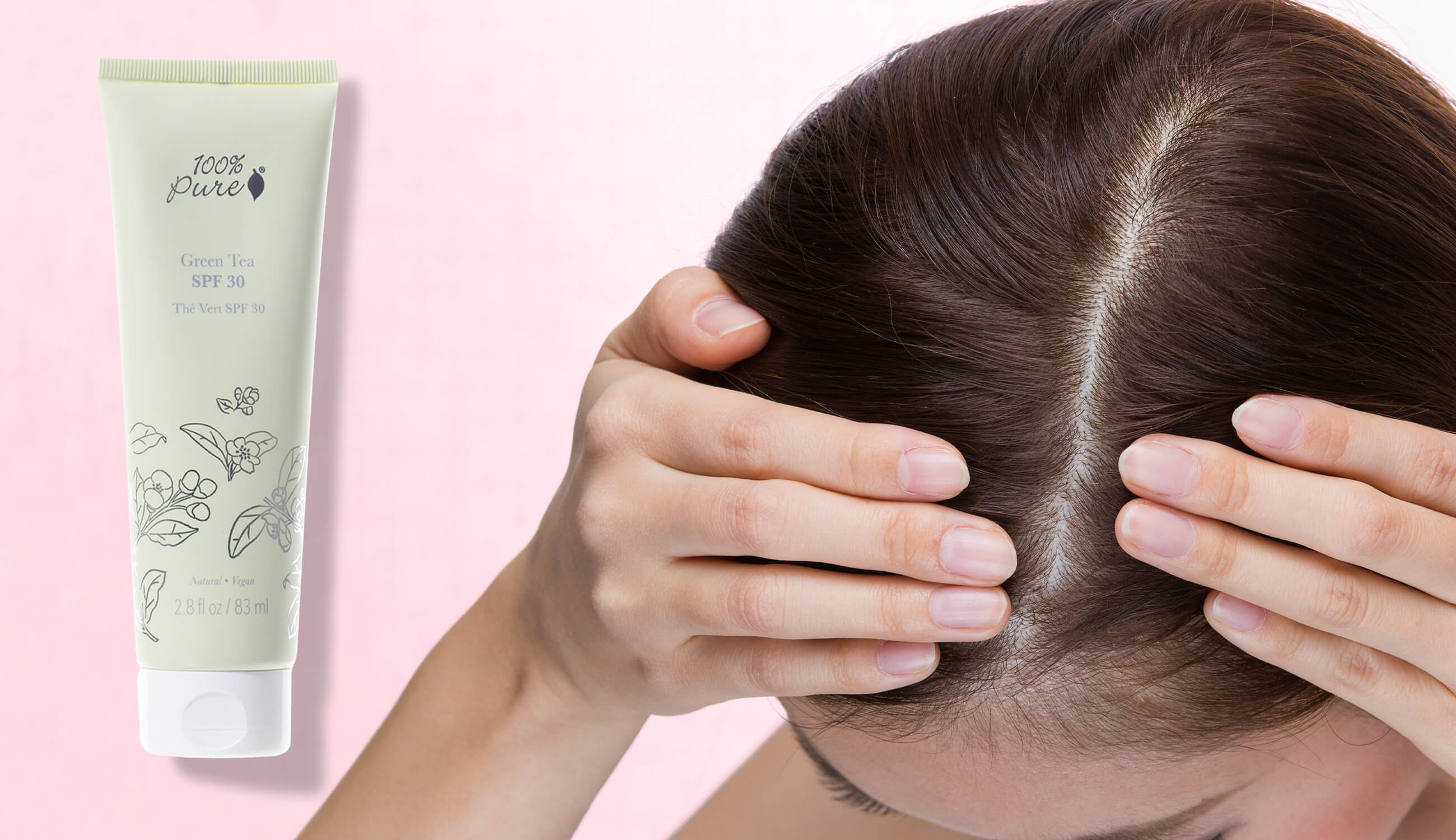 S-traps
One of the most famously overlooked areas for sunscreen: the edges of our bathing suit straps. The result is a collection of harsh, unnatural looking lines all over your body – thankfully this months-long reminder of inadequate sun protection can be avoided! If you can apply your sunscreen lotion or spray in privacy in a bathroom or changing stall, apply it all over the body (regardless of what's being covered by your suit) and use our Everywhere SPF Body Stick around the straps of your cutest bikini to ensure the best sun protection possible.
H-airline
Even when applying sunscreen over the face, it is easy to miss the edges like the hairline. Add a little extra to your fingertips and massage around your hairline to ensure you're covered everywhere you need it.
E-yelids
When you think about it, when was the last time you intentionally applied sunscreen here? Since we're frequently using a separate eye cream and SPF moisturizer, it is very easy to forget sunscreen in this area. The eyelid skin is one of the thinnest areas of the body, so consider dabbing a thin layer of a lightweight natural sunscreen like the Tomato Lycopene SPF 20 Moisturizer to the lids during your morning routine. It includes super hydrating aloe, complexion perfecting green tea, and tomato for fighting back against the ravaging long term effects of the sun.
Whenever, however, and wherever you apply sunscreen, just remember to reapply after sweating or swimming, and at least every 2 hours. These, and a few more, are the most important sunscreen rules to live by for more youthful, healthy skin!
We carefully hand-select products based on strict purity standards, and only recommend products we feel meet this criteria. 100% PURE™ may earn a small commission for products purchased through affiliate links.
The information in this article is for educational use, and not intended to substitute professional medical advice, diagnosis, or treatment and should not be used as such.
Sign up to our email newsletter for more blog updates and exclusive discounts.
< Older Post | Newer Post >