The Best Serums for Oily Skin
Hydrate and nourish oily skin with the right serum and skin care for your skin type
Posted on June 13, 2019
Written by: 100% PURE®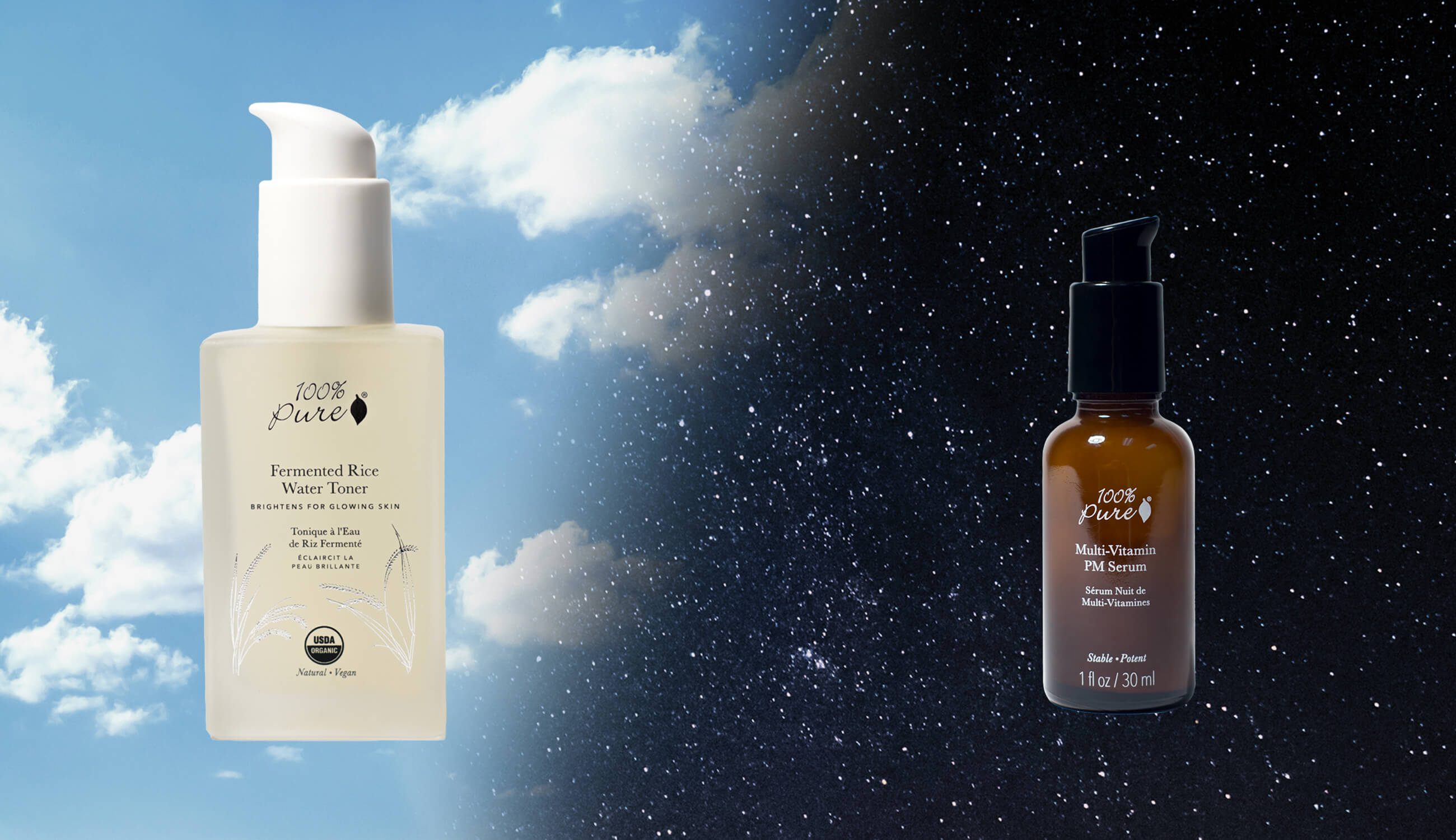 Do you tend to have oily skin? Adding a serum to your skin care routine is the perfect way to deliver hydration and nourishing natural ingredients to the deepest layers of your skin, without that sticky or greasy after-feel. We've carefully formulated the best serums for oily skin, and are here to break you down on which ones can work for your skin type.
What Is Oily Skin?
Are you wondering if you have oily skin? It's true that our hormones, diet, stress, and environment can affect our skin day-to-day. But you'll fall into the oily skin camp if you have any combination of acne, open pores, a shiny complexion, blackheads, or pimples. If you're wondering why you have oily skin, it's usually a result of our sebaceous glands producing too much sebum.
While sebum, which protects and hydrates our skin, is essential for keeping our skin healthy and happy, too much of this waxy, oily substance leads to clogged pores, oily skin, and acne. Managing oily skin can be a tricky task but with the correct products for your skin type, you'll be able to get everything under control.
How Serums Help Oily Skin
Did you know that serums are specifically formulated to penetrate the deepest layers of our skin? By formulating with extra small molecules, a serum is able to deep dive into our dermis to deliver much-needed nourishment and hydration. They're able to penetrate deeper than any moisturizer could, because their molecules are much smaller than that of an average face cream.
When you add a serum to your skin care routine, you'll instantly get the benefit of extra hydration. That's because these tiny, hard-working molecules are getting deep below your lipid barrier and surface of skin – to deliver water directly to those hard-to-reach layers. It might seem counterintuitive to add more hydration when you're leaning towards oily or shiny skin, but maintaining proper moisture levels is actually an important step in helping to combat excessive oil production.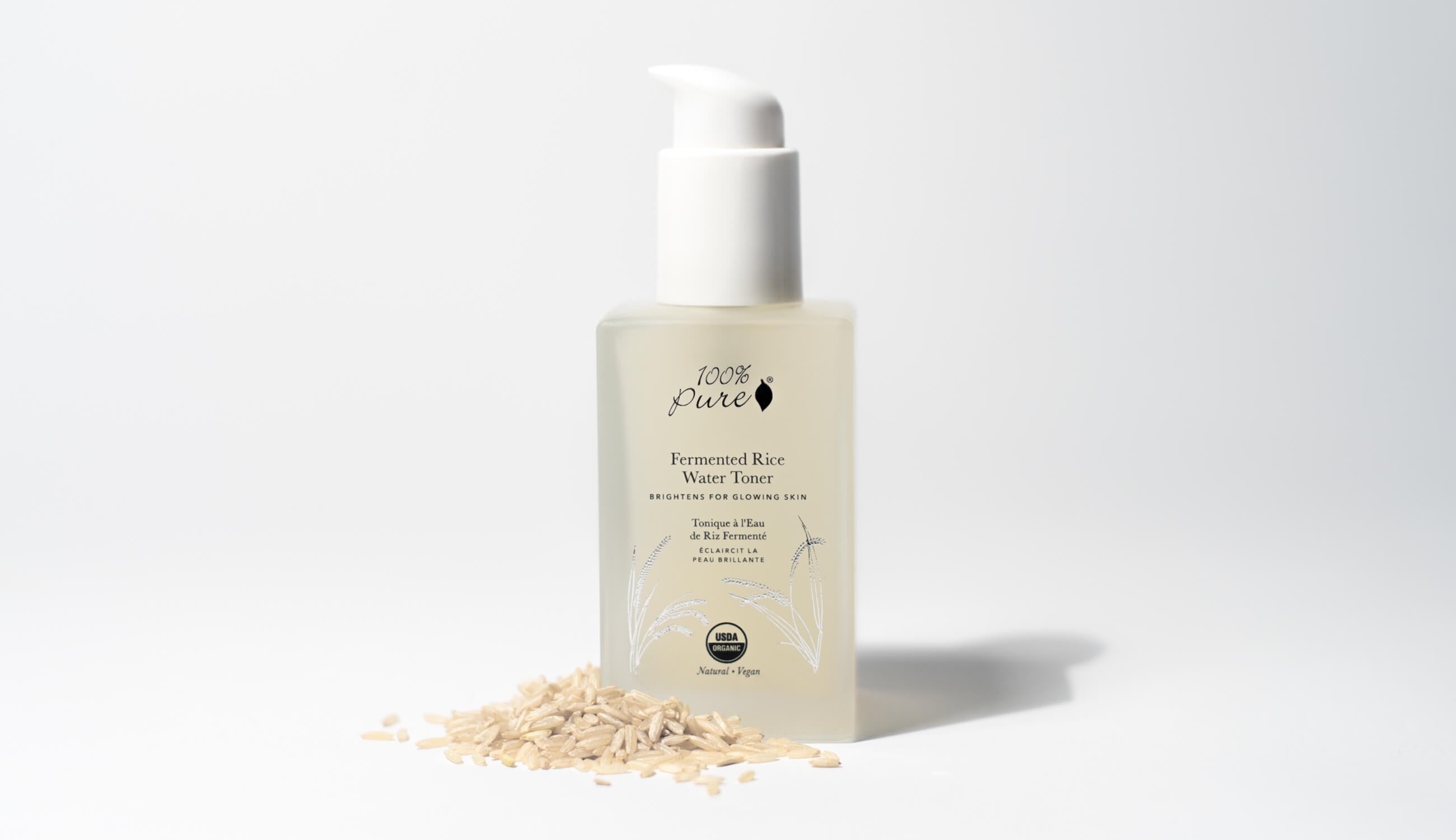 Using a serum is easy! You'll want to start by prepping your skin with a natural cleanser, then priming it with an oil-balancing toner, like the one from our Fermented Rice collection. This will help to purge and purify your skin of any remaining dirt, debris, or oil. By clearing the way with a cleanser and toner, your serum will be able to smoothly pass through your skin, without any blockage from unwanted buildup.
Now for the new hero in your lineup: serum. The proper way to use a serum is by applying a pea-sized amount onto clean, dry hands after toning. We recommend having slightly damp skin, to help with better absorption. Press (don't rub) your serum into skin with open palms and gentle fingers, making sure to extend the application to your neck and decollete. Allow your serum to fully absorb for 90 seconds before applying your daily or nightly moisturizer.
Choosing the Best Serum for Oily Skin
100% PURE serums are always formulated with the highest quality ingredients. We will never sacrifice potency and effectiveness for cheap base ingredients like water or low-quality oils. Our product development team works hard to research and source the absolute best ingredients for our serums to work with a purpose. Our serums for oily skin are expertly made to deeply hydrate oily prone skin and deliver nourishing skin beneficial ingredients.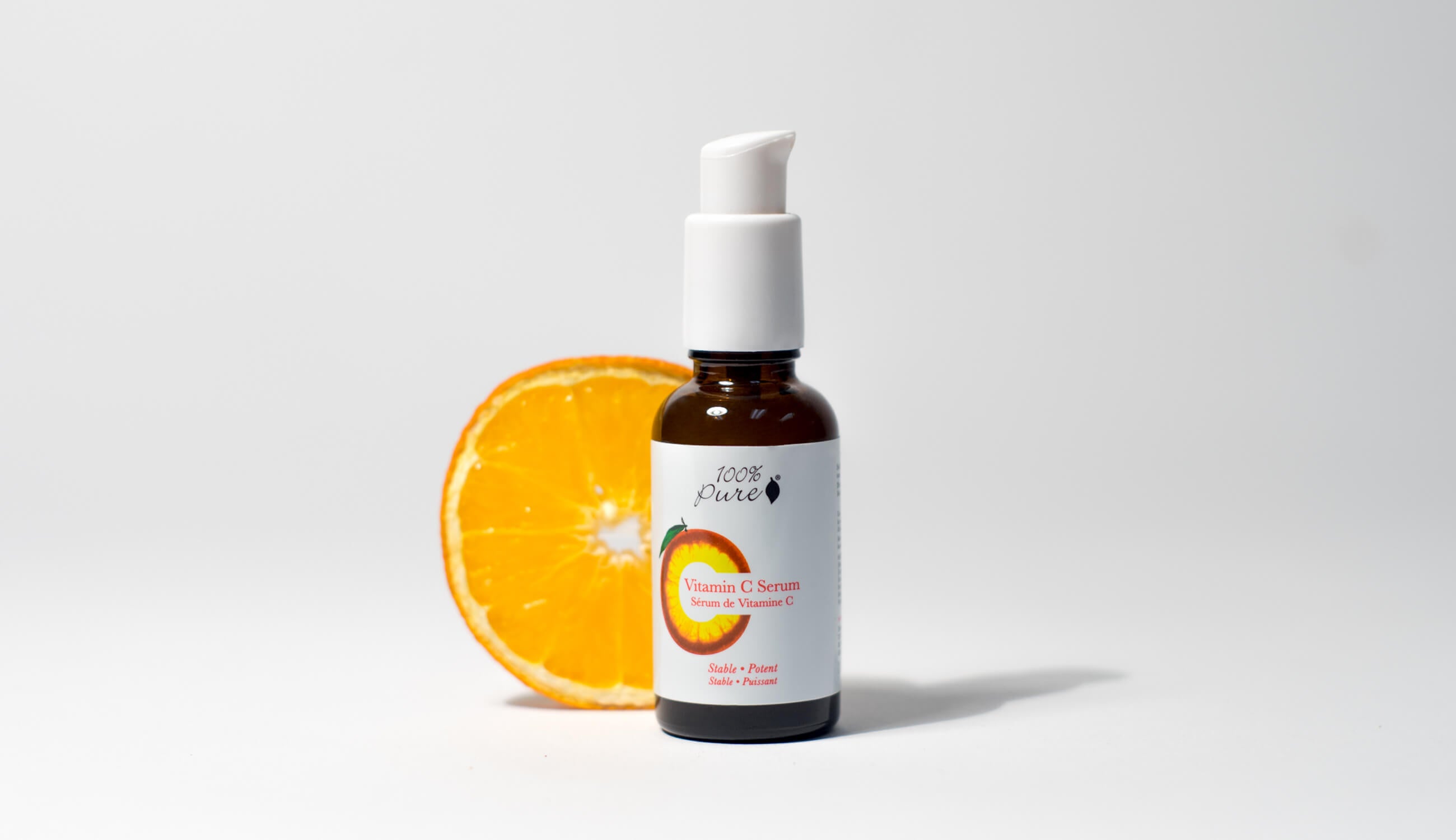 For AM Oily Skin: Vitamin C Serum
Not all serums are created equal. Our potent Vitamin C Serum has a lot to offer, and we didn't hold back when we formulated the best serum for oily skin. We started with an ultra-soothing and anti-inflammatory base of organic aloe gel. Aloe was the perfect base for delivering skin-healing vitamin e, and of course the incomparable vitamin c. To help even out your skin tone, which can often be a result of acne scars, sun damage, or aging, we've also included green apple extract. This fruit is an incredible source of malic acid, and Alpha Hydroxy Acid that helps to brighten and naturally enhance the vitamin c content in this best-selling serum.
If you're looking for a boost of antioxidants (frankly, who isn't) you'll find it in our serum for oily skin; Vitamin C Serum! We formulated with a naturally derived superoxide dismutase, which is found in broccoli, as well as Alpha Lipoic Acid (aka ALA). Both of these powerful ingredients are critical when helping to reduce inflammation and support youthful collagen production.
PRO TIP: It's important to note that during the day, concentrated Vitamin C serums (like ours) should be worn under SPF to avoid the risk of photosensitivity. Sensitive skin types however should avoid Vitamin C serums in the daytime altogether (PM is fine), unless otherwise advised by their dermatologist. If you've got sensitive skin, lean towards oily-to-combo skin, or simply want an extra punch of skin-brightening in your serum, opt for the equally oily-skin-friendly Fermented Rice Water Serum.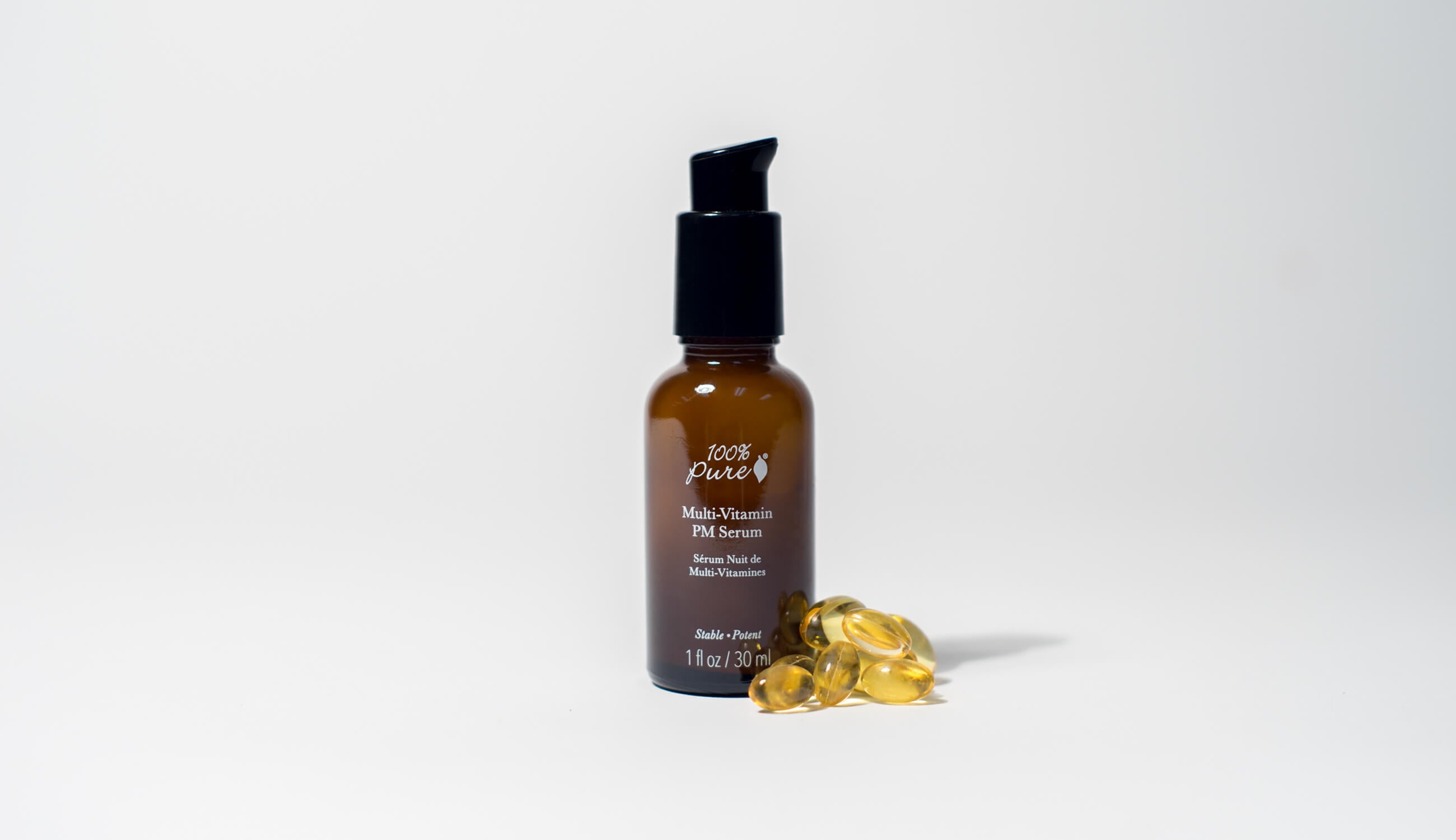 For PM Oily Skin: Multi-Vitamin + Antioxidants Potent PM Serum
We knew we couldn't just stick to daytime serums when it comes to oily skin – especially for those extra oily skin types who prefer to wear less product during the day. So we went back to the lab to create the perfect PM counterpart.
After researching the best of the best, we created the perfect nighttime serum for oily skin focusing on a 10/10/10/1/1 formula. A high concentration of vitamin C (10%) was an important feature. We wanted to make sure skin was getting the maximum amount to support collagen production, while working to diminish the subtle signs of aging. Adding in niacinamide (10%) would help boost this serum's potency to help battle signs of aging, even skin tone, and support ceramide production. Vitamin E (10%) was added to deeply moisturize, gently heal scarring, and support skin elasticity.
The last two 1% ingredients in this PM serum were critical addtitions, though seemingly small. 1% retinol was added to support cellular turnover and firm the skin. The last 1% of CoQ10 was the perfect addition to help minimize the appearance of fine lines, support collagen production, and help diminish spots and scars from UV and acne damaged skin.
We're hoping that for you oily skin types out there, NOW it seems like a no brainer to add a serum into your daily routine, both day and night! We're passionate about the serums we create, and work tirelessly to formulate the best serums for oily skin (and all other skin types, too!). It's clear that serums have superhero powers, because they're packed with superstar ingredients that can greatly benefit your skin. Follow our blog for more skin-type specific coverage to learn how to heal, nourish, and maintain beautiful skin!
We carefully hand-select products based on strict purity standards, and only recommend products we feel meet this criteria. 100% PURE™ may earn a small commission for products purchased through affiliate links.
The information in this article is for educational use, and not intended to substitute professional medical advice, diagnosis, or treatment and should not be used as such.
Sign up to our email newsletter for more blog updates and exclusive discounts.
< Older Post | Newer Post >