How to get 3 flawless holiday makeup and New Years Eve makeup looks using vegan and non-toxic fruit pigmented® makeup!
Posted on December 4, 2017
Written by: 100% PURE®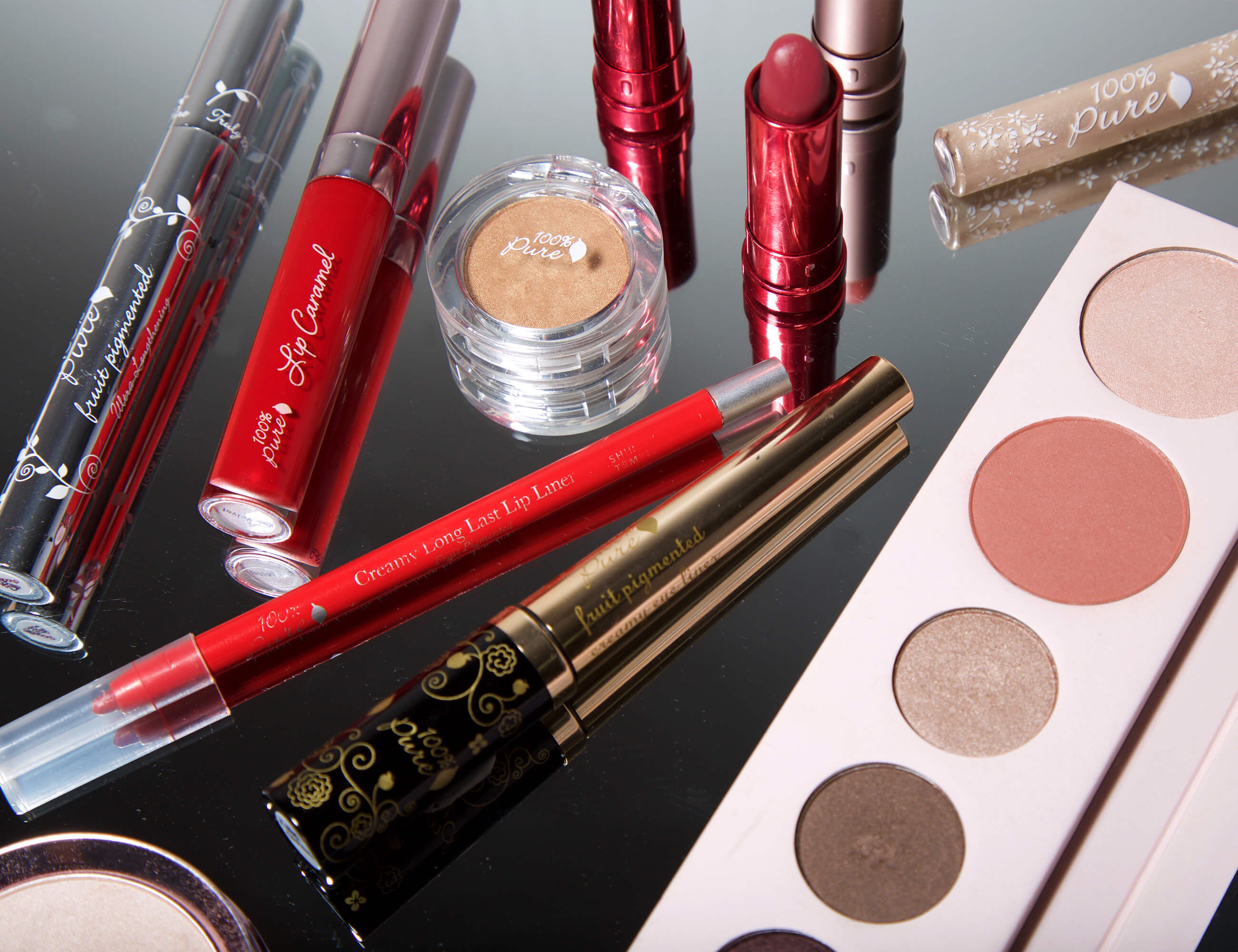 3 Pretty Holiday Makeup Looks
The next best thing to bundling up in super soft layers this holiday season? The glamorous holiday makeup looks, of course! Time to bust out the unapologetically red lip, the scene-stealing sparkles, and flawless skin for making a bold statement this holiday party season. We'll also report on 3 of this winter's top makeup trends and how to get them with vegan, non-toxic makeup, then show you our picks for the ultimate holiday makeup survival kit! Read on for 3 exclusive fruit pigmented® holiday makeup looks...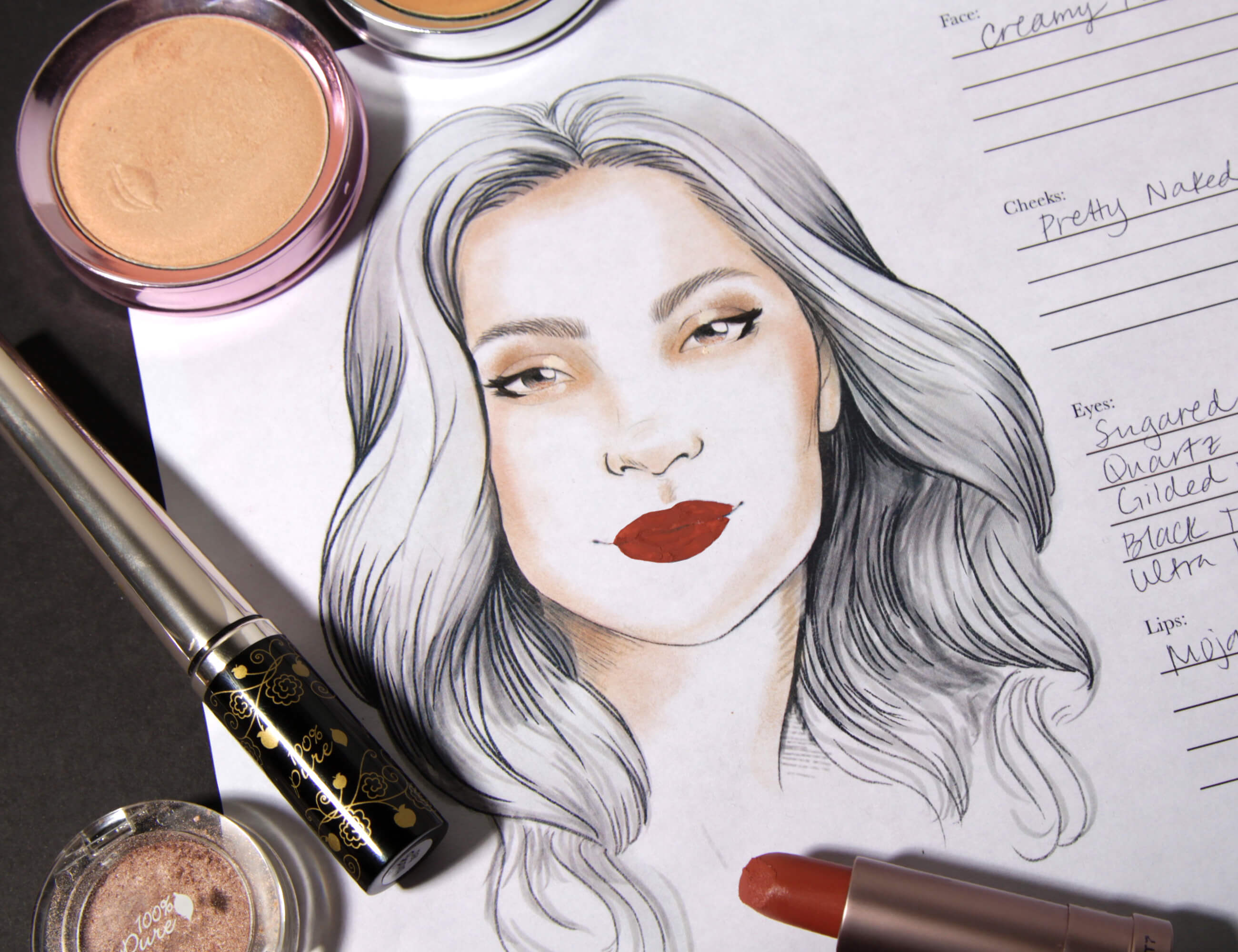 Gold shimmer + chocolate lips
We're all in for utilizing this look for holiday parties and NYE festivities, thanks to the metallic glam vibe we're getting from shimmery fruit pigmented® eyeshadows. We've stuck with a gold, chocolate, and bronze color palette to warm the skin for this gold medal worthy holiday makeup look, and have counterbalanced the heavy shimmer on the eyes with a warm matte lipstick.
WANT THE LOOK?
On the Face:
Following one of the 2017's hottest winter makeup trends (our 3 faves are listed below), we're going for a creamy, dewy finish and full coverage. Using your latex-free Makeup Blender, load your signature shade of Cream Foundation and blend into cleansed, moisturized winter skin; essential fatty acids from avocado butter, anti-aging pomegranate seed oil, and hydrating organic aloe will ensure your skin stays healthy and nourished against the winter elements.
On the Cheeks:
Keeping with the earthy tones in this look, we're grabbing neutral Pretty Naked Blush (which can also be found in your Pretty Naked Palette) to add a natural winter flush to cheeks. Dust on pigments of cocoa, plum, and raspberry with your Cruelty Free Blush Brush.
On the Eyes:
We're suckers for a warm and sultry metallic, which this look is offering up in spades. Using your Cruelty Free Flat Shader Brush, layer Sugared (a shimmery, chocolatey pink nude) across the lid. With your Cruelty Free Crease Brush, add in Quartz (a deep, coppery brown mauve) to the crease and blend. Your final touch will be applying Gilded across the crease to blend at the inner corners, and below the lash line; this true gold eye shadow will turn up the glam factor with shimmering warmth.
PRO TIP: Before applying shadow, dab a touch of silicone-free Luminous Primer to lids to amp up luminosity and prime skin for holding pigment long-term -- especially helpful for a busy holiday party season!
To add definition without detracting too much from your gorgeous gold eye shadow masterpiece, we've added just a touch of Black Tea Liquid Liner to the outer corners of the eye. Busy holiday bonus: this formula is smudge-proof, sweat-proof, and water-resistant for hours on end.
The only way to end this holiday eye makeup look? With a dramatically pigmented, ultra lengthening natural mascara, of course. Voila: holiday glam is served!
On the Lips:
There's something magical about a shimmery eye and matte lip; the pigment in Mojave lipstick plays perfectly with the color palette of this look, but the less-than-shiny finish takes a backseat to ensure all attention goes first to your stunning eyes. We've paired chocolatey red Mojave lipstick (made with real chocolate) to lift the undertones of your eye shadows while warming up your complexion; bonus is that lips will remain moisturized and healthy thanks to rich cocoa and shea butters.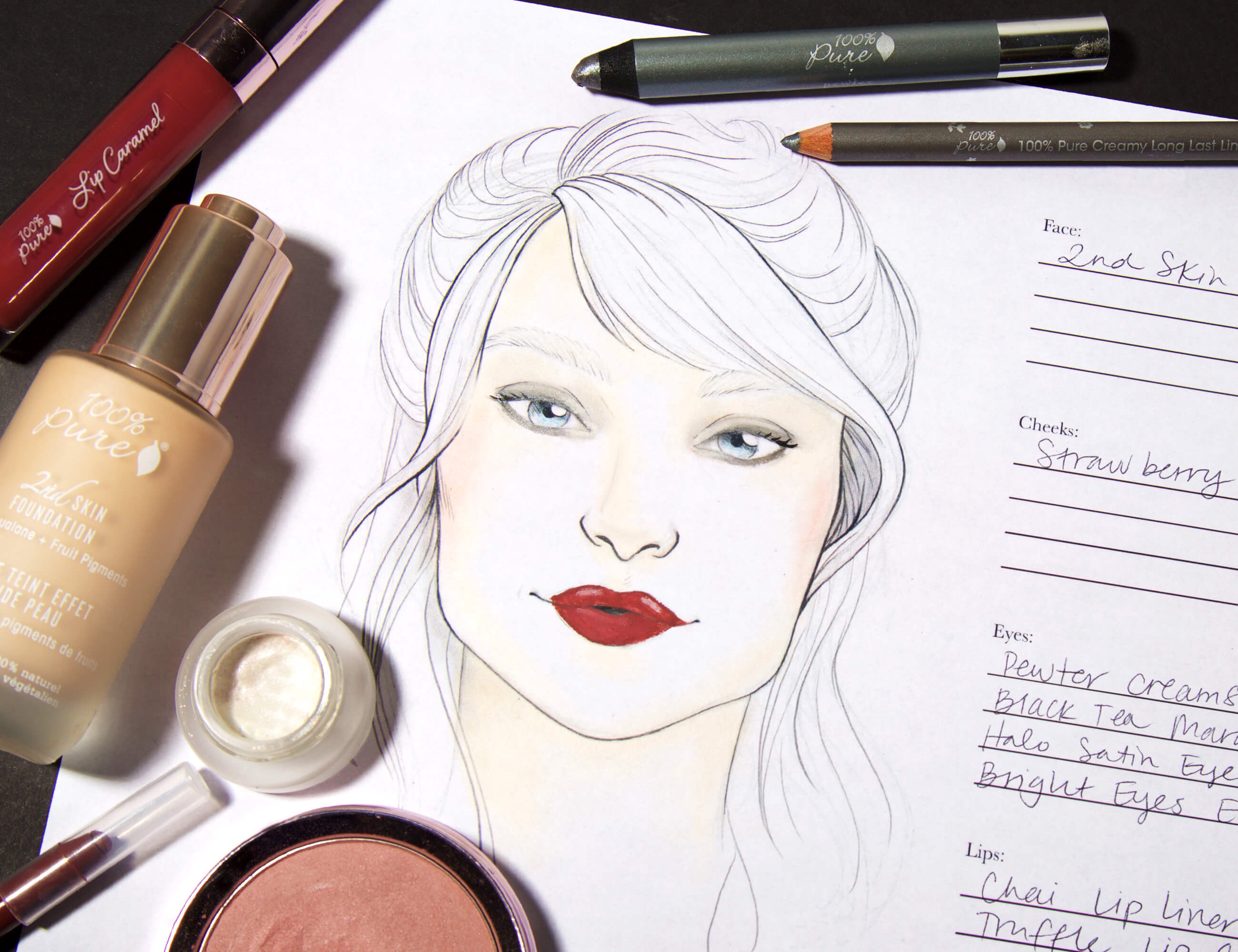 Pewter eyes + berry lips
Metallics are coming in hot this winter, and this time we're going the cool route with ultra glamorous pewter as our makeup focal point. Deep grey and silver sparkle are expertly paired with a glossy berry lip to serve wintry holiday beauty that's fitting for parties or everyday wear -- sans the heavy metals and synthetic dyes being served up by conventional beauty brands this holiday season.
WANT THE LOOK?
On the Face:
We're nourishing winter skin with an ultralight layer of our serum-esque foundation line, 2nd Skin. Olive squalane delivers deep moisture into skin, finely pressed rice offers a mattified finish and buildable medium-full coverage, and antioxidant rich pigments of wild cherry, coffee and pomegranate protect against environmental damage for when you're outside on blustery winter days. Apply with your makeup blender or Cruelty Free Kabuki Brush.
On the Cheeks:
For this look, we've chosen a cooler toned blush with soft pink tones to give skin a wind-chilled flush of color that will compliment the pink tones in your berry lipstick.
On the Eyes:
Sparkly silver flecks of mica paired with fruit pigments, spirulina, and black tea have combined to make a deep grey creamstick that screams winter chill; we've nixed the metals used in common eye makeup (like aluminum and iron) to keep your peepers safe from harm. Line top and bottom lash lines with Pewter Creamstick or Gleaming Pewter Creamy Long Last Liner for a silvery pop around your eyes.
Apply Halo Satin Eye Shadow across lids, helping to blend this pure pearly white into the silver you applied with Pewter. Use your Cruelty Free Smudger Brush to blend below the waterline, and add Halo as a highlight at the inner corner for a pop of mystical starlight white. Finish this look by adding lash conditioning, volumizing Black Tea Maracuja Mascara for full, feathery lashes.
On the Lips:
Glossy berries and mulled wine are inspirations for this holiday lip color, adding a touch of bold, vintage romance that pops on any skin tone. We're lining first with Chai Creamy Lip Liner to keep pigment in place, then filling lips with Truffle Lip Caramel (a deep mauve brown). Our lip liners are made from real (not synthetic) wax from the flowering Candelilla plant to keep lip color in place, while pomegranate oil and cocoa butter in our Lip Caramel collection will keep lips soft all day long.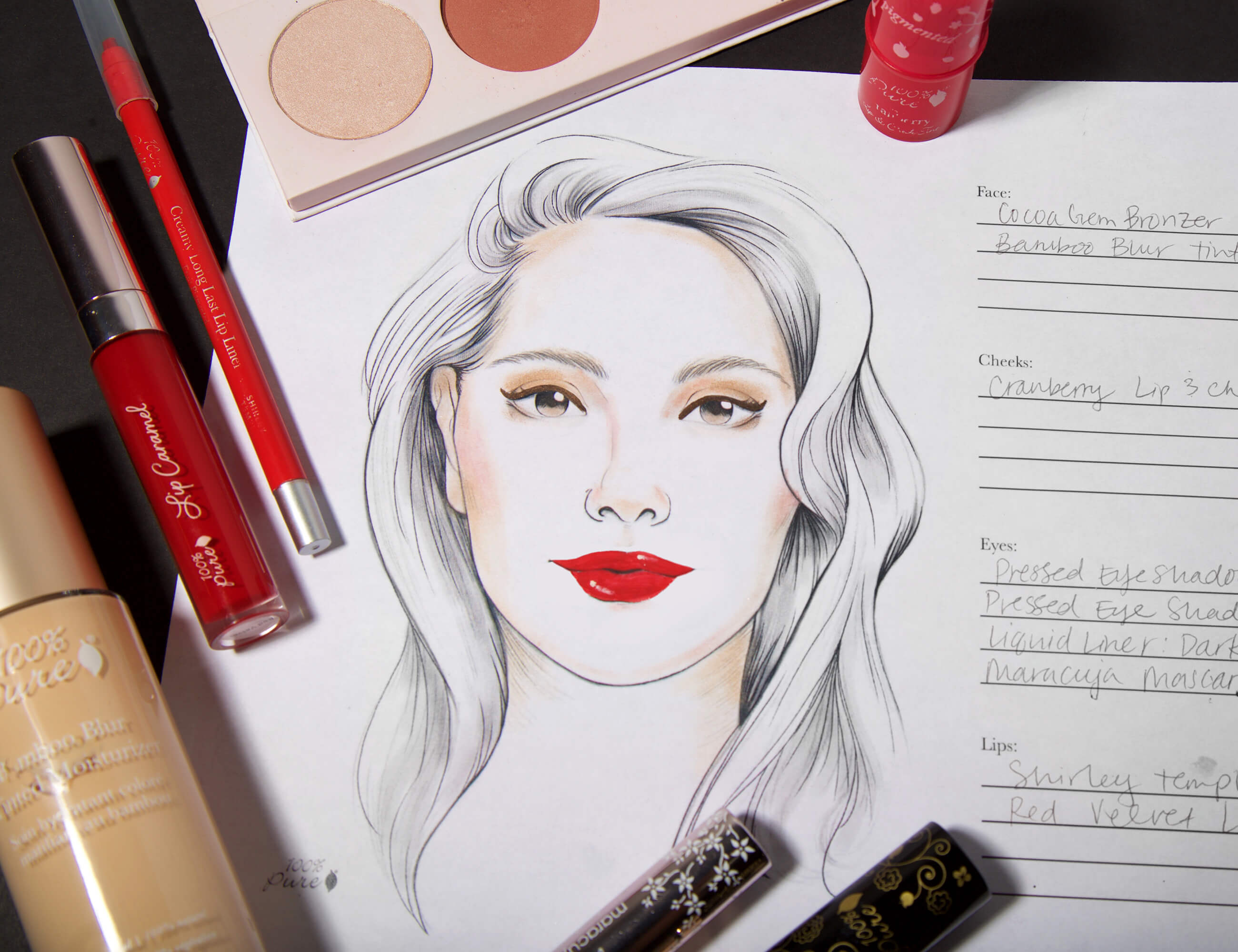 Retro eyes + ruby lips
This classic holiday makeup look plays up a glossy red lip, classic winged liner, and cranberry hued cheeks -- all cues of the glamorous pinup era. But while they were using carmine and coal tar to color their makeup in the forties and fifties, we're using natural pigments from black tea leaves, achiote seeds, and vibrant fruit.
WANT THE LOOK?
On the Face:
We're looking for a flawless, photo ready finish with this look, and Bamboo Blur Matte Makeup is our secret weapon! Check out our impressive roster for creating a photo-ready base: organic aloe juice for hydration, pomegranate oil for anti-aging benefits, avocado oil for moisture and suppleness, and light-refracting bamboo silica for a poreless matte finish. Apply this hydrating, lightweight foundation with a vegan kabuki brush or teardrop makeup blender.
To warm up this holiday makeup look, grab a fruit pigmented® bronzer in your signature shade: Cocoa Gem for light-medium skin tones, and Cocoa Glow for medium-deep skin tones. Use your kabuki or Cruelty Free Angled Brush to apply real cocoa pigment for a deliciously toasty glow.
On the Cheeks:
Keeping with our red theme, we've applied skin softening Lip & Cheek Tint in Cranberry Glow to the apples of cheeks with clean fingers. Made with shea and cocoa butters plus real cranberry pigment, this little beauty will answer all your holiday makeup prayers.
PRO TIP: Want a more subtle red lip? Use your Cranberry Glow Lip & Cheek Tint for cheeks and lips, too!
On the Eyes:
We're using two shades of fruit pigmented® eye shadow to lids to give a classic lift that works perfectly with the pinup vibe of this pretty makeup look. Start by applying a light layer of Gilded (a true gold) all over the lid, making sure to buff into crease. In your crease and below the lash line at the outer corners of your eyes, use your fluffy crease brush to apply Gold Espresso (a golden brown) for added depth and dimension on this subtly metallic nude eye makeup look.
Finish with your signature shade of Long Last Liquid Eye Liner by applying a curvy wing that will lift and awaken your eyes, then add volume to lashes with a matching Maracuja Mascara. Eat your heart out, company holiday party!
On the Lips:
Vibrantly pigmented with red cherry and achiote seed, this seductive liquid lipstick is sure to be a scene stealer in any holiday group selfie. The high gloss finish and fire engine red hue of Red Velvet Lip Caramel will light up any makeup look, and when lined with perfectly matched Shirley Temple Long Last Lip Liner, it's pretty much guaranteed that these fruit pigmented® lips will make it all the way past midnight on NYE!
2017 Holiday Makeup Trends
We're highlighting our 3 favorite 2017 holiday makeup trends around complexion, lips, and brows. We'll tell you how to replicate these trends with fruit pigmented® makeup, so that you'll never have to sacrifice safe ingredients for ultra pretty makeup looks!
Holiday Trend #1: Glowing Complexion
We adore this trend because it never goes out of style! Glowing skin is a gorgeous beauty staple for any season, and while it definitely starts with using the best natural products for your skin type, it can easily be enhanced with the right fruit pigmented® makeup. This winter, the focus is on dewy skin that radiates warmth and light, so opt for a creamy foundation formula that lets your skin do its thing; try Water Foundation for sheer to light coverage, BB Cream for medium coverage (bonus is built-in shimmer), or Cream Foundation for full coverage. Touch up bare skin or any foundation base with responsibly sourced shimmer and natural gemstones in some of our fave luminizing cosmetics.
How to get a glowing holiday complexion using fruit pigmented® makeup:
Gemmed Luminizers - laced with semi-precious stones, not heavy metals, to make skin sparkle and shine
Luminating Crémes - can be mixed into foundation, moisturizer, or applied to high points of face
All Over Glow - liquid body shimmer, perfect for warming up skin peeking through cold shoulder sweaters -
Luminous Primer - infused with warm, shimmery mica to give skin a candlelit glow that enhances any fruit pigmented® makeup look
Holiday Trend #2: Blood Red Lips
A classic red lip screams holiday spirit, and we're totally on board. We love the idea of utilizing the full spectrum of red tones and finishes this holiday season; from semi-sheer to matte, and fire engine red to blood red cabernet, we're loving any bold red lip for statement-making holiday makeup looks. 100% PURE uses fruit pigments like tomato, cherry, and pomegranate to bump up the color factor instead of heavy metal, synthetic, or animal-derived dyes (get out of here, carmine!). So get your smoochers ready for a stunning red lip for this holiday season; we've got a red shade for everyone!
How to get blood red holiday lips using fruit pigmented® makeup:
Nopal Cocoa Butter Matte Lipstick - our newest bright, bold red lipstick; a true red for true romantics
Cabernet Lip Glaze - cabernet wine lip color made with moisturizing avocado butter and a semi-sheer finish
Red Velvet Lip Caramel - truly a showstopper, this classic red liquid lipstick offers intense pigment and a shiny finish
Dahlia Pomegranate Lipstick - deep and dramatic ruby lipstick with a glossy finish, made with anti-aging pomegranate oil to keep lips soft and moisturized on long winter days
Plum Wine Lip Caramel - a dramatically deep wine color, this liquid lipstick spells 'glam' on any skin tone
Holiday Trend #3: Full Brows
This winter, it's time to let your brows get bushy and beautiful. Gone are the days of perfectly painted-on brows; think winter woodland queen with full, refined brows. Embrace thicker brows and don't be afraid to brush upwards with the spoolie end of your eyebrow brush to achieve a fuller, more youthful texture. Refine your brow tail and shape with the angled edge of your cruelty free eyebrow brush and a pigmented eyebrow gel for a coiffed but natural finish.
How to get full brows using fruit pigmented® makeup:
Green Tea Fiber Brow Builder - fills, shapes, and builds brows with micronized tea leaves, while gently combing each strand into place
Long Last Brows - natural powder brow gel keeps brows refined while adding true, pigmented coverage from cocoa, coffee, tea, and fruit pigments
Holiday Makeup Survival Kit
Whether you're jetsetting or party hopping this holiday season, you'll need a few items on standby when your schedule gets packed. We've picked our favorite items to help you survive the chaotic holiday season, and keep your makeup looking fabulous!
Cranberry Lip & Cheek Tint
Great on both bare skin or foundation, this skin softening tint makes pulling double duty look easy: apply to cheeks with clean fingertips or a kabuki brush, or to lips with a retractable lip brush to add a truly holiday inspired cranberry hue to any day or night look.
Cabernet Lip Glaze
Made from lip softening avocado and cocoa butters, this retractable Lip Glaze will become your BFF this winter. Pigments of cherry, plum, and cabernet grape make Cabernet an ideal addition to any pretty makeup look, and the beauty of this formula is that it's buildable for your desired vibrancy.
Bamboo Blur Powder
Made from only a single ingredient, our original Bamboo Blur Powder is your ultimate ally in group photos and selfie this holiday season. Microscopic, light refracting orbs of bamboo silica bounce light away from skin while you wear, resulting in a 'blurred' effect that looks makes skin look poreless in photos. IRL, this powder absorbs oil and shine like a pro, and works as a soft-focused setting powder over bare skin or foundation.
Coffee Bean Eye Cream Mini
This all time fan favorite will keep your eye area bright and supple as you breeze from one family get-together to the next. No one will tell that you stayed up 'til 1am wrapping presents when you apply this nourishing eye cream to under eyes, since stimulating and anti-inflammatory caffeine from coffee and green tea will circulate blood flow to depuff and minimize dark circles. Trust us, the mini size Coffee Bean Caffeine Eye Cream will prove itself as your savior well past your hectic holiday season.
Antibacterial Oil Blotting Paper
Another must for shine-free photo ops is our pack of Antibacterial Oil Blotting Paper, made from wood pulp and hemp. These two antibacterial ingredients will not only dab away excess oil, but keep skin clean and purified from environmental debris like dust, smog, and dirt.
Want more makeup guides from 100% PURE? Check out our beauty blog for articles like Makeup Tips for Every Age, Bold Makeup Looks, and our Fruit Pigmented® Makeup Palette Guide. Happy Holidays from everyone at 100% PURE!
We carefully hand-select products based on strict purity standards, and only recommend products we feel meet this criteria. 100% PURE™ may earn a small commission for products purchased through affiliate links.
The information in this article is for educational use, and not intended to substitute professional medical advice, diagnosis, or treatment and should not be used as such.
Sign up to our email newsletter for more blog updates and exclusive discounts.
< Older Post | Newer Post >