Featuring party-ready trio of sparkly 10-FREE NYE nail polishes Studio 54, Ibiza, and Midsummer Night's Dream
Posted on December 11, 2017
Written by: 100% PURE®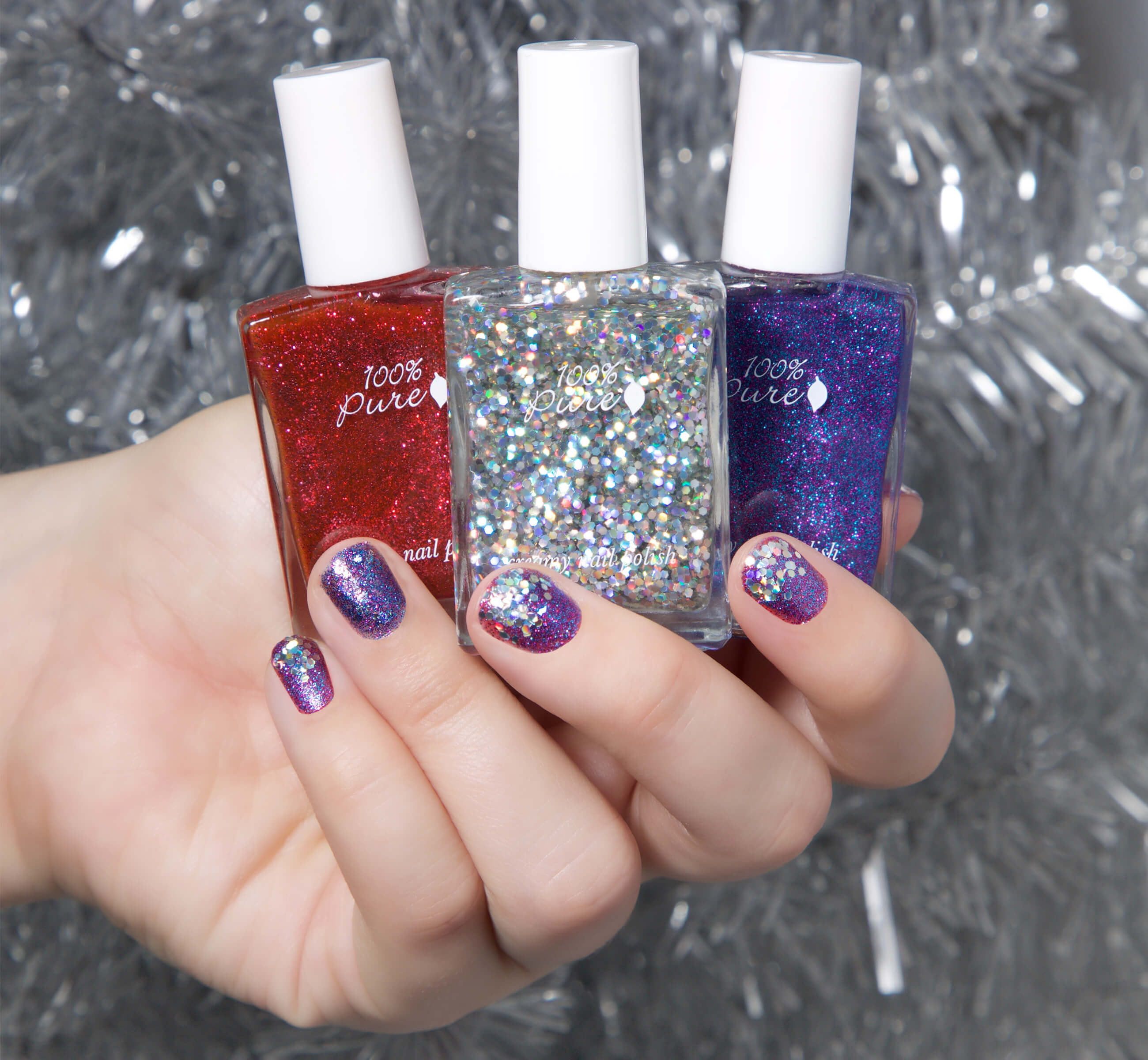 Let's be honest, sparkles are basically the lifeblood of New Year's Eve; without them, midnight on December 31st would feel a LOT less magical. When asking yourself, "What kind of nail look should I go for this year?" there's really only one answer: SPARKLY! We're featuring an extra special trio of cruelty-free nail polishes that are not only sure to catch all the looks on NYE, but are also free of the 10 common toxins found in conventional nail polish (no formaldehyde, fragrance, animal ingredients, phthalates, xylene, DBP, camphor, parabens, or toluene). The possibilities are endless when you've got sparkling superstars Studio 54, Ibiza, and Midsummer Night's Dream in your NYE arsenal.
Our NYE Nails Lineup
Style: The definition of 'extra', this stunning silver sparkler is perfect alone or as a decorative addition to any 10-FREE polish color.
Finish: Gloss
Color Profile: Clear polish with large, silver holographic glitter
Style: A vibrant, bombshell red served with a side of holiday spirit.
Finish: Buildable, superfine glitter that becomes more matte with each layer
Color Profile: Sheer red polish with superfine, multidimensional red glitter
Creamy Polish in Midsummer Night's Dream
Style: Whimsical and bold, this dreamy shade celebrates romantic hues of mystical blue and purple.
Finish: Buildable, superfine glitter that becomes more matte with each layer
Color Profile: Sheer blue polish with superfine, multidimensional blue and purple glitter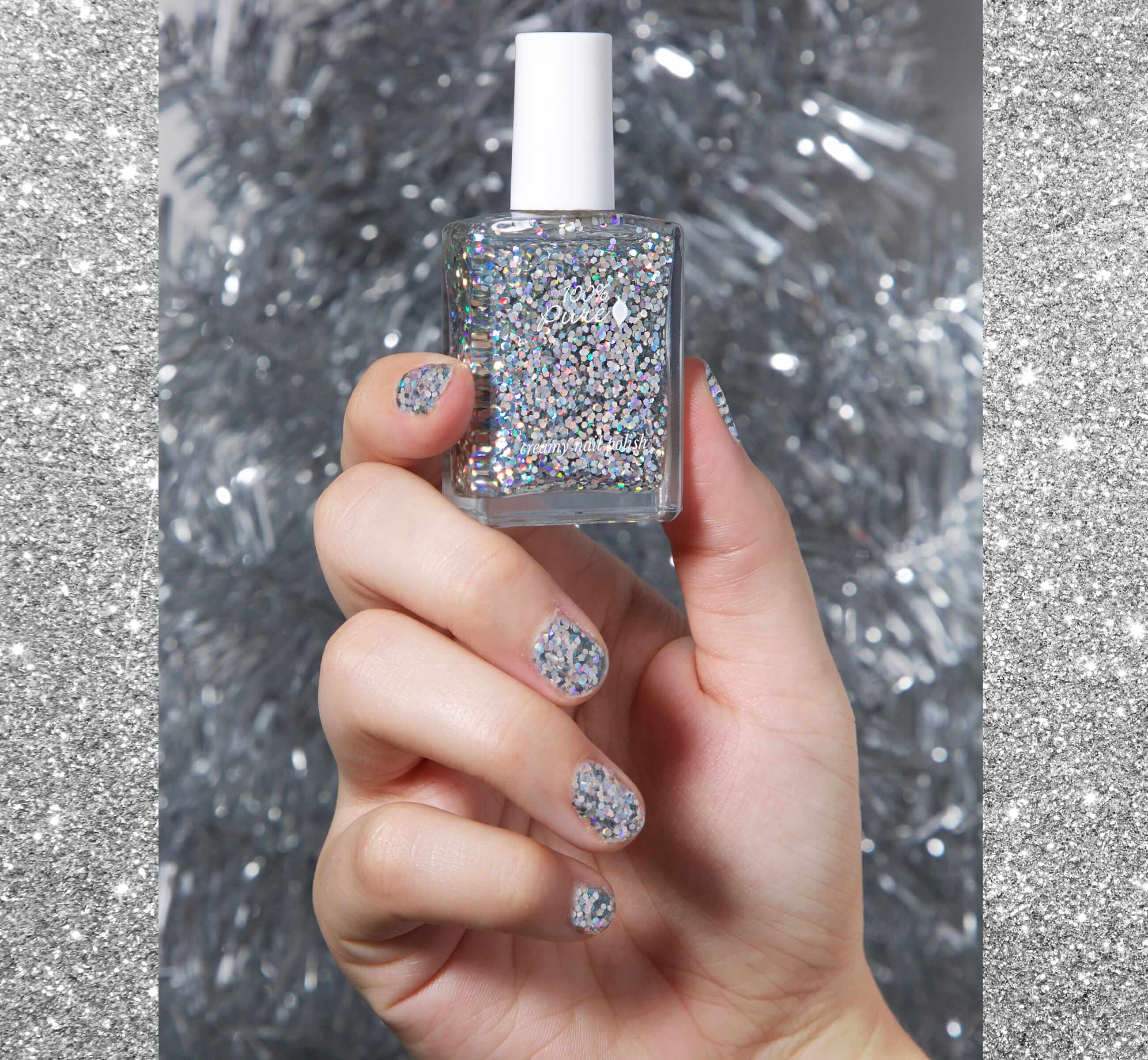 Silver Sparkle Polish
Like the celebs who walked the halls of its namesake club, Studio 54 is a showstopper all on its own. You can layer this sparkling diva over any other shade of 10-FREE polish (try it over a nude like Truffle, Velouria, or Pinkerton), or simply let it shine all by its lonesome. Silver glitter pairs well with cool toned fruit pigmented® makeup like Pewter eyeliner or Moonstone Gemmed Luminizer, or as a glam-inspired compliment to a deep eggplant lip like Aubergine Matte Lipstick.
Step 1: Apply Base Coat
To ensure easier application of glitter, start with your Horsetail Base Coat for a smoother base for the glitter to attach. Allow to dry completely.
Step 2: Apply Studio 54
Apply with a brush or sponge (see PRO TIP below), starting with one coat. After first coat dries, add others as desired for buildable glitter coverage.
Step 3: Apply Top Coat
To ensure glitter stays in place and protected, finish this super simple NYE nails look with Glass Top Coat. Allow to dry, and voila -- you're party-ready!
PRO TIP: Using an old Makeup Blender, cut off a small piece (about the size of a walnut halve) with a tapered tip. Use this tip to apply the large glitter; the gloss will be absorbed, leaving the glitter particles to be more precisely placed and easily layerable on your nail.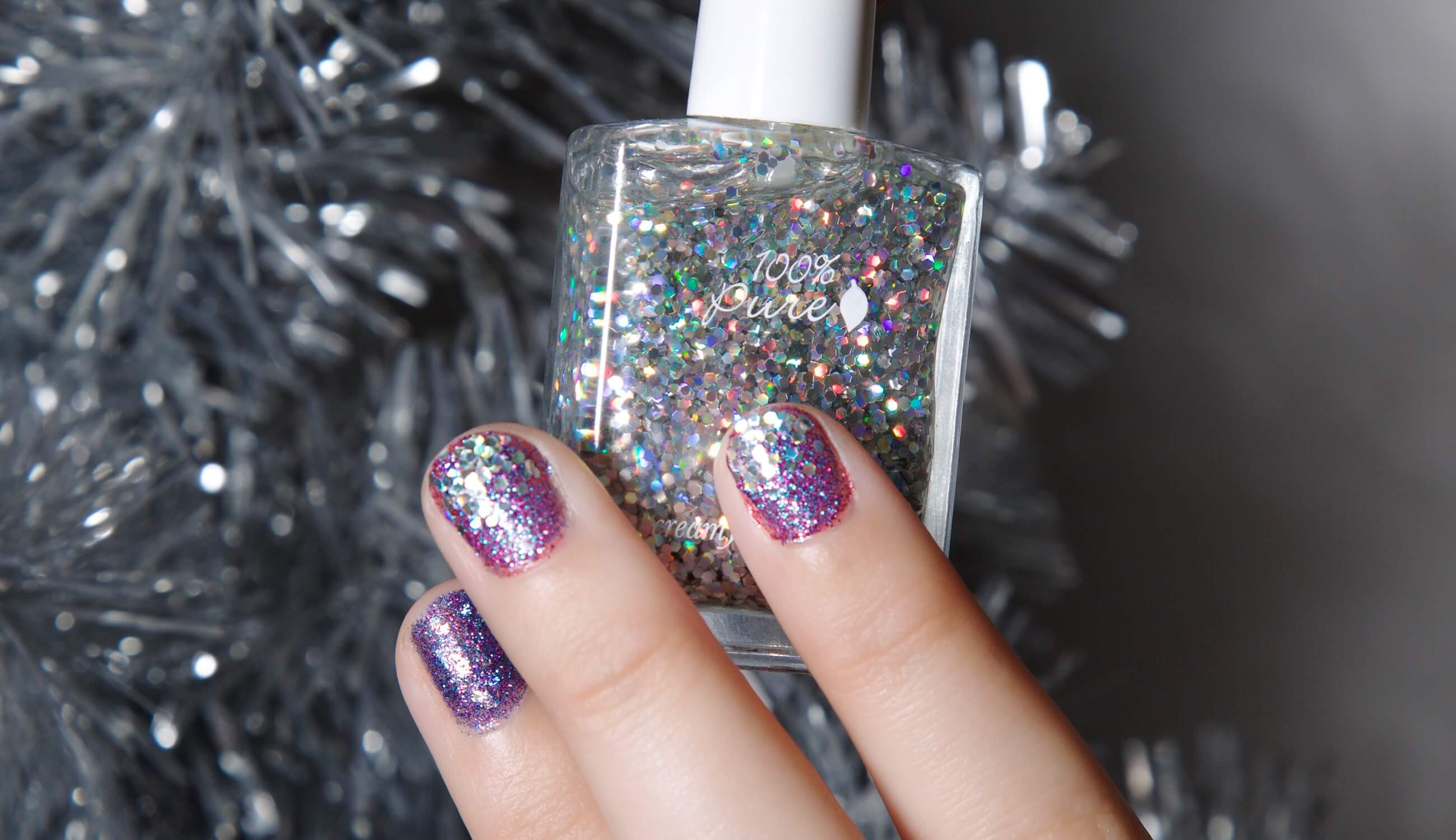 NYE Nail Trio
What happens when you combine 3 heavy-hitting glitter polishes? The results can only be whimsical, with multidimensional glitter to catch light at every turn. Notes of red, blue, and silver are the basis for this look, with major flashes of iridescence. We've added a glitter ombre effect with Studio 54 for an extra festive NYE nails twist!
Step 1: Apply Ibiza
After applying base coat polish, apply sheer, sparkly red Ibiza polish to nails. Allow to dry.
Step 2: Apply Midsummer Night's Dream
Apply 2 coats of Midsummer Night's Dream, allowing to dry thoroughly between coats. The red of Ibiza will blend seamlessly with the blue of Midsummer Night's Dream, creating a dreamy shade of purple.
Step 3: Apply Studio 54
After your base glitters have dried, grab a small piece of sponge (we used an old latex-free makeup sponge). With Studio 54 in one hand and sponge in the other, paint a dollop of polish onto the sponge's tip. Set aside polish brush and bottle. Using sponge, gently dab polish onto the nail, starting at the tip then working toward the center of the nail.
After you've finished adding the first coat of Studio 54 to nails, prep your sponge for round 2. This time, focus on adding glitter only to the end of your nail, to help create a heavy to light gradient on your nail for an ombre effect.
Step 4: Apply Top Coat
This step is important for keeping glitter in place, since the largest pieces from Studio 54 can get snagged and pulled away from the nail if not applied evenly. Apply your top coat polish to keep glitter protected and add a glossy sheen to this NYE nails look!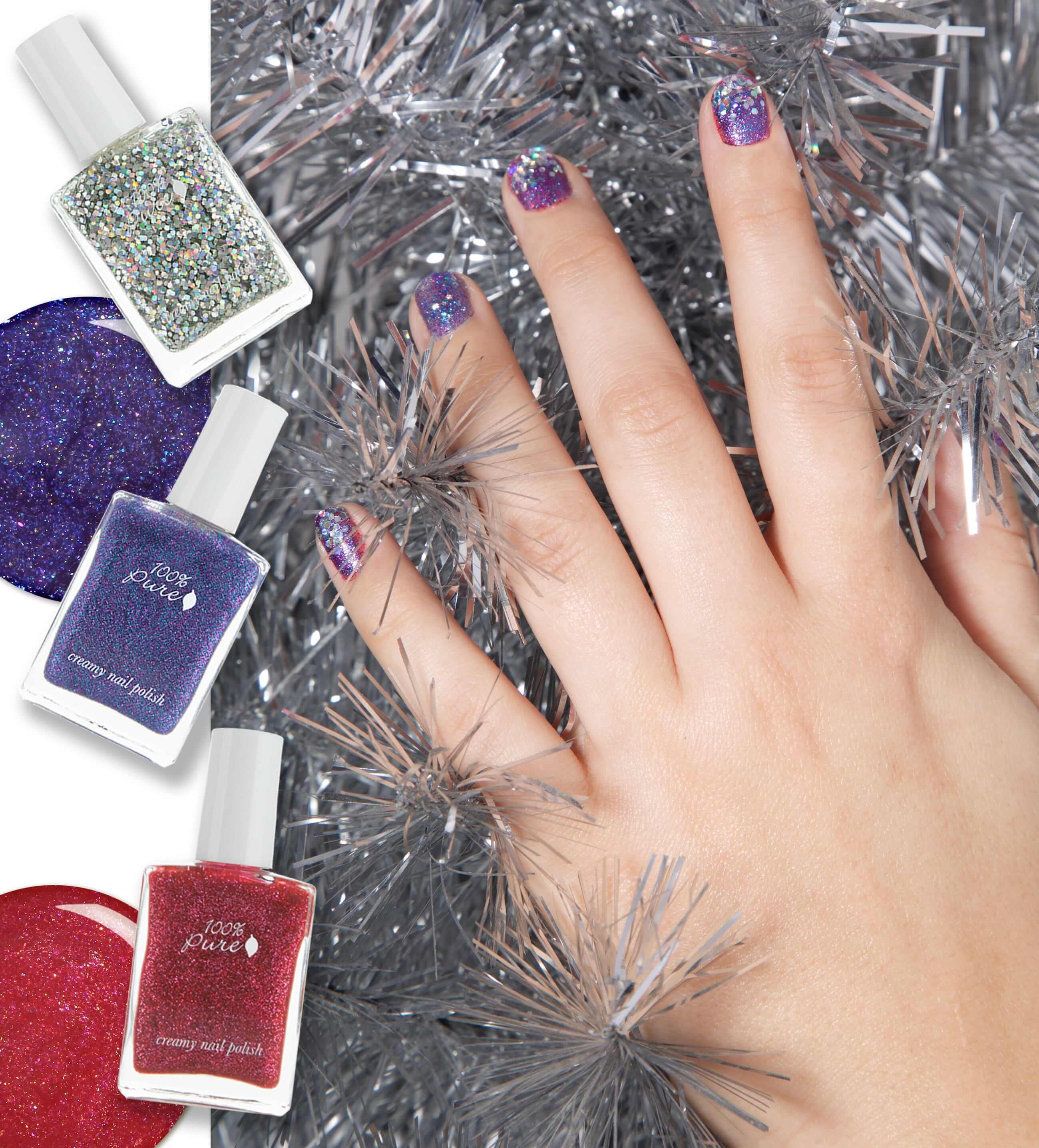 Want more beauty tips? Visit our beauty blog for natural beauty gems on Holiday Makeup, Makeup Tips for Every Age, and Everything You Want to Know About Natural Lip Liners. Into nails? Check out our post on How to Get the Perfect Manicure and Pedicure at Home. Happy beautifying!
We carefully hand-select products based on strict purity standards, and only recommend products we feel meet this criteria. 100% PURE™ may earn a small commission for products purchased through affiliate links.
The information in this article is for educational use, and not intended to substitute professional medical advice, diagnosis, or treatment and should not be used as such.
Sign up to our email newsletter for more blog updates and exclusive discounts.
< Older Post | Newer Post >