Has Green Tea Met Its Match(a)?
How this powdery green powerhouse differs from regular green tea
Posted on March 11, 2021
Written by: 100% PURE®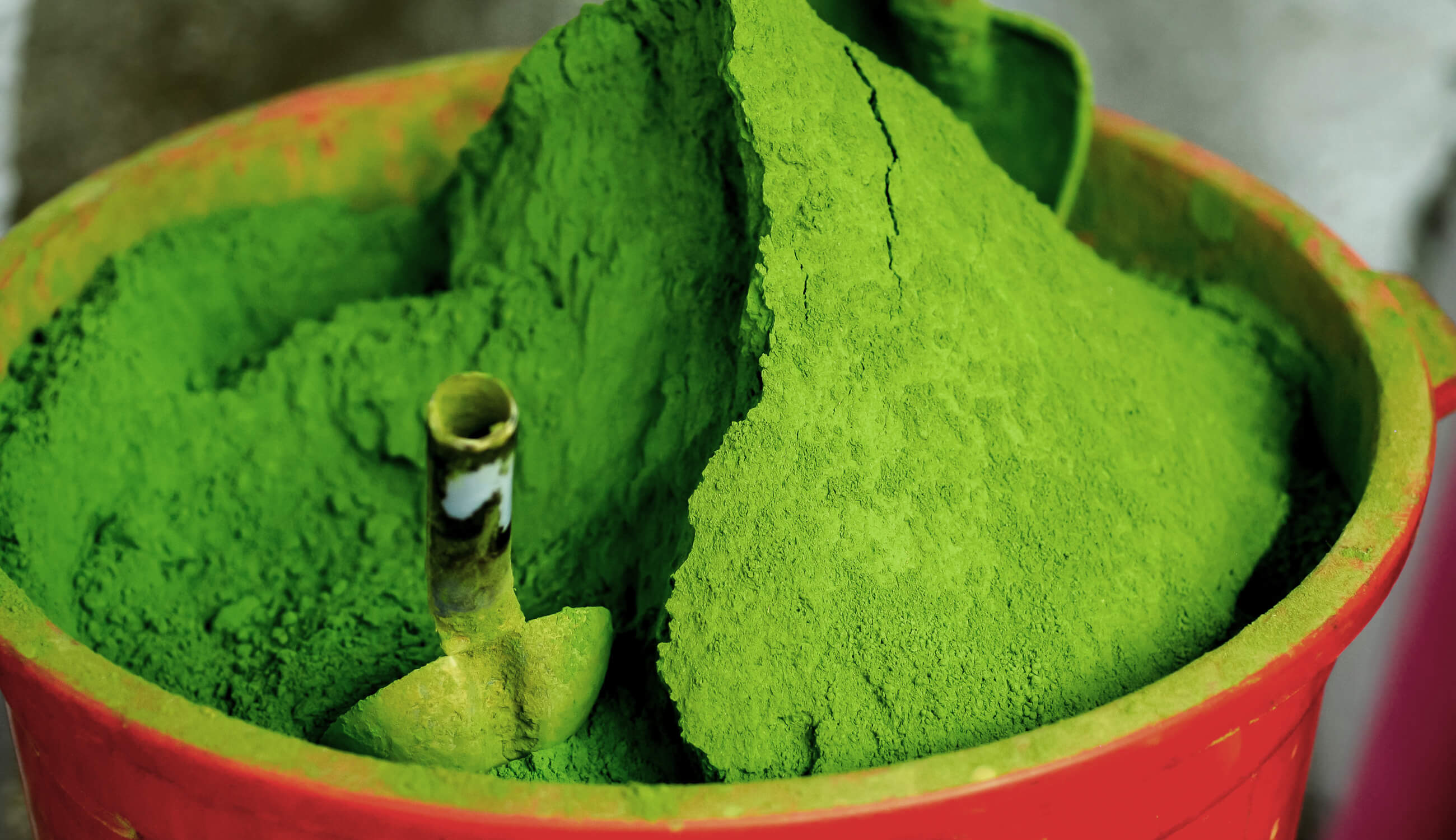 Has matcha gotcha rethinking your cup of regular green tea? If that's a nod, you're well on your way to experiencing the skin-changing benefits of matcha. We're shining a spotlight on the best green tea products made with real matcha, and sharing why you should be using matcha tea for maximum glow.
What Is Matcha, and Why Is Everyone Obsessed?
The editorial and social media buzz – matcha madness, if you will – over this deep-green powder powerhouse comes as no surprise. With promises to reduce inflammation and diminish signs of aging, this trendy 'miracle' ingredient is actually centuries old. Historically the 'it' beverage in China and Japan for hundreds of years, this finely ground form of green tea is experiencing a current revival in beauty and skin care.
Antioxidant-packed matcha is made from the naturally dried and finely crushed leaves of the Camellia sinensis plant, also used to produce all types of tea commonly enjoyed. When consuming matcha, you're actually consuming the whole green tea leaf, as opposed to parts of the plant like you'll find in regular green teas.
As if this trendy powder wasn't special enough, it's also grown and processed quite differently than green tea. The green tea plants for matcha are shade-grown for three to four weeks before harvest, with the stems and veins removed during processing.
During shaded growth, the Camellia sinensis plant produces greater amounts of the powerful anti-aging antioxidant called EGCG, and a higher content of anti-inflammatory polyphenols called catechins. This minimal processing means its nutrient and antioxidant content is better preserved, and more concentrated.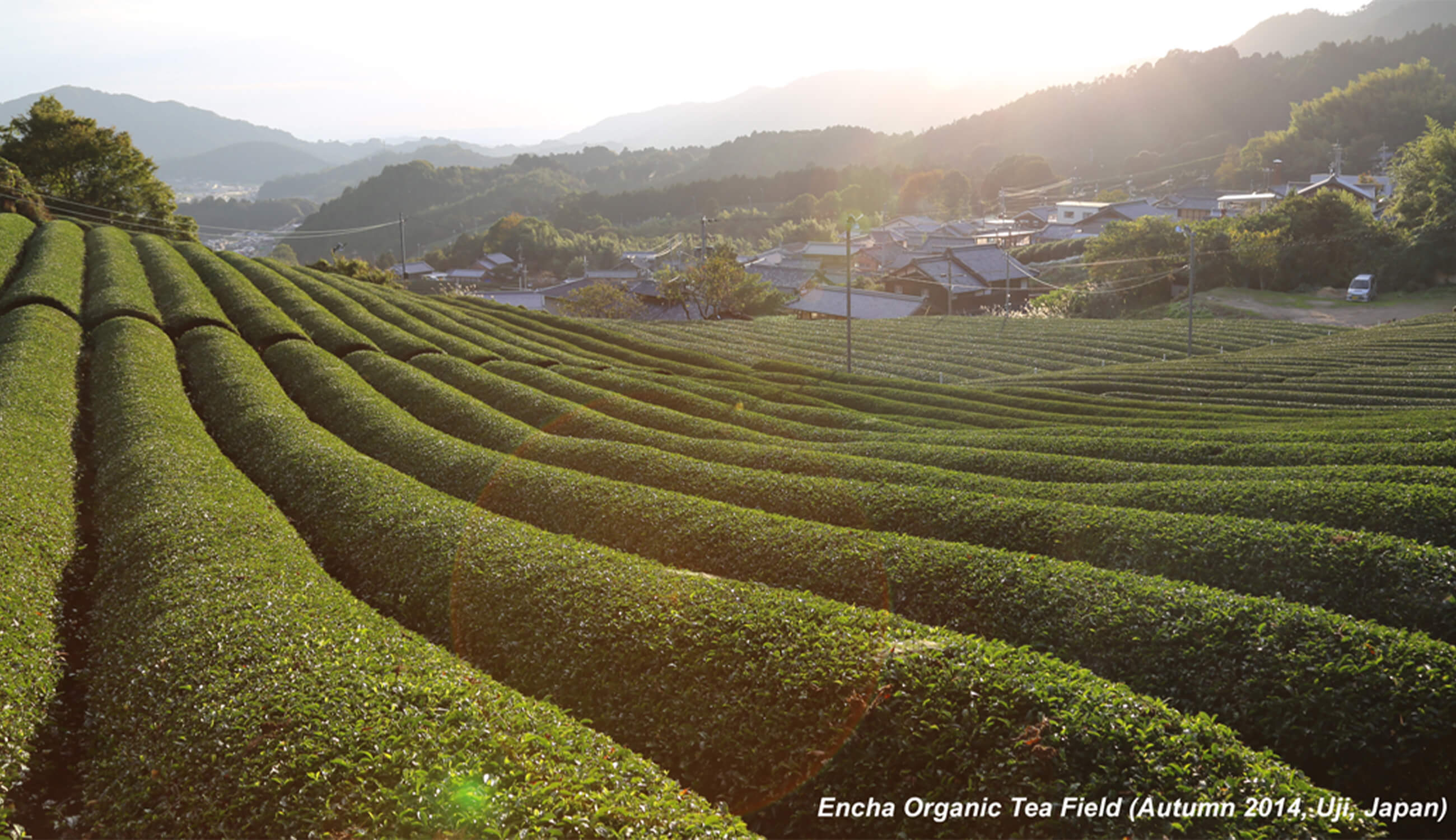 Image courtesy of Encha Matcha
The Benefits of Matcha for Health and Skin
You already know about our endless love for the benefits of green tea – the reason why you'll find it in most of our products.
Green tea has long been touted as a potent yet gentle antioxidant that's suitable for all skin types, including those with chronic skin conditions like rosacea and acne. With its shining reputation as a complexion game changer, it's no wonder that the impressive benefits of green tea have other teas green with envy.
With its careful harvesting and rigorous processing methods, matcha is arguably a more potent alternative to conventional green tea. Boasting the same benefits of green tea – and then some – matcha is more highly concentrated, and therefore used for more intensive treatments.
For this reason, we've selectively added matcha to an elite lineup of products – all of whom you're about to meet!
Beauty Products Made with Real Matcha Green Tea
Ready to see our treasure-trove of the best green tea products made with real matcha, including our newest mega-matcha mask? Here are our top green beauty gems, including some fan-favorite green tea products!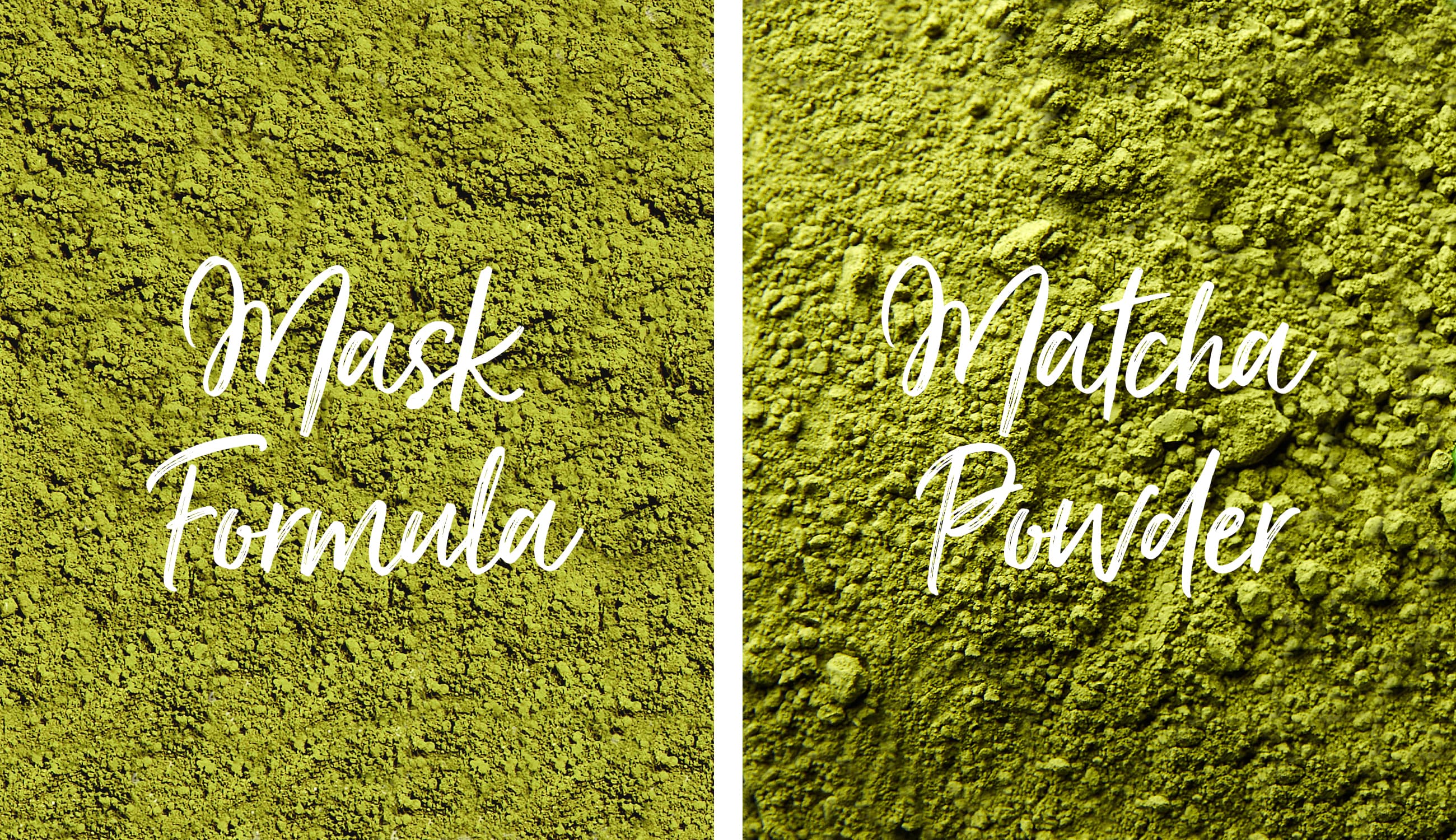 Matcha Mask
Our new Matcha Oat Milk Nourishing Mask gives dry, sun-damaged skin a matcha makeover. Made with the best matcha green tea, this water-activated powder mask is designed to rejuvenate sun-damaged skin. Chock-full of antioxidants and polyphenols, it can help skin feel softer while looking more balanced. Colloidal oatmeal locks in moisture so that your skin looks – and feels – smooth and radiant.
If you follow our brand, you know we're committed to producing the highest quality products. Check out why this mask was no exception:
USDA certified-organic matcha

Farmed by Encha Matcha in Kyoto, Japan – one of the largest producing areas for the finest quality of green tea

Ground from the most tender, shade-grown green tea leaves

Matcha certified by Ecocert
Basically, the Matcha Oat Milk Nourishing Mask is delivered right from farm to cup – or in this case, jar! The matcha in our mask is also non-GMO, meaning no pesticides or synthetic chemical fertilizers came near those precious green leaves.
Matcha Color Corrector
How did we get that beautiful green hue, you ask? We didn't look much further than our regular morning matcha latte. The muted, emerald green was a match(a) made in heaven for our green color corrector! This dual-purpose natural makeup ingredient plays into our earlier color theory of balancing out red tones, while also giving skin a boost of anti-aging antioxidants and tightening pores with caffeine.
Bright Eyes Mask
Since eyes are the window to the soul, we'll do anything to keep them looking their best. Our Bright Eyes Mask contains matcha green tea, yerba mate tea, and green coffee to create one highly-caffeinated treatment for your eyes. They also use a thirst-quenching blend of cucumber, hyaluronic acid, and aloe juice to replenish dehydrated skin cells with clean, crisp hydration.
The Bright Eyes Masks are made of a sustainable hydrogel material, composed of 95% organic aloe water and 5% plant cellulose. The mask itself works to intensely hydrate and deliver active ingredients onto the skin. The longer you leave the mask on your skin, the thinner the hydrogel mask becomes as the aloe water gets absorbed. Now you see it, now you don't!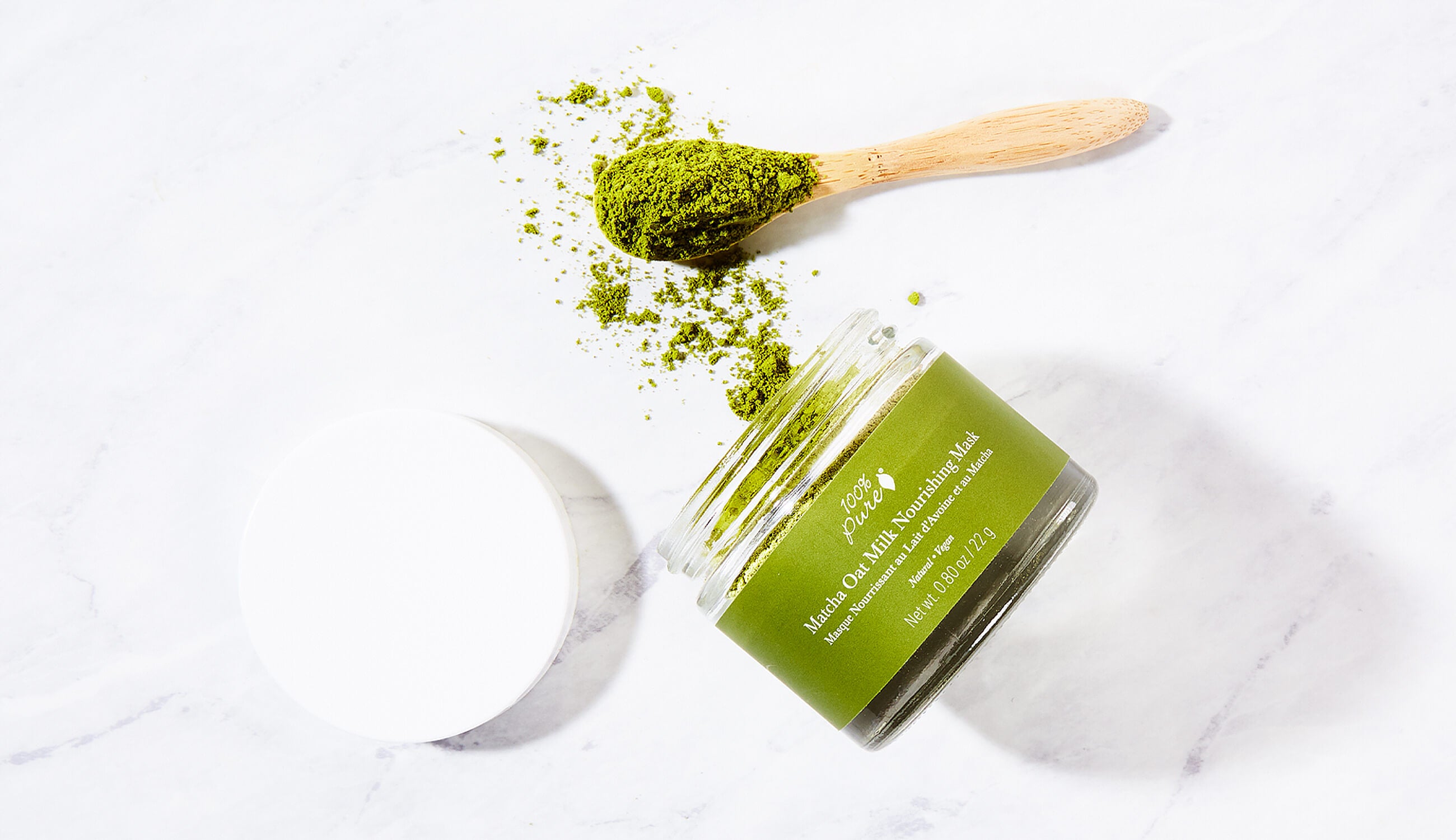 More Ways to Use Green Tea Every Day
Did we mention being in a committed relationship with green tea? Check out our other fan-favorite green tea products – sans matcha – that will have you as over the moon as we are!
Hopefully, you now have a better idea of how to enjoy the best green tea benefits with your skin care – not just your daily matcha latte! Interested in more beauty tips for soothing damaged skin and signs of aging? Check out our article on the top skin and health benefits of green tea!
We carefully hand-select products based on strict purity standards, and only recommend products we feel meet this criteria. 100% PURE™ may earn a small commission for products purchased through affiliate links.
The information in this article is for educational use, and not intended to substitute professional medical advice, diagnosis, or treatment and should not be used as such.
Sign up to our email newsletter for more blog updates and exclusive discounts.
< Older Post | Newer Post >