Face Oils For Glowing Skin
You can't change your skin type but you can definitely achieve glowing skin with facial oils!
Posted on November 11, 2022
Written by: 100% PURE ®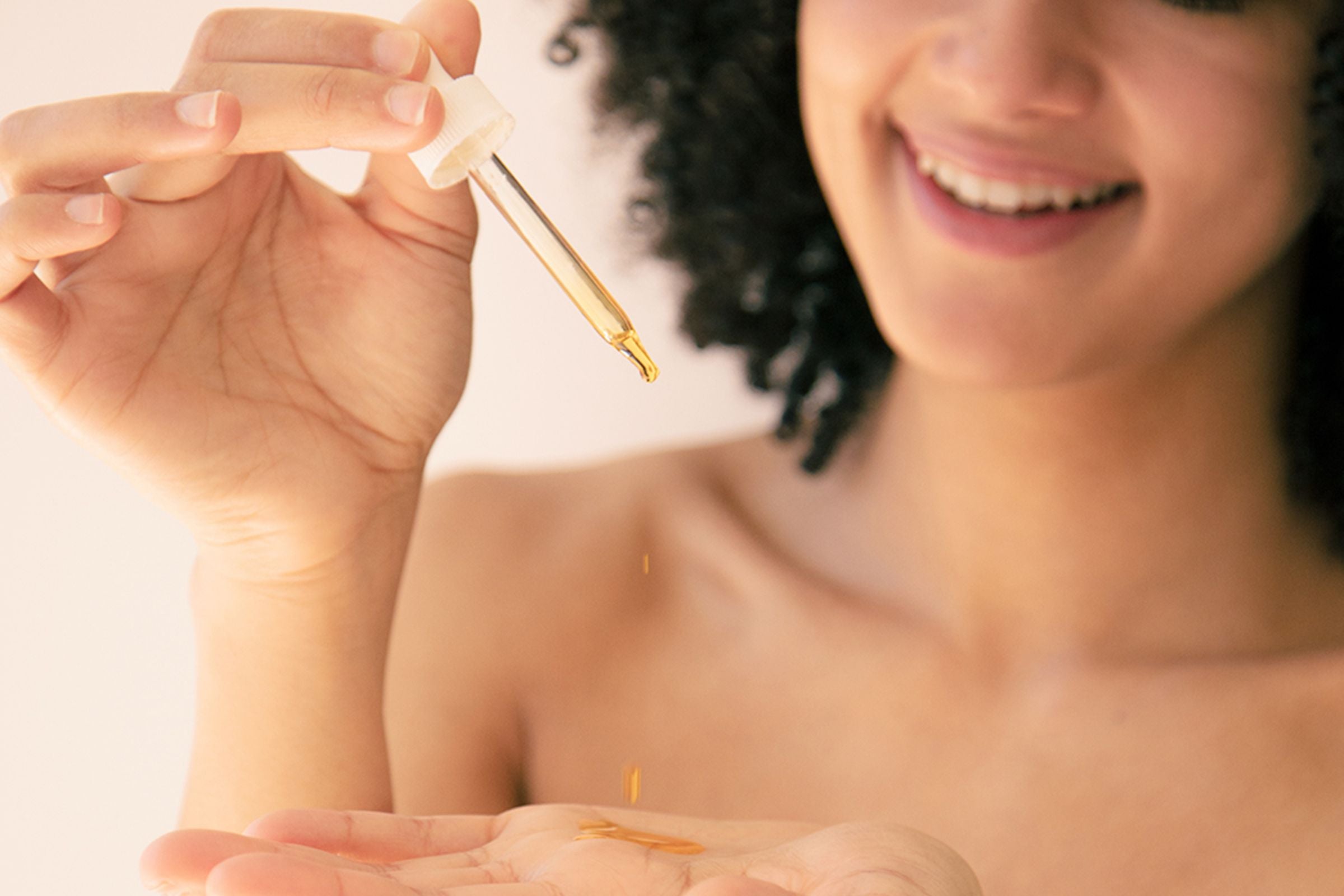 For far too long, face oils have had a bad rap in the world of skincare, and this is based on the misconception that we need to dry out our skin in order to keep it clear.
Contrary to past belief, face oils can do wonders for every skin type: they're deeply hydrating, they lock in moisture, and they're often rich in several different antioxidants, such as vitamins A and E, as well as polyphenols.
But as plump, dewy skin continues to grow in popularity, face oils have grown in demand, and with it, questions on how to use it. For starters, what's the best face oil for each skin type? And do you use it before or after serums? Are face oils okay for daytime use?
In this blog, we're answering all of your biggest questions surrounding face oils, so you can confidently start using them for glowing skin.
Face Oil vs Serum vs Essence: What's the Difference?
Before we get into the best face oils for each skin type, let's first clear up any confusion surrounding face oils, and how they differ from serums and moisturizers. Here is the breakdown:
Face Oil
A face oil is thicker than a serum, and is typically derived from plants high in fatty content, like jojoba, squalane and rosehip. While face oils have a heavy association with greasiness, and are often considered unsuitable for acne-prone skin, these are actually misconceptions. As we'll soon see, there's a suitable face oil for each skin type, and each one offers their own set of benefits.
Face Essence
While some might think an essence is just a fancy type of toner, this actually couldn't be further from the truth! Compared to toners, essences are extremely gentle and nourishing, and they're designed for usage after a cleanser and before a serum. Essences prep the skin for absorbing your serums, and they're typically concentrated in beneficial ingredients. Essences are usually quite watery, and are far more lightweight than face oils.
Face Serums
Face serums are highly concentrated products for the skin, and tend to have a slightly watery, gel-like texture. Serums come in a wide range of different formulas, featuring ingredients like vitamin C, hyaluronic acid, retinol, and much more. Serums are typically a little more lightweight than face oils.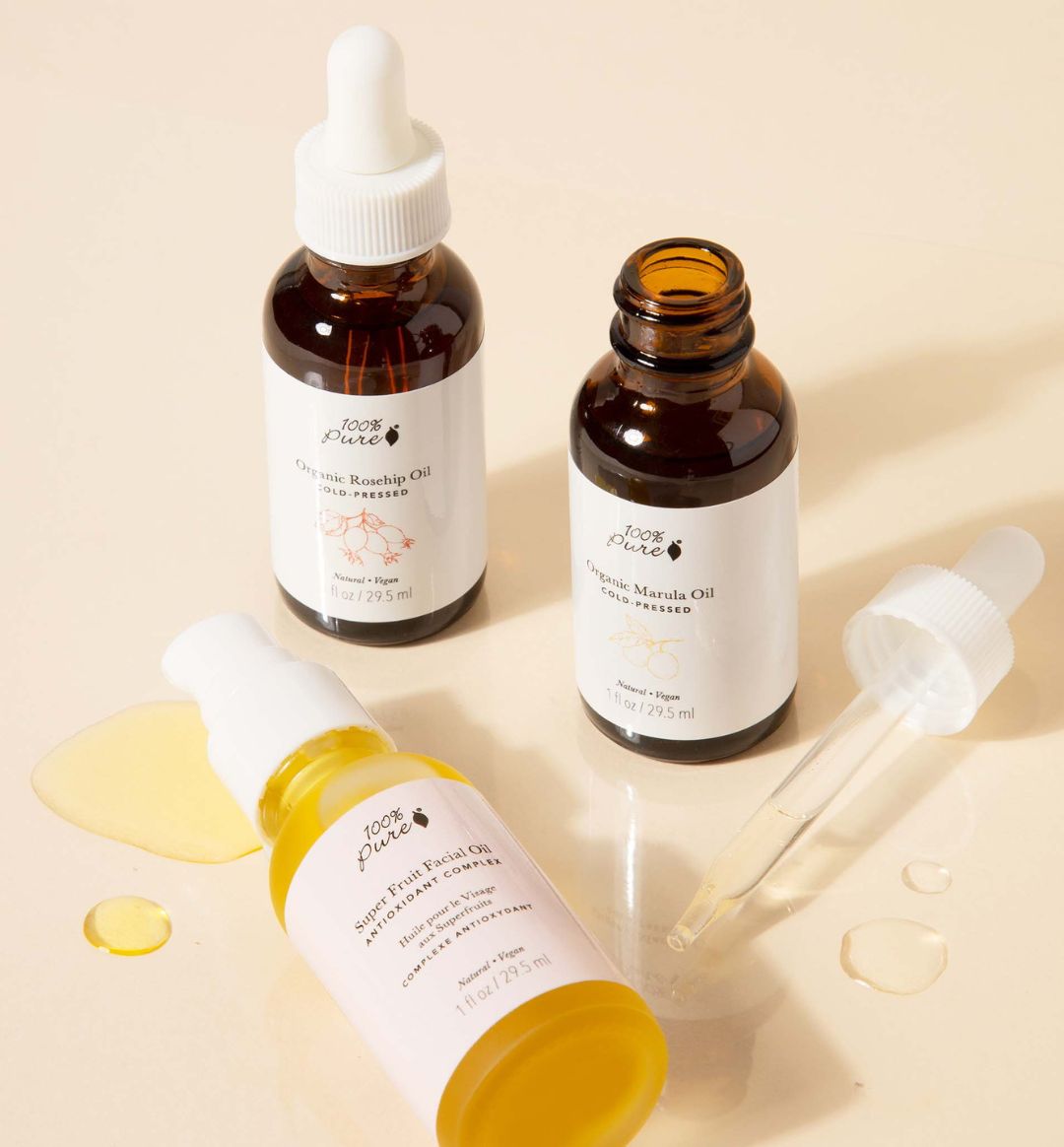 What Are the Best Oils to Use on Your Face for Every Skin Type?
Now that we have a better understanding of what sets face oils apart from serums and essences, let's talk about the best face oils for glowing skin in every skin type.
Normal Skin
Those with a normal skin type tend to have consistent oil levels in their skin, and breakouts are relatively uncommon. Because normal skin types are generally pretty low maintenance, we encourage you to stick with deeply hydrating face oils with a lot of antioxidants, like jojoba oil.
Jojoba oil is naturally derived from the seed of the jojoba plant, which is native to the deserts of Arizona and California. Known for its long-lasting moisturizing and lightweight, non-greasy feel, jojoba oil provides normal skin types with the ideal amount of nourishment and hydration.
Best Face Oil for Dry Skin
Those with dry skin types may often experience dryness, flakiness, and roughness. Naturally, such skin types will benefit from a face oil with deeply moisturizing properties, which is why we love Marula Oil.
Aside from its moisture benefits, marula oil is similar to the skin's natural sebum, which allows it to fit seamlessly into any skincare routine. Even better: it won't clog pores. Marula oil is also known for its anti-aging benefits, as it's known to protect collagen and elastin production in the skin. Plus, it's great for inflammation, which is prevalent for dry skin types.
Newsletter
Subscribe
for more blog updates and exclusive discounts
Best Face Oil for Oily Skin
While it might sound counterintuitive, those with oily skin can benefit from a face oil as much as any other skin type. Of course, it's all about choosing the right face oil for oily skin–like squalane, for instance.
Known for its deeply moisturizing benefits, squalane is an antioxidant-rich oil that is known for behaving like the oils in your skin. On top of that, squalane also helps protect skin's oil against the process of lipid peroxidation, which is known to damage the skin's surface deep from within the pore, often leading to breakouts.
Best Face Oil for Combination Skin
If you have a combination skin type, you may experience a mix of both dry patches and oiliness in the skin. This calls for a versatile, nourishing face oil–like pomegranate face oil.
Derived from the kernels in pomegranate fruits, pomegranate oil is known for a lightweight, non-greasy texture that's perfect for combination skin types. What's more: it may also prevent inflammation, fade acne scars, and boost firmness in the skin! To learn more about pomegranate oil for the face, check out our blog here.
Is it Best to Apply Face Serums or Facial Oils First?
When it comes to ordering face serums and facial oils, the easiest way to understand is by starting with the lightest, most watery products, and following up with the thicker steps.
This is because the thinner a product is, the faster it will absorb into the skin. Because of this method, face oils are typically applied after serums. That being said, there are almost always exceptions to every rule, so always read the usage guidelines on your face oil.
Does Face Oil Go Before or After Moisturizer?
In the case of skincare, it's generally recommended to follow the directions of the product you're about to apply. With that in mind, the general rule around face oils and moisturizers might surprise you. Typically, you'll want to make face oil the last step in your skincare routine.
Now, this might sound counter-intuitive: quite often, face oils feel lighter and thinner than moisturizers and face creams, but they actually tend to be heavier than most products.
Since the consistency of face oils tend to be on the heavier, denser side, they can actually penetrate your moisturizer and reach your skin. However, this doesn't work the other way around. If you're looking to crank up the moisture factor in your skincare routine, we recommend applying your face oil after applying your moisturizer to damp skin. This way, the moisturizer will absorb into your skin effectively, while the face oil both nourishes and adds a layer of protection.
That being said, a face oil can be used during both the day and evening. In fact, applying a face oil during the day is a great way to create a glowy no-makeup, and you can even use it as a highlighter.
If you're still curious about why face oils typically come after moisturizers, check out our blog here.
Which Is the Best Facial Oil for Mature Skin?
As we age, the oil production in our skin tends to decrease, along with collagen and elastin, resulting in loss of elasticity and firmness. Because of this, mature skin types can benefit greatly from a face oil–particularly something that offers a boost of moisture. This is when argan oil makes a great choice.
While argan oil is best known for brightening dull, dry skin, it's also rich in antioxidants like vitamin E and polyphenols, along with a wealth of fatty acids.
Argan oil is also particularly great for mature skin types because of the way it prevents transepidermal water loss, by sealing moisture in.
We carefully hand-select products based on strict purity standards, and only recommend products we feel meet this criteria. 100% PURE™ may earn a small commission for products purchased through affiliate links.
The information in this article is for educational use, and not intended to substitute professional medical advice, diagnosis, or treatment and should not be used as such.
Sign up to our email newsletter for more blog updates and exclusive discounts.
< Older Post | Newer Post >