Build a Routine Around Your Vitamin C Serum
Learn how to enhance your complexion-boosting vitamin C routine with complementary skin care products
Posted on January 26, 2023
Written by: 100% PURE®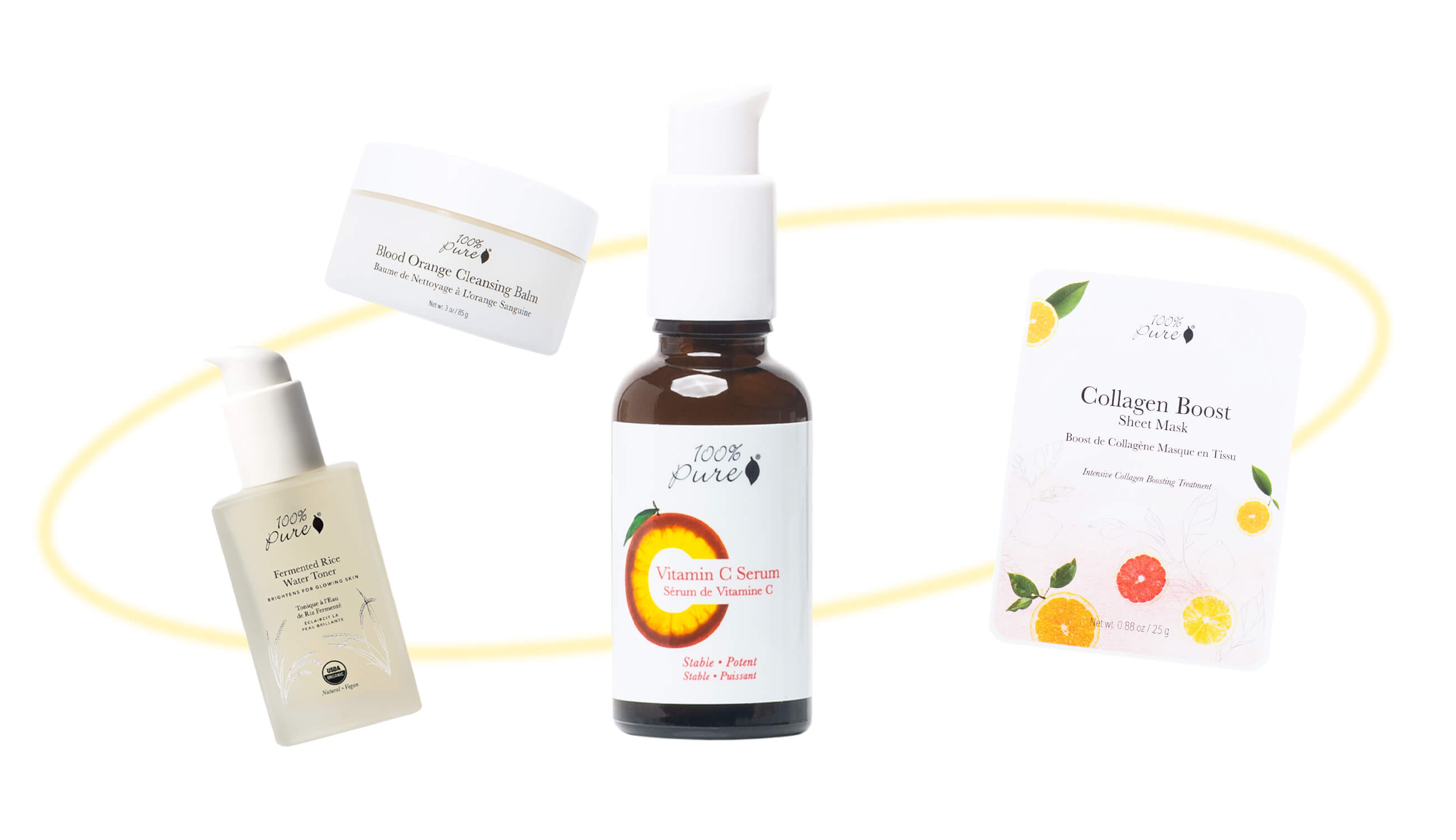 You finally added it to your routine – the skin care hero from all the blogs, the one your friends all rave about: vitamin C serum. However you found out about this uber-popular serum, there's sure to be one common denominator in all these scenarios: that it deserves a permanent place in your skincare lineup.
So you've got the vitamin C serum – but now what? We'll help you build the best natural skincare routine around this serum, to ensure you get the absolute most from this skincare superstar. You'll learn how to properly layer key products before and after your vitamin C serum, and get the lowdown on how to keep your products from interfering with their good work.
Follow along below to get the ins and out's of your new plus one!
Is Your Vitamin C Serum Stable?
You can't cover the topic of vitamin C serum without touching on a key point: the dangers of oxidation. If not properly formulated for stability, vitamin C serum can degrade when met with air, heat, and/or light. Skin concerns include increased oxidative damage, instead of free radical-neutralizing antioxidant protection – for which vitamin C is well known.
Luckily, our 100% PURE ™ Vitamin C Serum was expertly formulated by our founder, Susie Wang with a patented process to prevent oxidation. An important reason so many people seek out and continue to use our ultra-gentle vitamin C serum? It can help to promote collagen and elastin production, without degrading the skin. The potent antioxidant power in this hydrating serum brightens the complexion while promoting firm, plump, and youthful-looking skin.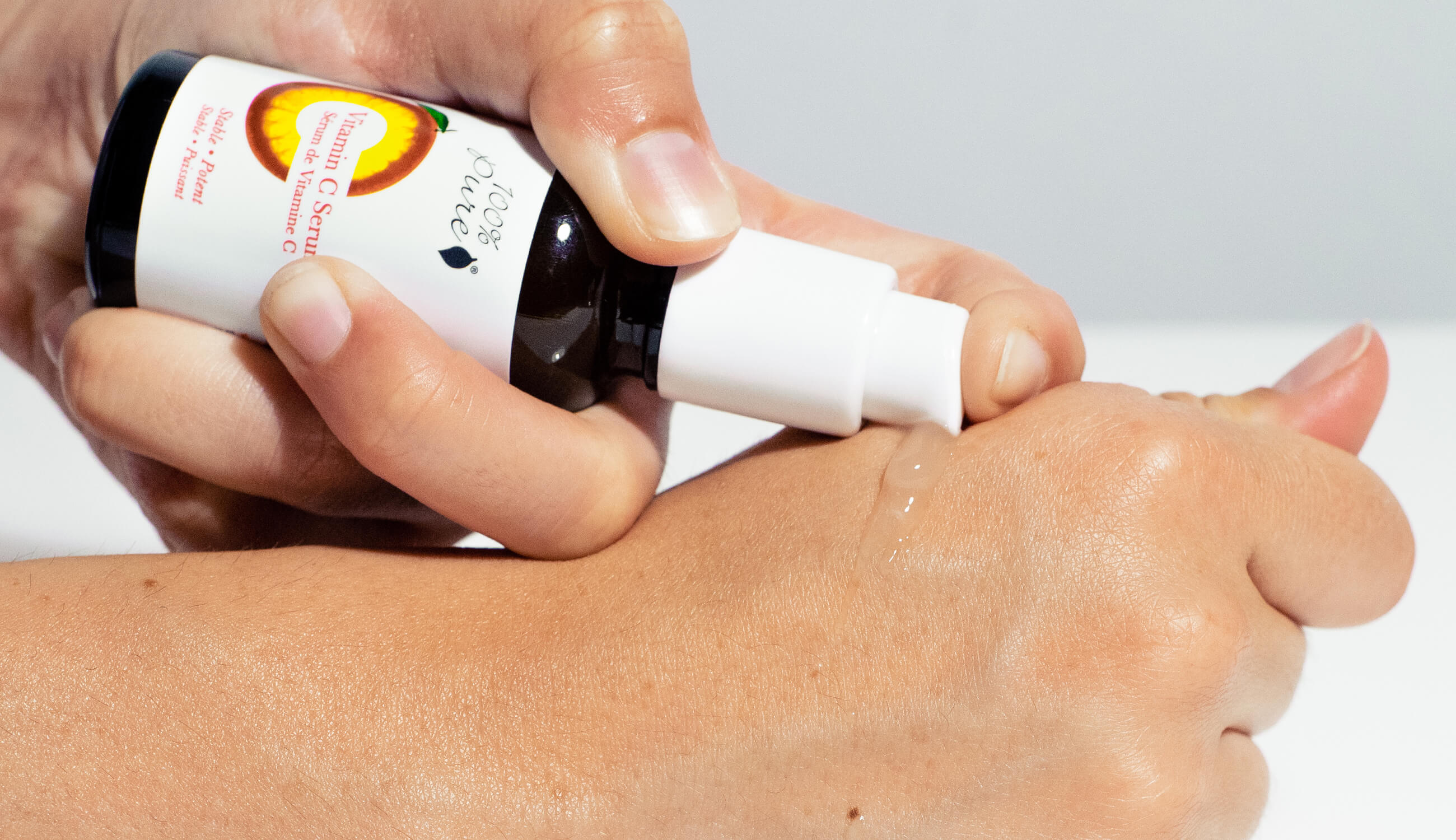 Pair These Facial Cleansers with Your Vitamin C Serum
When it comes to enhancing the anti-aging, complexion-brightening effects of your vitamin C serum, be sure to start on the right foot with your cleanser. Your face wash should check a few critical boxes, to be considered. First, choose a natural cleanser that omits drying (aka aging) chemical surfactants. Next, seek out skin-beneficial ingredients that build on your skin goals.
Option number one is our Fermented Rice Water Cleanser: a hydrating, sake-based cleaner that's rich in enzymes, amino acids, and vitamins. It can help boost your brightening skin goals with white mulberry, mushrooms, licorice, and citrus. These key ingredients help to not only balance your skin tone but also work on lessening the appearance of dark spots. That means you can wash your face while priming for an overall brighter complexion.
If you have dry skin, aging skin, or simply prefer an oil-based cleanser, opt for the Blood Orange Cleansing Balm. This citrus superstar perfectly preps with similar benefits as a vitamin C serum, designed to degrease, purify, and tone. Organic avocado oil (its base ingredient) helps to hydrate, soften, and diminish dark spots and fine lines.
PRO TIP: Did you know that avocado fruit contains high levels of Vitamin E? It's true! We usually celebrate the healthy fats (which is also a bonus), but sometimes forget that Vitamin E can help prevent inflammation and improve skin health.
Newsletter
Subscribe
for more blog updates and exclusive discounts
Opt for a Brightening Toner
Build on your vitamin C serum-based skin brightening regimen with the mineral-rich Fermented Rice Water Toner. With similar benefits to the vitamin c serum, this sake-infused toner can help brighten, soften, and rehydrate your skin. Additions of white mulberry and niacinamide create a skin-illuminating trifecta, to naturally lighten dull or hyperpigmented areas of your complexion.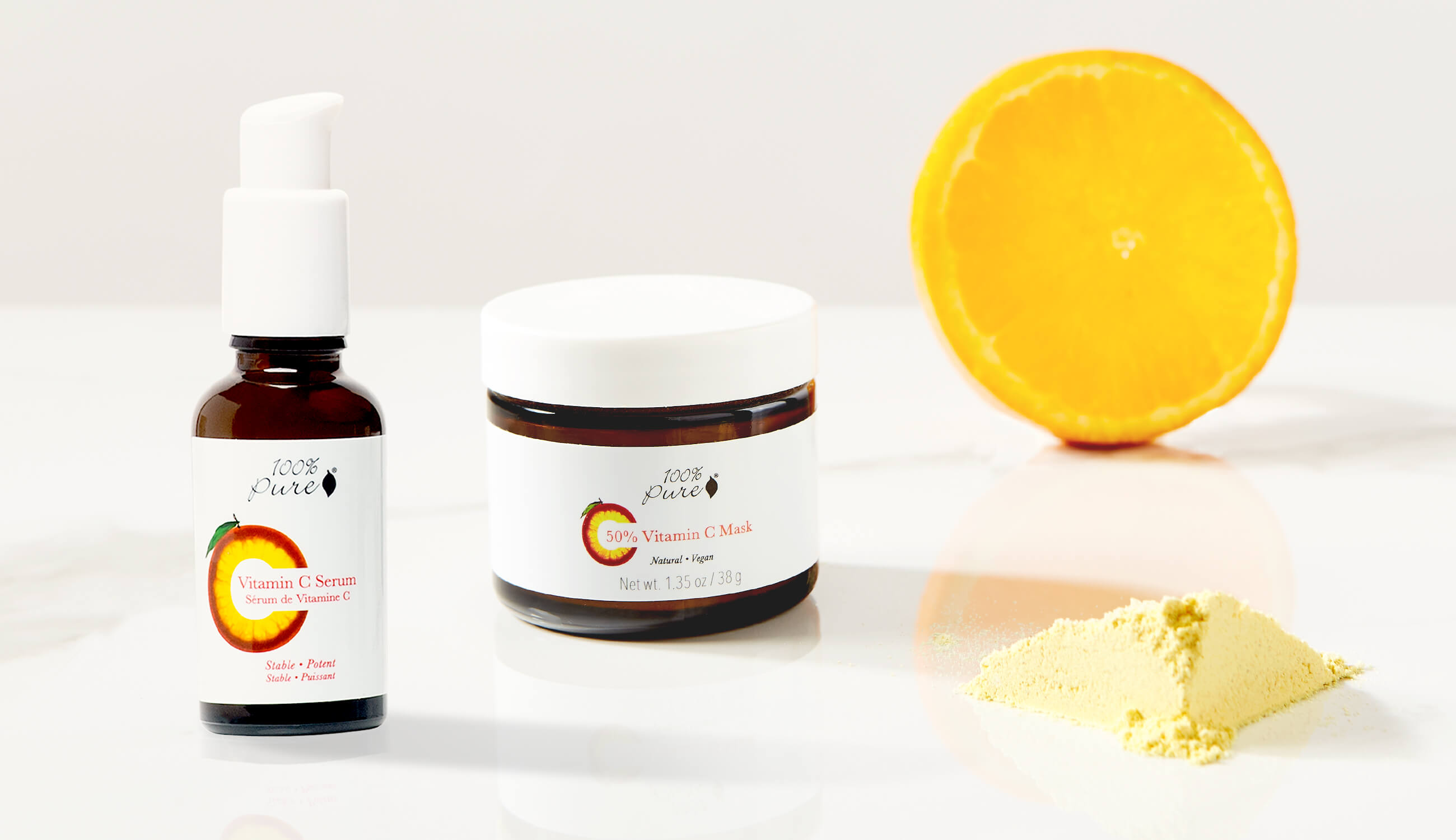 Double Down on Vitamin C with a Concentrated Mask
A close second to serums, masks are the penultimate way to deliver intense, concentrated nutrients into your skin. After priming your skin with a plumping, brightening toner, your skin is ready to receive the goods. Now is the prime time to apply a mask – and if you're looking to double down on the vitamin C strategy here's what you should use.
Our newest line of powder innovations features the ultra-concentrated, get-down-to-business Vitamin C Mask. This customizable mask can be as thick and concentrated or as thin and gentle as you want it, making it suitable for most skin types. Made with potent natural antioxidants and illuminators like vitamin C, Camu Camu, and turmeric, this mask is more than suited to join forces with your vitamin C serum.
But if you're looking for that instant red carpet glow, we recommend a supercharged mask; something like our Max Glow Bright Mask. Made with wrinkle-fighting Bakuchiol, CoQ10, Vitamin E, and other illuminating nutrients, this mask works to transform your complexion from the first application and with continued improvement in skin health and vibrancy with each use.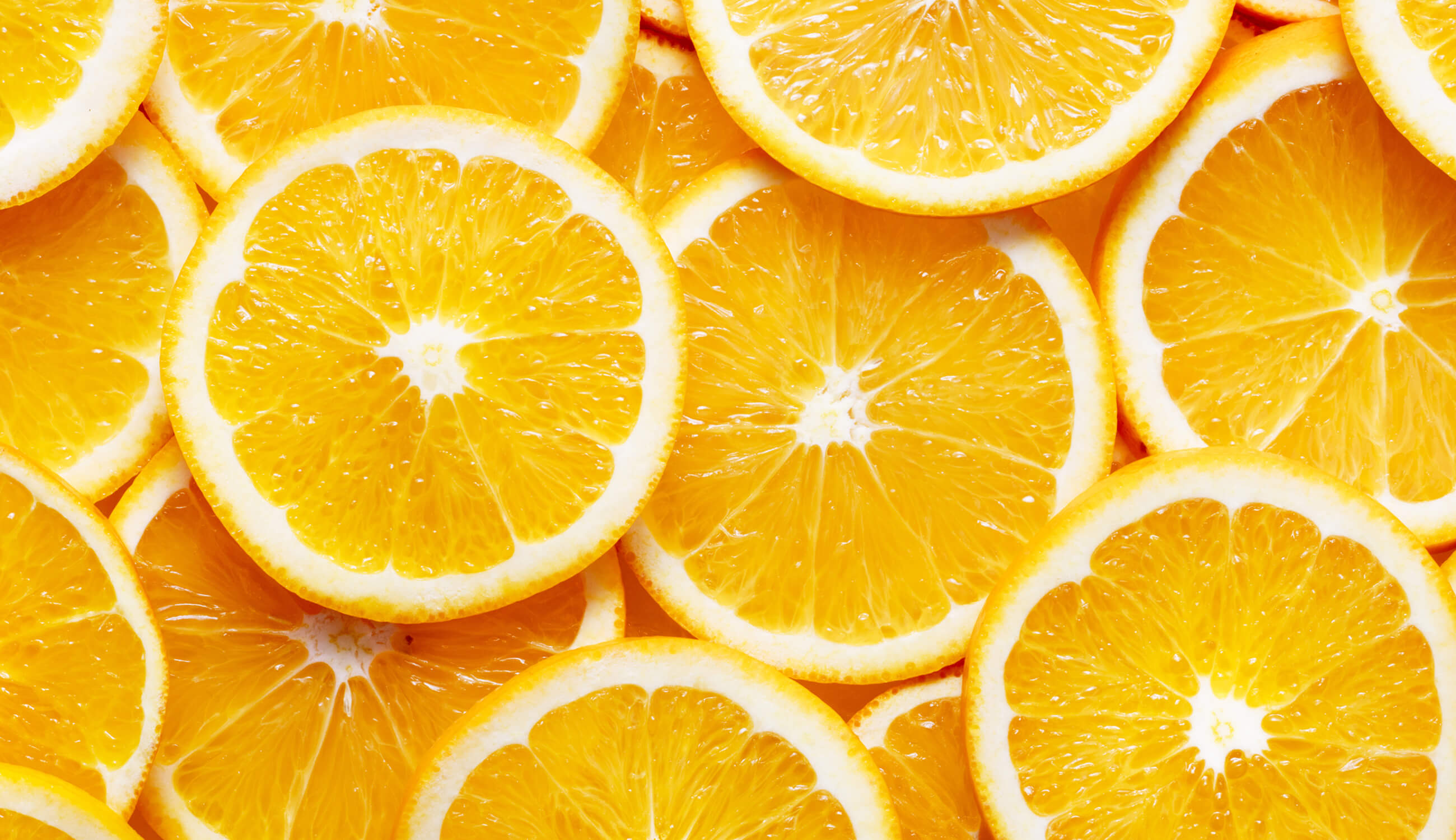 Layer Up Your Vitamin C Serum
Time to layer up your serum game with options for both day and night. Think of the Multi-Vitamin + Antioxidants Potent PM Serum as your nighttime backup to your vitamin C serum. Working with the same potent yet stable formula, we've amped up this anti-aging superstar with extra multivitamins (like even more vitamin C) and niacinamide. Our stable vitamin C treatment works hard while you sleep to fight the signs of aging and rejuvenate dull complexions.
Choose a Complementary Moisturizer
Near the end of your routine, you'll need to seal in your vitamin C serum with both a daytime and nighttime moisturizer. If you're finishing off your morning routine, Hydra Drench is a lightweight, quick-absorbing formula with tons of omega fatty acids from chia seeds. This formula will deeply moisturize and hydrate even super dry skin while enhancing the plump gel texture of your vitamin C serum.
If you're finishing a nighttime routine right after your vitamin C serum, the Multi-Vitamin PM Treatment should be your go-to. This ultra-rich evening cream builds on our vitamin-rich skin care routine with additional skin-beneficial antioxidants. Vitamin C is also a hero ingredient in this luxurious cream, continuing the journey to help correct and brighten.
With all these amazing natural skin care products working synergistically you're going to notice a boost in elasticity and firmness, with an overall brighter complexion. With dedicated use of vitamin c serum, most will notice fine lines and scars diminishing over time. Don't forget: always follow up your vitamin C routine with broad-spectrum sunscreen.
We carefully hand-select products based on strict purity standards, and only recommend products we feel meet this criteria. 100% PURE™ may earn a small commission for products purchased through affiliate links.
The information in this article is for educational use, and not intended to substitute professional medical advice, diagnosis, or treatment and should not be used as such.
Sign up to our email newsletter for more blog updates and exclusive discounts.
< Older Post | Newer Post >