4 Ways to Repurpose Your Natural Lipstick
Think your lipstick's potential stops at your lips? Check out these 4 DIY ways to reuse natural lipstick
Posted on August 12, 2018
Written by: 100% Pure®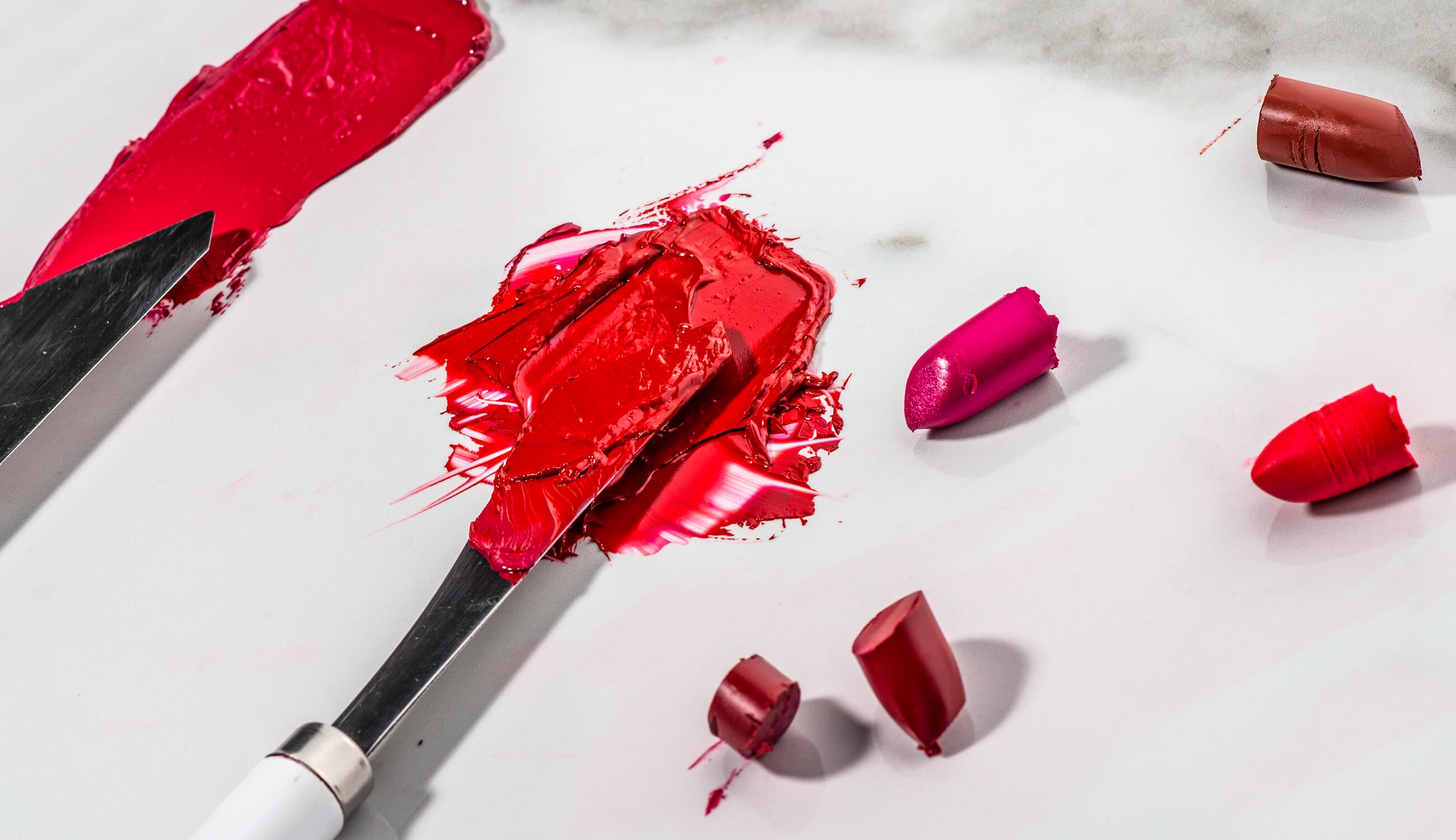 Who doesn't love a good multitasking beauty tool? Lipstick is in a league all its own when it comes to making a statement with your lippies, but it can be so much more! A healthy natural lipstick -- not the kind colored by heavy metals or beetles -- contains a rainbow of pigment, tons of skin-healthy vitamins, and silky butters and oils, making it the perfect tool for DIY beauty projects. Here are our top 4 DIY uses for natural lipstick!
Use Lipstick for: Creating an Exclusive New Shade
Thought you found your perfect color, then realized it's not quite what you imagined when you put it on? Take matters into your own hands by making a completely customized shade for your complexion, outfit, or makeup look!
Start with a clean, sanitized knife to prevent bacteria from growing in your lipstick tube. You can sanitize your knife with a natural dish soap and water. Or, whip together a homemade sanitizer that's one part distilled white vinegar, one part water.
Next, grab the lipstick shades that you'd like to combine. With your knife, gently remove about a quarter inch of each lipstick bullet onto a clean, sanitized surface. Since our natural lipsticks are super pigmented by fruit, we recommend using a non-porous surface that won't stain, like silicone, granite, marble, or glass.
Using a painter's knife or small silicone spatula, begin blending the two (or three, or four -- there are no rules here) pieces of lipstick. Mix them as you would two pieces of solid butter: instead of stirring, use short, sweeping strokes against the surface of your board. Repeat until your custom natural lipstick is completely blended!
To store your custom shade of natural lipstick, use your painter's knife/ spatula to scoop the mixture into a small, airtight container. To keep germs out of your ultra exclusive lipstick shade, never dip your fingers into the container. To apply, use a retractable lip brush. All your pals will be asking where you snagged such a flattering shade -- make-your-own-lipstick party, anyone?
PRO TIP: Looking for a natural lipstick with a mix of matte and glossy finish? Mix a Pomegranate Oil lipstick with a Cocoa Butter Matte lipstick for that perfect semi-gloss pout.
Use Lipstick for: Blush Tint
Using natural lipstick as a blush is a no-brainer, especially since these lip colors contain so many skin-healthy vitamins and nourishing butters.
As our smoothest, silkiest natural lipstick formula is our Lip Caramel collection, but Pomegranate Oil Anti-Aging Lipsticks are a close runner-up. Both can be easily blended and are buildable when used as a blush. Both
Our Pomegranate Lipstick collection is preferable if you like cream blushes, and has a much wider color range. But if you've got either one in your makeup kit, the blush possibilities are endless!
For Cool Undertones
Fair: Peony
Deep: Black Rose or Truffle
For Warm Undertones
Fair: Calendula
Medium: Magnolia or Melon Drop
Deep: Hibiscus or Scotch Kiss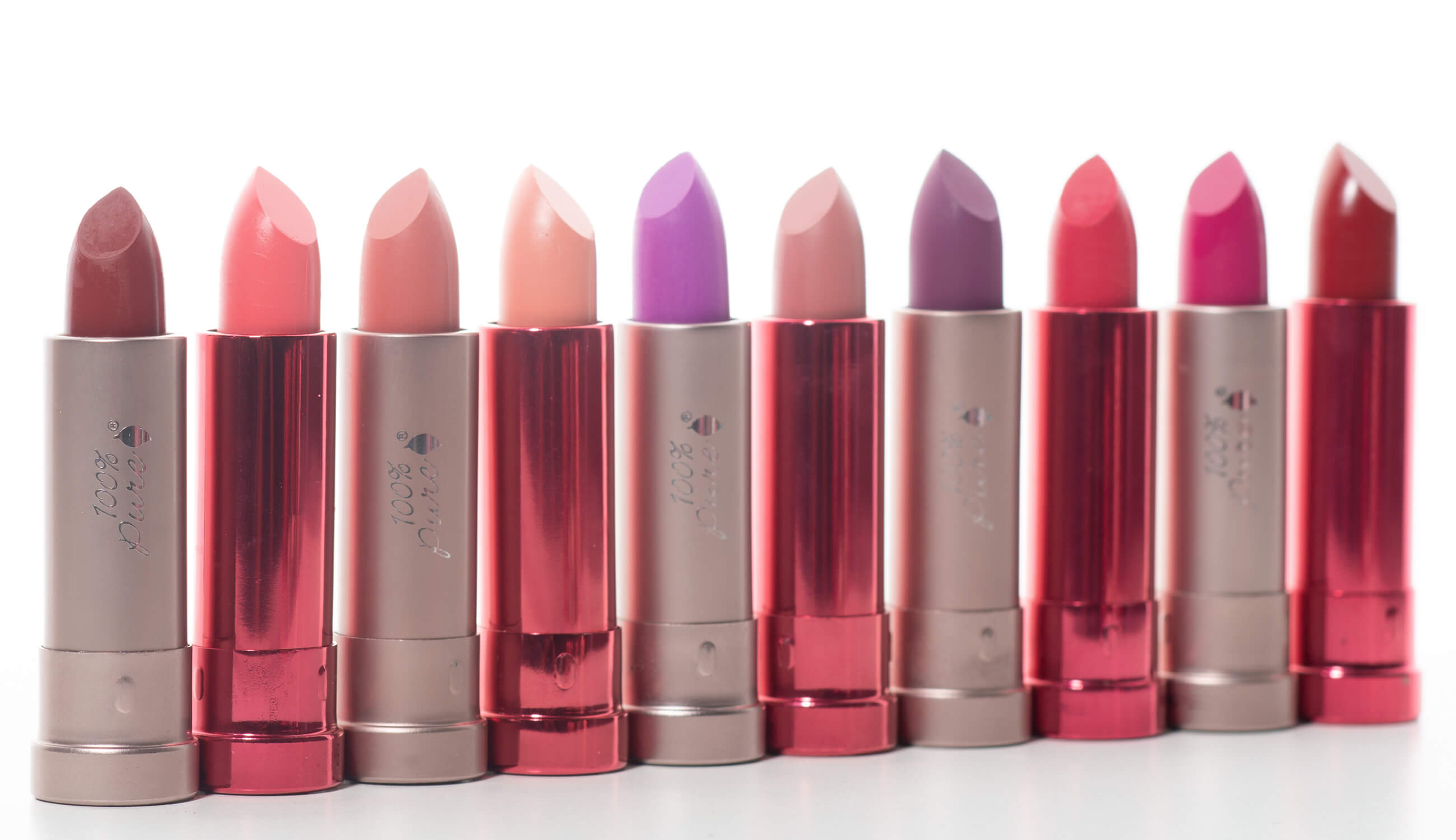 Use Lipstick for: Color Correcting
Color correcting has the power to transform your complexion, and it can be as simple as grabbing one of your natural lipsticks from your makeup bag. You can cancel out dark spots, enliven a dull complexion, and warm up pale, icy skin tones in summer -- all with the right shade of lipstick.
Start by choosing a shade that will compliment the undertones of your skin. Here's a brief breakdown:
A pale pink lipstick cancels out blue-toned spots on fair skin (which can make skin look dull, cold, or translucent)
A yellow lipstick cancels out purple or dark spots on olive skin (which can make skin look dull, hyperpigmented, or lackluster)
A peach lipstick cancels out blue or purple spots on medium skin (which can make skin look dull, hyperpigmented, or lackluster)
An red-orange lipstick cancels out dark spots on rich, dark skin (like under-eye circles, dark spots, hyperpigmentation, and scars)
Once you've picked the right shade of color corrector for your skin, you can start your makeup routine! Use a small, flat brush for around the under eyes and nose, and a kabuki brush for the chin and forehead. You can brush the clean bristles onto your lipstick to apply, or apply lipstick directly onto your skin (making sure to sanitize lipstick after using).
Next, identify the spots and shadows on your face which need correcting. To correct dark or shadowed skin, grab your lipstick and lightly dot onto problem areas. Blend immediately with your brush, so make sure that pigment won't get stuck in one spot. You can also use lavender shades to cancel out yellow areas of skin, or green to cancel out redness (a popular tactic around the nostril area).
Now that you've artfully masked any dark circles or redness, continue with your concealer and foundation routine. You'll know you've used the right color corrector shade of lipstick if it doesn't show through your foundation. If you can see the corrector coming through, try playing with different lipstick shades, or combine a bit of your corrector shade into your concealer.
Use Lipstick for: Mirror Messages
OK, so this one is a little more fun and a little less functional. But who doesn't dream of scribbling sweet nothings onto a bathroom mirror?
To bring some functionality to this natural lipstick hack, use a large mirror as an idea board, or as a forget-me-not spot for important to-do tasks. You can also invest in a small vanity mirror for your office, and scribble daily affirmations on it to perk you up during the after-lunch slump. This hack is perfect for lipsticks that you never wear anymore, or have expired. If you plan on using the lipstick again after doodling, be sure to clean up the tube and sanitize the bullet to prevent bacterial growth.
For more makeup and lifestyle how-to's, visit our feed for daily posts! For more natural lipstick goodies, check out our natural lipstick guide, our behind-the-scenes story on how we make the world's healthiest lipstick, or our exposé on toxic lipstick ingredients you should avoid. For more makeup how-to's, check out our guide on how to choose and use your perfect blush, or our quick and easy guide to concealing. Thanks for visiting!
We carefully hand-select products based on strict purity standards, and only recommend products we feel meet this criteria. 100% PURE™ may earn a small commission for products purchased through affiliate links.
The information in this article is for educational use, and not intended to substitute professional medical advice, diagnosis, or treatment and should not be used as such.
Sign up to our email newsletter for more blog updates and exclusive discounts.
< Older Post | Newer Post >