https://purity-res.cloudinary.com/image/fetch/q_auto:best,f_auto,fl_lossy,w_auto,c_limit,dpr_auto/https://cdn.shopify.com/s/files/1/0648/1955/products/8IuF6FhlReiTiK0E3uf4_5ced8ff8-430c-4149-b5c2-9911a24353a0.png?v=1541699646
https://purity-res.cloudinary.com/image/fetch/q_auto:best,f_auto,fl_lossy,w_auto,c_limit,dpr_auto/https://cdn.shopify.com/s/files/1/0648/1955/products/5nswKHu7SDODzh0zWjxx_1e74a0b1-0fa7-4c6a-88fb-64e8fe083cc1.png?v=1541699646
https://purity-res.cloudinary.com/image/fetch/q_auto:best,f_auto,fl_lossy,w_auto,c_limit,dpr_auto/https://cdn.shopify.com/s/files/1/0648/1955/products/tBKV732TcqS04g3jdW0t_5522d8ed-79a9-4b4a-be0f-26d21990a7b0.png?v=1541699646
https://purity-res.cloudinary.com/image/fetch/q_auto:best,f_auto,fl_lossy,w_auto,c_limit,dpr_auto/https://cdn.shopify.com/s/files/1/0648/1955/products/h8c6HqVrQUwhNpEgU2a1_05965806-4254-45f0-a8b8-b36898b54494.png?v=1541699646
https://purity-res.cloudinary.com/image/fetch/q_auto:best,f_auto,fl_lossy,w_auto,c_limit,dpr_auto/https://cdn.shopify.com/s/files/1/0648/1955/products/3wsRUDS8RZejaRBozyHm_54aff051-2c7a-454a-b0b2-bf2597c24685.png?v=1541699646
https://purity-res.cloudinary.com/image/fetch/q_auto:best,f_auto,fl_lossy,w_auto,c_limit,dpr_auto/https://cdn.shopify.com/s/files/1/0648/1955/products/kXaw028QtK0nqON5hVaA_a394701c-f699-4cef-961b-b3ef326230f9.png?v=1541699646
https://purity-res.cloudinary.com/image/fetch/q_auto:best,f_auto,fl_lossy,w_auto,c_limit,dpr_auto/https://cdn.shopify.com/s/files/1/0648/1955/products/NRJY9OmeTc69UJ9yAwXD_2c7d758f-2007-4ee4-a1f1-fd849ab72cde.png?v=1541699646
https://purity-res.cloudinary.com/image/fetch/q_auto:best,f_auto,fl_lossy,w_auto,c_limit,dpr_auto/https://cdn.shopify.com/s/files/1/0648/1955/products/ltEDeTZKTCiLRAnGoQEZ_243a8b76-aee5-4621-a5b7-b1059c338d46.png?v=1541699646
https://purity-res.cloudinary.com/image/fetch/q_auto:best,f_auto,fl_lossy,w_auto,c_limit,dpr_auto/https://cdn.shopify.com/s/files/1/0648/1955/products/FZmE0qkJTEuwUUC0m5Am_27935e01-70ca-42ac-9ca0-80c8c8c2c6f1.png?v=1541699646
https://purity-res.cloudinary.com/image/fetch/q_auto:best,f_auto,fl_lossy,w_auto,c_limit,dpr_auto/https://cdn.shopify.com/s/files/1/0648/1955/products/ABUdRhBSQXiEqNrXpe5E_f4c0ed97-a8a1-4723-899d-cfea59b92815.png?v=1541699646
https://purity-res.cloudinary.com/image/fetch/q_auto:best,f_auto,fl_lossy,w_auto,c_limit,dpr_auto/https://cdn.shopify.com/s/files/1/0648/1955/products/RBGZwfRtSViwlZtdeyFd_e8702f4c-e424-4399-87c8-bc16e05daff3.png?v=1541699646
https://purity-res.cloudinary.com/image/fetch/q_auto:best,f_auto,fl_lossy,w_auto,c_limit,dpr_auto/https://cdn.shopify.com/s/files/1/0648/1955/products/SYQYI86R8aPrz6qppNla_94f00a8f-ea24-4bf3-9007-bb18d44067dd.png?v=1541699646
https://purity-res.cloudinary.com/image/fetch/q_auto:best,f_auto,fl_lossy,w_auto,c_limit,dpr_auto/https://cdn.shopify.com/s/files/1/0648/1955/products/2Xv2e9uStKEznLNaddwd_cd71c0bb-a830-4c0f-bf7d-45806183c2d6.png?v=1541699646
https://purity-res.cloudinary.com/image/fetch/q_auto:best,f_auto,fl_lossy,w_auto,c_limit,dpr_auto/https://cdn.shopify.com/s/files/1/0648/1955/products/Pakj0DZgRa2jXkriGb80_5b281040-3b2a-4c4a-a36d-607c4099a9f9.png?v=1541699646
https://purity-res.cloudinary.com/image/fetch/q_auto:best,f_auto,fl_lossy,w_auto,c_limit,dpr_auto/https://cdn.shopify.com/s/files/1/0648/1955/products/iIaEzITdRRCtOKdLSxB8_76e801c2-1e66-45f3-be20-e9e0981b70ae.png?v=1541699646
https://purity-res.cloudinary.com/image/fetch/q_auto:best,f_auto,fl_lossy,w_auto,c_limit,dpr_auto/https://cdn.shopify.com/s/files/1/0648/1955/products/pr6OnkwLQC295IiRwuxk_ae526c92-04ae-4300-95f9-24034852e4e8.png?v=1541699646
https://purity-res.cloudinary.com/image/fetch/q_auto:best,f_auto,fl_lossy,w_auto,c_limit,dpr_auto/https://cdn.shopify.com/s/files/1/0648/1955/products/H7A2yZTBSSKomGkWp8TV_5ce07ec7-e126-4b2b-b2bc-d3ae67e30707.png?v=1541699646
https://purity-res.cloudinary.com/image/fetch/q_auto:best,f_auto,fl_lossy,w_auto,c_limit,dpr_auto/https://cdn.shopify.com/s/files/1/0648/1955/products/AGJLbw9jTn2q6nhPmU56_577252b4-dfab-4796-889d-51be04a5e6e6.png?v=1541699646
https://purity-res.cloudinary.com/image/fetch/q_auto:best,f_auto,fl_lossy,w_auto,c_limit,dpr_auto/https://cdn.shopify.com/s/files/1/0648/1955/products/ontIsgcRNK2vLXA1UfkA_cc89d710-a5eb-4933-a57a-fe0f86fd3d3a.png?v=1541699646
https://purity-res.cloudinary.com/image/fetch/q_auto:best,f_auto,fl_lossy,w_auto,c_limit,dpr_auto/https://cdn.shopify.com/s/files/1/0648/1955/products/Q4zmSIyeQzKSmW9B8yDK_515d73ea-0de9-4b41-a84d-54224a3c0c17.png?v=1541699646
https://purity-res.cloudinary.com/image/fetch/q_auto:best,f_auto,fl_lossy,w_auto,c_limit,dpr_auto/https://cdn.shopify.com/s/files/1/0648/1955/products/BApRbpXCRcWj2gcU2Ftd_f8f86241-600f-4cda-a3ef-46264c071484.png?v=1541699670
https://purity-res.cloudinary.com/image/fetch/q_auto:best,f_auto,fl_lossy,w_auto,c_limit,dpr_auto/https://cdn.shopify.com/s/files/1/0648/1955/products/lTgUia5sTMCCMgDM3PgO_53e69fa0-d3a2-4e74-bcb4-b7660b076be6.png?v=1541699670
https://purity-res.cloudinary.com/image/fetch/q_auto:best,f_auto,fl_lossy,w_auto,c_limit,dpr_auto/https://cdn.shopify.com/s/files/1/0648/1955/products/VaaWTKbaQE6kN7kC92P4_834c5bd1-5b1f-4815-a9ad-e512d295bc64.png?v=1541699670
https://purity-res.cloudinary.com/image/fetch/q_auto:best,f_auto,fl_lossy,w_auto,c_limit,dpr_auto/https://cdn.shopify.com/s/files/1/0648/1955/products/Gc6IeHggTnOFpzcX7olD_7ae6f95f-157f-4f71-9cdb-815c988e35c7.png?v=1541699670
https://purity-res.cloudinary.com/image/fetch/q_auto:best,f_auto,fl_lossy,w_auto,c_limit,dpr_auto/https://cdn.shopify.com/s/files/1/0648/1955/products/56Zk1jspTo5WFyDlCCRU_514ecc23-e0f9-4f97-a82a-5ff569f31012.png?v=1541699670
https://purity-res.cloudinary.com/image/fetch/q_auto:best,f_auto,fl_lossy,w_auto,c_limit,dpr_auto/https://cdn.shopify.com/s/files/1/0648/1955/products/YgCHCgyQ8WQJH7V1aXzv_dce829b3-ca81-4ca4-b95b-f6241d4ef67b.png?v=1541699670
https://purity-res.cloudinary.com/image/fetch/q_auto:best,f_auto,fl_lossy,w_auto,c_limit,dpr_auto/https://cdn.shopify.com/s/files/1/0648/1955/products/nZPHJ0sWTFW9I7xdQkGy_7d83500f-e337-4622-a7ac-d1ae61e582c6.png?v=1541699670
https://purity-res.cloudinary.com/image/fetch/q_auto:best,f_auto,fl_lossy,w_auto,c_limit,dpr_auto/https://cdn.shopify.com/s/files/1/0648/1955/products/HZDLcWgFSyqQOddtIghs_0574bed3-b0e5-48bc-9d6c-15efef903416.png?v=1541699670
https://purity-res.cloudinary.com/image/fetch/q_auto:best,f_auto,fl_lossy,w_auto,c_limit,dpr_auto/https://cdn.shopify.com/s/files/1/0648/1955/products/Tst8aQ8LTE25p7s7kJwN_3934fd5b-a107-4e84-8666-82cf6e094ae6.png?v=1541699670
https://purity-res.cloudinary.com/image/fetch/q_auto:best,f_auto,fl_lossy,w_auto,c_limit,dpr_auto/https://cdn.shopify.com/s/files/1/0648/1955/products/O4dTp1hR36iTOLSghymw_ce8ce3a2-ee02-43fc-a044-1c1eb32ca612.png?v=1541699670
https://purity-res.cloudinary.com/image/fetch/q_auto:best,f_auto,fl_lossy,w_auto,c_limit,dpr_auto/https://cdn.shopify.com/s/files/1/0648/1955/products/EsETTk2StK5tNw3i2l1O_36450662-55df-4444-b7f0-0b4e8d0c0a65.png?v=1541699670
https://purity-res.cloudinary.com/image/fetch/q_auto:best,f_auto,fl_lossy,w_auto,c_limit,dpr_auto/https://cdn.shopify.com/s/files/1/0648/1955/products/MsItihQE6J30QnpFfR7Q_38794de9-aa45-4626-9e46-70aecb5f6486.png?v=1541699670
https://purity-res.cloudinary.com/image/fetch/q_auto:best,f_auto,fl_lossy,w_auto,c_limit,dpr_auto/https://cdn.shopify.com/s/files/1/0648/1955/products/9rCsQFbLRNWh4FaGXb9I_1abf1be7-327d-4754-ab34-390e3d360650.png?v=1541699670
https://purity-res.cloudinary.com/image/fetch/q_auto:best,f_auto,fl_lossy,w_auto,c_limit,dpr_auto/https://cdn.shopify.com/s/files/1/0648/1955/products/4iswt1s8SyqrmjjjjK04.png?v=1541699670
https://purity-res.cloudinary.com/image/fetch/q_auto:best,f_auto,fl_lossy,w_auto,c_limit,dpr_auto/https://cdn.shopify.com/s/files/1/0648/1955/products/0rzC3jeR6ynHAzYcfMTA.png?v=1541699670
https://purity-res.cloudinary.com/image/fetch/q_auto:best,f_auto,fl_lossy,w_auto,c_limit,dpr_auto/https://cdn.shopify.com/s/files/1/0648/1955/products/o9utCawqQa69CfCxjsC5.png?v=1541699670
https://purity-res.cloudinary.com/image/fetch/q_auto:best,f_auto,fl_lossy,w_auto,c_limit,dpr_auto/https://cdn.shopify.com/s/files/1/0648/1955/products/jeji3cfzQRCP0ZD478PI.png?v=1541699670
https://purity-res.cloudinary.com/image/fetch/q_auto:best,f_auto,fl_lossy,w_auto,c_limit,dpr_auto/https://cdn.shopify.com/s/files/1/0648/1955/products/mhtU6r4YQhKkG8q37I1x.png?v=1541699670
https://purity-res.cloudinary.com/image/fetch/q_auto:best,f_auto,fl_lossy,w_auto,c_limit,dpr_auto/https://cdn.shopify.com/s/files/1/0648/1955/products/jtmofbrQ1Kn36mbk2geI.png?v=1541699670
https://purity-res.cloudinary.com/image/fetch/q_auto:best,f_auto,fl_lossy,w_auto,c_limit,dpr_auto/https://cdn.shopify.com/s/files/1/0648/1955/products/p3LLfc04ScSfc3C7t5po.png?v=1541699670
https://purity-res.cloudinary.com/image/fetch/q_auto:best,f_auto,fl_lossy,w_auto,c_limit,dpr_auto/https://cdn.shopify.com/s/files/1/0648/1955/products/zrbIPawISKObbCU7J0kw.png?v=1541699681
https://purity-res.cloudinary.com/image/fetch/q_auto:best,f_auto,fl_lossy,w_auto,c_limit,dpr_auto/https://cdn.shopify.com/s/files/1/0648/1955/products/awIba5YWSeNCjeQgrx79.png?v=1541699681
https://purity-res.cloudinary.com/image/fetch/q_auto:best,f_auto,fl_lossy,w_auto,c_limit,dpr_auto/https://cdn.shopify.com/s/files/1/0648/1955/products/QGwfUac5RyGAvkEcIDXL.png?v=1541699681
https://purity-res.cloudinary.com/image/fetch/q_auto:best,f_auto,fl_lossy,w_auto,c_limit,dpr_auto/https://cdn.shopify.com/s/files/1/0648/1955/products/mQdHXVkMRKGGiiKiJ1sP.png?v=1541699681
https://purity-res.cloudinary.com/image/fetch/q_auto:best,f_auto,fl_lossy,w_auto,c_limit,dpr_auto/https://cdn.shopify.com/s/files/1/0648/1955/products/sOIHrTvMT3OoRENIWqyV.png?v=1541699681
https://purity-res.cloudinary.com/image/fetch/q_auto:best,f_auto,fl_lossy,w_auto,c_limit,dpr_auto/https://cdn.shopify.com/s/files/1/0648/1955/products/fJJm6dWiTCeB0F9nwgyX.png?v=1541699681
https://purity-res.cloudinary.com/image/fetch/q_auto:best,f_auto,fl_lossy,w_auto,c_limit,dpr_auto/https://cdn.shopify.com/s/files/1/0648/1955/products/xu49oRLrTUeHWINngrKS.png?v=1541699681
https://purity-res.cloudinary.com/image/fetch/q_auto:best,f_auto,fl_lossy,w_auto,c_limit,dpr_auto/https://cdn.shopify.com/s/files/1/0648/1955/products/4fI9EVJAQPa2nDdmH1bM.png?v=1541699681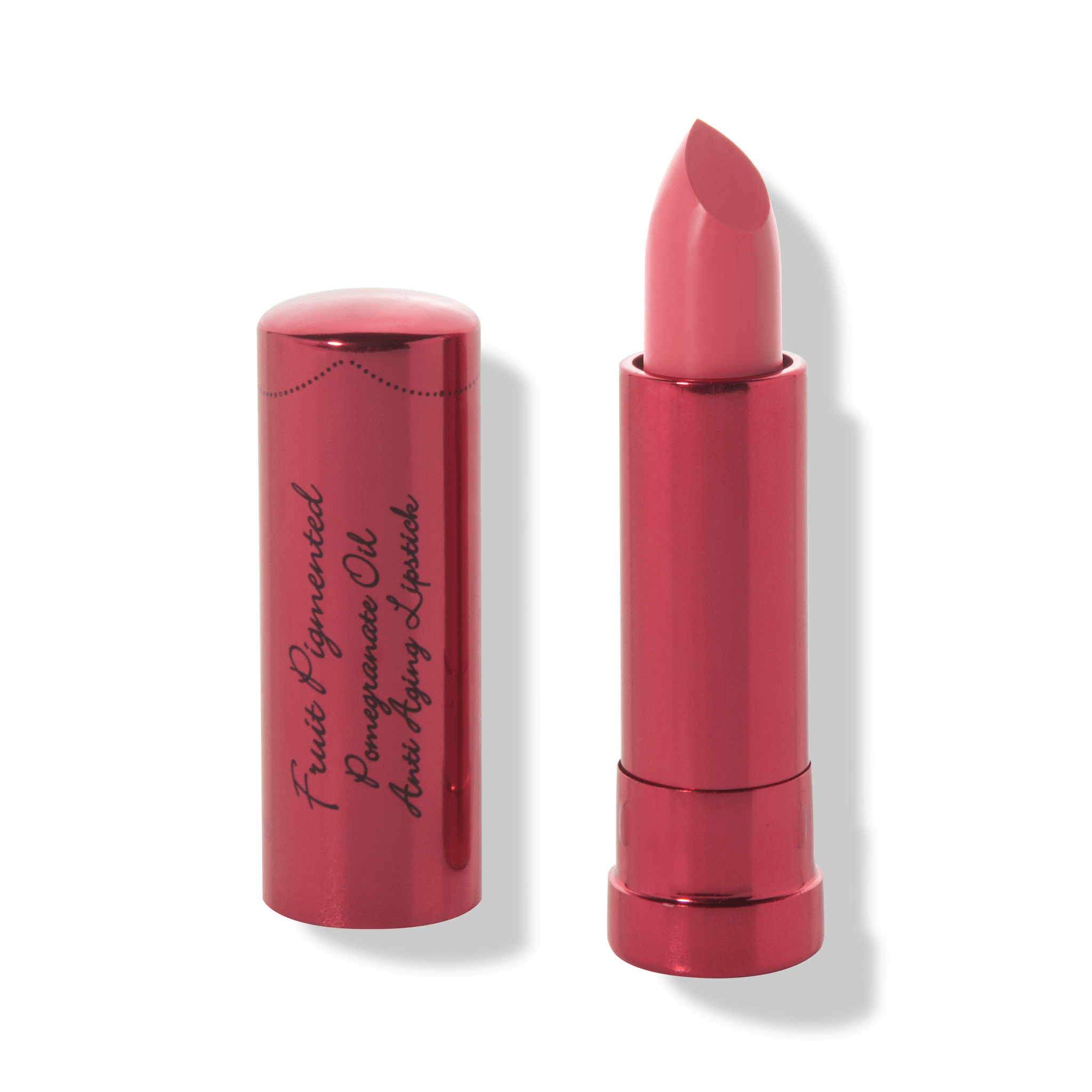 Fruit Pigmented® Pomegranate Oil Anti Aging Lipstick
Fruit Pigmented®

Natural

Vegan

Cruelty Free

Gluten Free
Anti-aging, super moisturizing lipstick made with pomegranate oil and shea butter to keep lips soft and supple. Colored with antioxidant rich fruit pigments.
For All Skin Types
Full Coverage
Satin Finish

Anti-aging, super moisturizing lipstick concentrated with pomegranate oil and shea butter to keep lips super soft and youthful. Colored from antioxidant and vitamin-packed fruit pigments, not synthetic dyes. Truly 100% PURE: no synthetic chemicals, synthetic dyes, chemical preservatives, or any other toxins.

Coverage

Finish

Shade Chart

Primrose

A bright pink.

Peony

A true, pale pink.

Magnolia

A bright bubblegum-coral.

Bee Balm

A warm, deep peachy pink.

Calendula

A coral pink nude.

Foxglove

A berry pink mauve.

Hibiscus

A deep, neon red-orange.

Buttercup

A cool, deep pink.

Narcissus

A deep pink.

Poppy

A bright, blood red.

Thistle

A cool, rosy milk chocolate.

Zinnia

A cool, deep rosy brown.

Clover

A deep, neutral pink-nude.

Black Rose

A cool, deep wine color.

Dahlia

A deep, wine red.

Calypso

A berry red.

Directions

Apply to lips as desired. For a matte finish, blot with tissue after application.

Every ingredient we use is beneficial, here are a few:

Pomegranate

Pomegranate reduces wrinkles and brightens.

Vitamin E (Tocopherol)

Vitamin E restores and protects from free radical damage.

Tomato

Tomato strengthens and brightens skin with vitamins.

Raspberry

Raspberry protects from UVA and UVB rays.

Grape

Grape fights signs of aging with resveratrol.

Complete list of ingredients:

Butyrospermum Parkii (Shea Butter), Punica Granatum (Pomegranate) Seed Oil, Theobroma Cacao (Cocoa) Seed Butter, Extracts of Prunus Cerasus (Cherry) Fruit, Prunus Domestica (Plum) Fruit, Vitis Vinifera (Cabernet Grape) Fruit, Rubus Idaeus (Raspberry) Fruit, Vaccinium Angustifolium (Blueberry) Fruit, Rubus Fruticosus (Blackberry) Fruit, Prunus Persica (Peach) Fruit, Prunus Armeniaca (Apricot) Fruit, Solanum Lycopersicum (Tomato) Fruit/Leaf/Stem, Punica Granatum (Pomegranate), Cacao (Chocolate), Rosa Centifolia (Rose Petals) Flower, Lavandula Angustifolia (Lavender) Flower/Leaf/Stem, Theobroma Cacao (Cocoa) Powder, Tocopherol (Vitamin E), Sodium Ascorbate (Vitamin C), Euphorbia Cerifera (Candelilla) Wax, Rosmarinus Officinalis (Rosemary) Leaf Extract

The lipstick felt comfortable on my lips.
The lipstick gives opaque color.
The lipstick improved the appearance of my lips.

This lipstick was moisturizing.
By using hashtag #100percentpure or #nodirtybeauty, I hereby grant to 100% PURE (Purity Cosmetics), it subsidiaries, agents and affiliates, the unlimited worldwide, perpetual, unending right to use, reproduce, distribute, and convey my image/photograph in any format or medium now known or subsequently developed, to modify and edit my image/photograph, to combine my image/photograph with other images, video, audio, text and other media, to create derivative works incorporating, including or based on my image/photograph. This grant shall be construed broadly.
---
Fruit Pigmented® Pomegranate Oil Anti Aging Lipstick
has a rating of
4.5
stars based on
1088
reviews.
Customer Reviews
color
Lipsticks
colors
formula
shade
skin
ingredients
Love
pink
Pure
03/18/2019
natalia garcia
Best lipstick ever
I love this pomegranate lipsticks. They are so moistarizing and creamy. They last for several hours even if you eat or drink. They still leave a stain so your lips are always with color. My favorite is magnolia... it broke so I still use it with a brush. My newest primrose is beautiful too.
Love this lipstick
Best lipstick I ever bought. Smells good, color goes on nice. Would recommend to friends and family.
Like their scent and formula
I very much enjoy the smell of the lipsticks and creamy formula (I wouldn't say it is moisturizing but it is not drying either). The creamy formula may demand lip liner if one wants to put on dark or intensive colours like poppy. With time it smudges a little bit over lips line, really not much but with intensive colours it matters. So far I have had colours: bee balm-just after application it is pretty nude pink, the less one has on the lips the more pink it becomes, in the end it even becomes bright pink-that is why one star is less poppy-beautiful, classic, intensive red, suits anyone narcissus-well, color itself is quite pretty on hand but it becomes vibrant, fuchsia pink with hint of red on my lips (blond hair, fair skin and I felt overwhelmed with the colour), if you are looking for mellow rosy with soft hint of red, it is definitely not this colour, it is really bright I would love to see in this formula the colour of discontinued perfect ***** pout-perfect pechy, pink nude.
Buttercup
Beautiful, natural color and very moisturizing. Ordered 2 so I don't run out.
03/01/2019
Kim Woirhaye-Reid
Fabulous Liptsick without the worry
Bought this lipstick in Clover. I love how moisturizing this feels on my lips and the color lasts! Win, win!
Complete the Package
Continue Shopping →