Time to Bring Bar Soap Back to Your Routine
They're eco-friendly, effective, and more moisturizing than you remember
Posted on August 16, 2021
Written by: 100% PURE ®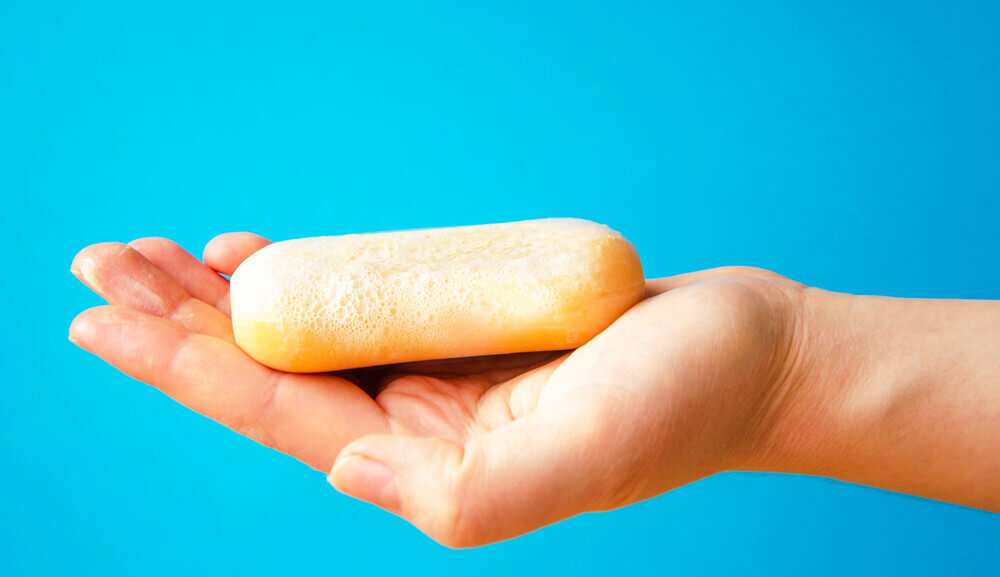 How did bar soaps get such a bad rap? The classic cleanser we grew up using hasn't been in our shopping carts or bathroom cupboards for what feels like a decade. But was this soap quietly exiled for a reason, or does it deserve a second chance? In an effort to be as green and clean as possible, we're exploring if bar soap isn't the better cleanser choice for our face and body needs. Here are 3 major reasons why bar soap may be beneficial in a skincare routine.
3 Key Benefits of Bar Soap
There are a few obvious benefits of bar soap that make it a good choice for cleansing.
First, the eco-friendly aspect: bar soap doesn't require the same storage as liquid soap. With wrappings as simple as paper and glue, the carbon footprint of bar soap is *a lot* smaller than other bath soaps.

Speaking of storage measures, are we the only ones managing a low-grade panic about leaking and non-compliant toiletries whenever we're traveling?One of the many benefits of bar soap is how travel-friendly it is. Without worrying about leaks, we know we can get squeaky clean anywhere we go.

On the go or at home, bar soap can be super versatile. We use it next to our kitchen and bathroom sinks for handwashing – and these days, it's even more critical to have in stock. We can use bar soap as a face wash, so long as it is gently formulated to treat the unique skin on our face. Then we can take the same bar soap into the shower for a full body cleanse and even a hair wash!
When we stack these against foaming hand soap in the kitchen, scented hand soap in the bathroom, face cleansing gel, seasonal body wash, plus our shampoo and conditioner, it really starts to add up. Bar soap, when well formulated, is an economic choice that makes for a lovely minimalist routine.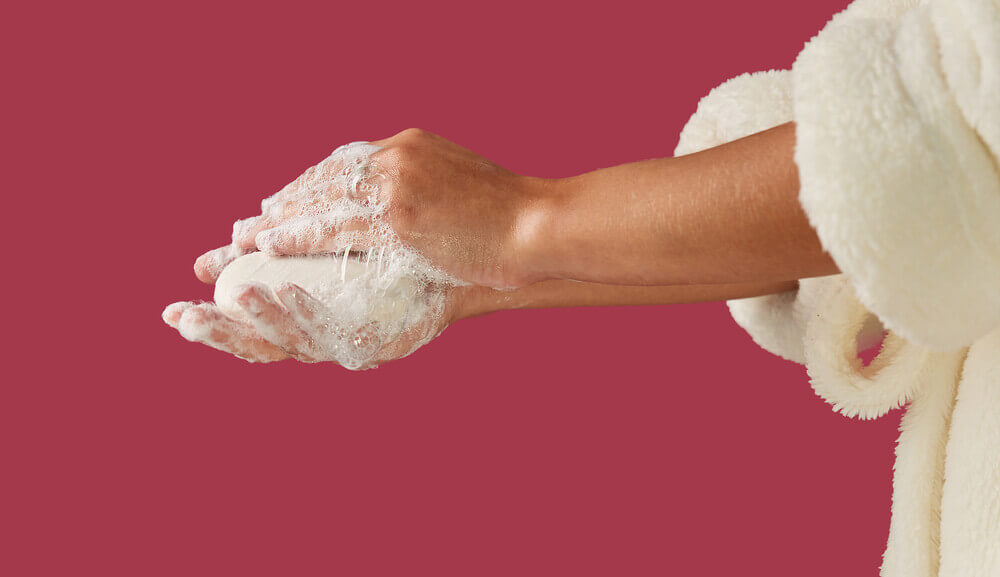 Bar Soap and Your Skin
Aiming to be squeaky clean in terms of germs is one thing, but we don't want our skin feeling squeaky. One of the classic complaints about bar soap is how drying it can be. Toxic fragrances, drying sulfates, and poor-quality ingredients in some bar soaps can cause the skin to feel stripped and depleted. They leave skin feeling itchy and irritated, rather than cleansed and soothed.
When we take a look at conventional liquid soaps, they're not much better. We get the cleansing and hydrating components, but that only takes us so far. While it's easy to find natural shower gels and shower oils that are free of toxins and irritants, some prefer that creamy lather that only a bar soap can provide.
Most modern bar soaps are made with enriching ingredients that moisturize and restore the skin. Natural soap bars often use olive, shea, and coconut oils to create a creamy lather that not only cleanses but softens.
Bar Soap, "Bad?"
Use of bar soap goes all the way back to 2800 B.C., so it's safe to say that something conceived thousands of years ago might require a few tweaks. Yet overall, the traditional formula of fat, oils, and salts was used well into modern times.
Modern bar soap formulas used to contain a few unsafe ingredients, such as toxins and controversial animal products. As we became more knowledgeable about the best and worst ingredients for our skin, the solid soaps were slowly phased from mainstream use.
Triclosan
Intended as an antibacterial component, this ingredient was widely included in body and oral care products up until a few years ago. The problem: manufacturers couldn't prove that it was truly "safe". Mild reactions and irritation, escalating to dermatitis, are common consequences of exposure to this ingredient.
Triclocarban
A sister to triclosan, except the side effects are a bit worse here. This is a hormone disruptor known to irritate the skin and even cause muscle weakness.
Lye
Lye is a seriously corrosive toxin that was often used in early soap formulas, and its use continues to be controversial. When distilled properly, lye soap is said to be safe – but we're not willing to risk it, considering that it's toxic to the human body.
Animal products
Many early bar soaps were made with animal fat, and soaps listed with "tallowate" in their ingredients still do. Suet – that's the fat around internal organs – from cattle and sheep is rendered and used for body wash.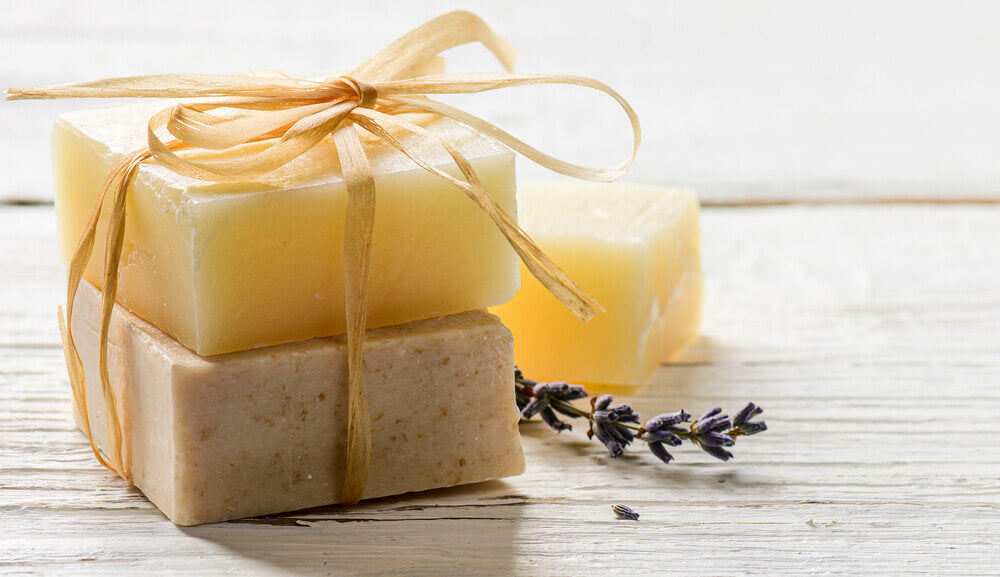 The Best Bar Soaps
If you don't fancy smearing chemicals and animal fat all over yourself in the shower, we recommend one of the following bar soaps for a more satisfying clean.
100% PURE Butter Soaps
These soaps feel just as luscious as they sound with shea butter, avocado oil, and olive oils for the creamiest lather ever. These seriously condition, hydrate, soften, and nourish the skin. When combined with scents of calming lavender, juicy mango, and tropical coconut, they offer a versatile lineup for any preference.
HAOMA Earth Soap
This exfoliating clay-based soap is a luxurious experience for skin. A gentle scrub helps to keep the skin soft and clear, while detoxifying clay renews and clarifies. Natural fragrance and moisturizing ingredients rosehip oil and shea butter deeply nourish for a shower that absolutely feels like self-care.
Eco Roots Organic Body Soap
A lovely blend of therapeutic herbs is sure to turn shower time into a restorative experience. This sunflower, coconut, and olive oil-based soap features lavender, juniper, hemp, and spearmint for a shower that leaves us feeling cool, calm, and collected.
Herbivore Pink Clay Cleansing Bar Soap
French pink clay gives this soap its stunning rusty-rose hue, which can detoxify and soften the skin every single shower and bath. Blood orange, rose, and coconut make this creamy solid bar wash a treat yourself moment.
Abhati Suisse Shampoo Bar
Shampoo bars are a novelty, so they seem way more fun than regular shampoo – and this one does not disappoint. Available in calming, moisturizing, detoxifying, and balancing formulas, a single shampoo bar will likely last more than twice as long as a traditional liquid shampoo.
Odacite 552M Soap Free Shampoo Bar
Argan, castor, and tropical capuaçu butter make this unsuspecting little bar super conditioning for the hair. The perfect travel shampoo for any climate or adventure, pop it into a bag for showers far and wide.
Ethique Bliss Bar Face Cleansing Bar
It's easy to achieve bath time bliss with this gentle, unscented cleansing bar. Featuring our favorite summer and winter conditioner – coconut oil – this bar is perfect for normal and dry skin types who want to lather up with a soothing, buttery wash.
SkinOwl Matcha Bar
Matcha, on our faces? We're already sold. But this green tea infused antioxidant rich all-over bar soap helps to heal, repair, restore, and tighten the skin for a youthful appearance.
Bar Soap Storage
Here's the big question of how to keep bar soap clean. Probably the most important detail about using bar soap is the storage. A bar soap sitting in still water – really, anything sitting in still water – is a breeding ground for germs.
Be sure to store bar soap on a slatted soap dish or in a perforated container, so that soap can fully dry. We like to use eco-friendly fiber soap bags when we're on the go.
We carefully hand-select products based on strict purity standards, and only recommend products we feel meet this criteria. 100% PURE™ may earn a small commission for products purchased through affiliate links.
The information in this article is for educational use, and not intended to substitute professional medical advice, diagnosis, or treatment and should not be used as such.
Sign up to our email newsletter for more blog updates and exclusive discounts.
< Older Post | Newer Post >