The Ultimate Spa Experience (At Home!)
How to create an incredible at-home spa – no membership needed!
Posted on June 2, 2020
Written by: 100% PURE ®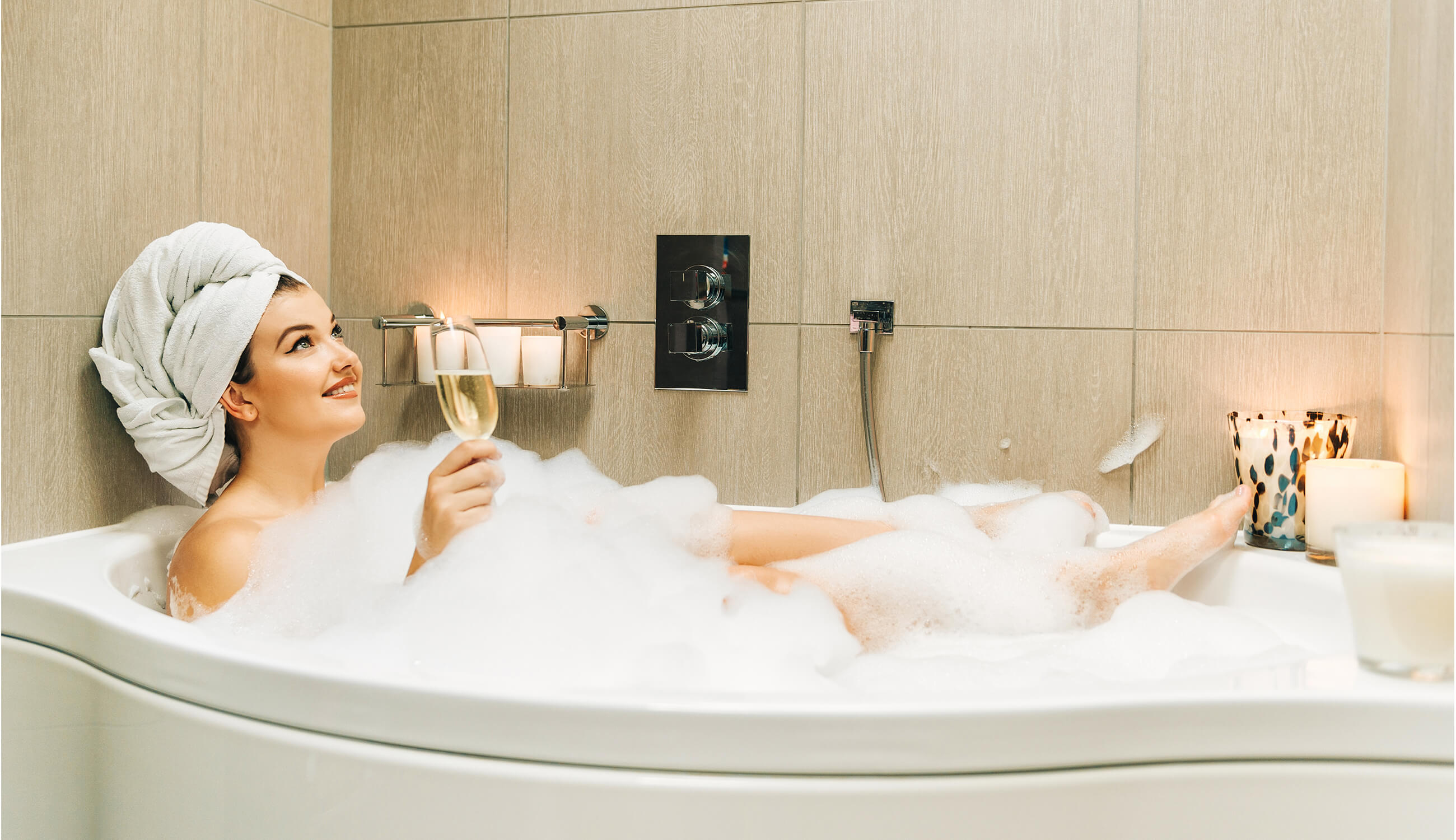 Nothing is better than being able to relax and get pampered. It calms your mind and body, fights stress, and clears your skin too! But not everyone can frequent a fancy spa – especially not lately!
Skin care is self care: something everyone needs. Even with as little as one night a week, giving yourself that extra bit of attention can do wonders. One night of pampering is certainly better than none at all!
Ready to jump into your most heavenly DIY spa experience ever? We're outlining everything you'll need for skin, hair, and body – your very own at-home spa awaits!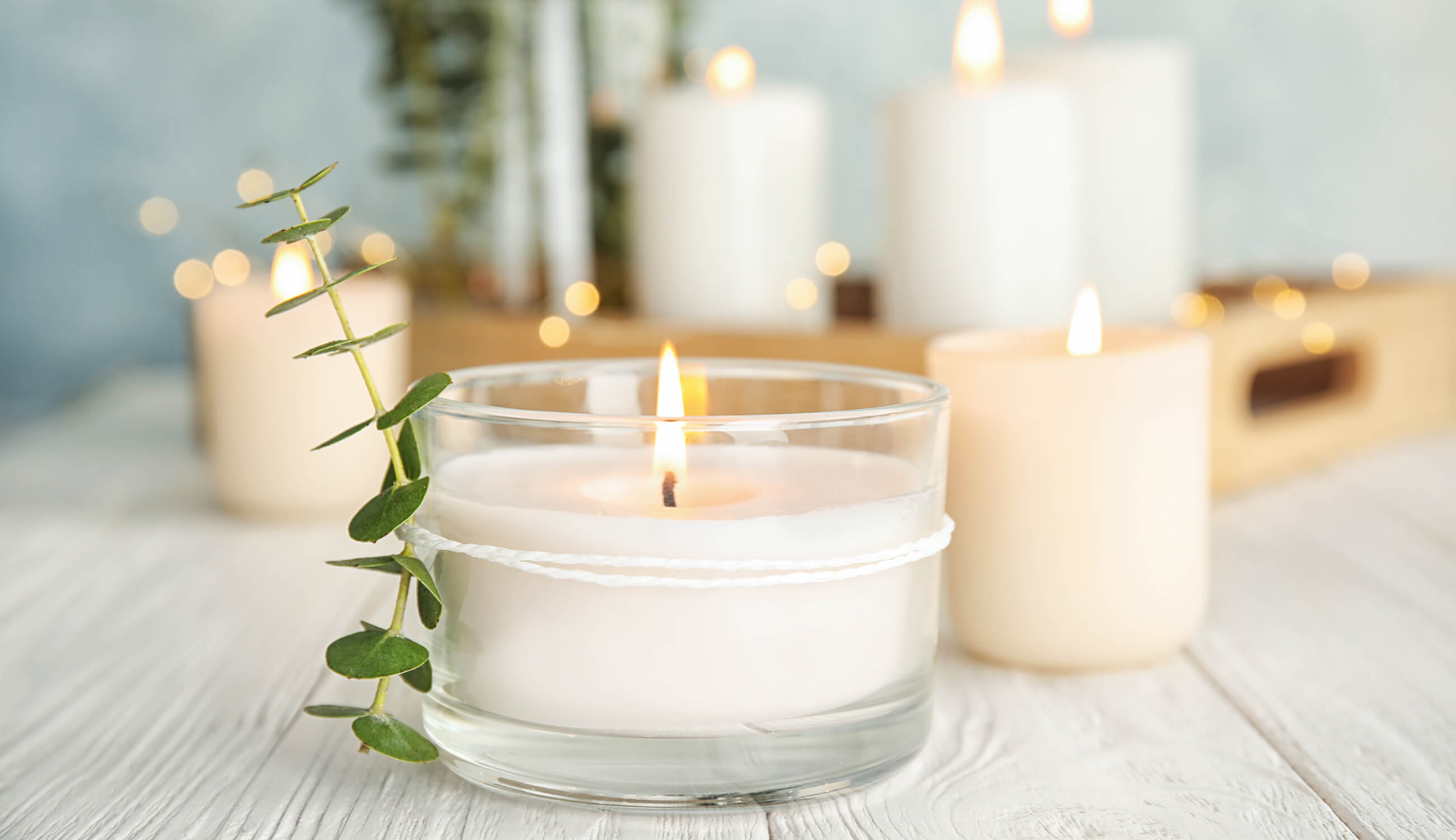 Prepare for Spa Day
Take your daily hydration a step further by making your own spa water. One of our favorite recipes involves adding freshly sliced, peeled cucumber with muddled mint leaves to a pitcher of water. Store it in the fridge for a cool glass of spa-wesome whenever you need it.
Set Up Your Space
To get your spa vibe going, create a relaxing atmosphere. Dim the lights and use clean burning soy or beeswax candles for mood lighting. Get your diffuser humming with aromatherapeutic essential oils – eucalyptus and lavender are spa favorites!
Mood Music – or Meditation
Before starting your spa treatments, cue up a spa playlist! Sound can make a huge impact on your environment, and ambient music can transport you to a plane of deep calm and relaxation.
If you've struggled with meditation in the past, an at-home spa is the perfect place to practice! Try a guided meditation: a recording of an individual leading you through practices of mindfulness, breathing, and relaxation.
Bring out your most luxurious towels, slippers and robe so you'll have everything you need ready to go for the perfect pamper session. Need a spa getaway packing list? Our Self Care collection should give you the inspiration you need for your at-home spa!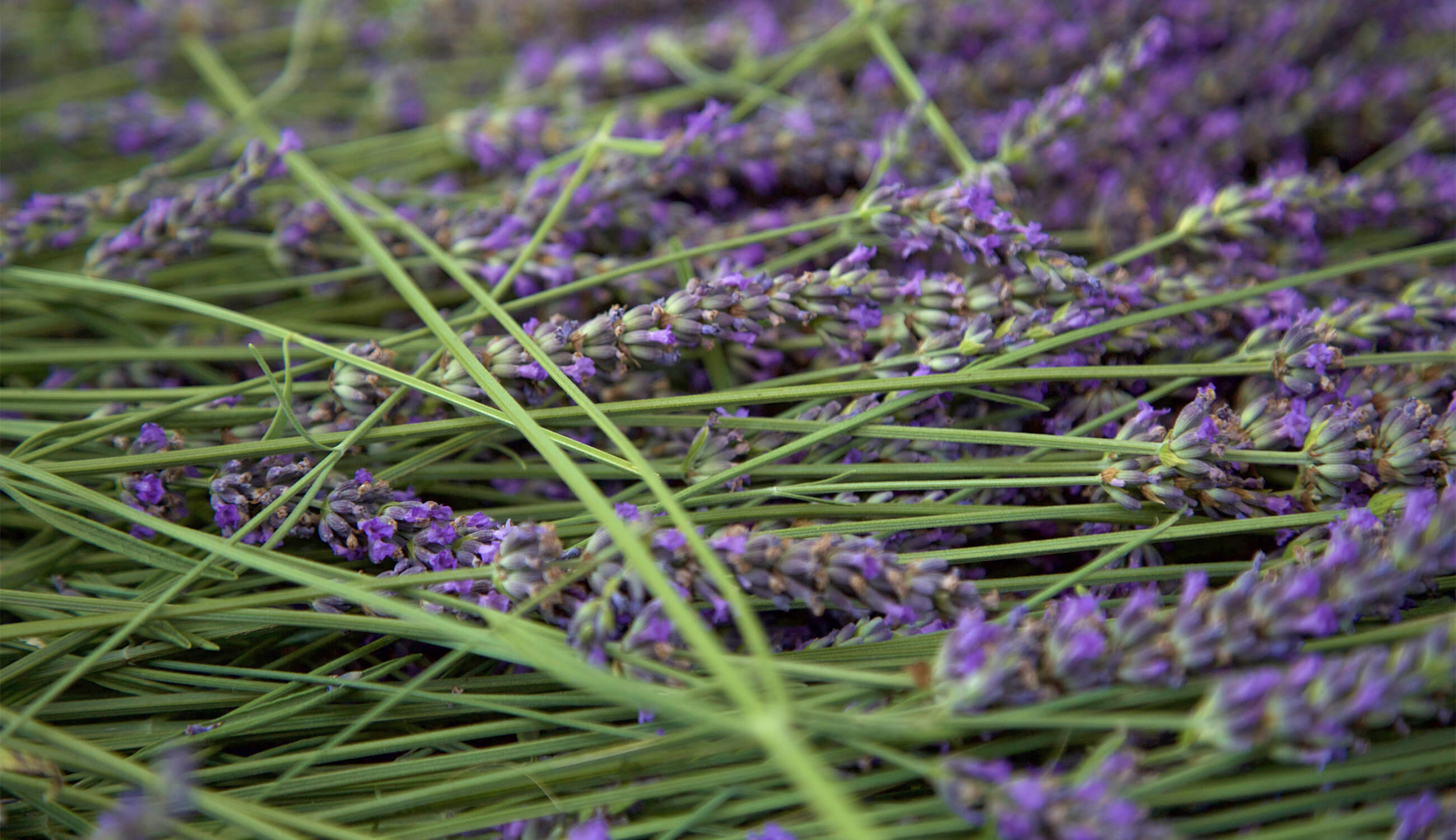 DIY Facial
To help you get the most out of your facial session, we're going to focus on products that soothe and hydrate your skin for the long week to come.
Step 1: Cleanse
Start out with your preferred cleanser – we love the Blood Orange Cleansing Balm for a deep, decadent cleanse. For light exfoliation, try the aromatherapeutic Lavender Oat Milk Soothing Cleanser.
Take time to massage the cleanser into the skin in small circular motions, stimulating healthy circulation and blood flow. Rinse thoroughly with hands, then gently pat skin with a clean towel until semi-dry.
PRO TIP: Don't forget the neck and decollete, these delicate areas need special treatment too!
Step 2: Toner
While skin is still moist, apply the Restorative Sea Culture Hydrating Toner. You can pat it into skin with clean hands, or use a cotton round to swipe away remaining debris.
This toner contains algae and sea kelp. These humectants help to remineralize and temporarily tighten the skin as they draw out impurities, while amino acids promote elasticity and conditioning of the skin. Since the seaweed used in this product is sourced from unpolluted seaweed farms, it contains ultra pure trace minerals from the sea.
Step 3: Serum
Dispense 2 pumps of Vitamin C Serum into your hands, and press into skin – take care not to pull or tug! This lightweight serum feels like a crisp drink of water for the skin, thanks to hydrating aloe gel and vegetable cellulose. This refreshing serum helps to plump the skin, while vitamin C and green apple enliven the complexion for a more youthful glow.
Step 4: Moisturize
For the ultimate spa finish, end your facial with the Restorative Sea Culture Extra Riche Cream. Made with clean, nutritious ingredients (unlike other pricey 'sea' creams we know), this formula deeply moisturizes the skin without a greasy residue. Warm the cream between palms before pressing firmly into the skin of your face and neck.
Mask Treatment
Some spa facials are meant to slough off dead skin cells and sebum, while nourishing new skin beneath. These treatments may seem like they require a bit more elbow grease – but you can actually do a rejuvenating mini facial at home!
Powder masks are fantastic for recreating the experience of a spa at home. Through the use of gentle exfoliants like rice powder or colloidal oatmeal, powder masks cleanse the skin by encouraging dead skin cells to break away.
Our Matcha Oat Milk Nourishing Mask uses both rice and colloidal oatmeal to create gentle exfoliation. Meanwhile, matcha extract delivers a dose of antioxidants and caffeine, to ease redness and neutralize signs of sun damage. A blend of oatmeal, calendula, and coconut milk work to soothe and soften the skin for a truly comprehensive spa skin care treatment.
To use a powder mask in your at-home spa, simply mix about 1 tablespoon of the powder with 1 teaspoon of warm water. Gently massage over the face and neck, avoiding the eyes. Leave to set for 10-15 minutes, then rinse off with warm water.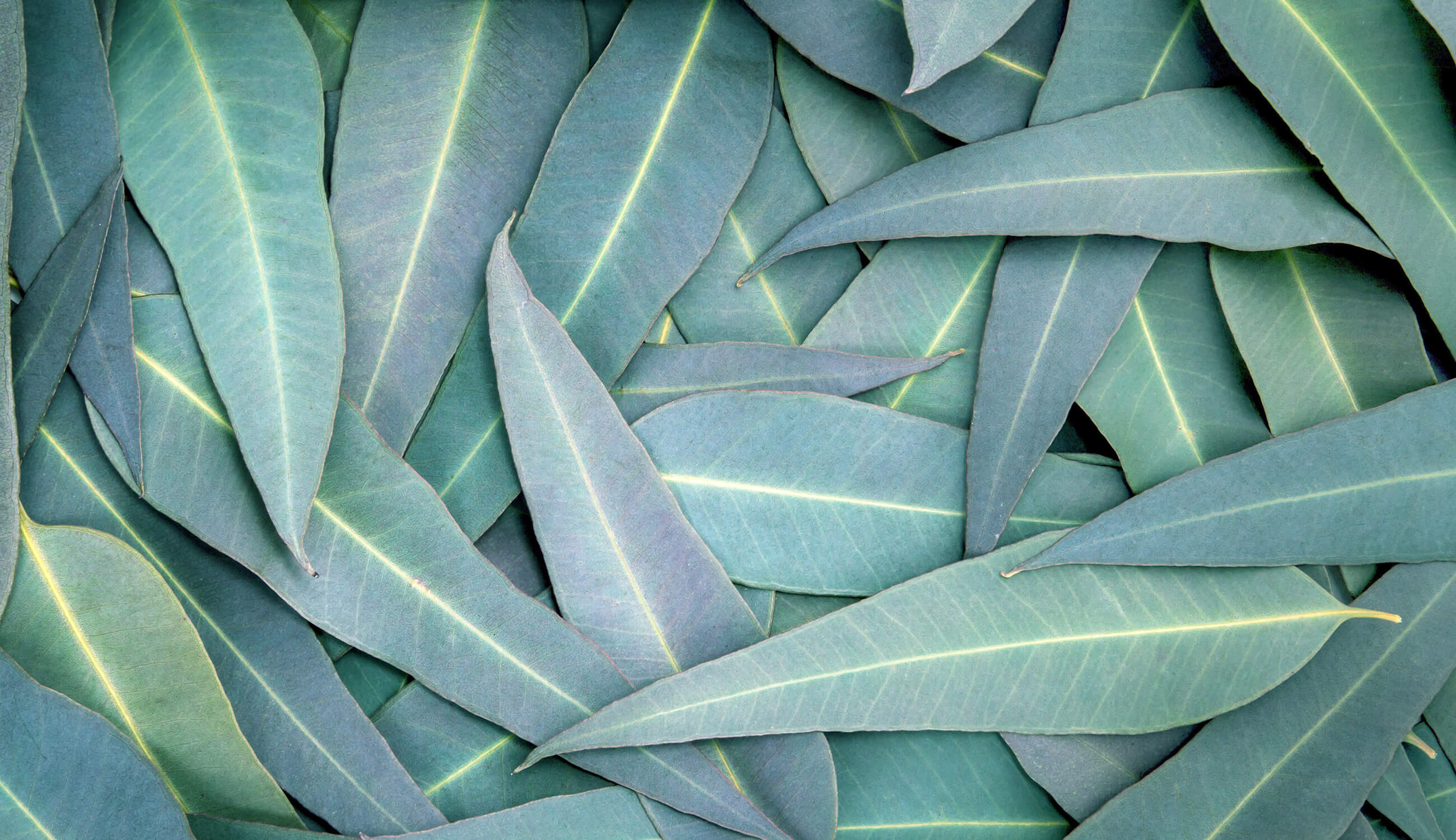 Facial Massage
Giving yourself a relaxing facial massage can have multiple benefits. The first is that it stimulates the blood flow in the skin, for a more luminous complexion. Second, it can help move and drain lymphatic fluids to reduce swelling. Check out our step-by-step facial massage below!
Step 1
Warm a nourishing facial oil between clean, dry hands.
Step 2
Using your first two fingers on both hands, start at the sides of your nose. Continue pressing and releasing as you move your hands towards the tops of your cheekbones.
Step 3
Using the same movement, start at your inner brow and move across your brow bone until you reach your temple. Hold at the temple for a few seconds, and then move in small circles to release tension. You can perform the same pressure movement under the cheekbone as well.
Step 4
When you get to the hinges of the jaw, move fingertips in circles to release jaw tension.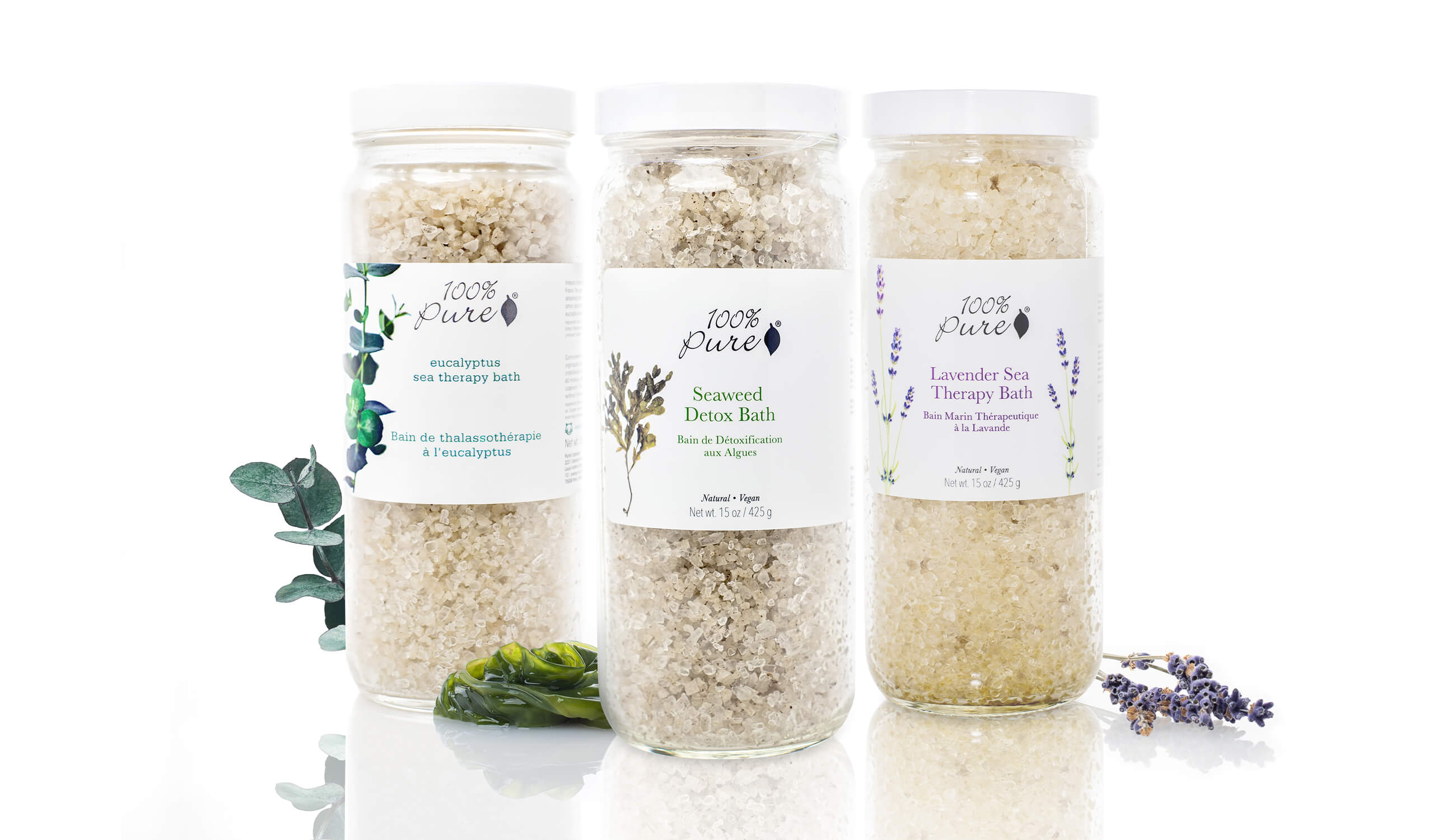 Bath Soak
Bath soaks can offer a variety of benefits. Epsom and sea salts can draw toxins and impurities out of the skin, and can help to remineralize and rehydrate the skin.
Essential oils in these salts are designed for an aromatherapeutic spa experience. Our Lavender Sea Therapy Bath will calm the body and mind, while helping to ease tension and stress.
Our Eucalyptus Sea Therapy Bath is an invigorating blend of peppermint and eucalyptus. Soaking in a warm, steamy spa bath with these essential oils will help to clear sinuses, stimulate circulation, and promote a healthy immune system.
If you're looking for a transformative bath soak with therapeutic properties, look into the Seaweed Detox Bath. This detoxifying blend is made with ginger root, seaweed, and dandelion to draw out toxins, heavy metals, and stimulate lymphatic drainage. Infusions of eucalyptus, tea tree, and rosemary promote healthy circulation and deep relaxation.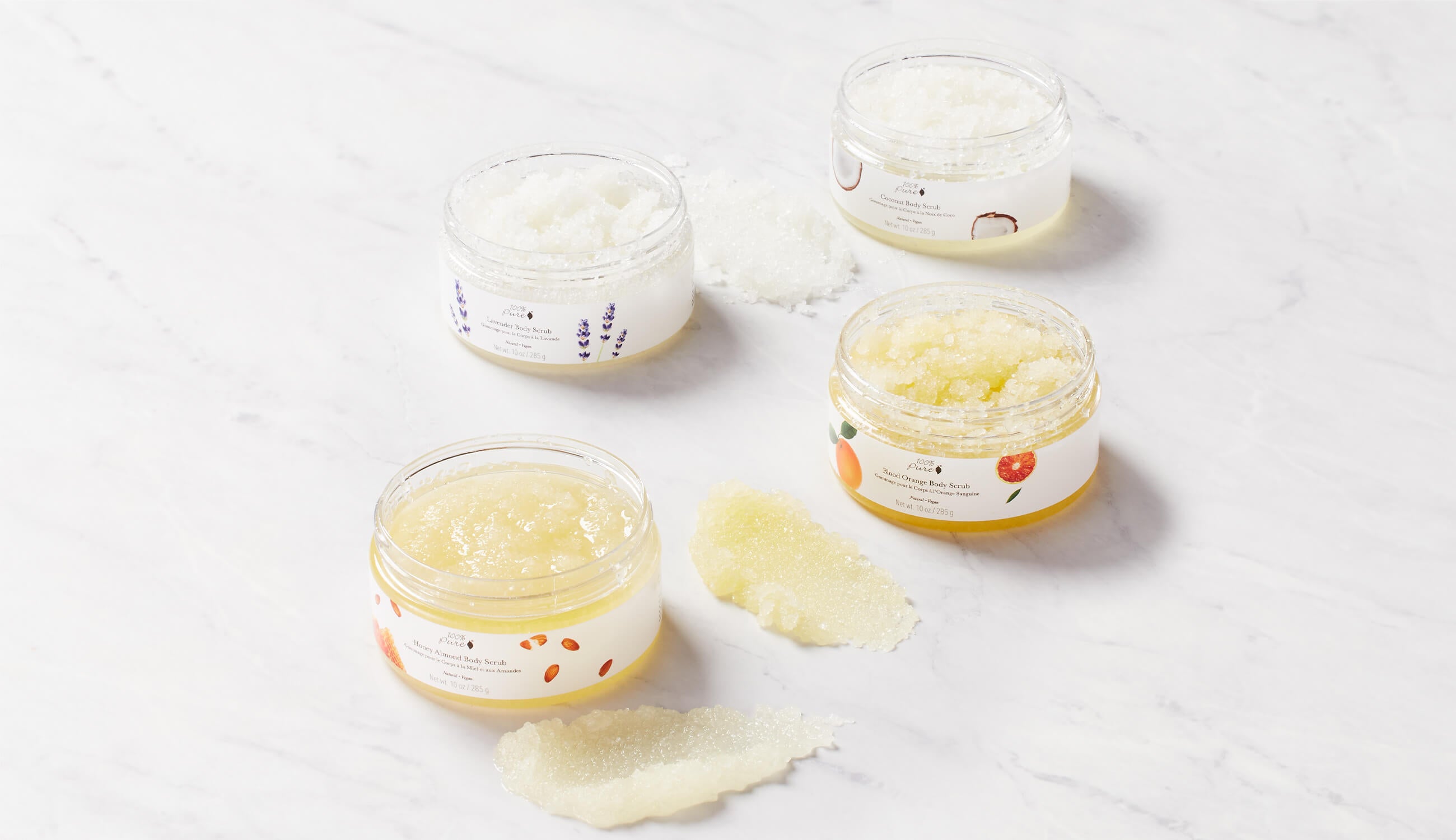 Body Scrub
Exfoliating your body is beneficial for multiple reasons. It helps to increase skin cell turnover, exposing fresh youthful skin underneath. It may also even out your skin tone, by reducing bumps and flakes that dull your complexion.
Make sure to use this scrub on especially dry areas like elbows, knees, and feet. Our moisturizing scrubs are amazing for making tootsies softer and smoother – no pumice stone necessary! Make sure to apply a generous amount to feet and other dry areas, using gentle circular motions to buff away rough skin.
Our collection of body scrubs is made with silky smooth oils and detoxifying sea salt, for a truly spa-worthy experience. Try our Lavender Body Scrub for a hint of aromatherapy paired with skin-smoothing exfoliation. The Coconut Body Scrub summons the warm breezes of the tropics, the Honey Almond Body Scrub tickles your sweet tooth, and the Blood Orange Body Scrub brightens and energizes.
Applying a body cream after your spa bath or body scrub will lock in essential hydration for soft, ultra supple skin. A Nourishing Body Cream is a bit easier to spread for all-over moisture, but rich Whipped Body Butters mean business for targeting areas prone to dryness.
Now that you're armed with all of the knowledge on how to create your own spa day at home, go forth and pamper yourself!
We carefully hand-select products based on strict purity standards, and only recommend products we feel meet this criteria. 100% PURE™ may earn a small commission for products purchased through affiliate links.
The information in this article is for educational use, and not intended to substitute professional medical advice, diagnosis, or treatment and should not be used as such.
Sign up to our email newsletter for more blog updates and exclusive discounts.
< Older Post | Newer Post >