The 2019 Holiday Gift Guide
Covering clean, cruelty-free gift sets that make holiday shopping a breeze!
Posted on November 6, 2019
Written by: 100% PURE ®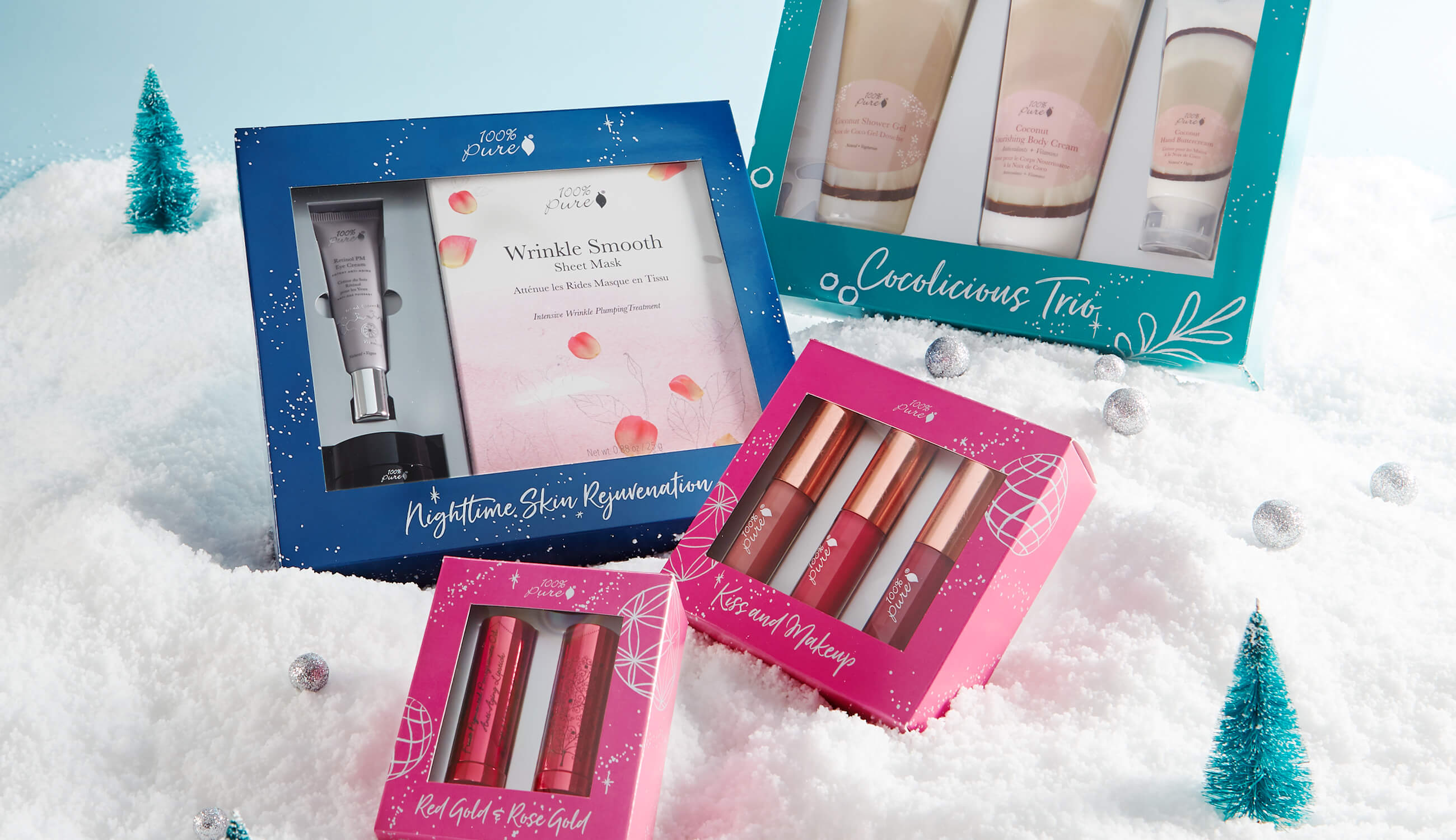 Ah, the holidays: a time of year for relaxing, being with loved ones, making merry – and perfecting the all-important holiday gift list. If you struggle with the art of gift-giving, don't sweat; you're not alone!
Finding the right gifts can be a challenge, and it can get even trickier if you (or your recipient) resolved to stay cruelty-free this year! We've compiled a list of our ready-to-gift sets and gifts under $20, with something to please everyone on your list. Sit back and relax as we lead you through our 2019 holiday gift guide!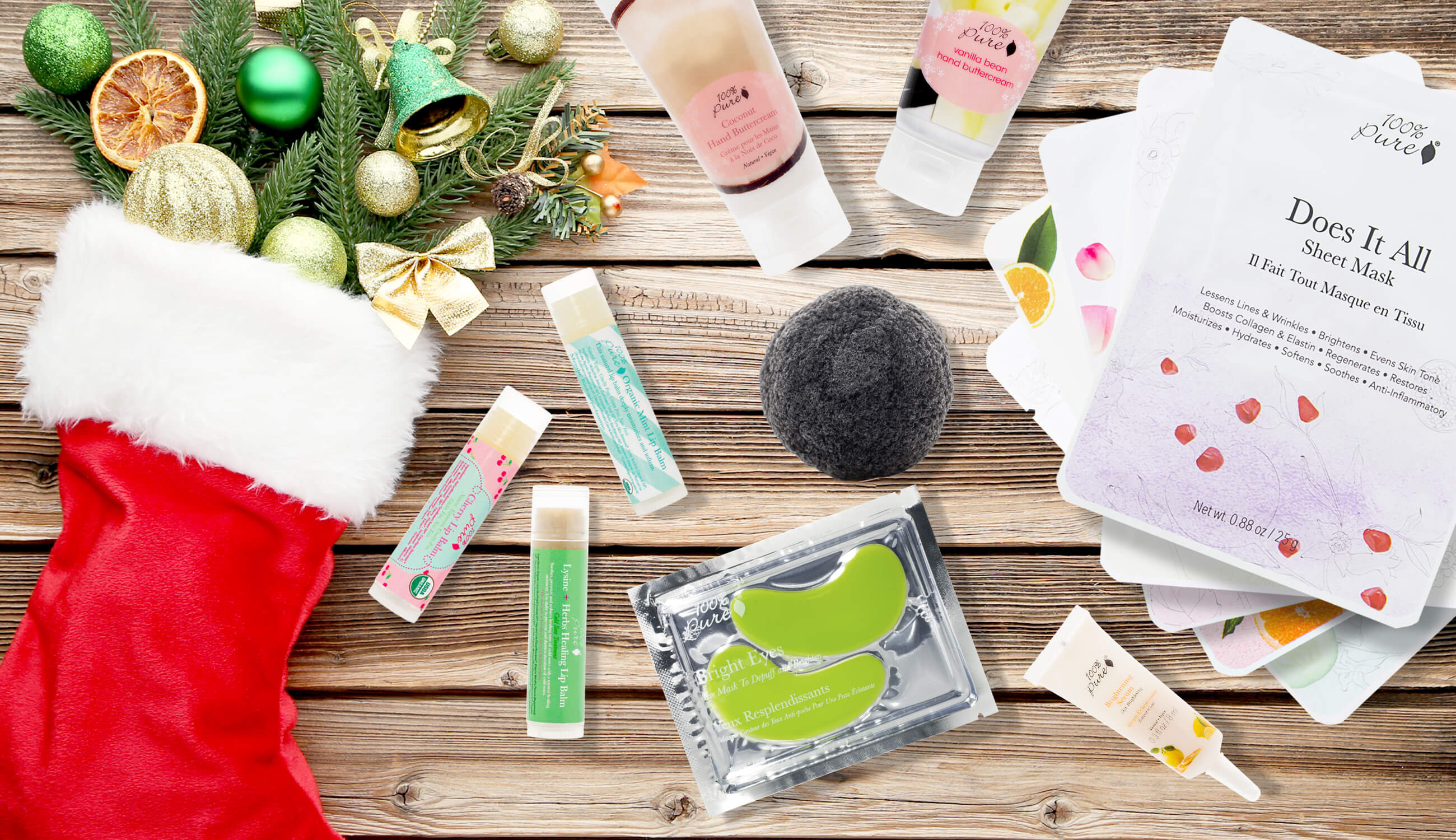 Gifts Under $20
Often known as stocking stuffers or bite-size gifts, this category is easily the most versatile route when it comes to gift-giving. You can stay within budget while personalizing a bundle of goodness for that special someone on your list, or supplement a larger gift with a thoughtful add-on. Here's our list for the best gifts under $20!
Recycled Plastic Bath Sponge, $5
The importance of a good sponge, brush, or loofah is often overlooked! Our super soft bath sponge is made from 100% recycled plastic, and provides gentle exfoliation that's suitable for daily use. Add this essential spa kit to gift baskets filled with shower gels, bath salts, or soap bars.
These days it can be a challenge to find a bar soap that doesn't contain nasty ingredients like sodium laureth sulfate, tallow, or alcohol. Our ultra decadent butter soaps are made with gentle, plant-based ingredients like shea butter, coconut oil, and rosehip seed oil to leave skin supple and clean. They come adorably wrapped, and are available in a variety of scents for you to mix and match.
Wood Pulp Oil Blotting Paper, $9
Some days, even the best setting sprays and setting powders simply can't stop the onset of natural oils in your T-zone. Whether your beauty lover wears a full face or a no-makeup look, they'll be sure to appreciate these antibacterial makeup-bag essentials tossed into their stocking!
Made from bamboo charcoal powder and konjac plant, this sponge doesn't just cleanse. It also gently exfoliates, brings down inflammation, provides an abundance of skin-healthy minerals, and promotes smoother, clearer skin.
Coffee Bean Caffeine Eye Cream, $16
As far as luxury eye creams go, this product is especially affordable! A best-selling blend of caffeine, green tea, and rosehip in this eye cream helps to increase circulation, visibly tighten and firm the eye area, and reduce the appearance of dark circles. Considering its suitability for night owls and coffee lovers alike, this eye cream is the perfect gift for college students, busy moms, and anyone on the 9-5 grind.
Lip balm has become a popular go-to goody, so why give someone just one when you can give them three? This lip balm kit features lysine & herbs for cold sores and irritated lips, refreshing organic mint, and sweet cherry.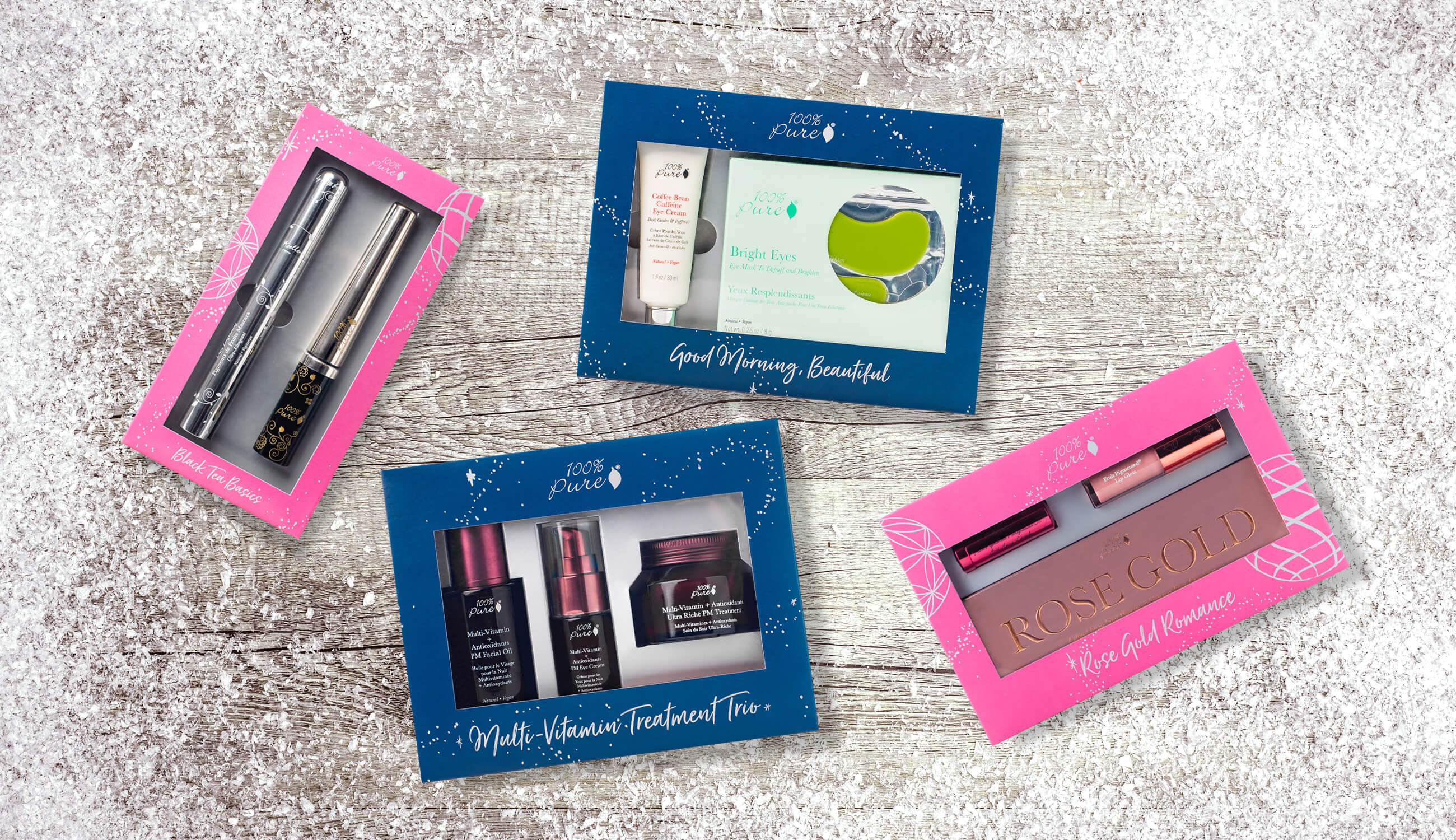 Boxed Gift Sets
Gift boxes are the perfect solution for the gift-giver who loves to blow their friends away with a fantastic present, but is also a strong proponent of the "work smarter, not harder" mentality.
Each of our gift sets has been curated with a specific set of benefits, and comes beautifully packed in a gorgeous box with sparkling foil details. You can add a bow, or just gift them as they come!
Multi-Vitamin Treatment Trio, $98
This holiday gift set is the ultimate collection for that friend who's super serious about skin care, or looking to hone their anti-aging regimen. This ultra-potent, vitamin-concentrated trio will help the giftee fight free radicals, moisturize the skin, and provide a vibrant glow.
Korean Sheet Mask Essentials, $22
It's not a girls' night without sheet masks! This kit features 5 of our signature Korean sheet masks and our best-selling hydrogel eye mask. It can be given as a set, or divvied up between stockings.
Nighttime Skin Rejuvenation Set, $82
Retinol is the star ingredient in this gift set, making it perfect for those looking for repair, rejuvenation, and a more youthful glow. Featuring the Retinol PM Eye Cream, the Retinol Restorative Overnight Balm, and a 5-pack of Wrinkle Smooth Sheet Masks, this gift box is going to leave the recipient's skin feeling baby-soft.
"Good Morning, Beautiful!" Gift Set, $42
While you might not be able to give them more sleep, this gift set can help them fake it 'till they make it! A 5-pack of Bright Eyes Mask plus Coffee Bean Caffeine Eye Cream work wonders for restoring skin hydration and a vibrant, rejuvenated glow.
Top Recommendations for New Products
While we would all love to own every new product as soon as it's released, sometimes our dreams simply don't work out how we'd imagined! Treat your bestie, mom, or nanny to a self-pampering treat courtesy of brand new 100% PURE® products!
Lavender Oat Milk Cleanser, $30
We all know someone who loves lavender, and this powder-based cleanser was made just for them! Featuring skin-soothing oats and moisturizing coconut milk, this formula gently exfoliates without over-stripping the skin barrier, while providing added aromatherapy benefits.
Fruit-Pigmented Lip Gloss, $22
These lip glosses make your smile look luscious, plump, and hydrated all day long. We source shades from pigments found in nature, like blackberry, pomegranate, and cherry. These lip glosses feature nurturing vitamin E oil to moisturize the skin, and offer a variety of 5 stunning shades.
If you have a tea enthusiast in your life, go a step further than a few tins of basic tea! With matcha as the main ingredient, the wearer of this replenishing powder mask will benefit from protective antioxidants, soothing calendula, and deep hydration from hyaluronic acid.
Though we often associate the holidays with cooler weather, everyone is still susceptible to the free radicals brought on by UV rays. Our Green Tea SPF lotion protects your family and friends from the harmful UV rays with SPF 30, while keeping skin cool and hydrated with green tea and aloe.
While "cruelty free" can be a tough category to navigate for newbies, it's clear that nature-friendly beauty isn't so hard when you have a holiday gift guide to show you where to look! Remember: the spirit of giving lives in the moments you spend with your loved ones. Whether that's a sheet mask night, an afternoon of board games, or a day spent giving back to your community, we wish you a truly fulfilling season of giving!
We carefully hand-select products based on strict purity standards, and only recommend products we feel meet this criteria. 100% PURE™ may earn a small commission for products purchased through affiliate links.
The information in this article is for educational use, and not intended to substitute professional medical advice, diagnosis, or treatment and should not be used as such.
Sign up to our email newsletter for more blog updates and exclusive discounts.
< Older Post | Newer Post >