The 100% PURE Ingredient Glossary
Your ingredient dictionary resource for our PURE ingredients
Posted on April 13, 2022
Written by: 100% PURE®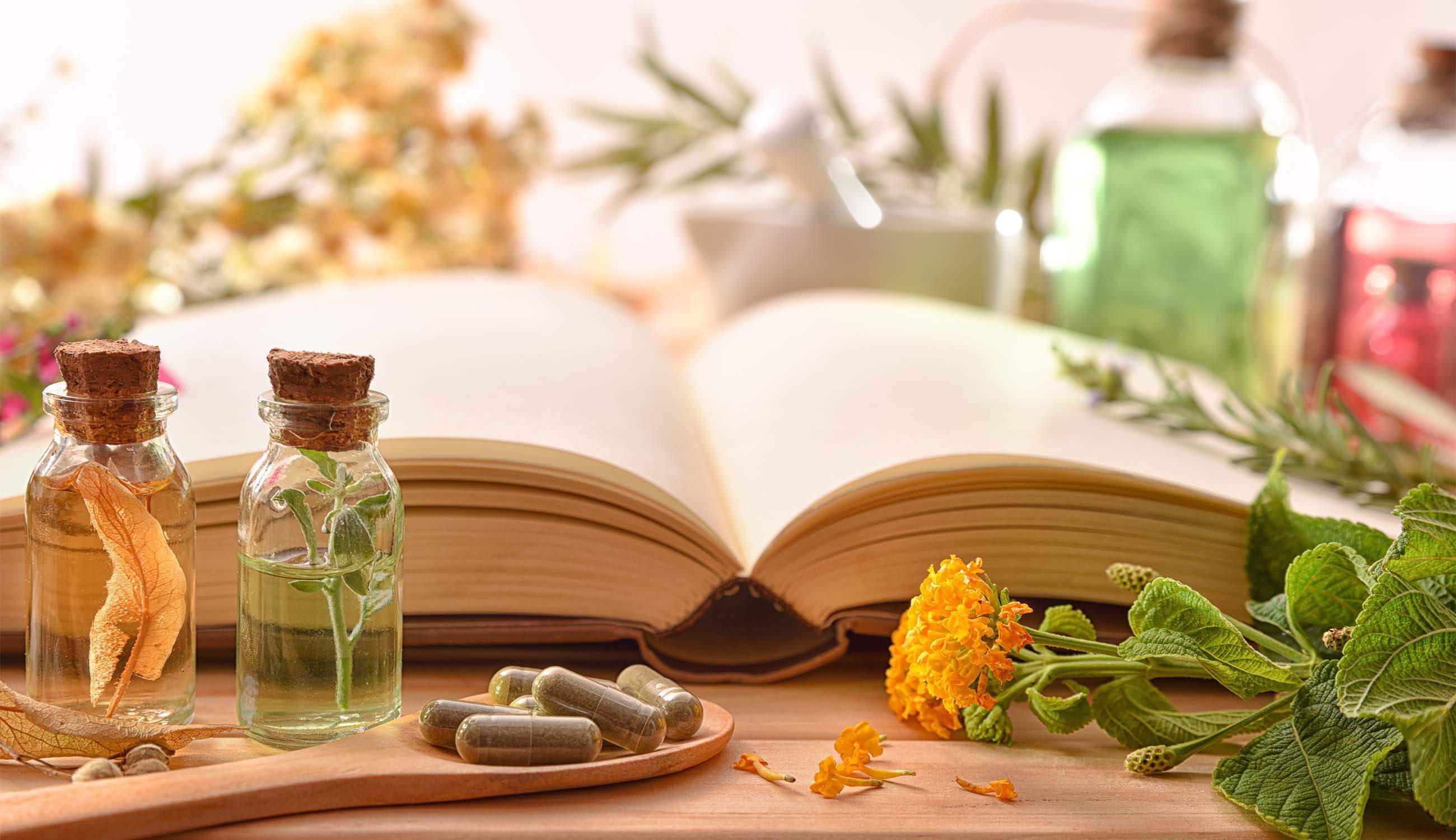 To us, 100% represents more than a number. It's not a measurable quantity, not a symbol of perfection – it stands for an ideal. As a standard, 100% PURE products are developed through conscious chemistry and responsible formulations with only the purest ingredients.
Other than starting in nature, the best way we can 'grow' our standard is by providing you with a comprehensive guide on our natural ingredients. We find that the ingredients that fit these standards are the purest ingredients for skin care and cosmetics.
So, what are the benefits of our ingredient dictionary, and how do you use it? What is a 'common' name versus a 'scientific' name? Let's find out!
What Is Our Ingredient Dictionary?
As its name implies, our ingredient dictionary is an A-Z resource for the ingredients you'll see on our labels. At 100% PURE, instead of choosing synthetic ingredients that might be cheaper or more readily available, we have allowed our formulas to remain truly pure by simplifying the process.
We start in nature with ethically sourced ingredients that have naturally occurring benefits. We are 100% transparent in our formulations and how they adhere to strict purity standards. Our products will never contain harsh or toxic ingredients.
We find that the ingredients that fit these standards are the purest ingredients for skin care and cosmetics. While the standard of ingredient purity is extremely important to us, it's just as important to ensure that each ingredient we use is cruelty-free.
Newsletter
Subscribe
for more blog updates and exclusive discounts
With the overall standard of purity in our products, it's important to us to be 100% transparent. That's why we created an ingredient dictionary for you to feel more empowered to make informed decisions about what you put on your bodies.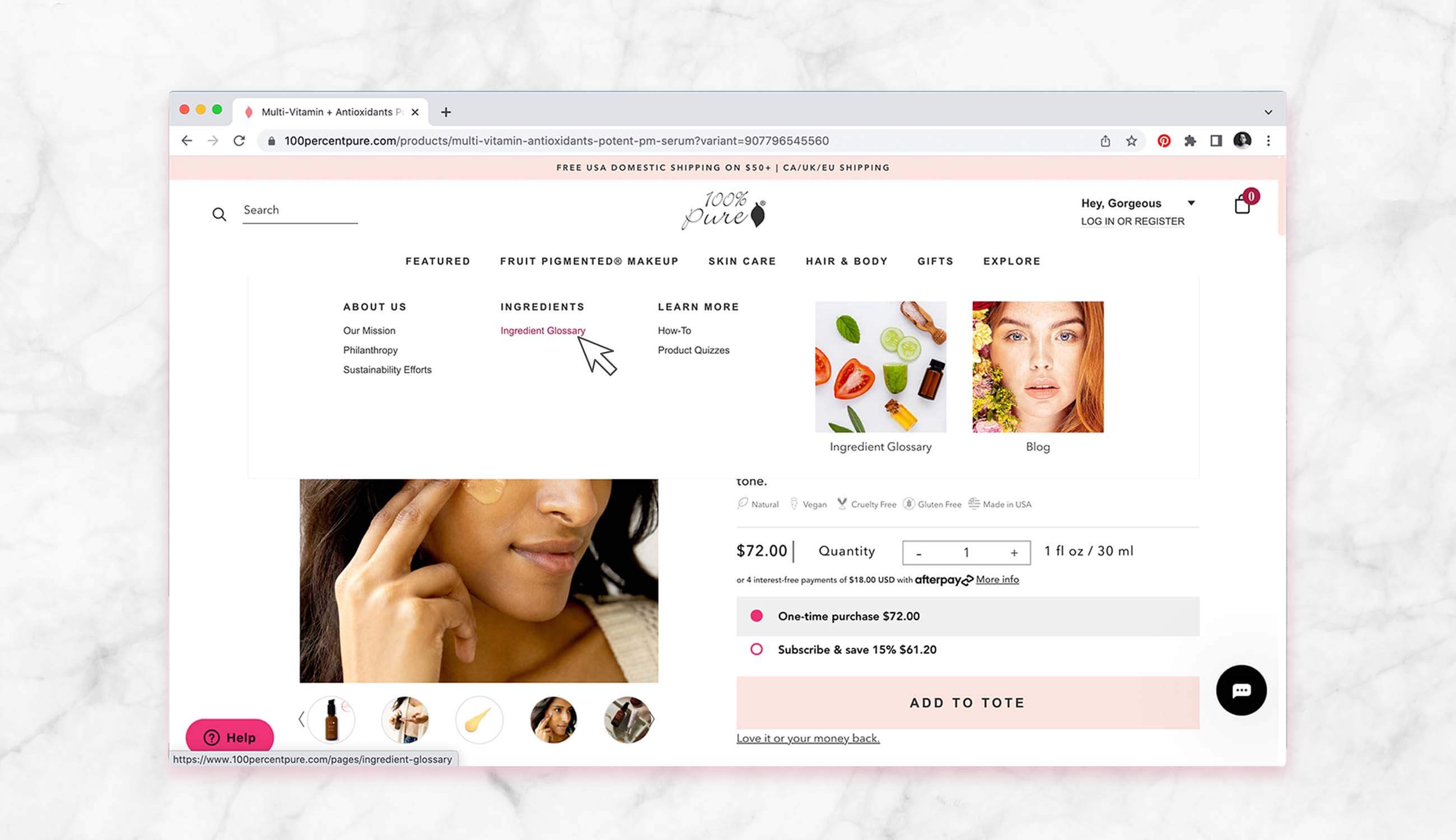 How to Use Our Ingredient Dictionary
We have a plethora of natural skin care and cosmetics products where we source natural pigments from fruit, vegetables, tea, cocoa, and minerals. With this variety, we found that providing an ingredient dictionary can only help when you come across an unfamiliar ingredient or are curious to learn more about its benefits.
With a simple click of our ingredient dictionary, you'll arrive at a one-stop shop to learn about ingredients galore. We start with Acai Berry Extract, which amazingly stimulates collagen, and we define ingredients all the way through to Zinc Oxide, which naturally blocks UV rays.
What's even better is even if you didn't know the added perks of these ingredients, with a quick click of a tab on our ingredient dictionary page, you'll be on your way to finding out how our ingredients can benefit your skin, hair, body, and more!
What Is a 'Common' Name Vs. a Scientific Name?
When it comes to skin care, you can't always trust chic packaging or rosy marketing language that promises "plump, firm, clear, youthful, flawless skin". Some brands can say pretty much whatever they want, and they often paint ingredients in confusing jargon that's hard to pronounce. It can be tough to decipher what the common names of some scientific names are.
As its name implies, the 'common' name of an ingredient is the human-understandable and acceptable equivalent name for a skin care or cosmetic ingredient. The 'common' name for natural ingredients is most often the name that is listed by the natural brand, making it the common name that the consumer will understand.
So, it's up to us consumers to learn to understand ingredient labels. That's why it's important to us to have an ingredient dictionary with common names versus scientific names or INCI ingredients. That way, we're able to find the most effective product for our skin, saving us time, money, and breakouts.
More often, though, INCI names, for example, can differ greatly from their common or scientific names. Any sort of water, whether it be purified water, deionized water, demineralized water, or just plain old water, becomes aqua, which is pretty universally understood to be water. Vitamin E is also known by its INCI name, tocopherol. But we recognize it more by its common name of vitamin E.
While it might seem cumbersome to have such a comprehensive ingredient dictionary, our goal is to provide the most up-to-date and transparent list of natural ingredients to our consumers that can easily be understood – hence, the common names. That way, you can be well on your way to feeling confident about what's going on your skin.
We believe that responsibly, ethically sourced ingredients are symbiotic with the overall standard of purity in our products. We want to extend that to you in the purest form possible.
We carefully hand-select products based on strict purity standards, and only recommend products we feel meet this criteria. 100% PURE™ may earn a small commission for products purchased through affiliate links.
The information in this article is for educational use, and not intended to substitute professional medical advice, diagnosis, or treatment and should not be used as such.
Sign up to our email newsletter for more blog updates and exclusive discounts.
< Older Post | Newer Post >