Our Favorite Niacinamide Products of 2022
Discover the best skin care products that boast the benefits of niacinamide
Posted on January 7, 2022
Written by: 100% PURE®
As lovers of skin care, we're always looking for ways to make our skin dewier, smoother, and brighter. But we're also looking for products that'll prevent oiliness, shrink pores, and deter the onset of wrinkles. Sadly, though, there's no such thing as a skin care ingredient that can truly do it all.
Or is there? Today, we're putting the spotlight on niacinamide. We'll explore why we love it and our 6 favorite products for 2022!
Why We Love Niacinamide In Skin Care
So what is it that makes niacinamide such a darling in skin care? To put it quite simply, niacinamide makes a fantastic ingredient because it's notably gentle, efficacious, and incredibly versatile. But let's go into more detail about the benefits.
For starters, niacinamide is incredibly restorative. It can help the skin build a healthy lipid barrier, which will help it stay moisturized in the long run. And on top of that, it can help replenish keratin, which is a crucial protein that works to keep your skin firm.
Additionally, niacinamide is both soothing and purifying. While it's known to help expel excess sebum from the pores, it's also known to help regulate oil production and even reduce pore size over time.
But what's more is that clinical trials like this 2004 study show that niacinamide can ease inflammation, and may even help to calm down redness and blotchiness. To make these benefits even better, niacinamide is remarkably mild on the skin. It also interacts well with most other ingredients. This means that more often than not, you can combine your niacinamide in the evening with other actives.
Who Is Niacinamide Right for?
Thanks to its multifaceted nature, we have good news: niacinamide is great for all skin types! But as with any ingredient in skin care, some individuals may benefit a little more from it than others.
For example, you may especially benefit from niacinamide if you have acne-prone skin. That's because, as we mentioned above, niacinamide is anti-inflammatory, which can be soothing for irritated, bumpy acne.
Niacinamide can also work wonders for dry skin. It's known to help boost your skin's hydrating factors while strengthening the barrier, promoting long-lasting moisture. And in that same vein, niacinamide may be especially helpful for eczema-prone skin, which is characterized by a damaged barrier.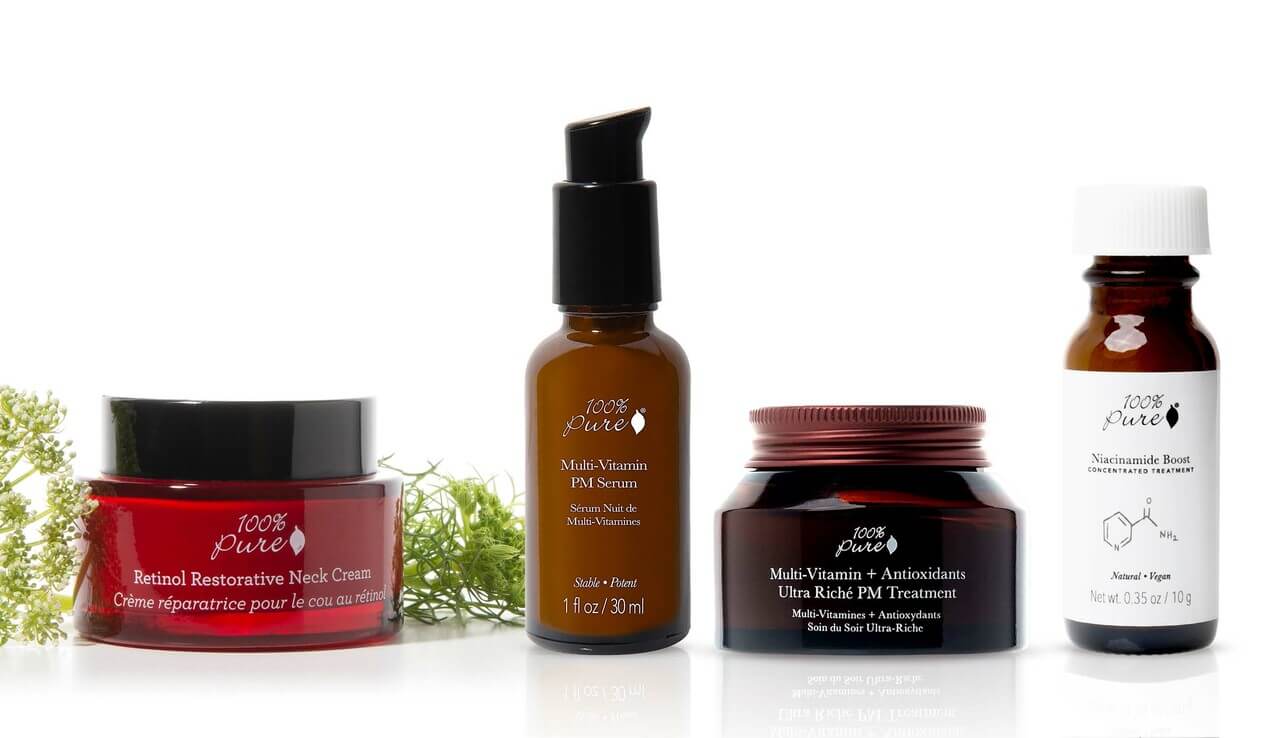 Our 6 Favorite Niacinamide Products for 2022
Regardless of your skin type, there's a good chance that niacinamide will benefit your skin! But of course, it's always recommended to choose a product that'll work for you. Without further ado, here are our 6 favorite niacinamide products this year. They are all made with natural ingredients and cruelty-free practices.
#1: Niacinamide Boost
If you want a niacinamide product that packs a serious punch, look no further than our very own Niacinamide Boost!
This supercharged serum isn't your typical dropper bottle – it comes as a powder. It is activated by water to rejuvenate the skin's texture, promote firmness, and minimize the appearance of pores with concentrated niacinamide and hyaluronic acid.
#2: Retinol Restorative Neck Cream
All too often, we forget to focus our skin care on the neck, though it's often one of the first parts of our bodies to show signs of aging!
If you're looking for a niacinamide product that maxes out the anti-aging factor, our Retinol Restorative Neck Cream is perfect for brightening, smoothing, and firming the skin with niacinamide, retinol, and hyaluronic acid.
#3: Multi-Vitamin + Antioxidants Potent PM Serum
For a simple, yet effective anti-aging boost, our Multi-Vitamin + Antioxidants Potent PM Serum uses Magnesium Ascorbyl Phosphate – the highest-quality, most stable form of vitamin C. While niacinamide and vitamin C often don't mix well, this stable form creates a synergistic connection between the two actives, supercharging them both against dullness, fine lines, and wrinkles.
#4: Multi-Vitamin + Antioxidants Ultra Riché PM Treatment
For something a little more luxe, our Multi-Vitamin + Antioxidants Ultra Riché PM Treatment is here to give your skin an extra luxurious experience. With vitamin C, retinol, and niacinamide, this velvety-smooth formula works as an anti-aging powerhouse for any skin type.
#5: Ilia's Super Serum Skin Tint SPF 40
Skin tints became ultra-popular during the height of quarantines and mask mandates, and we don't foresee them going away anytime soon. Skin tints are beloved for the way they can blur the skin while blending flawlessly with our skin's texture, and Ilia executes this beautifully.
#6: Biophile's Bio-Shroom Rejuvenating Serum
Sometimes, we like to splurge a bit on skin care. And when we do, the least we can do is choose a product that's worth the money, like Biophile's Bio-Shroom Rejuvenating Serum.
It's no secret that mushrooms are having a moment right now, and (as we've already declared) for good reason! This serum is made with snow mushroom and niacinamide. It also includes a wealth of impressive, potent ingredients like fermented pumpkin enzymes, radish root, and peptides, which help soothe, plump, and brighten the skin.
We carefully hand-select products based on strict purity standards, and only recommend products we feel meet this criteria. 100% PURE™ may earn a small commission for products purchased through affiliate links.
The information in this article is for educational use, and not intended to substitute professional medical advice, diagnosis, or treatment and should not be used as such.
Sign up to our email newsletter for more blog updates and exclusive discounts.
< Older Post | Newer Post >