NEW: Mom's Choice Product Selections
An intro to pregnancy-safe skin care, plus ingredients to avoid for pregnant and nursing mothers
Posted on December 9, 2020
Written by: 100% PURE ®
Whether you're an expecting or new mom, shopping for pregnancy-safe skin care can be a big stressor. Just when you've perfected label QAing at the grocery store, now you've got to use mom radar to weed out nasty ingredients in makeup and skin care products.
Luckily, brands have started making it easier to navigate pregnancy-safe skin care, makeup, hair care and more. So whether you're prenatal or postpartum, it's never been easier to find safe products for you and your bundle of joy.
Since there are as many natural skin care choices as there are baby purees, we're here to help take out the guesswork. Let's explore why mom-safe products are so important and which ingredients to avoid – plus we'll introduce all new Mom's Choice selections that have our stamp of approval!
Why Mom-Safe Products Are Important
Natural skin care products for pregnant or nursing moms are key for keeping our skin and bodies healthy and beautiful. Choosing natural skin care means avoiding toxic ingredients that could potentially cause harm to our bodies or worse – unborn or newborn children.
Many harmful chemicals in conventional skin care have been proven to be easily absorbed by the mother's body. Common culprits like parabens and phthalates can disrupt hormone function or even increase the risk of birth defects. These ingredients pose a threat to a developing fetus, while others should be avoided postpartum since they can pass into breast milk.
The good news is that there are many non-toxic skin care options that can help keep you and baby-on-board safe, healthy, and happy. It's important to double-check ingredient lists and familiarize yourself with what's safe to use – or want to avoid.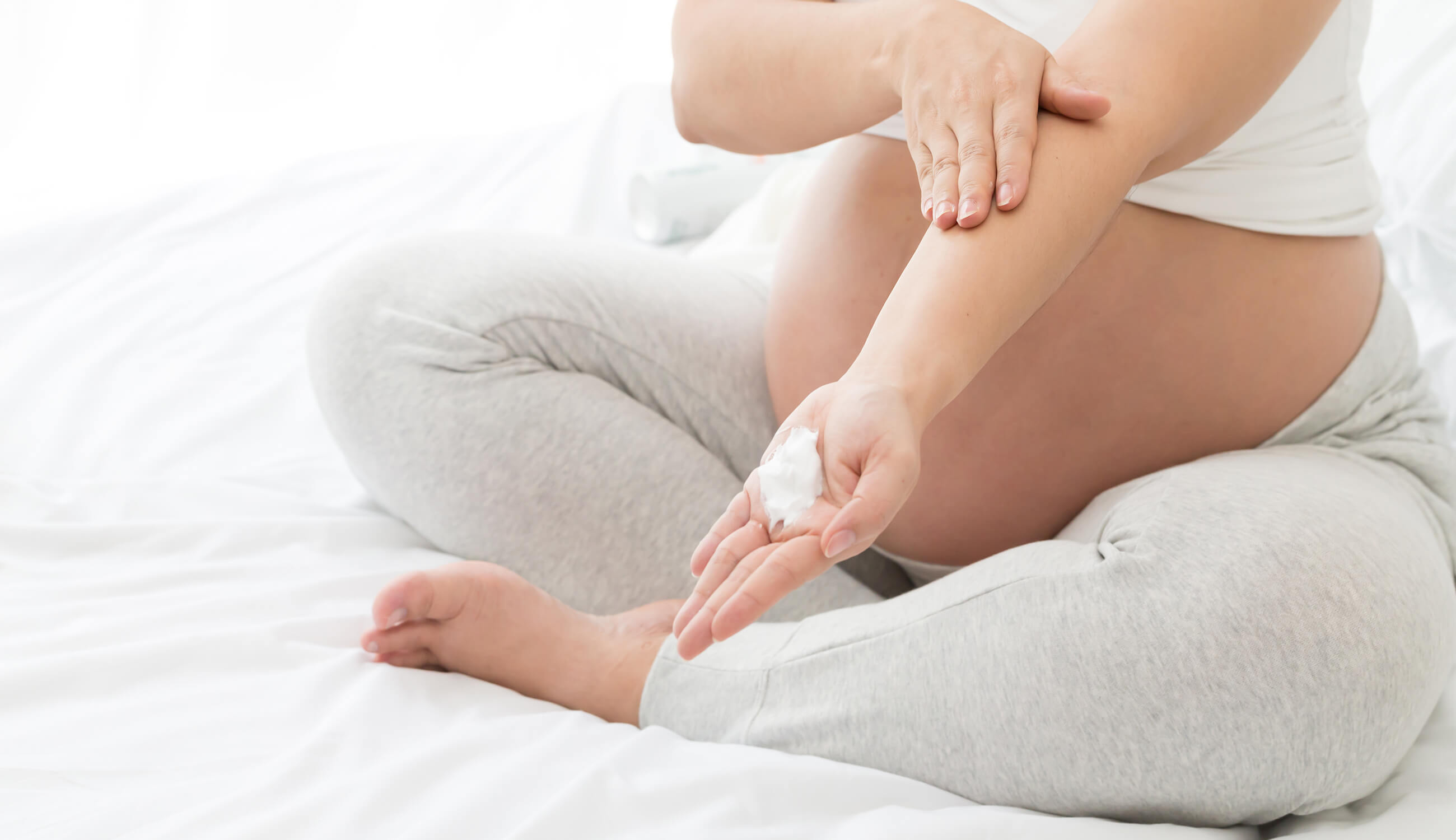 What Makes Our Mom's Choice Selections Safe for Your Family?
As mothers, our number one job is to look out for the safety and wellbeing of our family. It's one of the key reasons why we highly recommend using clean, natural skin care products. We took it a step further and created our Mom's Choice seal of approval.
Products with the Mom's Choice logo adhere to ingredient standards commonly believed to be safe and beneficial for expectant or nursing mothers. You won't find harmful ingredients here – but you should still know which ones to avoid, and why.
Note: Our Mom's Choice products, like all 100% PURE™ products, are free of parabens, phthalates, DBT, toluene, hydroquinone, formaldehyde, talc, quats, aluminum, PEGs, petroleum, and chemical sunscreen agents.
#1: Made with only mineral or fruit pigments
While other color cosmetics are colored with synthetic or heavy metal dyes, our products are colored from pure fruit, vegetables, or earth-based pigments.
#2: NO Retinol
Retinol has been linked to certain birth defects, and has also been shown to pass into breast milk. While retinol has many benefits for the skin, it's best to avoid it when pregnant or breastfeeding.
#3: NO Hydroquinone
Though hydroquinone hasn't been shown to cause congenital birth defects, it has been noted to be highly absorbed into the skin. It's generally recommended to avoid this skin brightening ingredient altogether while pregnant or nursing. Ingredients like sake (fermented rice), kojic acid, and citrus are fabulous alternatives to hydroquinone – even if you aren't pregnant or nursing.
#4: NO Salicylic Acid
Oral salicylic acid during late pregnancy can increase the risk for intracranial bleeding. While studies suggest that topical salicylic acid products are OK to use sparingly during pregnancy, you'll need to make sure they're lower than 2% concentration. It is also recommended to avoid excessive use of other topical treatments containing beta hydroxy acids (BHAs).
#5: NO Formaldehyde, DBT, or Toluene
Prolonged exposure to formaldehyde and related chemicals like dibutyl phthalate (DBT) and toluene – common in nail polishes – have been associated with adverse reproductive and developmental effects and toxicity.
#6: NO Parabens
Parabens are preservatives that prevent mold and bacteria growth. Bear in mind that these chemical culprits can be absorbed through the skin and enter your bloodstream, where they can reach your baby. Parabens have been linked to breast cancer, endocrine disruption, and reproductive issues.
#7: NO Phthalates / NO Perfumes
Perfumes and other fragrances contain phthalates, which could be harmful for baby. Since they've been linked to reproductive issues, ADHD, asthma, cancer and more, we leave them out of every 100% PURE™ product. That means all Mom's Choice products will be phthalate-free.
#8: NO Quats
Quaternary ammonium compounds or Quats, are common chemicals in hair care. Pregnant women and developing babies can be particularly vulnerable to a range of developmental effects with Quats. Our hair care is arguably the cleanest on Earth – and we've got the ingredients to prove it.
#9: NO Talc
Though talc (also known as talcum powder) has been used in makeup for longer than we'd like to think, it's been linked to asbestos-tainted products. This known carcinogen is a no-no for any type of mom.
#10: NO Aluminum
Aluminum is a "known human nervous system toxicant". Therefore aluminum toxicity may be of particular concern to the developing fetus and should be avoided.
#11: NO Oxybenzone or Avobenzone
Chemical sunscreens with oxybenzone or avobenzone could affect your newborn's health. They're absorbable, which could mean a myriad of birth defects and endocrine disruptors for babies.
#12: NO PEGs
Polyethylene glycols are petroleum-based ingredients added to almost every moisturizer, body cream, primer, and serum on the market today. They are used to enhance absorption and moisture retention, but can also facilitate absorption of other chemicals into the bloodstream. Carcinogen contamination, organ toxicity, and irritation are just a few potential side effects of PEGs.
A Note on Essential Oils
Certain essential oils should be avoided in pregnancy when taken internally – these include clary sage, tansy, parsley, aniseed, wintergreen, camphor, rosemary, peppermint, and thyme. This has led to conceptions that they should be avoided topically as well, though dose size, dilution, and potency may be determining factors.
Some products with the Mom's Choice logo may contain small amounts of rosemary, peppermint, or thyme essential oil for antimicrobial and preservative function. If pregnant or breastfeeding, discuss usage tips with your primary healthcare provider if you are concerned about using certain essential oils on the skin.
Pregnancy-Safe Skin Care for New or Expecting Moms
Now that we've gone over which ingredients to avoid while pregnant or nursing, let's talk about the good stuff: what you and +1 can use!
These are our favorite pregnancy-safe skin care options – plus hair, body, and makeup. You can find them by visiting our Mom's Choice collection page, or by looking for the Mom's Choice logo on our product pages.
Stretch Marks
Stretch marks are normal and often accompany pregnancy. Don't fret if you have some marks – they signify your warrior status for growing a HUMAN inside your body! But with the right blend of pregnancy-safe ingredients – like those in our Coconut Whipped Body Butter – stretching skin will feel comfortable and supported while you grow.
Hyperpigmentation/ Melasma
When you've got a baby on board, chances are you've come across the term "pregnancy mask", which is code for melasma caused by normal hormonal shifts. Fortunately, vitamin C is a heavy lifter for lightening the appearance of dark spots in our Vitamin C Serum, Vitamin C Mask, and Vitamin C Concentrated Boost.
Acne
Pregnancy and postpartum acne are caused by hormonal fluctuations, and can be pretty annoying to tackle amidst swollen feet or cluster feeding newborns. Fight back with our Green Tea EGCG Concentrate Cream, which is made with non-comedogenic olive squalane and caffeine.
PRO-TIP: Surprisingly, many topical coffee/ green tea/ caffeine products are considered safe because pregnant women can have up to 200mg of caffeine per day. It's highly unlikely that any topical treatment would provide anywhere near 200mg of caffeine. For this reason, some Mom's Choice products will contain caffeine for skin or hair benefits.
Dry Skin
Hormonal imbalances can also cause 'tired new mom' skin. You can treat yourself with our decadent body butters, but your face may need extra TLC for dryness. Just like a tall glass of water, our Hydra Drench Cream will instantly quench thirsty, dehydrated skin.
This formula feels lightweight and sinks in easily for fast results – a big plus for new moms! Its gel-lotion texture comes from the blend of the chia gel, coconut oil, and shea butter designed to calm and balance skin.
Hair Loss
Some mamas may experience hair thinning or hair loss during or post pregnancy. While concerning, hair loss is normal to support your growing bundle of joy or can be caused by stress on the body. Don't fret, as it's all temporary! Just stick to natural products and supplements that can boost hair growth.
A great duo for your hair loss woes is our Grow More Shampoo and Conditioner. Formulated to reduce shedding and promote healthy hair growth, these formulas will help add bounce and body to hair while your postpartum system finds balance. Finish with the ProVitamin B5 Smoothing Hair Serum to help strengthen your strands, and to give hair a smoother appearance without the straightening iron.
As we said before, pregnancy can be magical – but it can also overload you with lots of "what ifs"! Finding pregnancy-safe skin care products is only a little piece of the puzzle, and it doesn't have to be hard. Use our Mom's Choice logo to free up time for YOU to sit back, relax, and enjoy every special memory or pregnancy and beyond.
We carefully hand-select products based on strict purity standards, and only recommend products we feel meet this criteria. 100% PURE™ may earn a small commission for products purchased through affiliate links.
The information in this article is for educational use, and not intended to substitute professional medical advice, diagnosis, or treatment and should not be used as such.
Sign up to our email newsletter for more blog updates and exclusive discounts.
< Older Post | Newer Post >