How to Layer Skincare for the Best Results
Options for layering all your favorite skin care products
Posted on March 29, 2021
Written by: 100% PURE®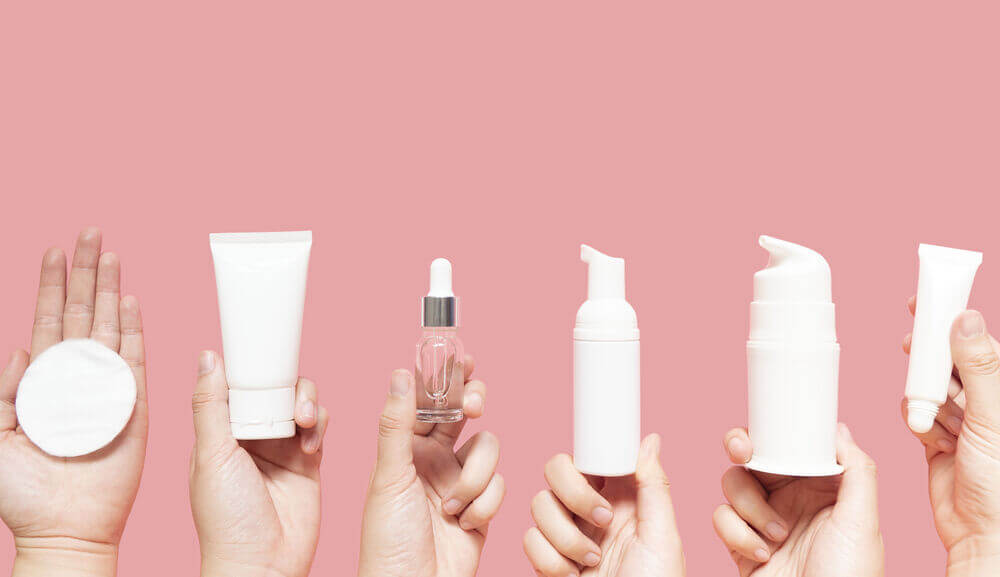 Not sure where to start with your skincare products? Having a huge collection of products is one thing, but knowing how to layer skincare makes all the difference.
Applying our products in the appropriate order not only ensures that our products work their best, but can actually make them more effective overall. This easy step-by-step guide will help steer you in the right direction!
4 Skincare Myths, Debunked
Let's set the record straight and debunk some myths about how to layer skincare!
MYTH#1: Oils are bad
Using oil-based products on your skin is not bad – choosing the right oil for your skin type or makes all the difference.
MYTH #2: Eye cream doesn't do anything
The skin around our eyes is extremely delicate – more so than the rest of our face – and is therefore more prone to signs of aging. It's important to use targeted products to hydrate and moisturize this area, to ensure skin remains supple.
MYTH #3: SPF is unnecessary inside
Even after a whole year spent in our living rooms, we can confidently say we've still been keeping up with our SPF protection. After all, you can still get UV exposure indoors, especially if you work in front of or near a window.
MYTH #4: Oily skin doesn't need moisturizer
Another falsehood that makes us shudder. Oily skin, just like all skin, is desperately seeking balance. Find a moisturizer that balances sebum, while adding essential hydration. If you skip moisturizer regularly, your oily skin will only get oilier as it attempts to make up for what you're not providing.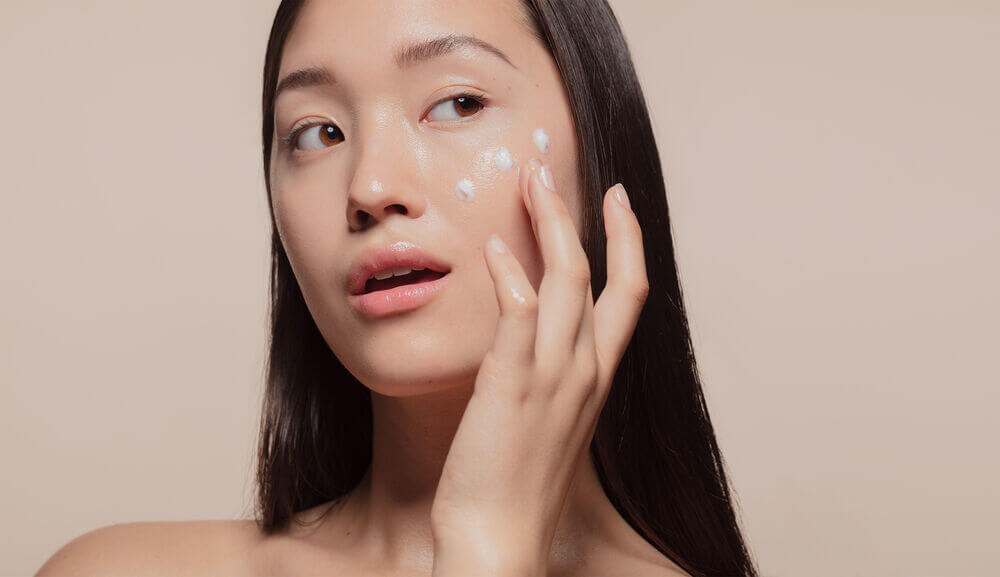 How to Layer Skin Care for Daytime
With some products, it's easy to see why one would comes before another. Take cleanser, for example: you'll obviously need to wash away makeup and debris before applying anything else. From cleanser to sunscreen and everything in between, let's talk about why this particular order works so well.
Step 1: Cleanser
Assuming we're fresh out of bed, a facial cleanser will wake and refresh skin by removing excess oils and surface debris. The cleaner your skin is before you begin, the better your other products will be absorbed.
Step 2: Toner
Toner is the wingman to our cleanser, sweeping into pores to remove any lingering impurities. We also see added benefits of hydrating the skin, balancing skin pH, and tightening pores for a smoother complexion.
Step 3: Serum
At its most base function, a daytime serum should provide hydration. Beyond that, think of face serums as your daytime 'treatment' product. They're normally concentrated with antioxidants to defend skin during the day, and added vitamins for targeted results.
Step 4: Eye Cream
Go in with an eye cream after your serum, since most serums are meant to be used around the eye area. Layer products in order of richness for the best rate of absorption and longest lasting moisture.
Step 5: Moisturizer
Using a facial moisturizer will help your skin maintain moisture levels throughout the day. Moisturizers will also seal in your serum treatments, and will help keep water (hydration) from escaping your skin.
Step 6: Facial Oil
No matter if you're oily or dry, there's a facial oil for you – and you should consider using it. This second-to-last product helps provide enriching moisture, while also giving skin a touch of dewy, youthful radiance.
Step 7: Sunscreen
Of course, no daytime routine could be complete without a broad spectrum SPF. This helps protect our skin from damaging UV rays that cause premature aging, damage, and weakening of our skin. We always want to make this the last step in our routine, to ensure the sun-blocking agents are fully functional.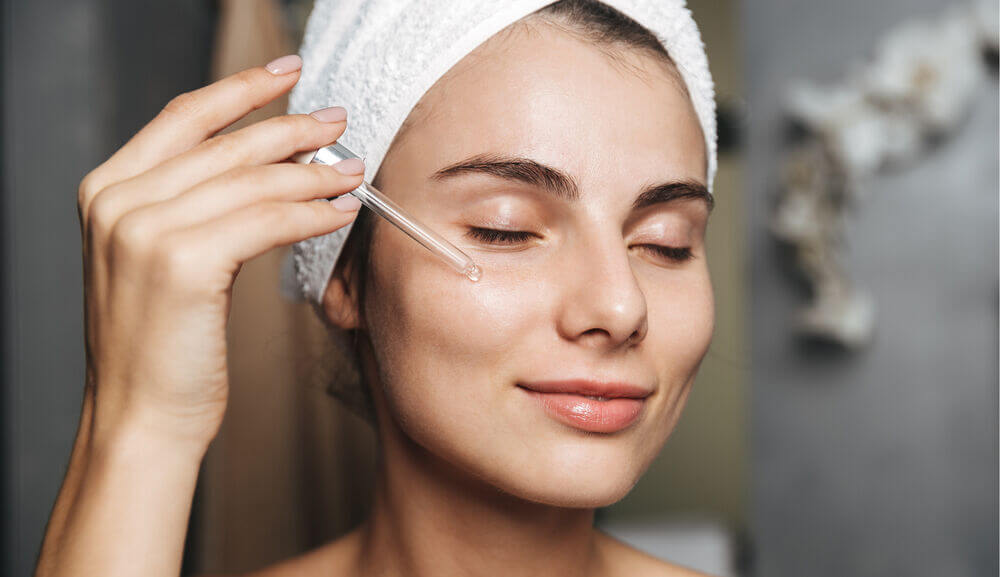 How to Layer Skin Care for Nighttime
If skincare was a zodiac sign, it would be a Gemini. There are different rules for both day and night – let's focus on how to layer skincare for nighttime!
Obviously, the nighttime order shakes things up a bit. While most of us still start with a cleanser, especially to remove our makeup and get ready for bed, there's little need for SPF in our dreams.
We also like to give products extra time to absorb in the evening (the same way we give ourselves a few extra minutes of binge-watching before we start our bedtime routine). Here's the order we stick to for heading into Lala-Land.
Step 1: Cleanser
While cleansing is still the best place to start, this step may look a bit different for evening. Start with a makeup removing cleanser, or opt for a double-cleanse technique. This guarantees pores are clear of makeup and debris, to make overnight products more effective.
Step 2: Toner
In the evening you can try a toner or essence that addresses scarring, dead skin, or texture by incorporating acids that may make us more sensitive to sunlight. Stronger glycolic toners or those with high doses of acids may also be better suited for night – especially if you have sensitive skin.
Step 3: Serum
Layering a skincare serum at night can depend on the toner you use. If you're going with an anti-acne or brightening toner, try following-up with a more calming or hydrating serum made with hyaluronic acid. This bodes well for bedtime, when skin hydration levels tend to dip.
Step 4: Eye Cream
We're still going for an eye cream next, but for evening we may choose something with longer lasting hydration. Whether you prefer a lightweight eye oil or a rich and creamy option, targeting your eye area at night is key for lasting results.
Step 5: Skin Treatment
Nighttime is the best time for our skin to heal and repair. This means you may want to add in skincare treatments that address acne, scarring, or dark spots. Go in with a spot treatment, face mask, or facial peel.
Step 6: Moisturizer
For your moisturizing step, go in with something that will last all night – and compliment our other products. Soothing ingredients that heal active blemishes, vitamins that support collagen and glow, or extra hydrating components are all great places to start.
You might choose to use a retinol moisturizer during this step, since we can't use this one during the day. Retinol promotes youthful texture by stimulating cellular renewal, to lessen the look of fine lines and dark spots.
Step 7: Facial Oil
At the end of your nighttime routine, oils act like a seal coat. They keep everything in place while we sleep, supporting overnight hydration and repair as they slowly absorb.
Step 8: Sleeping Mask/ Balm
Oh, yeah, there's one more thing: if you have a sleeping mask lying around, take it to bed with you. Heavy balms that tackle stubborn dry spots can also be applied last.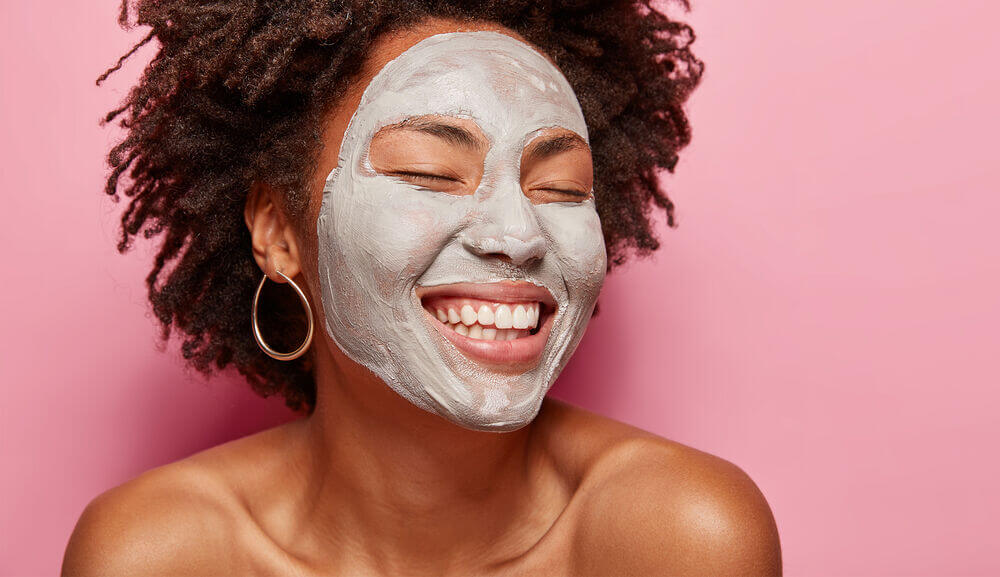 How to Layer in Specialty Treatments
There are all kinds of skincare goodies that don't fit neatly into the "how to layer skincare" box. Pimple patches and other spot treatments, for example, work well applied before retinoids, while sheet masks might take the place of a serum. Here's a quick cheat sheet!
Sheet Masks
Can be used morning or night, taking the place of a serum or layered on after a serum.
Spot Treatments and Pimple Patches
Best used in the evening, but can also be used in the daytime applied after serum but before moisturizer.
Facial Roller or Gua Sha
Can be used morning and night, ideally paired with a moisturizer or facial oil.
Peeling Pads/Facial Peels
Best used in the evening after toners and serums, but before moisturizers and oils.
Sleeping Mask
Best layered over all evening skincare, or used instead of a nighttime facial moisturizer/oil.
Facial Mist
The short answer: anytime, anywhere! But we especially love applying these at the tail end of our morning routine (before sunscreen), to help our skin drink up everything we've applied.
We carefully hand-select products based on strict purity standards, and only recommend products we feel meet this criteria. 100% PURE™ may earn a small commission for products purchased through affiliate links.
The information in this article is for educational use, and not intended to substitute professional medical advice, diagnosis, or treatment and should not be used as such.
Sign up to our email newsletter for more blog updates and exclusive discounts.
< Older Post | Newer Post >