DIY Spa Routine for Combination Skin
Pamper yourself with simple skin care strategies and essential self-care tips
Posted on September 2, 2019
Written by: 100% PURE®
Do you know the average cost of a facial at a spa? A basic treatment is about $100, whereas a comprehensive facial will run you a few bills – and that's not including the tip. That's a car payment for us average folks! According to a study for Byrdie, the average woman spends about $313 per month on her appearance – and is likely to drop the most money on spa facials.
There's no judgement in wanting to look and feel our best. In fact, it's good for your beauty soul to indulge from time to time on a professional facial at a fancy spa. But it's even greater for your wallet to pamper yourself without spending a fortune, or having to leave your home.
We've consulted our in-house beauty experts and whipped up an easy DIY spa session for one of the most common skin types – combination skin! Let us lead you through the ultimate skin balancing routine for combo skin, plus ways to achieve that professional spa glow from the comfort of your home.
How to Prepare for Spa Day
Ready to jump into your most heavenly DIY home spa experience ever? Let's get started with bringing some of those super-spa perks into our own homes!
First, you'll need a glass of H2O handy to hydrate and help detoxify your body. You can also make your own spa water – you know, the kind you're usually greeted with at a fancy spa. One of our favorite recipes is adding freshly sliced cucumber and mint leaves into a pitcher of water, and storing it in the fridge for a cool glass of spa-wesome whenever you need it.
Keep your glass nearby to sip it between treatments – especially after step #3!
Stage Your Space
To get a classic spa vibe going, create a relaxing atmosphere for your treatments. Dim the lights and use clean-burning, air-purifying soy wax candles for soft and gentle lighting. Another option is to feed your senses with soothing aromas by diffusing essential oils. Our favorite scents for spa relaxation and self-soothing are eucalyptus and lavender.
If you enjoy relaxing music, find or create a spa playlist. Nothing brings out our Zen like lapping waves, or a healthy dose of Etta James. Grab your most luxurious towels, your coziest robe, and your softest slippers. This way you'll have everything you need, ready to go for the perfect pamper session. Remember, this is your own romance session between you and you!
An Easy DIY Facial for Combination Skin
Combination skin may be the most common type of skin out there, but it certainly has its own unique set of needs. Sometimes it craves moisture, sometimes it requires oil control – or a combination of both! If your combo-confused skin seems to have a split personality, then you probably struggle every single day with trying to make both parts of your skin happy.
We get it – and we've got your back! Your skin care routine calls for a perfect combination of what oily skin craves and dry skin needs. Proper cleansing, exfoliating, steaming, and sealing are key. We've come up with an easy home-spa routine for balancing combination skin, while preserving long-lasting effects.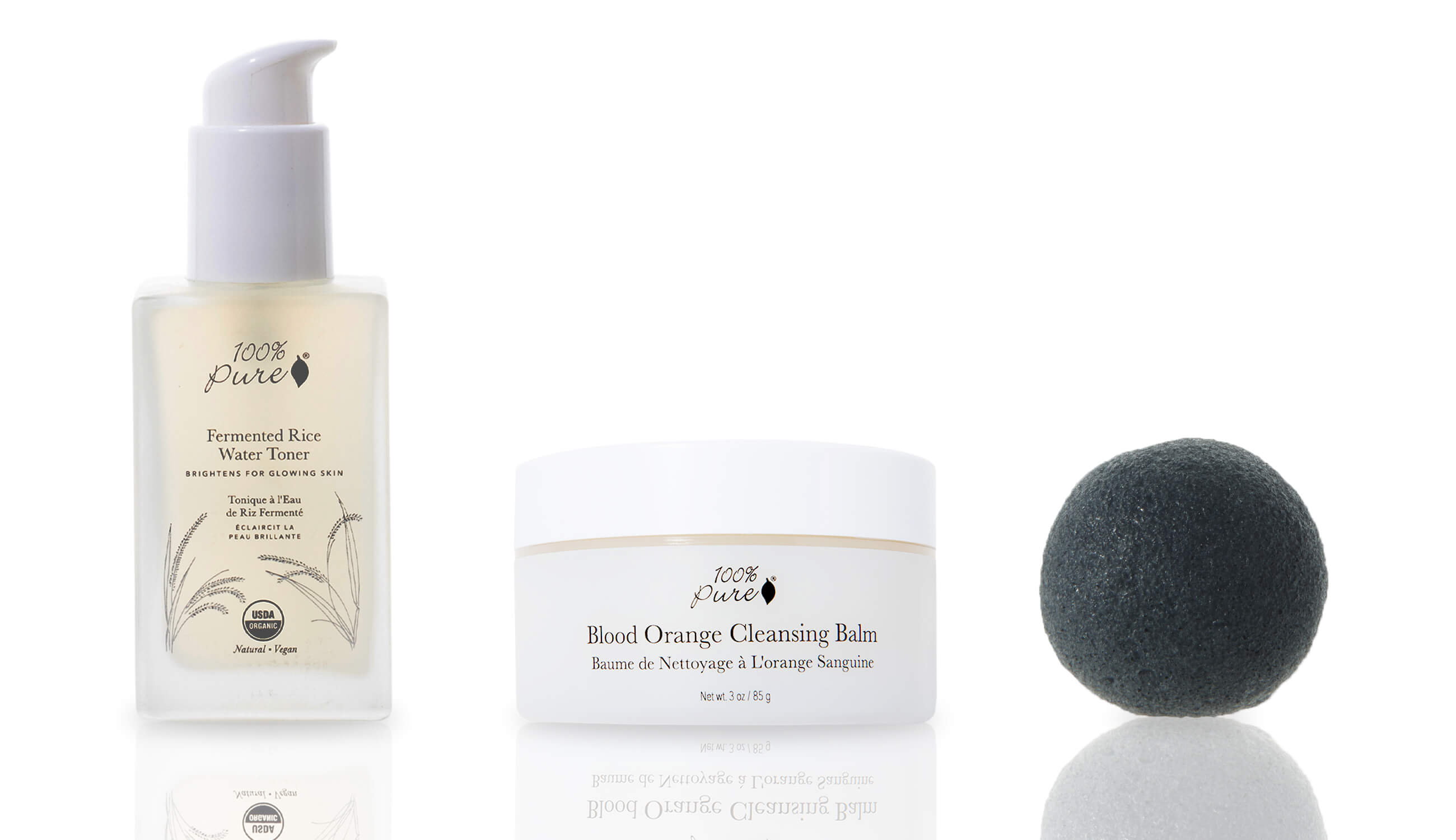 Step 1: Makeup Removal + Deep Cleansing
Any basic facial starts with removal of impurities and all traces of makeup. Since combination skin is typically unbalanced, a non-oil-stripping cleanser is the first step towards getting your skin back on track. Your skin craves ingredients like nutrient-rich oils to hydrate dry areas, while receiving skin-relief and balancing from ingredients with astringent-like properties, like aloe leaf and blood orange.
To remove makeup and prime the skin, we recommend checking out our Blood Orange Cleansing Balm. This moisturizing facial cleanser is made with degreasing blood orange, plus coconut, avocado, and olive oils. These oils remove impurities and bonds to excess sebum, while bringing moisture back into your skin to leave it balanced and glowing.
DIRECTIONS: Emulsify the balm by rubbing between fingers; friction and heat will melt the balm. Massage formula in circular motions, directly onto dry skin (even the eye area). Wipe away clean with a warm, dampened face towel (rinsing towel in between wipes).
Next, you'll want some deep-pore cleansing action to gently flush leftover oil and impurities your skin. We recommend second-cleansing with our Fermented Rice Water Cleanser, which helps to brighten the skin. It contains white mulberry, mushroom, licorice, and citrus to balance and enliven your complexion, while lessening the appearance of dark spots over time.
DIRECTIONS: Shake bottle. Squeeze half dollar sized amount of cleanser to wet konjac sponge or directly onto wet face and neck. Gently and thoroughly massage in circular motions. Rinse with warm water.
Step 2: Exfoliation
Often overlooked, exfoliation is an important step in any healthy skin care routine. This is especially true for combination skin, which tends to behave like Jekyll and Hyde. When you exfoliate your skin, you remove dead skin cells from its surface. This helps to minimize the appearance of large pores, which are infamously found in your oily T-zone. Exfoliation will also help with any dry, flaky patches on your combination skin, and clogged pores – stop those pimples in their tracks!
Combination skin benefits from a gentle exfoliant, infused with antioxidants to brighten and smooth, plus citrus to purify skin while unclogging pores. One of our favorites is the Acai Pulp Facial Scrub. This formula made with maximum antioxidant benefits and skin-brightening infusions of vitamins A and C. Crushed organic acai berries deeply nourish with essential vitamins and fatty acids.
DIRECTIONS: Emulsify a quarter sized amount onto your fingers with water, and massage gently in circular motions onto wet skin. Rinse with warm water.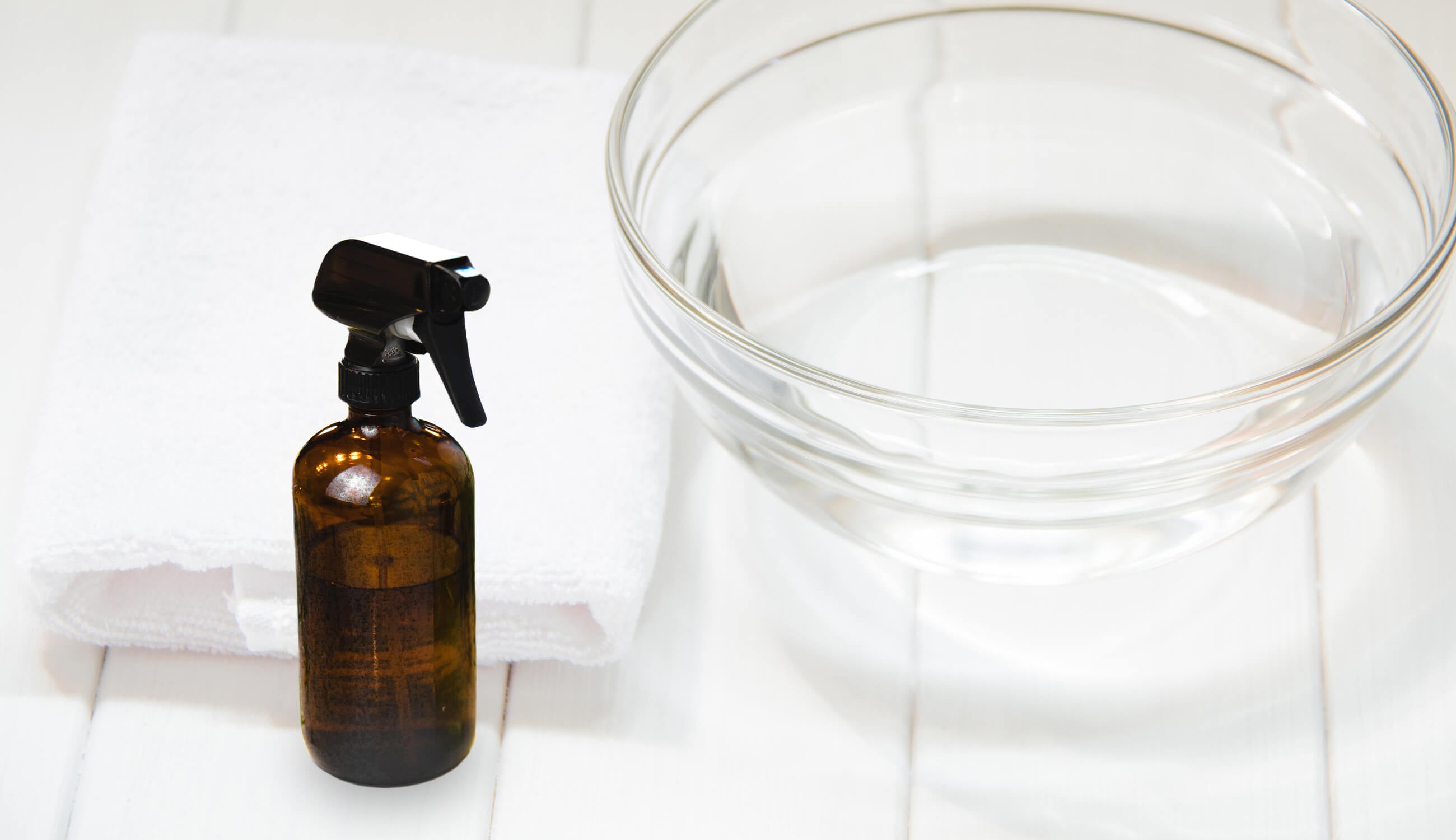 Step 3: Steam + Tone
Steaming releases any remaining toxins from your skin – especially those that can get trapped in bigger pores, often found in combination skin. This quick and easy DIY steam facial will also allow the products you apply afterwards to penetrate deeper, enabling proper absorption and enhanced hydration.
DIRECTIONS: Bring a small pot of water to a boil, then pour the steaming water into a bowl. Add 3 drops of geranium essential oil – great for purifying and normalizing skin – and 1 tablespoon of lavender (fresh is best). Lean over the bowl, remaining about a foot from the water. Steam your face with a towel over the back of your head (to trap the steam) for about 10-15 minutes.
Now that any remaining impurities have been loosened from your pores, you'll want to swipe it all away with a toner. Combo skin types can benefit from a simple facial mist infused with apple cider vinegar. It's both antiseptic and antibacterial, which means it can balance the pH of skin while gently exfoliating to keep pores clear of debris. Just mix equal parts ACV and filtered water, and store in an amber bottle.
DIRECTIONS: Spray directly onto skin and then swipe with a cotton pad.
When dealing with combination skin, your secret weapon may be finding the perfect toner. You'll need one that can quench dry areas, while balancing the excess oil in your T-zone. Combo skin types will benefit from ingredients like licorice and citrus to balance and brighten, as well as hyaluronic acid and vegetable glycerin to promote skin hydration and plumping.
We recommend adding our Fermented Rice Water Toner to your spa facial team. It uses enzymes and amino acids from fermented rice water (Sake) to brighten, hydrate, plump, and deeply soften combination skin. A concentration of white mulberry, shiitake mushroom, licorice and citrus balances skin tone, lessens the appearance of dark spots, and brightens.
DIRECTIONS: Dispense into palms and pat into skin, or use a cotton round to gently apply to face.
Step 4: Apply Sheet Mask
Applying a facial mist or toner will help prep and neutralize your combination skin, enabling it to receive a big boost of nutrients from a face mask. Our sheet masks and hydrogel masks are soaked in serum-like solutions, which are designed to deeply penetrate the skin. Combination skin will benefit from masks that contain green tea, which is known for its anti-inflammatory and antioxidant-rich properties.
For this step in your spa routine, we recommend our Green Tea Water Bomb mask. This mask is great daytime prep, as it uses refreshing cucumber and powerful hyaluronic acid to replenish skin. In the evening, our Collagen Boost Sheet mask is great for lessening the appearance of lines and wrinkles while promoting firmer, more supple skin.
DIRECTIONS: Apply your mask to a clean face. Leave on for 20-30 minutes, or until mask begins to pucker.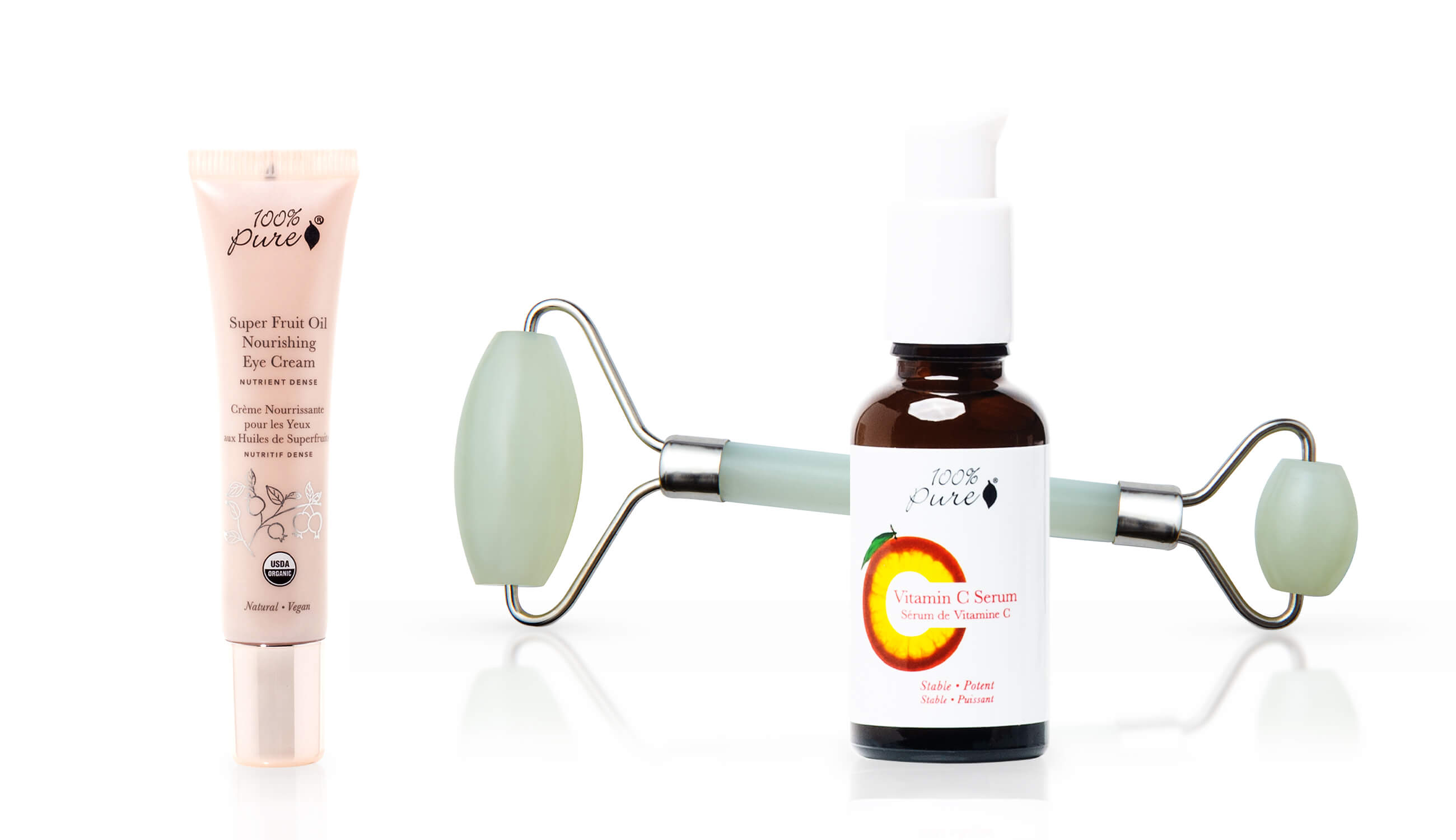 Step 5: Facial Sealants
At the end of the facial, there are a few options for which products to use – depending on if it's day or night. Start with a lightweight serum that can help firm and brighten skin tone while promoting collagen production. Our Vitamin C Serum does just that, brightens skin tone, and stimulates cellular renewal with alpha lipoic acid (ALA).
For a daytime moisturizer, combo skin types should finish with the best-selling Green Tea EGCG Protective Cream. This daily moisturizer fights off environmental stressors and offers protection against premature signs of aging from the sun. Don't forget those peepers! Our Super Fruit Oil Nourishing Eye Cream provides deep moisture, potent vitamins, and antioxidants to increase elasticity and lessen the appearance of lines and wrinkles.
DIRECTIONS: To apply your serum, pat gently into skin. Allow to set for 90 seconds, to encourage maximum absorption. Next, apply your moisturizer by patting into skin, after first warming between fingers. You can use a jade roller to complete your spa experience, stimulate healthy circulation, and further blend nutrients into your skin.
Using these tips, you can make a whole DIY facial and spa experience right in the comfort of your own home. Now that you're armed with all the knowledge on how to create your own spa day at home, go forth and pamper yourself! Looking for more self-care tips? Don't miss out on our stress relief tips!
We carefully hand-select products based on strict purity standards, and only recommend products we feel meet this criteria. 100% PURE™ may earn a small commission for products purchased through affiliate links.
The information in this article is for educational use, and not intended to substitute professional medical advice, diagnosis, or treatment and should not be used as such.
Sign up to our email newsletter for more blog updates and exclusive discounts.
< Older Post | Newer Post >