Can You Exfoliate Your Scalp?
Breaking down the do's, don'ts, and how-tos of scalp exfoliation
Posted on October 09, 2018
Written by: 100% PURE®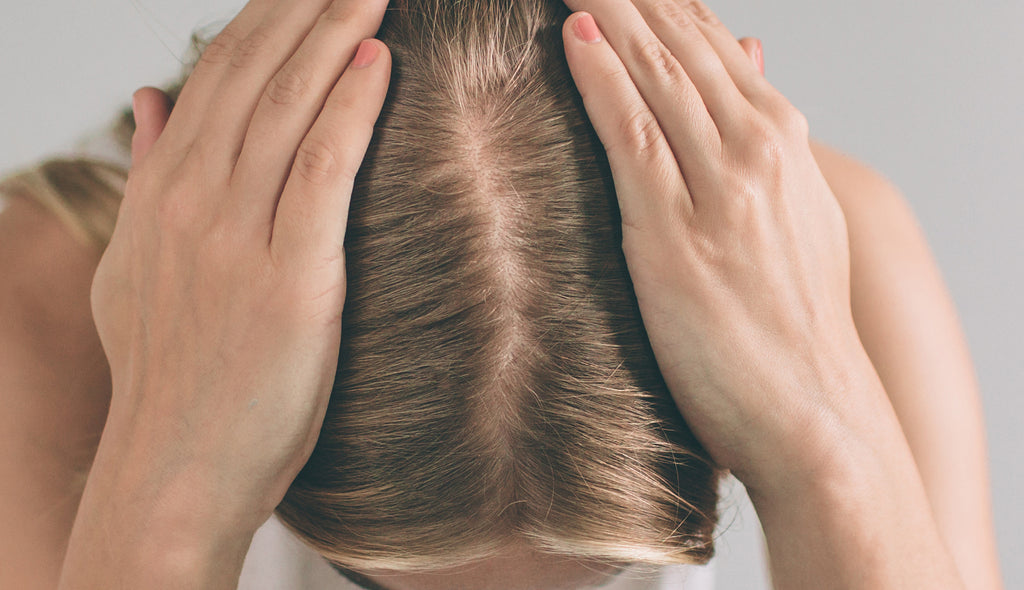 It's time to talk about scalps: how we treat them, if they're healthy, and how to add a step for them into our routine.
A healthy scalp means by extension, healthy hair. We always hear the term, "from head to toe," but we have to admit -- we don't always think about scalp health. Hair health literally starts atthe scalp, so take a quick (5-10) seconds and for a mental check-in with your scalp! How does it feel? Is it slightly itchy, or a bit dry? If you can literally feel hairspray residue from the pastfew days caking up and flaking off, it *might* be time to up your scalp care game.
To improve scalp health, you can piggyback onto your 3-minute shampoo and conditioner routine with a little scalp TLC. In this post, we'll cover the pros and cons of scalp exfoliation, and share pro-tips on if you should exfoliate your scalp, and how often. Then we'll decode what you should use to exfoliate, and why it could be good or bad for your hair type.
What Does Exfoliation Mean for Your Scalp?
Exfoliation is the process of sloughing off dead skin cells, revealing healthier skin beneath. All skin can and should be exfoliated (except maybe eyelids? We'll get back to you on that one). Without exfoliation, our skin can become dull and dry, or flaky and rough. On our scalp, dead skin can actually clog hair follicles and damage hair length, fullness, and growth. When we exfoliate our scalp, we remove any product buildup that wasn't cleaned off in our normal hair washing session.
The scrubby feeling of exfoliating also helps to stimulate blood flow, which can bring oxygen and protein to the scalp for healthier, longer hair. Additionally, when we exfoliate we remove excess dirt and oil that could be causing hair loss and thinning hair. Oil and dirt buildup can clog our hair follicles and prevent hair from growing, or it can cause our hair to thin as the follicles slowly collects buildup. Exfoliating regularly helps to keep our scalps healthier and results in shinier, stronger, and longer hair.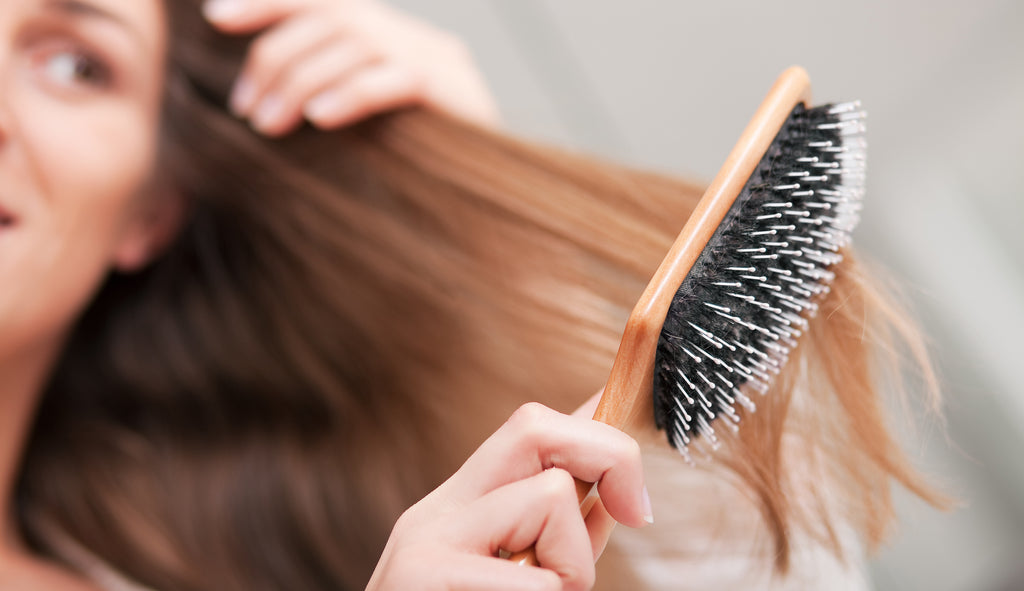 The Expert Opinion
Professionals are saying that scalp exfoliation should be a regular part of your hair care routine, and something we should be doing at least once a month or more. Depending on your hair type and hair length, you may want to exfoliate as infrequently as once a month, or as often as once to twice a week. The thicker, curlier, and longer your hair is, the more often you should exfoliate. On the flip side, shorter or thinner hair can get by with exfoliating once every two weeks to once a month. Getting on a schedule for exfoliating is great, but we still need to cover how to do it!.
How to Exfoliate Your Scalp
We advise making your own scalp scrub! It's super easy, and you can make an a natural formula while controlling exactly what goes into the treatment. Great natural exfoliators include brown sugar, sea salt, ground oats, chia seeds, or even ground coffee. Add hydrating and moisturizing elements to the scrub like aloe vera gel, coconut oil, honey, or in a pinch -- use your favorite 100% PURE hair conditioner. Need a recipe? We love this Apple Cider Vinegar Honey Scalp Scrub from Hello Glow!
Once you've chosen your ingredients, mix them together and use your fingers to rub directly onto your scalp. Apply in even rows and circular motions. Be sure to cover the entire scalp, from forehead to nape of the neck, and ear to ear. Rinse off your scrub with lukewarm water.
After you exfoliate your scalp, follow-up with the best 100% PURE conditioner for your hair type. For lightweight hydration and an irresistibly sweet fragrance, we recommend our a Honey & Virgin Coconut Conditioner. A vegetarian option great for any hair type, soothe scalps with aloe juice, rose water, honey and vitamin E. Feeling a bit thirstier than that? Our vegan Moisture Drench Conditioner will do the trick, complete with rose and aloe as well, this conditioner also has rich avocado butter and argan oil for softness and shine.
Start Slow, and Don't Overdo It!
Once you exfoliate your scalp for the first time, you won't be able to look back - but exercise caution in your routine. Scalp exfoliation feels incredibly stimulating, and the gorgeous benefits to your hair are hard to ignore. But that doesn't mean we can overdo it! If you're worried about scrubbing too often, start with once every two weeks, and see how your hair and scalp feel. Work up to once a week (or once every 3-5 days) and most of all, listen to your scalp! If it feels healthier, your hair is shinier and nothing is dry, damaged or irritated, you're probably exfoliating just often enough.
Some professionals say that over-exfoliation can do damage to the scalp, and certain tools like a dense hairbrush can cause stress to the hair follicle. Instead, use your own all-natural scalp scrub, your fingers, or scrub gently with a traditional scalp comb. Be sure to always follow-up with a moisturizing component for your hair and scalp. And finally, enjoy your therapeutic healthy scalp routine!
We carefully hand-select products based on strict purity standards, and only recommend products we feel meet this criteria. 100% PURE™ may earn a small commission for products purchased through affiliate links.
The information in this article is for educational use, and not intended to substitute professional medical advice, diagnosis, or treatment and should not be used as such.
Sign up to our email newsletter for more blog updates and exclusive discounts.
< Older Post | Newer Post >