Best Skin Care for Sensitive Skin
Exploring natural sensitive skin products that won't irritate skin
Posted on May 25, 2023
Written by: 100% PURE®
When you've got sensitive skin, shopping for makeup and skincare can feel a bit like walking through a minefield. Burning, redness, and inflamed skin can all be side effects of using a product that's too harsh for sensitive skin. Want products that won't trigger a bad skin reaction? Read on for our 100% PURE guide – plus the best products for calm, healthy skin!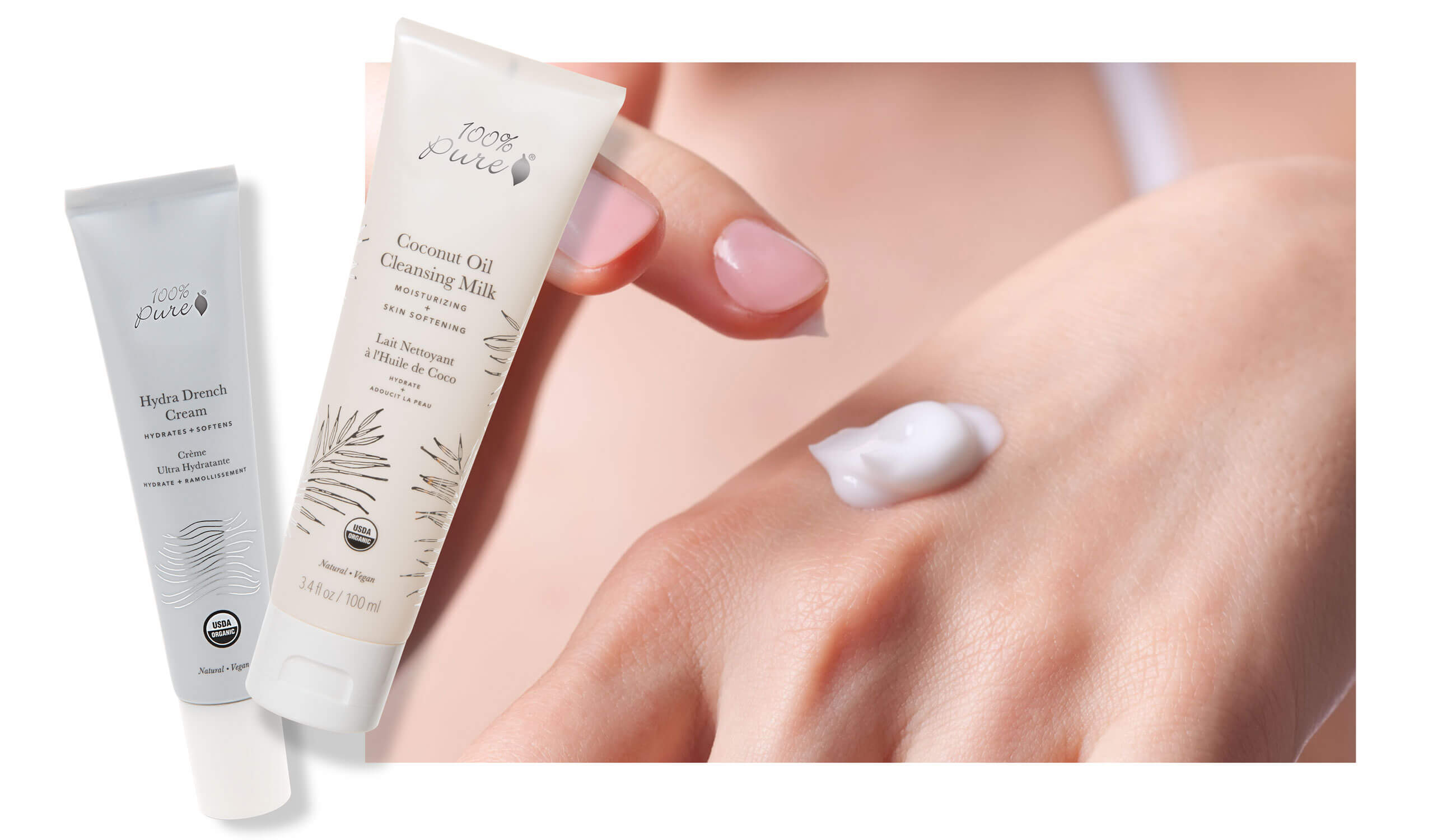 Do I Have Sensitive Skin?
First things first: do you have sensitive skin? When deciding how sensitive your skin might be, consider that there are two possibilities. The first possibility is that you do have 'sensitive skin', which can be part of your genetic code. Thin skin, blood vessels close to the surface of the skin, less pigmentation, and a weaker outer skin barrier are all common complaints of sensitive skin types. These factors often mean redness and irritation for your precious skin.
The other possibility is that your skin has been sensitized. This means that the lipid barrier of the skin has been compromised by something other than hereditary factors. Causes for sensitized skin can include stress, diet, environment, pollution, alcohol consumption, smoking, hormones, and over-exfoliation.
Sensitive Skin Symptoms
If your skin frequently reacts to different products, that could be a big indicator that you have sensitive skin. For example, your senses may be saying yes to that exfoliating cocoa bean cleanser that takes you to a tropical paradise, but your skin could be saying no. If you have sensitive skin, you probably notice that exfoliants, fragrances, detergents, and dyes cause your skin to react, especially if they are not natural ingredients.
You may notice that many products can cause itchiness, dryness, or redness. This can also take the form of red bumps, blushing and flushing, or red dilated blood vessels. For example, if you grab the first moisturizer at the store, your skin may suddenly feel irritated, itchy, tingly, or start burning. Some also experience redness, dry patches, and tightness of the skin. Another indicator of sensitive skin is if redness appears shortly after applying gentle pressure to the skin.
Sensitive skin can be triggered by environmental factors. For instance, stepping outside can seem like a minefield when you have skin sensitivity. Varying elements such as heat, cold, and wind can aggravate your skin. In addition, cold weather can dry out skin, leaving sensitive skin prone to breakouts and cracking.
Recommended Sensitive Skin Products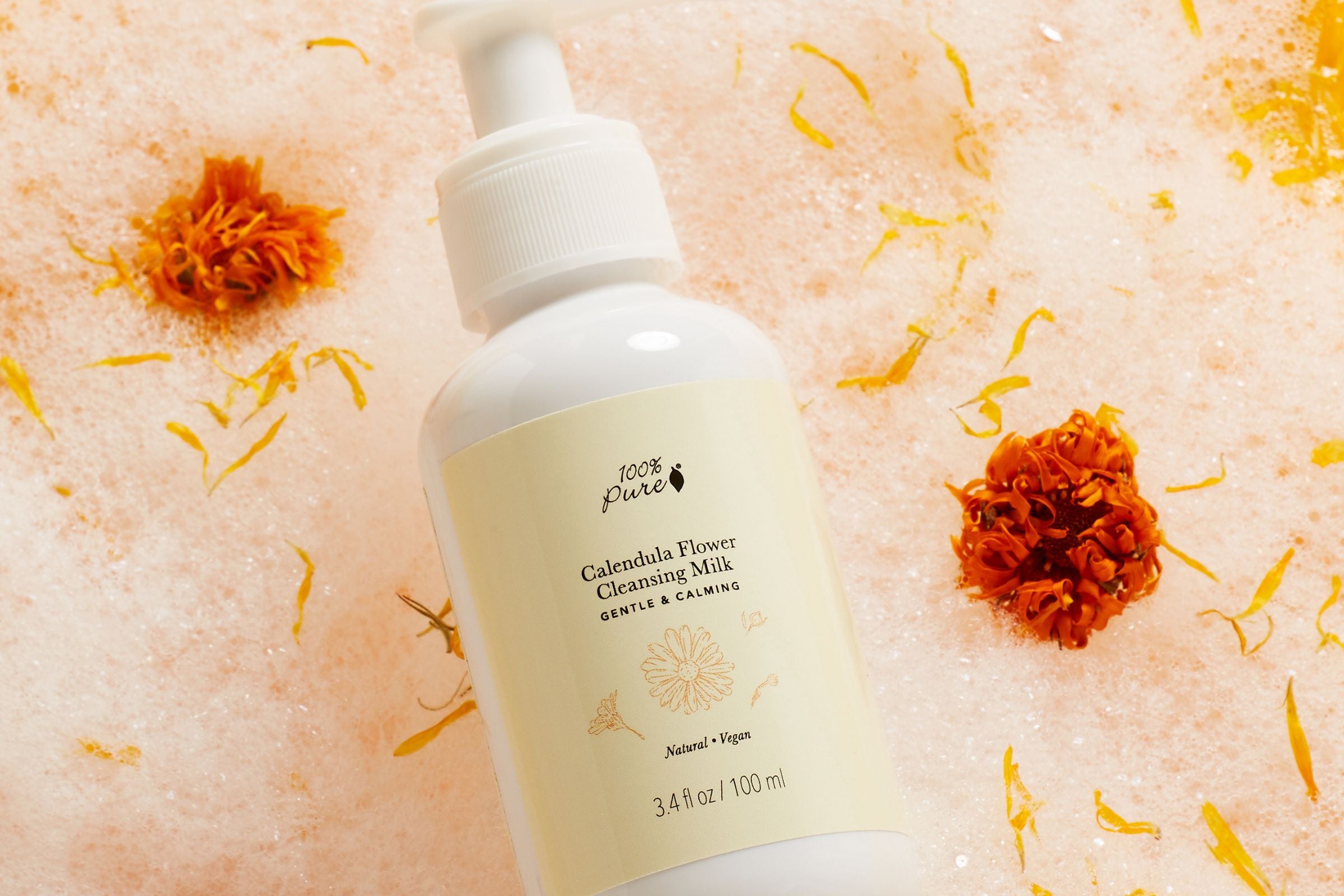 Cleansers

Our luxurious Calendula Foaming Cleansing Milk is made with aloe juice to hydrate the skin, chamomile to soften the skin, and sea buckthorn oil to moisturize and lock in hydration. This gentle cleanser is great for sensitive skin and sensitized skin because it won't strip the skin of necessary oils. It also helps to increase moisture and hydration in the skin and lipid barrier.
Blood Orange Cleansing Balm is another cleanser with an ultra-luxurious feel. It starts as a solid balm but turns into a cleansing oil when you rub it between your fingertips. Gently massage into the skin to dissolve makeup, dirt, and pollutants. Use lukewarm water to wipe it away with a washcloth and reveal clean and supple skin. This is a great cleanser for those with severely dry or sensitive skin.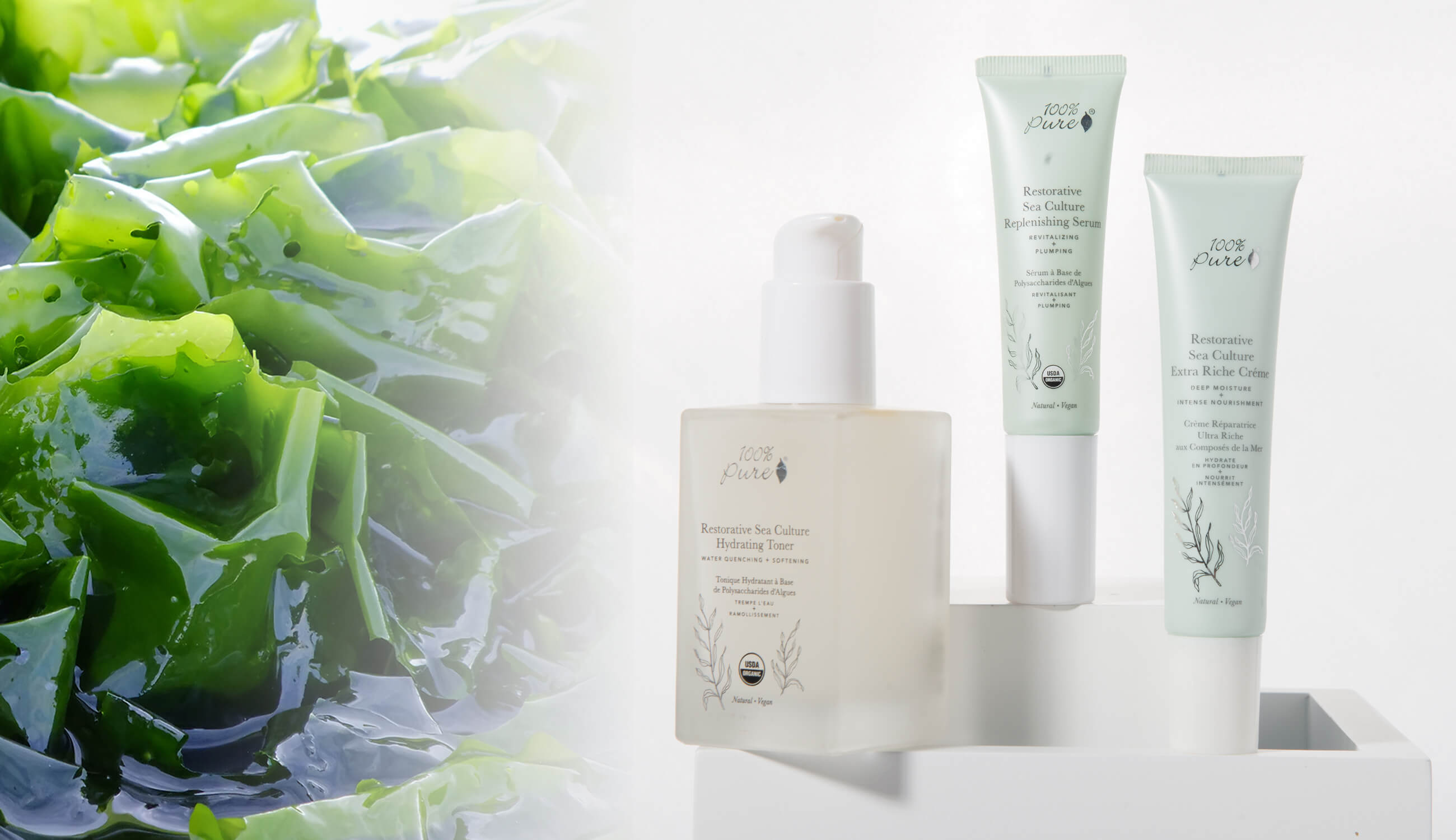 Toner

Our Restorative Sea Culture Hydrate Toner is packed with hydrating ingredients for sensitive skin. Chia seed water, hyaluronic acid, and sea algae all work to plump and hydrate thirsty skin cells. This toner does not dry or strip sensitive skin as many conventional toners do.
Serum

Our Restorative Sea Hydrate Serum also saturates skin with moisturizing ingredients to drench dry, thirsty skin with intense hydration. Seaweed polysaccharides hydrate and plump skin for a more youthful complexion, while olive squalane delivers moisture to prolong hydration.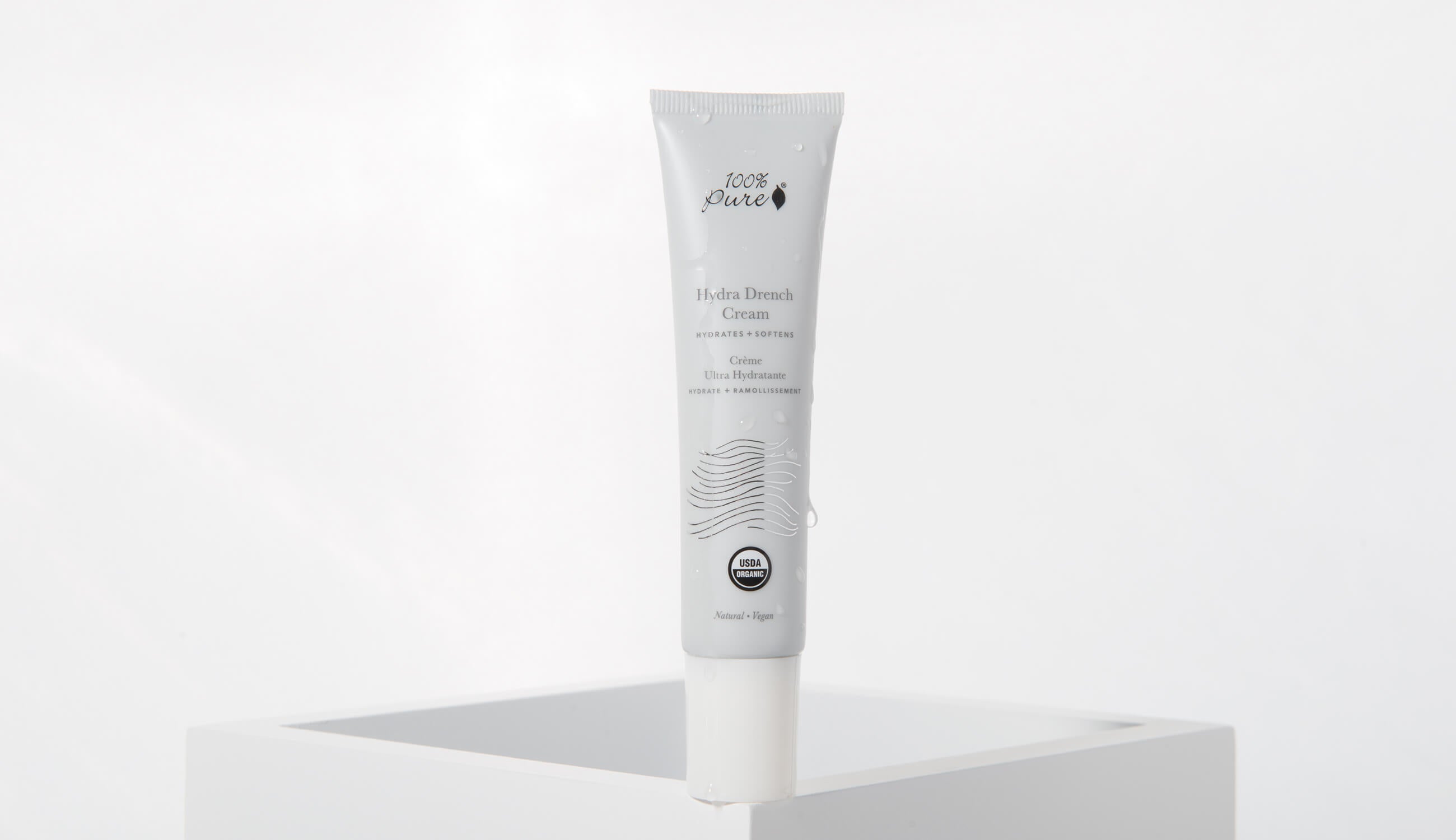 Moisturizers

Our Restorative Sea Culture Extra Riche Créme is a rich moisturizer that aids in restoring the lipid barrier with omega 7 from sea buckthorn, coconut oil, shea butter, and bacuri butter. These ingredients are fast absorbing, moisturizing, and healing.
If you have sensitive skin and prefer a lightweight moisturizer, Hydra Drench Cream is a great option. Made to hydrate the skin with its base of chia seed gel, it penetrates the lipid barrier to provide hydration to the skin cells. Chia gel also plumps skin and replenishes water loss in sensitive skin.
Facial Oil

Our pure Argan Oil naturally contains reparative and softening vitamins A and E. Vitamin A helps to increase skin cell regeneration, while vitamin E helps to heal and improve the appearance of the skin. This oil is also beneficial for those experiencing skin ailments like psoriasis and eczema.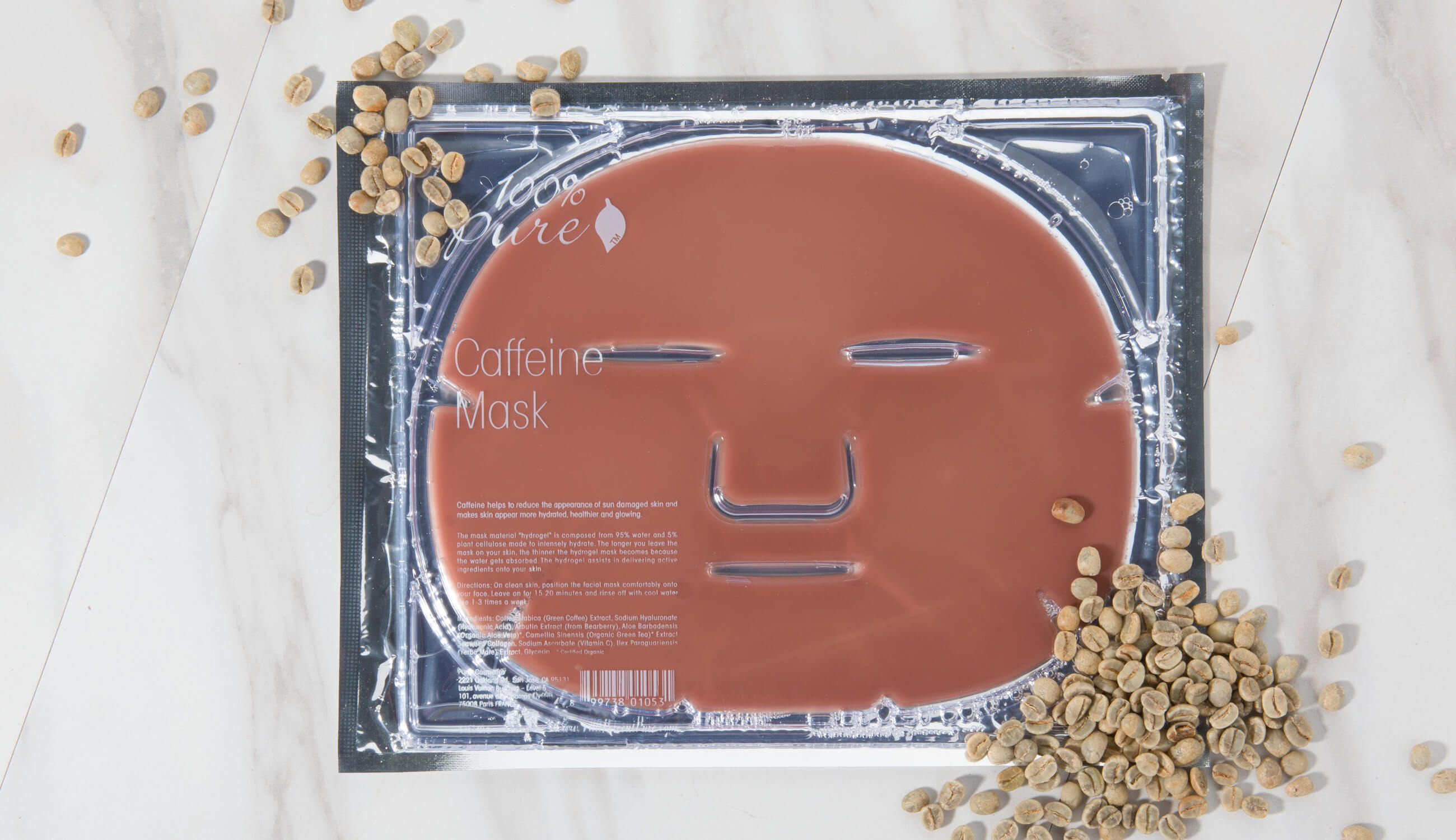 Mask

The aloe vera juice in our hydrogel Caffeine Mask provides gentle hydration to sensitive skin. This mask is also very beneficial for those who have spent time in the sun since coffee works below the surface of the skin to help repair sun damage. Caffeine from green tea, yerba mate, and coffee help to stimulate, increase blood flow and oxygen and act as an anti-inflammatory to reduce redness.
What to Look for When Shopping for Sensitive Skin Products
All 100% PURE skin care products contain ingredients that are crucial for skin health. Look for these specific types of ingredients when shopping for products for sensitive skin:
Soothing ingredients

Ingredients like chamomile, calendula, and aloe just to name a few are wonderful for soothing and calming inflamed irritated skin.
Newsletter
Subscribe
for more blog updates and exclusive discounts
Hydrating ingredients

Hyaluronic acid, aloe, cactus, and other ingredients that provide hydration to skin are beneficial to sensitive skin because if the lipid barrier is compromised, it is much easier for transdermal water loss to occur. This means that the skin will lose some of its much-needed hydration. Therefore, it should be replenished with hydrating ingredients.
Moisturizing ingredients

Coconut oil, argan oil, olive oil, and avocado butter are all nourishing ingredients that contain important vitamins like A and E and help to repair the lipid barrier of the skin. These moisturizing ingredients also help to seal in hydration slowing the process of transdermal water loss.
Antioxidants

Green tea, coffee, and other antioxidants are beneficial for increasing circulation in the skin, and helping to calm inflammation and reduce redness. They also help to protect the skin from free radicals, caused by pollution, smoke, and other environmental factors.
What to Avoid If You Have Sensitive Skin
Not all skincare products are created equal. Many may not be suitable for delicate, sensitive skin because of their harsh ingredients. Some top offending skincare ingredients include:
Fragrances

Strong fragrances can be an irritant for sensitive skin. Synthetic fragrances are often irritating, but even essential oils can be triggers for skin sensitivity.
Parabens

Studies show that parabens artificially mimic estrogens in the body, leading to a host of topical and internal problems. For sensitive skin types, parabens can also worsen eczema, psoriasis, and contact dermatitis.
Detergents

Sulfates like Sodium Lauryl Sulfate and Sodium Laureth Sulfate are known culprits to avoid if you have sensitive skin. Most used in cleansers, they strip skin of its protective barrier and damage the delicate lipid layers which keep skin supple and smooth. Harsh detergents can also disrupt skin's natural moisture balance and sebum production, leading to dry or irritated skin.
Isopropyl Alcohol

Everyone knows that alcohol can dry out the skin, yet you'll find it in many conventional skin care products like cleansers, moisturizers, and toners. It can easily strip your skin of its protective barrier, making sensitive skin more prone to bacteria, infections, and dryness.
Petrochemicals

Sourced from petroleum (think gasoline, diesel oil), these industrial chemical preservatives can cause serious buildup on the skin. They can trap bacteria, clog pores, and cause breakouts in sensitive skin.
Menthoxypropanediol

This synthetic version of menthol is used to give skin care products a minty fresh feel but has been linked to lots of allergic reactions.
Steam

While a spa steam room session may sound lovely, steam can increase redness and cause dryness in sensitive skin. Using water that's too hot can also cause adverse reactions. The best practice when it comes to water temperature? Always use lukewarm and skip the steam.
Abrasive scrubs

Scrubs that are too abrasive can disrupt lipid barrier function, and even cause micro-tears in the skin. If you've got sensitive skin, your lipid barrier is already compromised. So, using harsh scrubs will only wreak havoc on your delicate skin.
Cleansing brushes or sponges

Super-sonic cleansing brushes might be trendy but can be way too intense for sensitive skin. It's best to use brushes with bristles made for sensitive skin and to use them no more than three times a week. Opt for gentle facial sponges like our Konjac Sponge and avoid abrasive sponges like plastic loofahs.
We understand that shopping for skin care can be scary if you suffer from sensitive skin. That's why we always use natural ingredients that are gentle on the skin. When we do scent our products that aren't fragrance-free, we use essential oils that can help soothe sensitive skin. If you're interested in more skincare guides, check out these recent posts:
Benefits of Coconut Oil for Skin
We carefully hand-select products based on strict purity standards, and only recommend products we feel meet this criteria. 100% PURE™ may earn a small commission for products purchased through affiliate links.
The information in this article is for educational use, and not intended to substitute professional medical advice, diagnosis, or treatment and should not be used as such.
Sign up to our email newsletter for more blog updates and exclusive discounts.
< Older Post | Newer Post >