Best Serums for Cold Weather
Which serums are designed to keep skin soft and hydrated in fall and winter?
Posted on November 1, 2018
Written by: 100% PURE®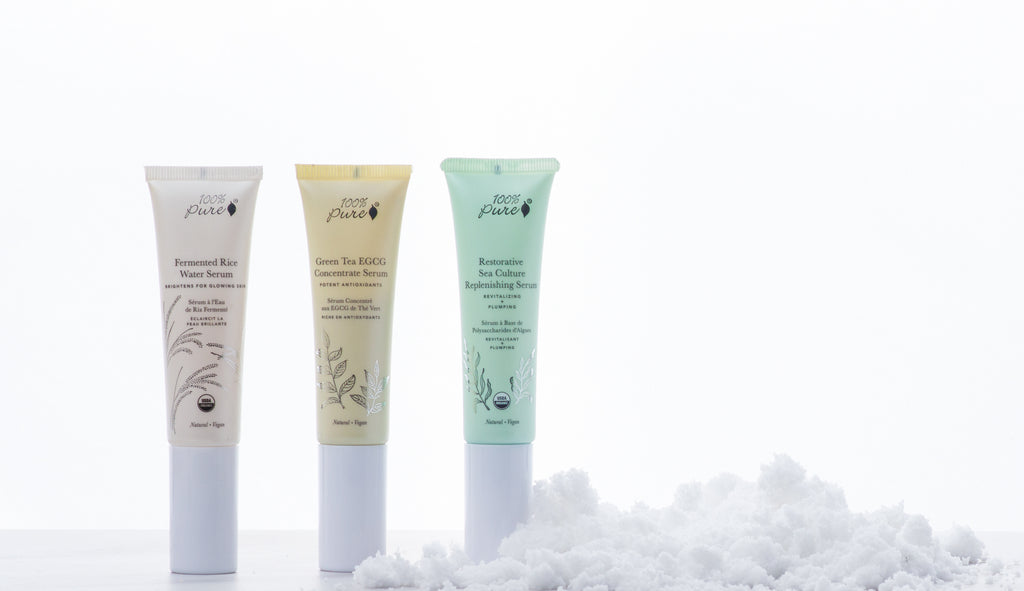 We just love skin care, don't you? And while we hate to see the long days and sunshine go, we can't help but feel excitement for all the new and old favorite products being introduced into our fall-winter skin care routines. Serums are one of our favorite ways to quickly impact the skin. They pack a surprising punch, but don't take a whole lot of effort to apply. All we have to do, really, is remember to apply them and the serum does the rest (easier said than done though, right?).
Since the cold winter weather can be harsh and damaging to skin, here are a few of our favorite serums to maintain that dewy, fresh looking skin from summer all the way through the colder holiday months.
Restorative Sea Culture Replenishing Serum
From the first ingredient to the last, this serum is literally packed with purpose and nutrition. Let's start with the chia water that is the base of this serum. The chia not only helps to give this serum its silky texture but is rich in protein and nourishment for the skin. Chia seeds contain omega-3 fatty acids which are key for hydrating skin in the harsh winter. Chia seeds also contain antioxidants which are impactful for anti-aging and fighting fine lines and wrinkles. Finally, the anti-inflammatory and calming qualities of the chia mean that when your sensitive and reactive skin is about to totally freak out from rapid weather changes, this serum can save the day.
Other ingredients putting in #werk for your skin in this serum include glycerin, sea kelp and hyaluronic acid – all potent moisturizing elements that are amazing for keeping skin hydrated, supple and juicy. For soothing dryness, flaking, redness, irritation and flare ups, the Sea Culture Serum also includes a lovely essential oil blend of cedarwood oil, sage and lavender. This serum is best for combination to severely dry skin and works day or night for a mega moisture boost you can't beat.
We know the secret to maintaining that summer glow without a tanning salon: its sake. Not only is it delicious to drink, but sake – when fermented – creates a natural skin toner called kojic acid. When we use it, we feel moonlit from within with a soft radiance that's impossible to mimic with makeup. We're happy to have jumped on the sake train early, as it is still an underutilized ingredient with lovely results for smoothing, softening and brightening.
Though it is anti-aging and super softening on the skin, sake can't do all the work. Rosehip seed oil and avocado oils are enriching and soothing for redness, dryness and winter irritation. Rejuvenating and stimulating for new skin, the white willow in this serum makes our pores feel brand new. We can't think of a reason not to add this serum into your evening skin care rotation.
Green Tea EGCG Concentrate Serum
Ever wake up and wish you could just roll yourself in caffeine and start the day instantly? Now you basically can, with this energized serum to keep your skin working and fighting off fall and winter damage. Experience the anti-aging effects of yerba mate and green tea. Yerba mate contains A and B vitamins which are as close as we've come to the fountain of youth. These help blast away age spots, speed skin cell turnover and support firm, taut skin. Next, the tea helps fight sun damage and inflammation. This is especially useful for those of us that suffer from breakouts due to the harsh winter cold.
While the main star of this serum is green tea, antioxidant-rich acai and goji berry also pack a nutrient-packed punch. Healing, anti-aging, and reparative, the acai is an essential addition to this serum. We love to eat chewy, tart goji berries, but we love them even more in this serum. They are doing most of the brightening and toning heavy lifting. Goji berries contain carotenoids that fight free radical damage and protect the skin. They contain vitamins A and E – great for boosting youthfulness and healthy skin. We love the tightened, youthful effect that we can almost watch happening in the mirror as this serum sinks in making this great for any skin type but especially perfect for you.
Want an extensive guide to each and every 100% PURE serum formula? Check out our handy serum guide that explains how to choose the best serum for your skin type!
We carefully hand-select products based on strict purity standards, and only recommend products we feel meet this criteria. 100% PURE™ may earn a small commission for products purchased through affiliate links.
The information in this article is for educational use, and not intended to substitute professional medical advice, diagnosis, or treatment and should not be used as such.
Sign up to our email newsletter for more blog updates and exclusive discounts.
< Older Post | Newer Post >