Korean Sheet Mask Essentials
A guide to using sheet masks to beautify and nourish your skin.
Posted on May 21, 2018
Written by: 100% PURE®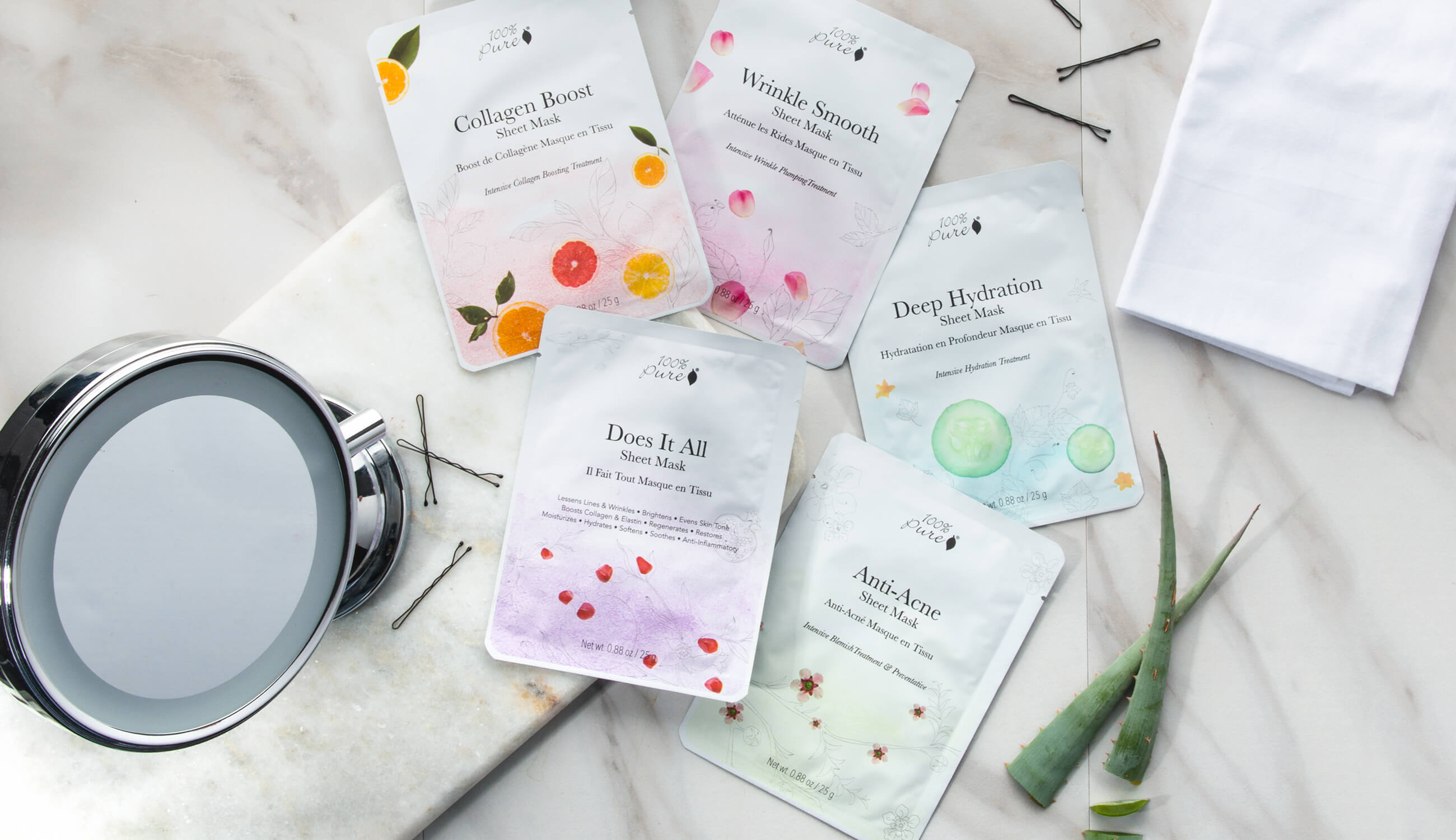 Beauty traditions are epitomized in the Korean skin care routine. Often a ten step beauty ritual is followed both in the morning and at night. In recent years, the sheet mask has become one of the most popular Korean beauty items. Unlike the majority of sheet masks on the market, we decided to innovate a Korean sheet mask that's truly pure, free of synthetic chemicals and animal testing. We encourage everyone to read the ingredients list for our new sheet masks! So relax, enjoy, and let's dive deeper into the world of sheet masks!
What Is a Sheet Mask?
Our founder and Chief Creative Ambassador Susie Wang grew up in a Korean home where taking exceptional care of your skin was a part of daily life. In Korea, the beauty routine is a meditative ritual, and sheet masks - often used as a follow up to a serum - are a valued part of the process. Using Susie's upbringing as inspiration, we developed the best Korean sheet masks possible. Our sheet masks are made from a sustainable antibacterial bamboo cloth drenched in serum with skin benefits such as deep hydration from hyaluronic acid, reducing the appearance of wrinkles with vegetable-derived retinol, or brightening the skin with fermented rice water (sake) to name a few.
How are sheet masks different from hydrogel masks?
While both sheet masks and hydrogel masks are helpful in delivering more serum to the skin than you would get from a serum alone, the two work differently. They're different in their formulation and in the delivery system used.Natural hydrogel masks such as the Green Tea Water Bomb Mask contain a hydrogel base made of 95% organic aloe water and 5% plant cellulose. The longer the gel rests on the skin, the thinner the base becomes, and the more hydration and serum your skin receives.
The sheet masks however do not become thinner on your skin with time. Instead they provide a medium for the serum, and ensure that the serum is absorbed by the skin for the full sheet mask session. If your skin is very dry, the sheet mask will become dry towards the end of the session as the entirety of the serum becomes absorbed. While both the deeply hydrating hydrogel and serum get absorbed into the skin, the sheet masks do not; instead the amazing serums we've developed for the sheet masks are absorbed. The two work differently but are equally pampering for your skin (why not try both?).
How to Use a Sheet Mask
Whenever you use a sheet mask, be it alone or together with a longer Korean skin care routine, you'll want to make sure to first cleanse the face and exfoliate the top layer of your skin. This primes your skin to absorb the greatest amount of serum. We recommend using the Charcoal Clay Cleanser followed by the award-winning Acai Pulp Facial Scrub. The Charcoal Clay Cleanser will gently cleanse and pull out impurities (dirt, excess oil) while providing moisturization with seaweed extract. Crushed acai in the Acai Pulp Facial Scrub slough off the top layers of the skin to reveal glowing, soft and luminous skin. Now you're ready for your 20 minutes of sheet mask relaxation.
Our founder Susie Wang also recommends using these in a dry infrared sauna so that you can allow your body to detox while you beautify your skin. Carve some time out for yourself to pamper yourself. After finishing with a sheet mask, continue with the rest of your beauty routine by moisturizing with the Hydra Drench Moisturizer during the day or the Multi-Vitamin + Antioxidant Ultra Riché PM Treatment at night. You can use a sheet mask daily, except for the Anti-Acne Sheet mask which we recommend using only five times a week.
These are our new favorite sheet masks, because there's no need to rinse them off afterwards. They act as hyaluronic acid rich serums! Every single ingredient we use, from pomegranate oil to guava, is an ingredient found in nature or derived by a natural process (such as fermentation).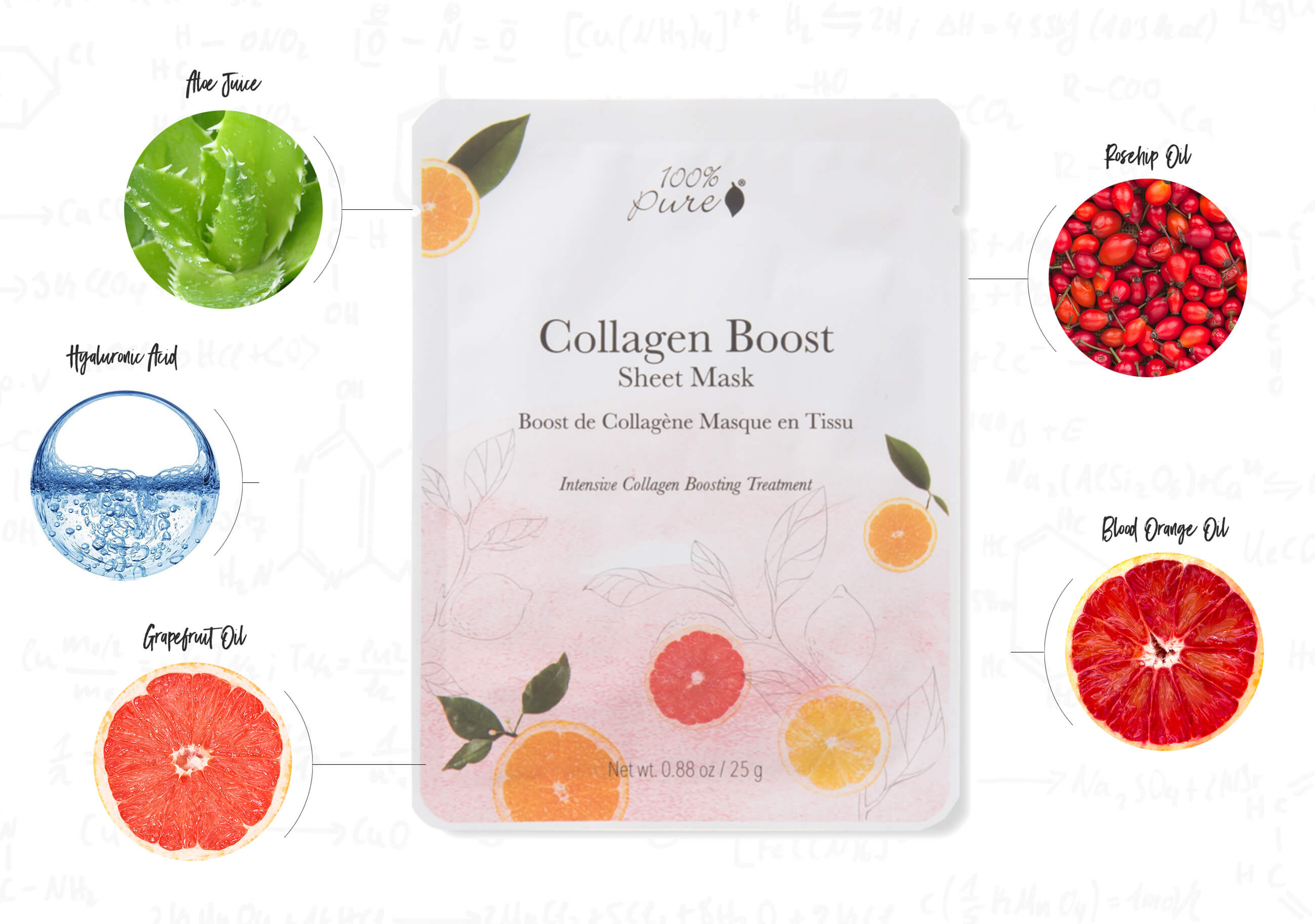 The Collagen Boost Sheet Mask is a sustainable antibacterial bamboo cloth drenched in serum that will intensively boost collagen and elastin - two structural elements found in skin that promote firmness and elasticity associated with youthful skin. The main ingredients that boost collagen are the bitter saponins found in Korean Ginseng, called ginsenosides. This adaptogenic root also helps limit inflammation, is rich in phytonutrients and has anti-aging benefits. Paired with Vitamin C rich guava and retinol from carrots, the mask also has brightening effects, as well as will help reduce the appearance of fine lines and wrinkles. We recommend using the Retinol Restorative Overnight Balm to follow up at night for a deeper anti-aging regimen.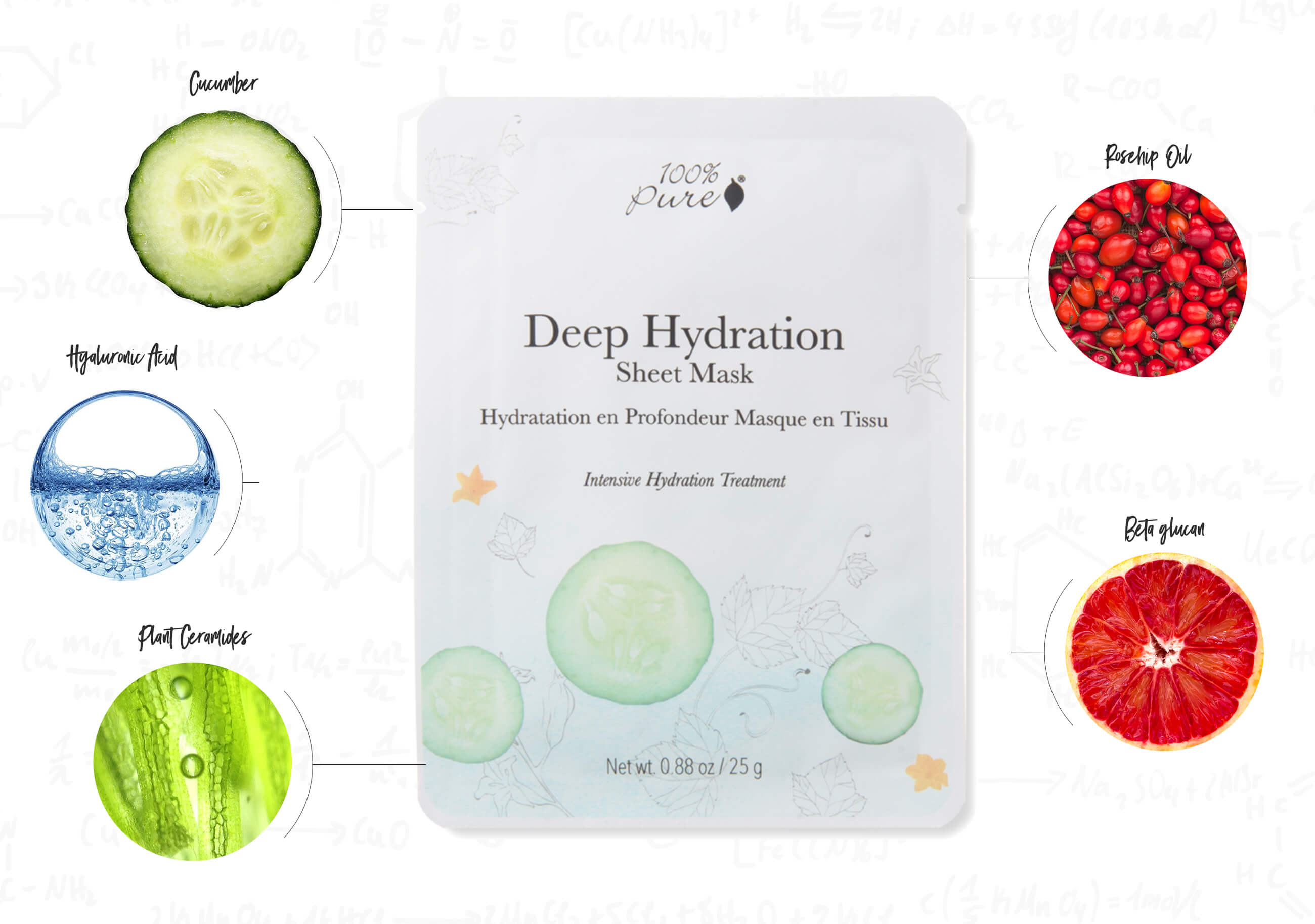 The Deep Hydration Sheet Mask provides long lasting hydration for soft, brighter skin. Rice ceramides, beta glucans from gluten free oatmeal, aloe and hyaluronic acid feed skin for hydration that lasts and leaves skin feeling plump. Every skin type can benefit from more hydration. The chamomile oil soothes inflammation while carrot seed oil offers deeper moisturization to lock in the ingredients. This mask also has brightening and anti-aging effects due to the ginseng and retinol, yet is gentle enough for even sensitive skin. We recommend using a moisturizer to lock in all the hydration afterwards. Try our Multi-Vitamin + Antioxidant Ultra Riché PM Treatment for a luxurious follow-up that will make it feel like a true spa experience!
The Anti-Acne Sheet Mask is an intensive blemish treatment as well as a preventative acne mask. It works to deeply purify and detox skin with soothing ingredients that won't cause irritation. Acne arises when oil and bacteria get trapped in a pore, resulting in inflammation. Regular use of this mask will help prevent acne. Tea tree, rosemary and willow gently cleanse pores to help lessen acne and prevent scarring. The salicylic acid from willow sloughs away oil and bacteria to help unclog pores. Rice ceramides, hyaluronic acid and algae extract moisturize the skin. We recommend pairing the mask with our Tea Tree & Willow Clarifying Duo for best effects.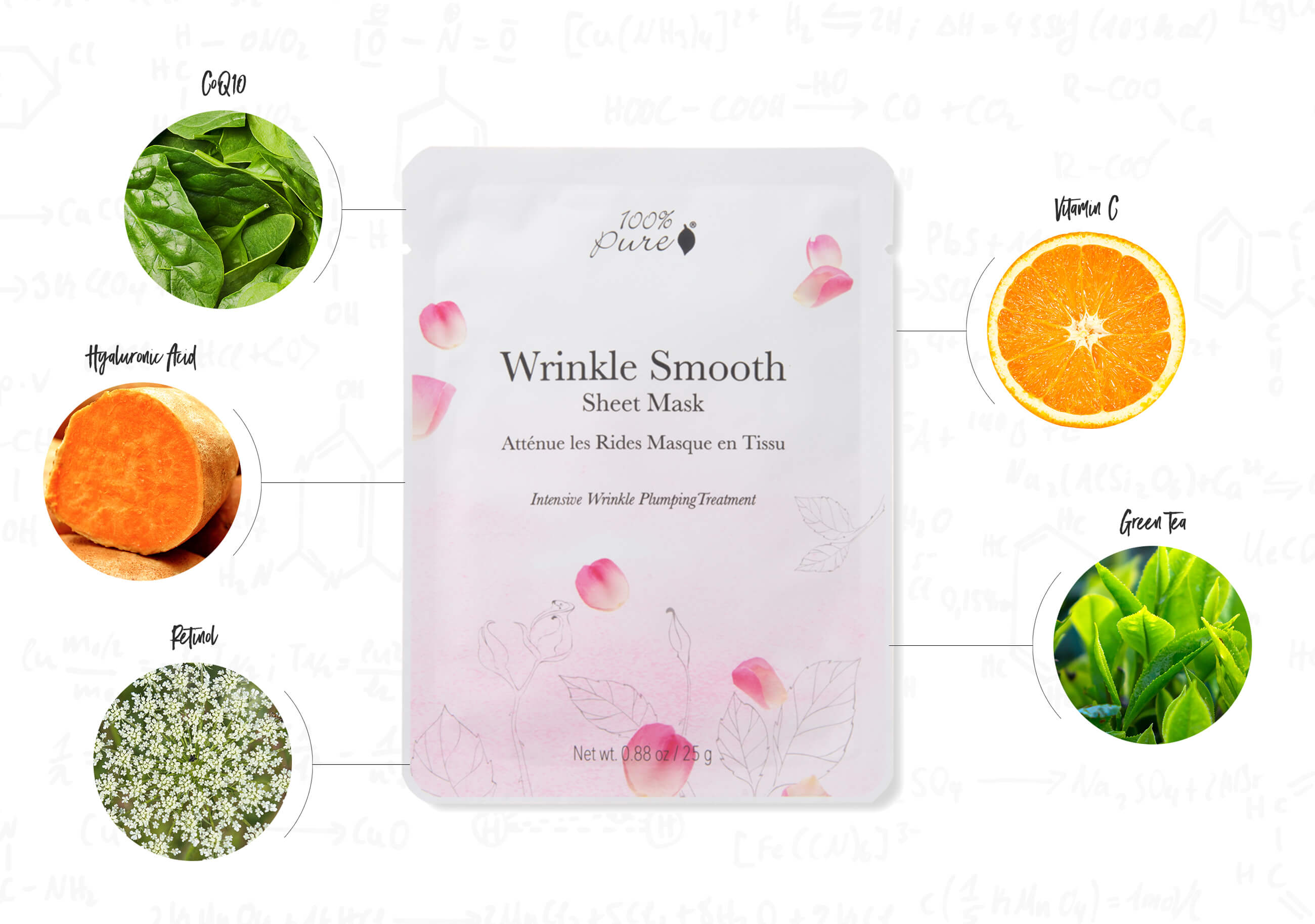 The Wrinkle Smooth Sheet Mask is an intensive plumping treatment. It brightens, firms, and restores skin with potent ingredients to promote a youthful complexion. Coenzyme Q10 (ubiquinone) reduces the appearance of sun damage and lessen wrinkles. Retinol from carrots helps increase skin cell turnover to reveal younger looking skin, while Vitamin C brightens. Caffeine will help reduce redness and soothe sun damage. This is the perfect mask for anyone concerned with hyperpigmentation. We recommend pairing this mask with the Dark Spot Remover and the Fermented Rice Water Trio for the best brightening effects.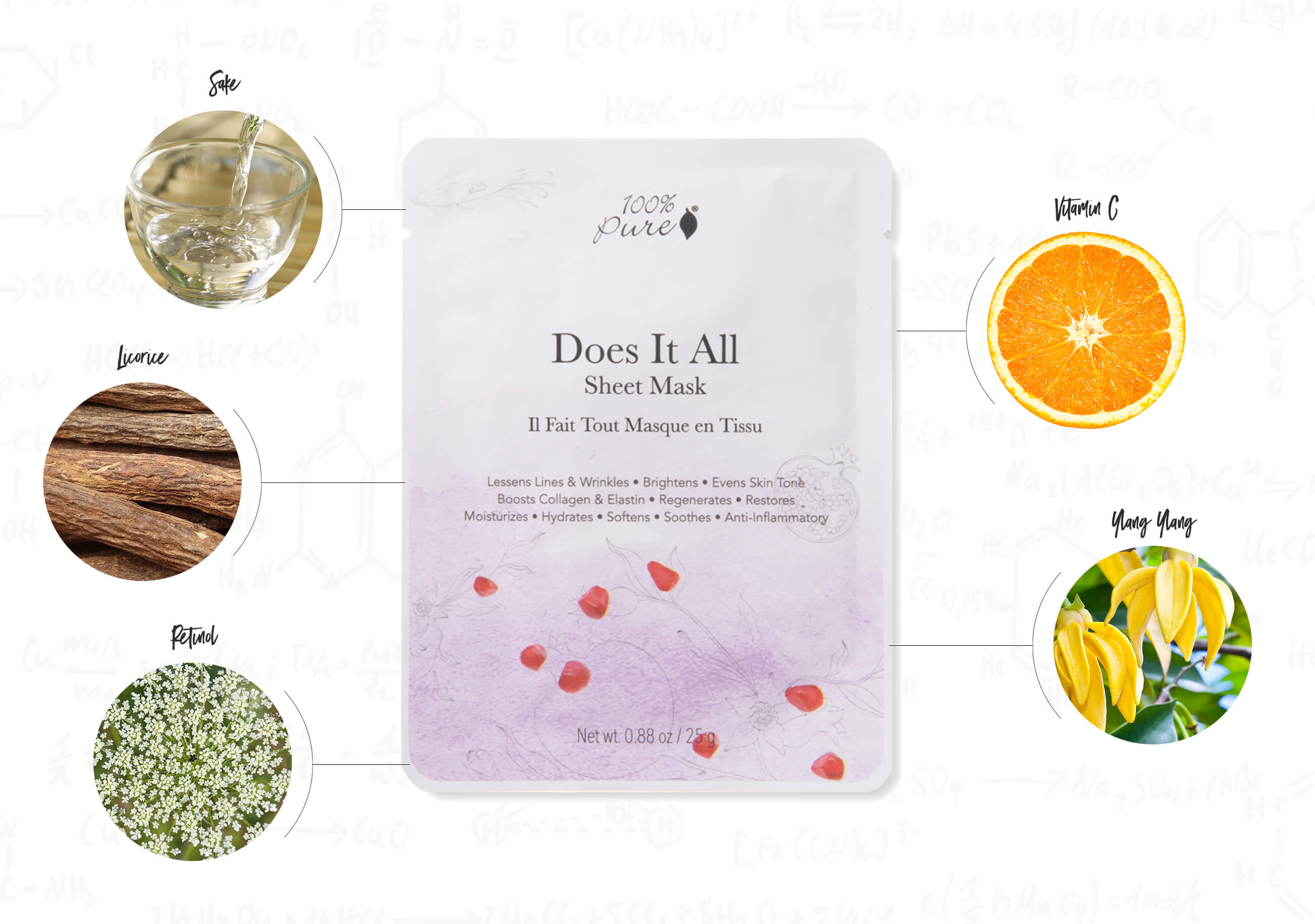 The Does It All Sheet Mask brightens, firms, hydrates, and restores skin with vitamins and antioxidant rich plant-based ingredients. Let's all take a breath. Here's just some of the amazing things this mask does: retinol lessens lines and wrinkles, sake enzymes brighten, stable Vitamin C promotes an increase in collagen and elastin (translation: firmer, younger looking skin), resveratrol from grapes provides free radical quenching antioxidants (AKA the Fountain of Youth), caffeine boosts circulation, hyaluronic acid hydrates, Vitamin A improves skin texture, ylang ylang soothes, chamomile reduces inflammation. Whew! That was a woozy. Bottom line, this mask does everything a skin mask could do all in a 100% PURE way. We recommend pairing it with the cult favorite eye cream, the Coffee Bean Caffeine Eye Cream to ensure your whole face gets pampered.
Daily masking is a part of a Korean skin care routine, and these natural sheet masks make it an ultra deluxe experience. They're free from synthetic preservatives (such as parabens), cheap fillers and diluted active ingredients. We never use fillers such as water which often makes up over 65% of typical cosmetic formulas. As is the norm for us, these natural sheet masks are free of artificial fragrances, chemical preservatives, harsh detergents and unhealthy, toxic, or aging ingredients. So relax and unwind. We couldn't be more excited for you to experience our new Korean beauty favorites! Looking for more skin care inspo? You might be interested in the following:
Korean Skin Care Routine from the Founder of 100% PURE
We carefully hand-select products based on strict purity standards, and only recommend products we feel meet this criteria. 100% PURE™ may earn a small commission for products purchased through affiliate links.
The information in this article is for educational use, and not intended to substitute professional medical advice, diagnosis, or treatment and should not be used as such.
Sign up to our email newsletter for more blog updates and exclusive discounts.
< Older Post | Newer Post >