100% PURE™ joined forces with makeup artists on two separate SS20 runway shows – here's the breakdown on their RTW makeup looks!
Posted on September 11, 2019
Written by: 100% PURE®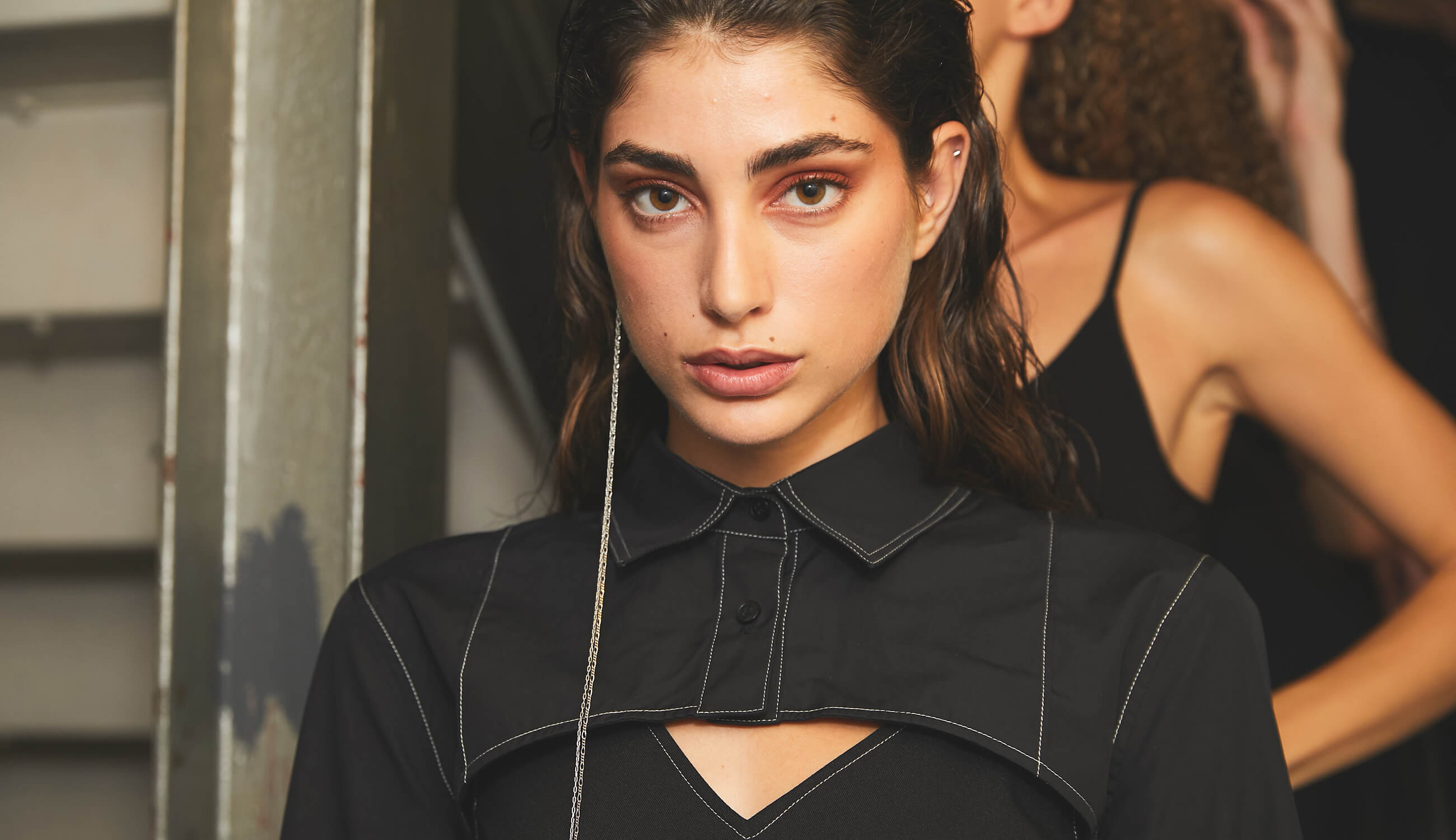 Photo courtesy of Coni Torallo
Summer's not over yet, but the spring/summer collections at NYFW 2019 officially have us thirsting for next year! The last week has set on our trend-o-meters on high alert, with looks that left us more than ready for next summer.
NYFW 2019 certainly gave us the goods with vivid textiles, fresh silhouettes, and more exquisite tailoring than ever. Sies Marjan stunned with a feast of colors and textures, while Jeremy Scott launched us into an 80's fantasy with a Barbarella twist. Our vegan hearts soared to hear that come spring of next year, we can go stomping through puddles in vegan wellie boots from Stella McCartney – just one more sustainable fashion innovation to grace NYFW 2019.
We partnered with two makeup artists to outfit two vegan runway collections, from Leuni and Noon by Noor. These effortless womenswear collections inspired some seriously stunning makeup looks, courtesy of the best in the biz. Get the breakdown from makeup artists Deanna Melluso and Sil Bruinsma below, for VIP access to runway-ready makeup looks you can wear everyday.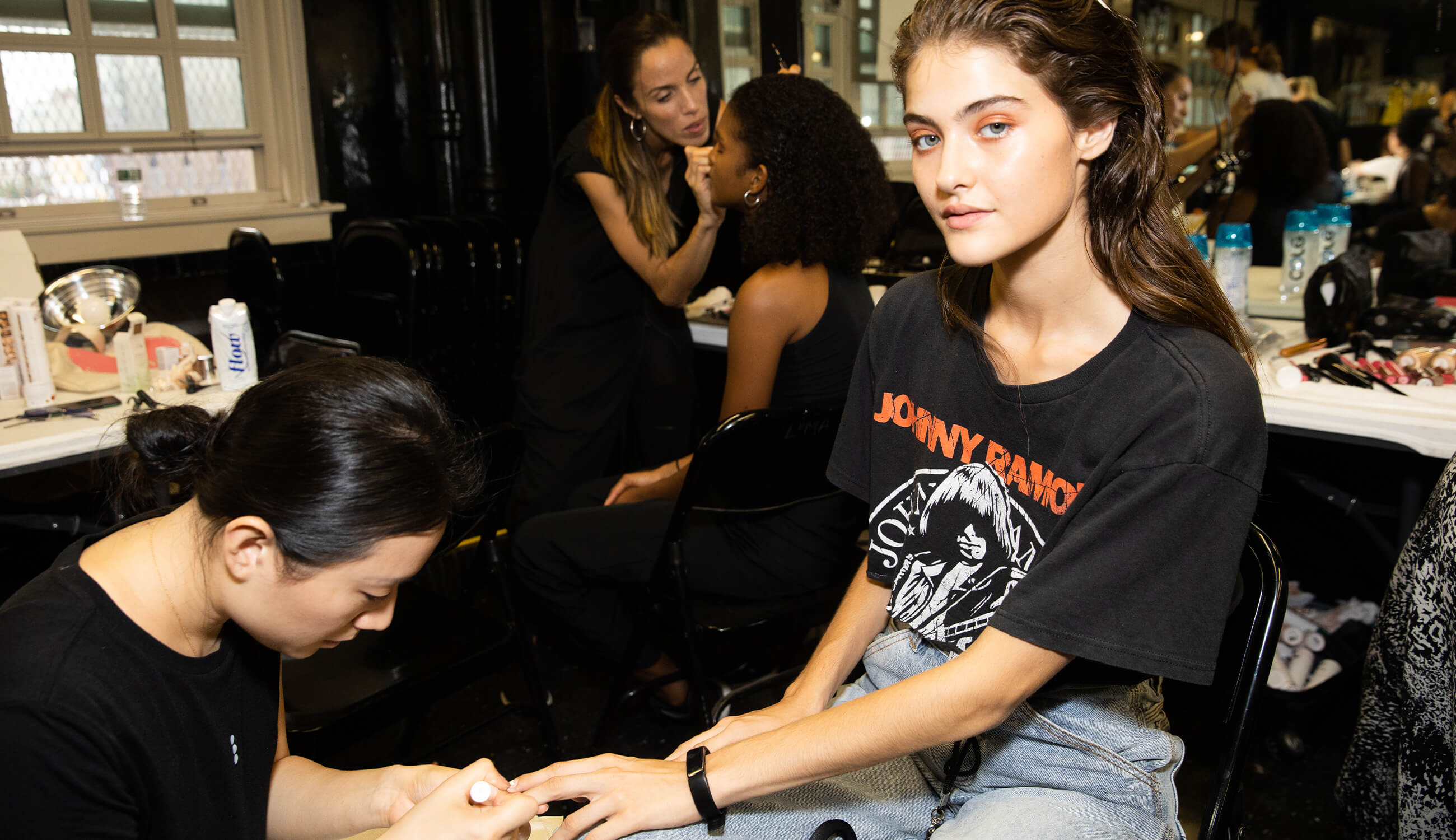 Photo courtesy of Hatnim Lee
LEUNI Runway at NYFW 2019
MUA: Deanna Melluso
Showcasing their SS20 collection entitled "No Common Sense", the second runway show of Seoul and New York based Leuni was out to prove a point. One of the most anticipated shows at NYFW 2019, it steps outside of the realm of design 'common sense'. The concepts by Winter Lee and Euni Kim are laced with juxtaposing fabrics, competing lines, and abstract tailoring. All elements are made to challenge the modern idea of how womenswear should look.
With a muted color palette and subtly complex designs, the beauty look for Leuni had to be equally understated, yet bold. Makeup artist (and Cher hair inspiration) Deanna Melluso was the brilliant mind behind the glossy radiance of Leuni's SS20 runway makeup.
Melluso's solution for complimenting Leuni's muted color palette and structural silhouettes was to contrast with glossy, dreamy, and dewy finishes. Shades of warm, chocolatey nude can enhance warmth in any skin tone, making this runway look easily ready-to-wear on a daily basis.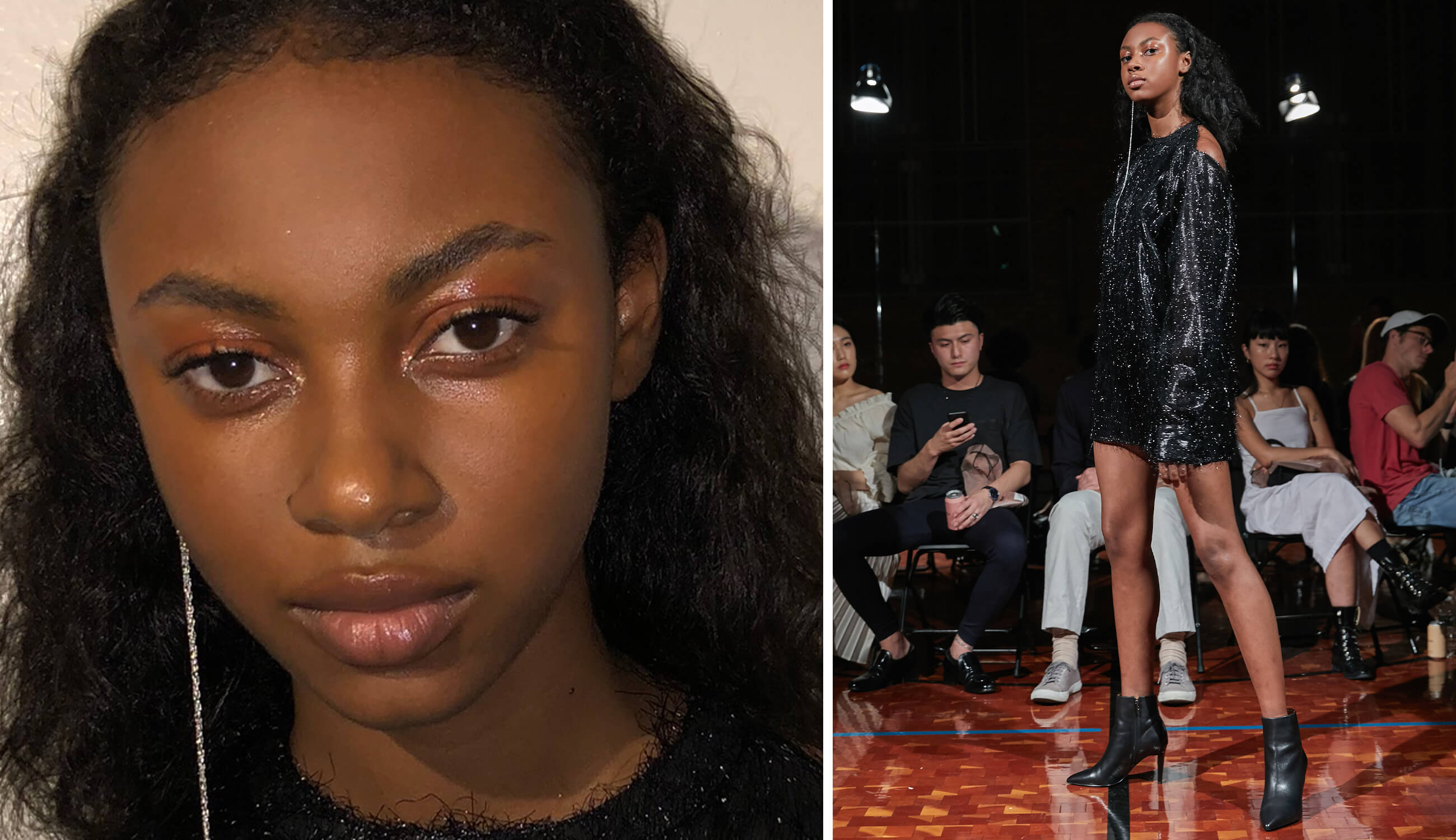 Photos courtesy of Coni Torallo
STEP 1: Skin
First, create a smooth base for makeup with the Mattifying Primer. This will keep your dewy look on track, preventing it from teetering into oily or shiny. Allow your primer to set for about 60-90 seconds.
To get a fresh, dewy complexion, none other than the Fruit Pigmented® Tinted Moisturizer will do. Use a kabuki brush to apply over areas of the face that need coverage, keeping your complexion light and seamless. For those desiring more full coverage, apply all over with a damp makeup blender. Slowly build layers in areas where you feel you need it.
STEP 2: Eyes
To get a seamless flush of color on the lids, go in with lipstick! Melluso used Agave matte lipstick on the eyelids, "using a brush or finger to create an airy effect". Making sure to avoid harsh lines, buff above your crease, onto the brow bone. Gently pull the pigment out below the brow and blend out with fingers. Finish by applying Agave to the bottom lash line with a small, flat makeup brush.
For an ultra trendy, supple and sultry eye makeup look, layer a gloss over your lids. Melluso used our Gemmed Lip Gloss in Moonstone for a juicy, celestial glow that picked up the glint from Leuni's extra-long accent jewelry. Apply all over your lid and brow bone (over pigment), and lightly blend under the lash line with a small brush.
STEP 3: Cheeks & Lips
To give a natural flush to cheeks, Leuni models kept a monochromatic color palette between cheeks and eyes. Melluso advises to blend Agave onto the high points of the cheekbone, pulling the pigment up to the bottom eye line for a diffused flush of color.
For a finishing touch, contour and engage your lips with Moonstone lip gloss. Outlining the lips gives the illusion of fullness, while nourishing vitamin E softens the lips for an extra kissable pout.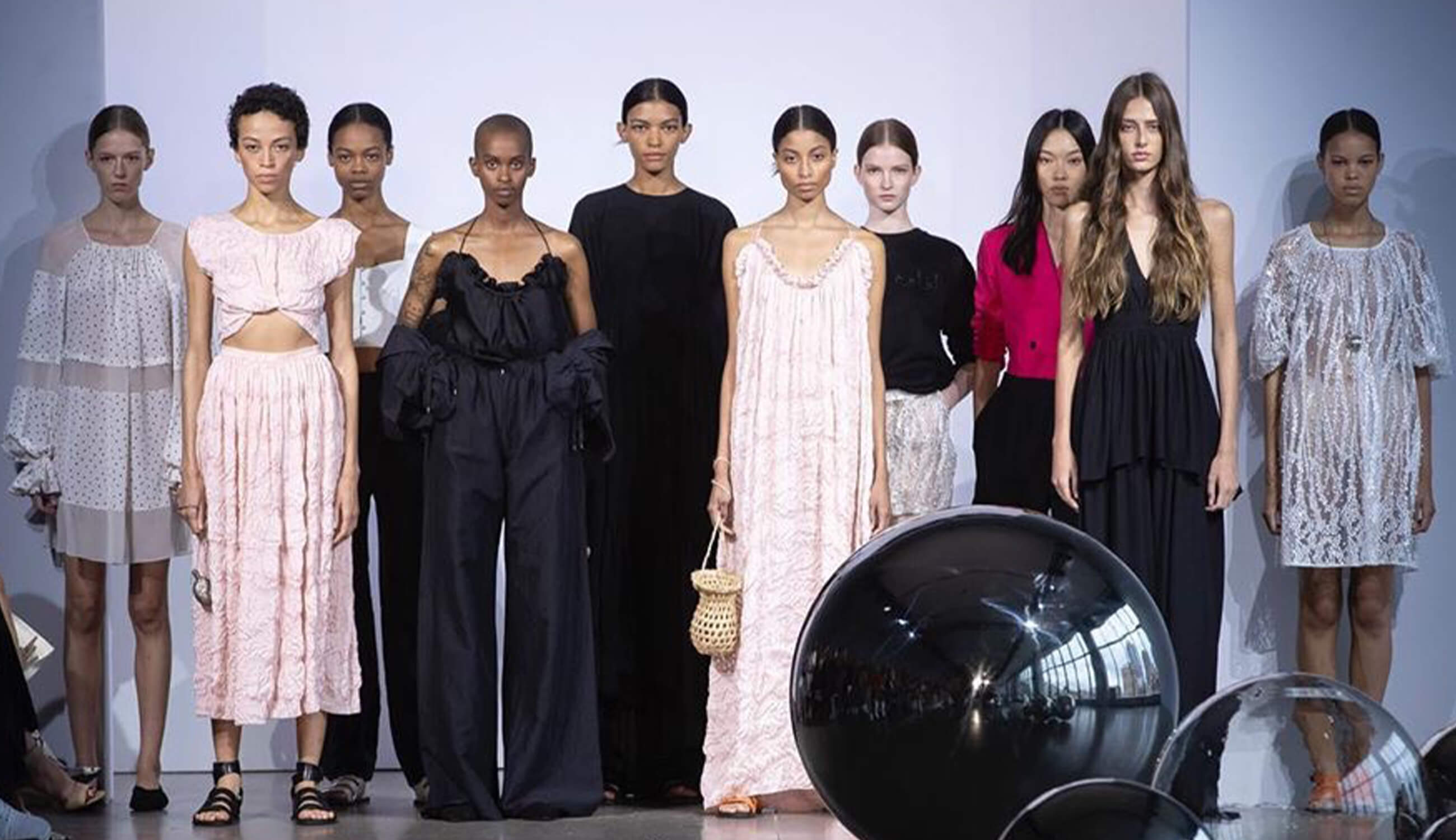 Photo courtesy of Noon by Noor
NOON BY NOOR Runway at NYFW 2019
MUA: Sil Bruinsma
Bahrain-based womenswear label Noon by Noor brought soft structure and breezy silhouettes front and center with their Spring 2020 collection. The label was founded by designers (and cousins) Shaikha Noor Al Khalifa and Shaikha Haya Al Khalifa in 2008, and continues to gain notoriety with its chic, effortless designs.
The highly anticipated Noon by Noor SS20 show was attended by celebs like Camilla Belle and Stranger Things star Natalia Dyer. The show celebrated comfortably chic draping and ruching, with delicate button and organza details.
NY based makeup artist Sil Bruinsma led on the beauty front for Noon by Noor, with visions of petal-tipped lids and luminous, dew-kissed skin. "Colorful eyes and clean summer-fresh skin, neutral lips and brushed brows is the vibe," said Bruinsma. "We created a beauty look that was glowy, radiant and sun kissed."
STEP 1: Skin
Start by prepping skin with light, hydrating treatments. Our Restorative Sea Culture Serum and a facial mist would be key here, with touches of moisturizer where you need it.
In terms of coverage, Bruinsma went light and utilitarian with a concealer. Instead of starting this look with foundation, just dab a lightweight concealer where you need it. Focus on concealing dark circles, blemishes, and dull areas.
To get the same golden warmth as the runway models of Noon by Noor, turn to products packed with real cocoa. "We enhanced the girl's natural glow with a swipe of Cocoa Berry on the cheeks and bridge of the nose, and blended this with the Cocoa Pigmented Bronzer," says Bruinsma.
Start by warming Cocoa Berry Lip & Cheek Tint between clean, dry fingers. Blend into cheeks with the pad of your middle finger in light, feathering motions for a warm, natural flush. Next, choose the shade of Cocoa Pigmented Bronzer that most suits your skin tone. Dust over cheeks, top of forehead, and along the bridge of your nose with a fluffy brush.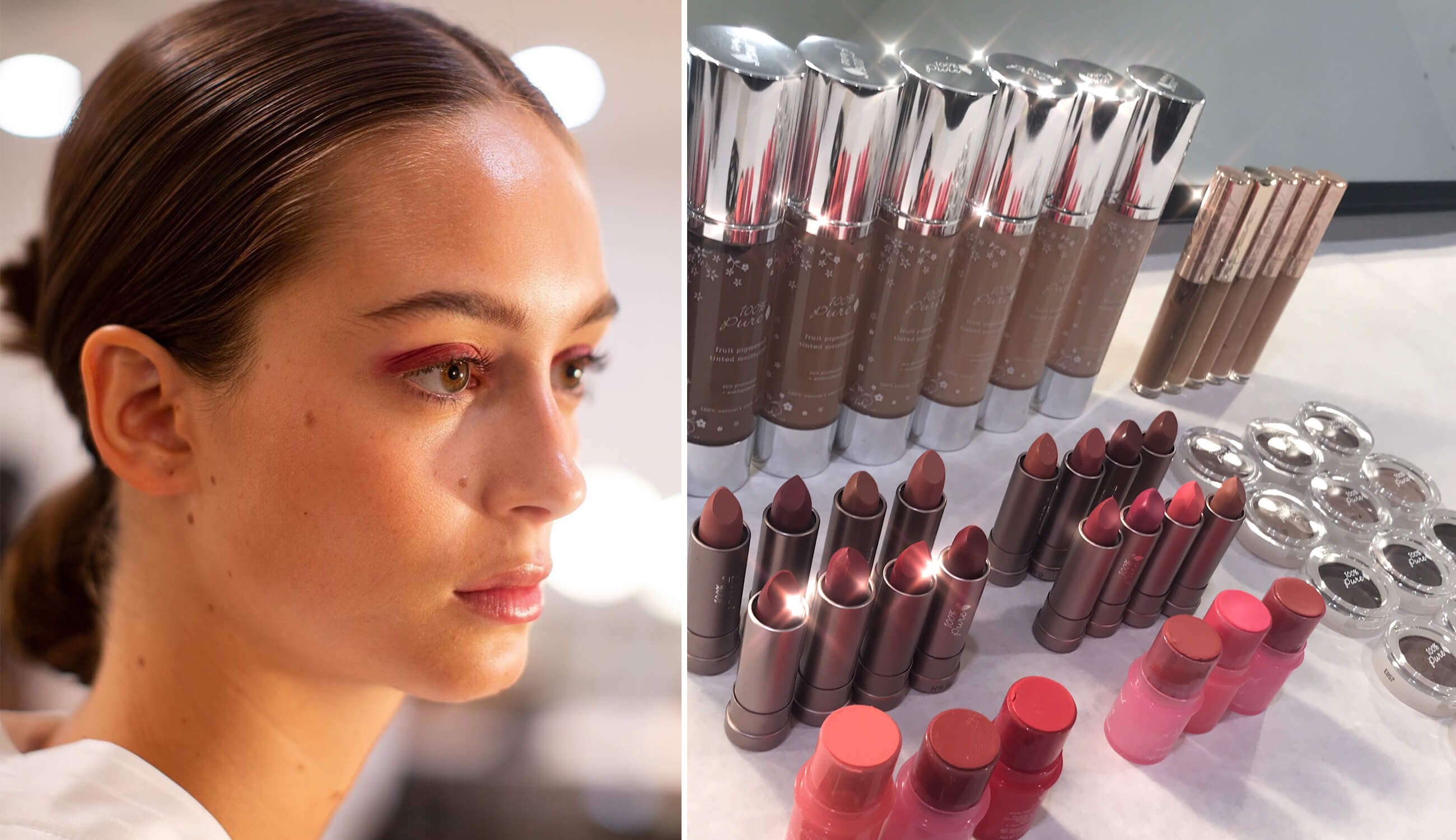 Photos courtesy of Noon by Noor
STEP 2: Eyes
To get a creamy, opaque color on the eyes, makeup artists employed an unconventional form of eye shadow. "The eyes were given a slight dewy, bronzed finish by patting on Cocoa Butter Matte Lipstick in Mojave," explains Bruinsma. Cream can be a bit more user-friendly than powder, and can be applied with fingers or a brush for a natural, flushed effect.
Start with clean, moisturized lids (which we took care of in step 1). Use a small, dense brush to apply lipstick to the lids, packing on pigment until it creates a smooth, even color. Dab on extra pigment with your fingers at the center of the lid, to ensure color concentration. Blend out pigments with a small, fluffy brush, avoiding sharp lines and extending color to just below the crease.
PRO TIP: Prefer a statement eye, rather than shades of nude? Bruinsma gave a few of the girls a bolder eye by using Aubergine matte lipstick on the lids.
STEP 3: Finishing Touches
To finish your runway-inspired look, keep it simple with your finishing touches. For lips, add a sheen of Organic Mint Lip Balm for a supple, satin nude finish. Bruinsma lightly brushed our Ultra Lengthening Mascara up from under each model's lashes, wiggling gently for light, feathered lashes.
We carefully hand-select products based on strict purity standards, and only recommend products we feel meet this criteria. 100% PURE™ may earn a small commission for products purchased through affiliate links.
The information in this article is for educational use, and not intended to substitute professional medical advice, diagnosis, or treatment and should not be used as such.
Sign up to our email newsletter for more blog updates and exclusive discounts.
< Older Post | Newer Post >