Natural makeup tips for serving flawless face, lip, and eye looks
Posted on August 5, 2018
Written by: 100% PURE®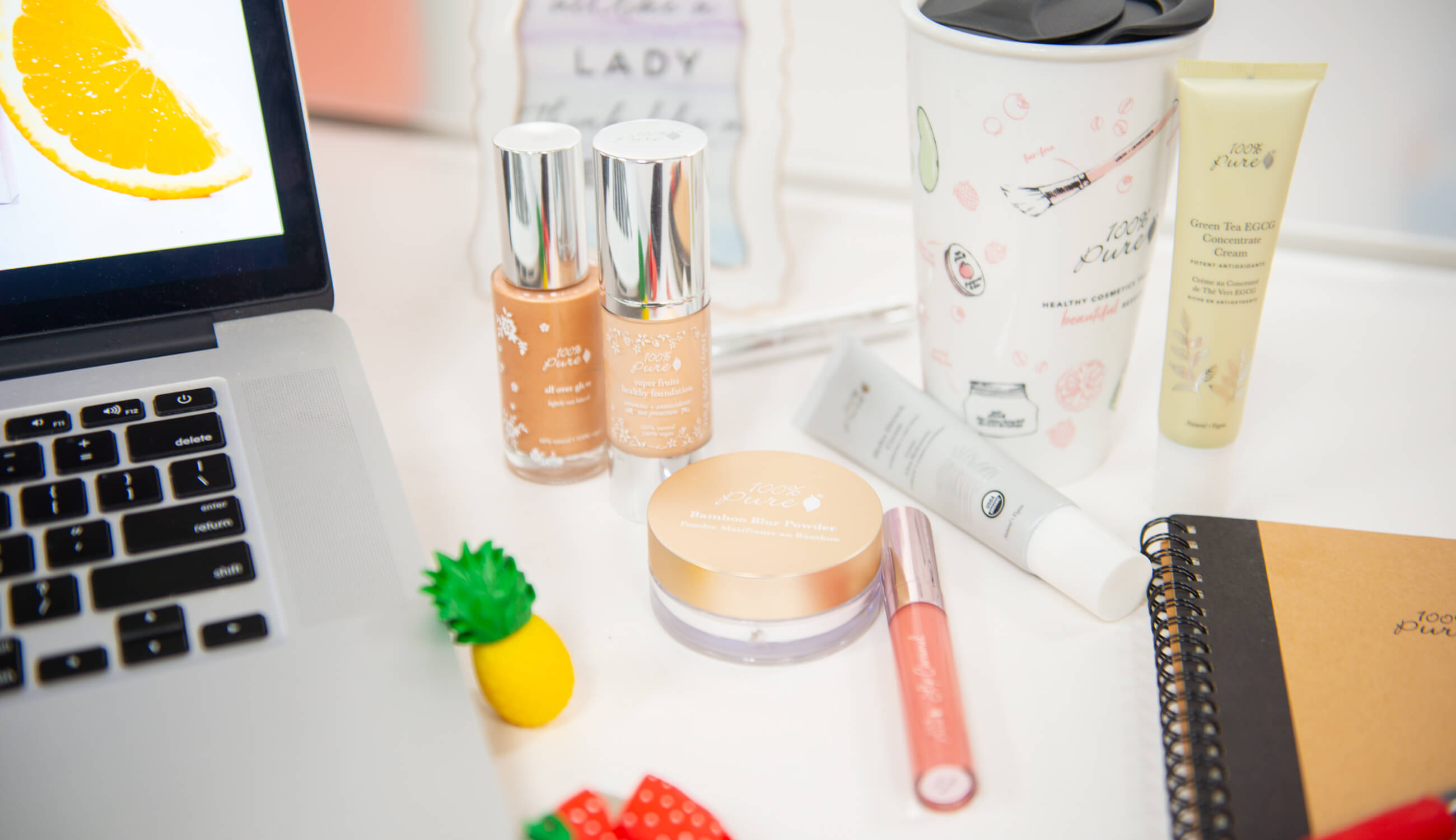 When your normal makeup grind starts to feel like a chore, it's time to seek a little help. Maybe you slept through your alarm (again). Maybe you've been eyeing a $40 setting spray online, but your bank account won't play along. Or maybe you're just having a decidedly low-maintenance day, and it'd be nice to cut a few corners. We're sharing our fave natural makeup tips that work smarter, not harder. So you can afford to be fashionably late (or fashionably lazy, we don't judge).
Eye Makeup Hacks
What's not to love about drawing attention to our eyes with dramatic liner, heavy lashes, and a little shimmer to finish it off? And then about halfway through the day, disaster strikes. We look like we've missed the last train home at 2am, sporting raccoon eyes and sparkles all over our cheeks. Here are some of the ways we keep eye makeup in place, while utilizing the tools you already have in your beauty arsenal!
Natural Makeup Hack #1
How to prevent smudged eye makeup:
Using a small, fluffy brush, dust a light coating of our Bamboo Blur Powder over the lids and lashes. This will prevent the lids from getting oily or greasy throughout the day. It also sets the eye area so that mascara and eyeliner won't smudge or budge.
Oily lids occur with age, from having generally oily skin, and can even happen randomly due to stress or weather. The problem is that while we don't want our eyes to look or feel greasy, we absolutely don't want them to feel dry. Dryness enhances the appearance of fine lines and makes our eyes appear older.
PRO TIP: if you're going makeup free, try using our Antibacterial Wood Pulp Oil Blotting Paper to dab off unwanted eyelid oil throughout the day.
Natural Makeup Hack #2
How to get thicker lashes:
Did you know that adding a layer of setting powder between mascara coats can make the lashes appear fuller and flirtier? Piggybacking on the last hack, grab a small, fluffy eyeshadow brush. Lightly sweep some of our Bamboo Blur Powder onto the lash area between layers of our Fruit Pigmented® Ultra Lengthening Mascara for enhanced, dramatic lashes.
Natural Makeup Hack #3
How to get more vibrant eye shadow:
When going for a metallic or shimmery eye look, we want our eye shadow to really pop! Sure it's possible to achieve a better color payoff by applying with your fingertip, or spritzing the eye shadow brush before applying color to the eyes. But are you looking for a seriously effective natural makeup hack? Try our buttery Fruit Pigmented® Satin Eye Shadows as a base for your other eye shadows. Available in a variety of neutrals and nudes, these shadows are infused with avocado butter and rosehip oil. They'll condition the eyelid skin and lashes, while amplifying any eye shadow shade applied on top.
Lip Makeup Hacks
If there were a lip care bible, it would state: drink plenty of water,always apply lip balm, and don't forget the SPF. If lip care and lip products are your focus, make them stand out with the natural makeup hacks below!
Natural Makeup Hack #4
How to get the perfect nude lip gloss:
We're not always in the mood for a nude lip, but (thanks to Jlo for the inspiration) summer is the time of year when the glossy nude lip is our go-to. To customize the perfect nude for your skin tone, start off with moisturized lips and apply leftover foundation from your brush or sponge onto your lips, then top with our Gemmed Lip Gloss in your favorite shade (we recommend Moonstone or Rainbow Aura) for juicy, nude lips.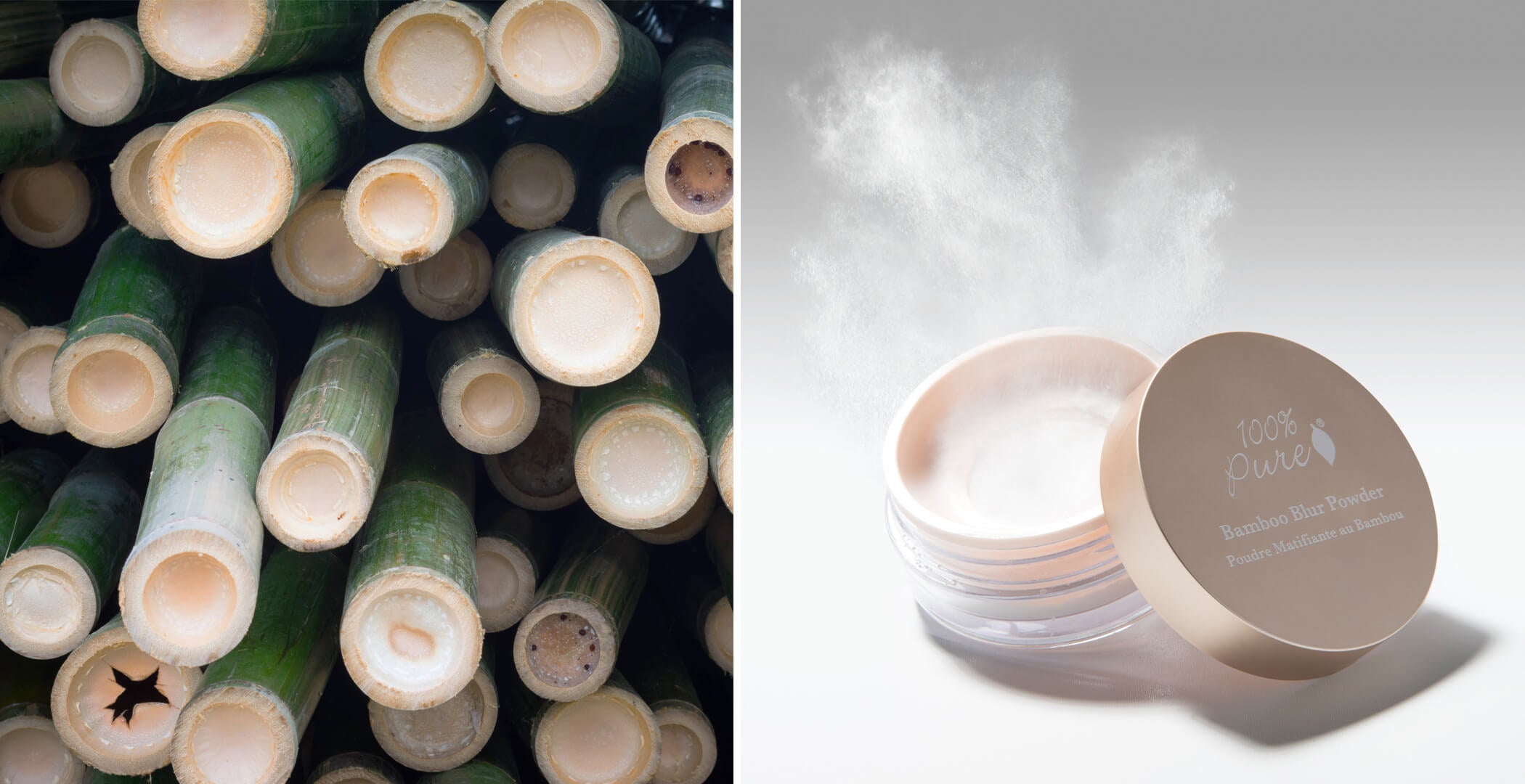 Natural Makeup Hack #5
How to get sexy, matte lips:
You can use Bamboo Blur Powder on top of your favorite non-matte lipstick to achieve a seductively matte finish. If you're looking to recreate your favorite glossy lipstick shade in a matte version, this hack is for you! Simply press a tissue onto your lips, after applying your glossy lip color. Using a small brush, press the powder into your lips over top of the tissue. Repeat until you achieve your desired finish, then remove the tissue and press lips together to blend. Be sure to check out our previous posts for more matte makeup and matte lipstick tips and tricks!
Face Makeup Hacks
Summer skin tends to need a little extra attention when it comes to finding the perfect foundation. Whether you prefer glowy, matte, tan or sheer coverage, we've got a hack for you!
Natural Makeup Hack #6
DIY bronzed, glowy foundation:
Back from holiday and realizing that all of your foundations are just a teensy bit too light? If you've got our All Over Glow liquid illuminating bronzer, this could be the hack for you. Mix in a few drops of this glowing bronzer with your current shade of foundation for a slightly darker shade, to better match your newly tanned skin. It's the perfect radiant, glowy finish that shines day or night.
Natural Makeup Hack #7
DIY sheer, glowy foundation:
If you're looking for a way to boost radiance, might we suggest this natural makeup hack: adding highlighter into the mix. Swipe your signature shade of Luminating Crème onto the back of your hand, and swirl in a bit of your liquid foundation until mixed. Using a damp beauty sponge, press into the skin for a dewy mermaid vibe. If you'd rather have more sheer coverage and a boost of hydration, replace the highlighter with your favorite 100% PURE moisturizer for plump, hydrated skin.
PRO TIP: Going makeup-free? Try this tip by swapping the foundation for a moisturizer.
Natural Makeup Hack #8
DIY natural makeup setting spray:
You can create a before-makeup toner and after-makeup setting spray with just three ingredients! Our setting spray recipe starts with deeply hydrating, pure aloe vera gel. Aloe gel has a texture that can grab and hold onto your makeup to help it set. Then we have witch hazel (instead of harsh alcohols used in most setting sprays), which acts as a soothing ingredient for neutralizing excess oil. The third ingredient is filtered and purified water.
Start with a 1oz fine mist spray bottle. Add 2 tbsp witch hazel, 1 tbsp aloe gel, and 1 tbsp water. Mix thoroughly, and you're done! Simply spritz onto skin after setting with powder and you're good to go! Add more throughout the day as needed to combat climbing temperatures and dry skin.
PRO TIP: Depending on your skin type, you can add a few drops of your favorite essential oil to your DIY setting spray. Sensitive skin types can add rose, dry skin types sandalwood, acne-prone skin types vetiver, oily skin types geranium, combo skin types lavender, and aging skin types ylang-ylang. Don't use citrus essential oils during the day, as they increase skin's photosensitivity.
We carefully hand-select products based on strict purity standards, and only recommend products we feel meet this criteria. 100% PURE™ may earn a small commission for products purchased through affiliate links.
The information in this article is for educational use, and not intended to substitute professional medical advice, diagnosis, or treatment and should not be used as such.
Sign up to our email newsletter for more blog updates and exclusive discounts.
< Older Post | Newer Post >