10 Non-Toxic Nail Polishes for a No Chip Manicure
Embrace Color without Compromise!
Posted on October 11, 2023
Written by: 100% PURE®
Nails on a chalkboard might sound pretty good once you hear the cringe-worthy ingredients in that salon shade of subtle nude. Whether you're unbothered or irritated by the fingernail-chalkboard sound, you'll probably find yourself triggered by another nail annoyance. Traditional nail polish contains toxic ingredients that can have adverse effects on both your nails and overall health.
Thankfully, with beauty aficionados becoming more ingredient-conscious of the products they're using from head to toe, this attention has made its way down to the nail tips. We're going to hit the nail on the head with the reasons why making the switch to non-toxic nail polish is a crucial step toward safeguarding your health and well-being.
That's right! Let's trade in those tainted tips and bone-chilling scrapings with non-toxic 'Free' polish for a red hot, non-chip manicure in shade, the Fuchsia is Bright! Once that's paired with tips for a long-lasting set, you'll be super excited for what's to come in a beauty routine that not only sounds better, it IS better!
The Toxic Trio and Beyond
Before we can fully understand the significance of non-toxic nail polishes, it's important to point out the cocktail of chemicals commonly found in conventional nail polish formulations. Many standard and salon polish brands contain toxic ingredients with the top 3 culprits being toluene, formaldehyde, and dibutyl phthalate (DBP).
Let's check out why we want to avoid the "Toxic Trio" or "Big 3", plus some other harmful chemicals that are frequently present, even though they can have adverse effects on both our nails and overall health.
Toluene
Toluene, a chemical commonly found in many nail polishes, lends itself to that distinct scent we often associate with fresh paint. But beneath that not-so-fresh aroma lies a potential threat to respiratory health. Regular exposure to toluene fumes can result in respiratory issues, irritating the eyes, nose, and throat. Even more concerning is with higher inhalation of toluene fumes, the negative side effects could impact the nervous and immune systems.
Formaldehyde
Known for its use in embalming processes, formaldehyde has also injected its way into many nail polishes. Acting as a preservative, formaldehyde can extend the shelf life of nail polishes, but not necessarily the 'life' of your nails or skin. The contact dermatitis that often follows the application of formaldehyde-laden nail polish can leave you scratching your head and body. Skin irritation, redness, and even watery, burning, or itchy eyes are potential reactions that underscore the expense of your comfort and delicate skin.
Dibutyl Phthalate
Dibutyl phthalate or DBP, is a chemical added to prevent nail polish from becoming brittle and enhances the flexibility of the polish. However, the side effects of this seemingly innocuous addition are potentially harmful. This chemical has been suspected to interfere with hormonal balance and impact developmental growth and the reproductive system. This ingredient is usually included in formulas for that no-chip finish, but we would rather chip away this ingredient altogether; the risks aren't worth it.
Other Nail Polish Culprits
Other major chemical offenders are hiding in conventional nail polish formulas and their adverse health risks include:
Xylene has not been verified as a carcinogen yet but has an immediate impact on the body. Side effects include headache, dizziness, nausea, and allergy potency.
Parabens are the umbrella term for several types of preservatives used to prevent bacteria from forming in hair and beauty products. The most dangerous side effect of parabens is their ability to mimic the hormone estrogen in the body. But while additional estrogen doesn't initially sound serious, it can disrupt normal bodily functions, create harmful imbalances, and ultimately lead to tumors and cancerous cells.
Camphor, while it gives nail polish its shiny appearance and sharp odor, can also cause nails to become chronically dry, brittle, and discolored. Ultimately, none of these ingredients are safe for pregnant or nursing mothers, and the rest of us should avoid them if possible.
Switching to non-toxic nail polish gives you the added benefits of not only protecting your nails and skin but also promoting better health for your entire body. Although ingredients from non-toxic nail polishes are derived from natural sources, they're still as effective as the wear of conventional polish – but WAY better for you. This means you can still enjoy a glossy finish, a vibrant color palette, and the durability you'd expect from a high-quality nail polish, but without the associated health risks.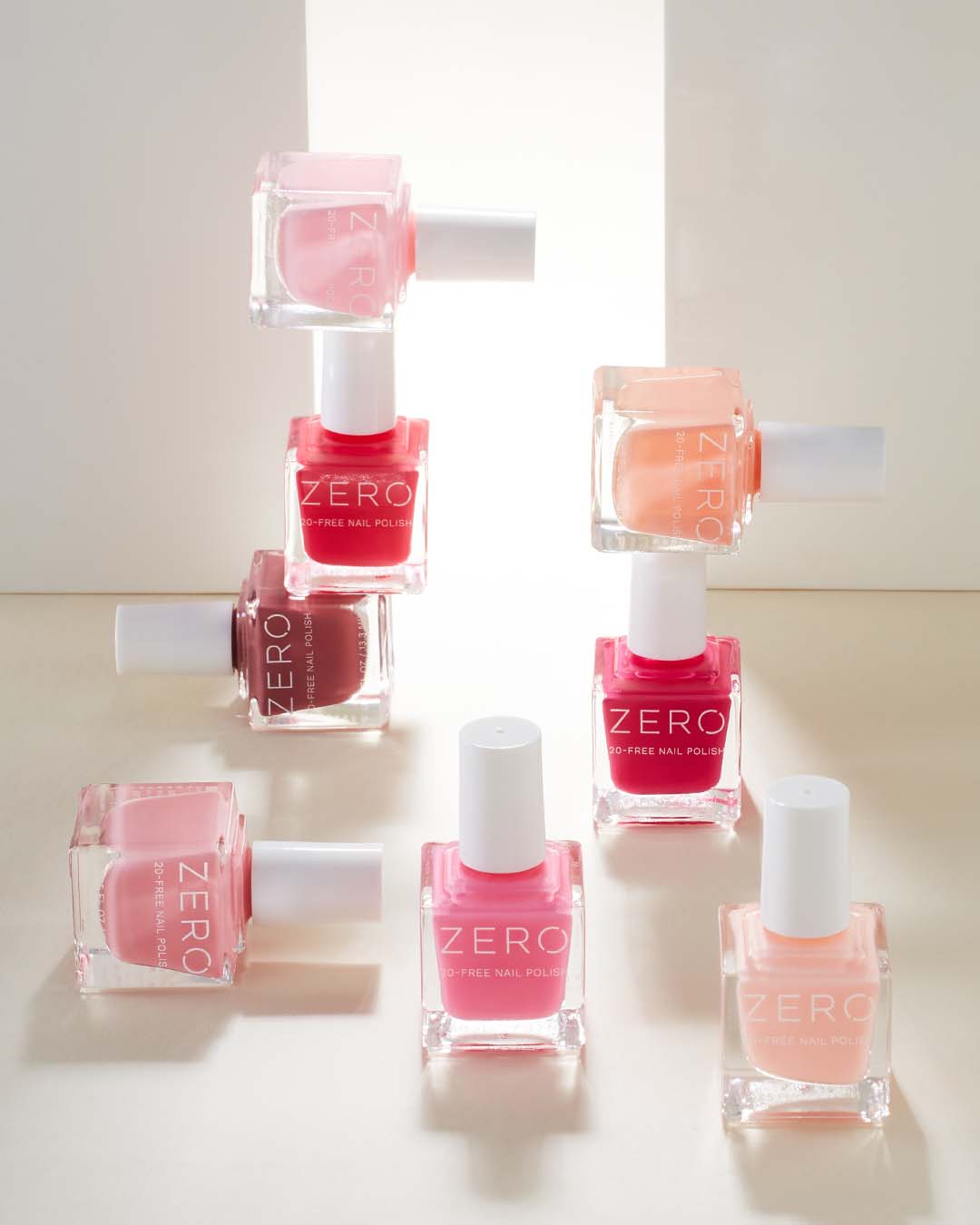 Unveiling the Non-Toxic Treasures
Now that we're on to the harmful ingredients in conventional nail polishes, many brands are taking other sneaky steps. However, we're leaps and bounds ahead of that! This has laid the groundwork for brands to purposefully omit toxic ingredients during production, resulting in the "-free" standard.
When we discuss what defines clean, natural nail polish, one of the best standards we can use is how many "free" of possible toxic ingredients are in formulas. This indicates a specific number of potentially harmful chemicals not included in the nail color formula.
These nail polish brands will typically state themselves as anywhere from "3-free", 7-free", "15-free" - and even "20-free", like 100% PURE. The lists may vary depending on the brand. So, what do these terms mean, and their significance? Here's a breakdown of how natural nail brands avoid toxins:
3-FREE
Toluene, dibutyl phthalate (DBP), and formaldehyde
5-FREE
Formaldehyde, toluene, DBP, formaldehyde resin, camphor
7-FREE
Formaldehyde, toluene, DBP, formaldehyde resin, camphor, ethyl tosylamide, xylene
9-FREE
Formaldehyde, toluene, DBP, formaldehyde resin, camphor, ethyl tosylamide, xylene, parabens, acetone
10-FREE
Formaldehyde, toluene, DBP, formaldehyde resin, camphor, ethyl tosylamide, xylene, parabens, acetone, TPHP, TBHP, gluten
15-FREE
Formaldehyde, formaldehyde resin, DBP, toluene, camphor, ethyl tosylamide, xylene, TPHP, parabens, bismuth, MIT, MEHQ, gluten, fragrance, animal derivatives
When you choose higher-Free nail polishes, this assures you that your beauty routine is free from harmful chemicals that can adversely impact your health. That's precisely why at 100% PURE, we went a step further and created a 20-Free nail formula. We embody this ethos by harnessing the power of plant-based ingredients to create nail polishes that are not only vibrant in color but also safe for use.
Our20-FREE label means NO
Formaldehyde, toluene, camphor, formaldehyde resin, xylene, parabens, fragrance, phthalates, dibutyl phthalate (DBP), ethyl tosylamide, triphenyl phosphate (TPHP), animal ingredients, methylisothiazolinone (MIT), hydroquinone monomethyl ether (MEHQ), gluten, palm oil, sulfates, bisphenol-A, acetone, nonylphenol ethoxylate
As mentioned, we've got a color guide to 20-free nail polishes in the shimmery, red, pink, or nude categories – plus the best manicure finishes. You'd be hard-pressed to find another nail polish, even the cleanest formula, that can adhere to 100% PURE's strict purity standards. This led to the creation of our nail polish sub-brand "Zer0", which includes 0/20 of the most common nail polish toxins.
We've taken notice to especially exclude the chemical culprits, parabens, phthalates, formaldehyde, and toluene in our natural nail color brand Zer0. As with every one of our products, we are committed to keeping Zer0's nail polish formula cruelty-free.
Top 10 Non-Toxic Nail Polishes for a No-Chip Manicure
When it comes to nail polish, making the right choice is essential for both style and health. Enter our 20-Free Non-Toxic Nail Polish line, a game-changer in the beauty industry. This nail polish collection offers a stunning array of trendy and vibrant colors, ensuring there's a shade for every occasion and mood. Whether you're into classic reds or playful pastels, you'll find a hue that suits your style and personality.
Check out our top non-toxic nail polished for a non-chip manicure:
To seal the deal on your fresh set, you'll need to ensure long-lasting, chip-resistant shine. Our superstar top coat is designed to protect your color from chipping, cracking, and thinning while enhancing vibrancy and giving nails a glass-like finish. It's a transparent color enhancer, making for the perfect luster to glow up those nails.
It also creates an external barrier against environmental elements, keeping your new manicure and pedicure prim and flawless! Let this layer thoroughly dry, then apply a second coat for a more opaque or intense color. Always apply a top coat if you're looking for a professional finish, or simply want your color to last longer!
#2. Horsetail Base Coat Polish
Like priming your skin, applying a quality base coat creates the smoothest canvas for a perfect polish application. Our base coat polish strengthens nails with horsetail plant, promotes healthy nail growth, and protects your delicate nail bed. This not only enhances the polish's adherence but also protects your nails from staining. The best news is your gorgeous manicure will last longer.
FUN FACT: Horsetail, which is a healing herb, is rich in nutrients and high in silica to promote strong, healthy nails and hair. Its unique name is because the plant is a branched species resembling a horse's tail.
For the full manicure effect, you can add either a ridge filler, base coat, or top coat - or, all three. Including a ridge filler in your manicure helps to even the texture of your nail for a smoother, seamless polish application. After each coat, run the brush along the tips of your nails to create a seal. This prevents water and other substances from seeping under the polish and causing premature chipping.
#4. Camel-By-The-Sea Nail Polish - a pale camel nude
We're well aware nudes are a mani must-have for plenty of times. Is there any occasion that isn't suitable for a nude polish? When professionalism is key, this pale camel nude is your go-to. It complements any outfit, ensuring a polished and understated appearance for important meetings. As for a night out with friends, this nude is a dance power move that exudes style through simplicity. While some prefer a nudes-only color palette and others like a mix of everything, we can all appreciate the range in tones that the nude nail color category offers.
#5. Fog-et About It - a foggy gray
Understated yet sophisticated, this shade evokes the mystery of a fog-covered morning. It's the perfect companion for monochromatic outfits or a power suit. Whether you're heading to a business meeting or just enjoying a relaxed evening at a jazz club, this foggy gray ensures your nails exude elegance and poise.
#6. The Fuchsia Is Bright – a vibrant pink
This fuchsia pink conjures up dreams of days spent exploring the vibrant streets of a colorful city or city lights shining bright. Pumped full of heat with the right touch of sweetness, this vibrant pink is sure to make your days and future shine brighter! Romantic and sweet, pink lips make for the perfect natural lip color. Choosing a pink polish is like choosing a red one: once you find "your" pink, it becomes your signature shade!
#7. Of Tutu Minds - a dainty tutu pink
Channel your inner ballerina with this delightful shade of pink. Delicate and elegant, it's the go-to for bridal showers, baby showers, or simply for days when you feel like embracing your soft, feminine side – or your younger ballerina self. Pair it with tulle skirts, lacy tops, or even a simple white dress for that dreamy, ethereal look.
#8. I'm a Little Rusty - a rusty pink
This versatile shade seamlessly transitions from day to night. The rustic pink offers a natural warmth, reminiscent of a cozy autumn sunset. Perfect for a coffee date or brunch with friends, it pairs wonderfully with neutral tones or even with denim for a more casual look. For an evening out, try it with a burgundy or chocolate brown dress to accentuate its warmth.
#9. Blackberry Woods – a deep purple plum
Deep purples have gone far beyond the vampy, gothic realm or dreary days you want to avoid to nowadays' the spectrum of mauve plum, berry-red plum, and even blackened plum, meaning that there's an exciting option for everyone. We'll take it! Liven up any dreary fall skies with cheerful vibes and this crisp walk in the woods for your nails. This opaque, deep berry-purple shade embodies the decadent, colorful hues of autumn plus the ever-popular foliage and jewel-tone shades of the season.
#10. Over The Maroon – deep wine burgundy
Think, hues of merlot and maroon, the deep shade is a must-have color for your nails for fall. Elegant wine and berry shades are always a fall favorite. Whether you love dinner parties or want your nail color to reflect a strong sense of elegance while you sip wine, this deep, rich burgundy shade is a go-to for those who love a hint of glamor. You can say we're over the ma-moon!
Newsletter
Subscribe
for more blog updates and exclusive discounts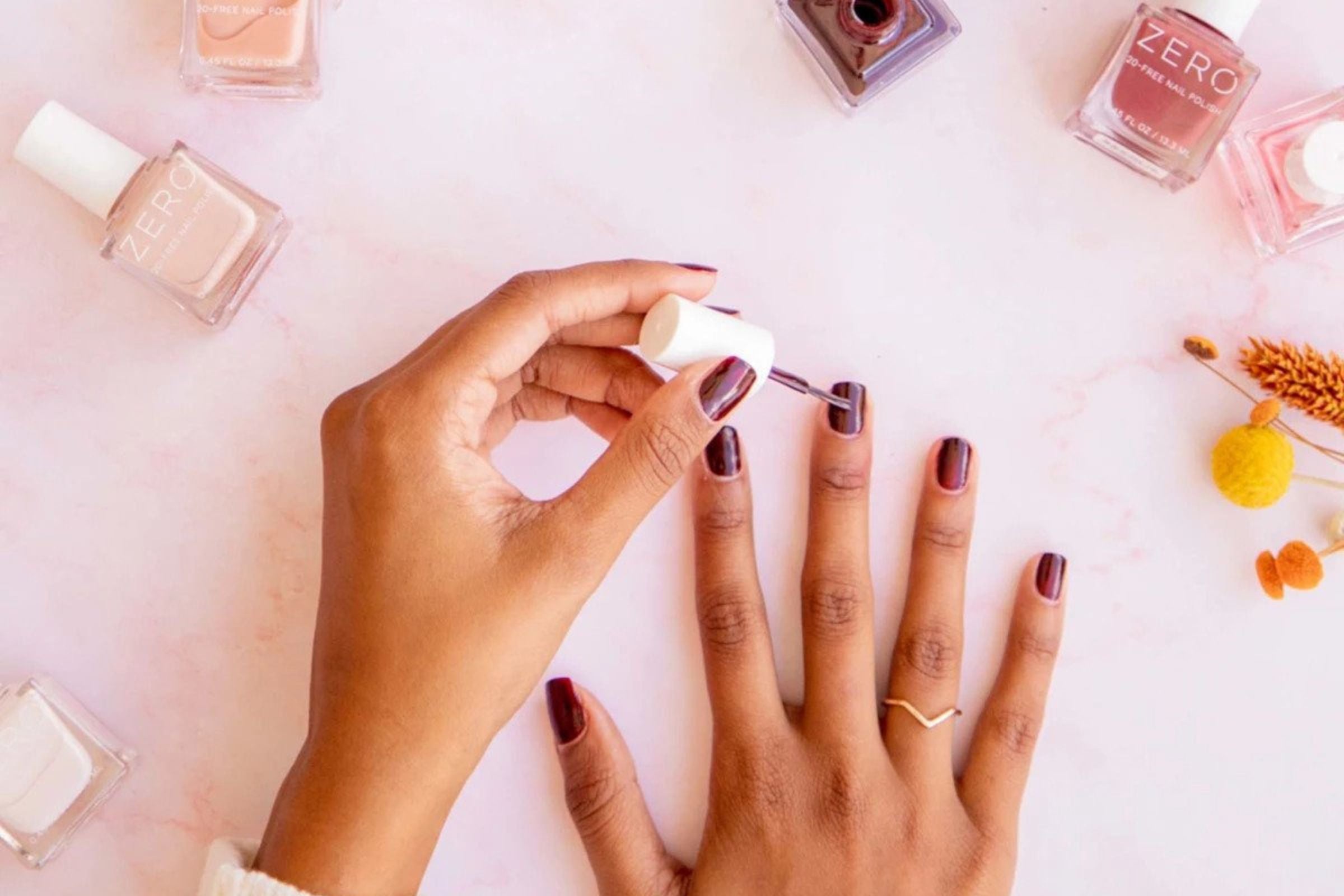 Tips for a Long-Lasting Manicure with Non-Toxic Nail Polishes
Embarking on the journey towards non-toxic nail polish can be an exciting endeavor. While a gorgeous 20-free shade is the undeniable star of any mani-pedi, you'll need some non-toxic nail care products to make it truly shine. Check out these tips for the proper application process and making your manicure last. It's time to keep your natural nails beautiful and healthy in the process – and the non-toxic way!
#1. Clean and Dry Nails
Always begin with clean, dry nails. Remove any old polish with a natural nail polish remover. Then soak your hands in a bowl of warm water to soften the cuticles for better push-back with a cuticle pusher. Lastly, wash your hands to eliminate oils and residue that can hinder polish adhesion.
#2: Trim & File
Be sure to shape your nails before beginning your polish application. Start by trimming, then file to perfect the shape – we love a classic almond or square shape, but coffin, tapered square, and stiletto are all super trendy right now. But make sure not to file back and forth. This can actually cause the nails to weaken, splinter, or snag. Instead, file from one side to the center and then file from the other side to the center.
#3: Use Base Coat
Apply a quality base coat like 100% PURE Horsetail Base Coat Polish. This not only enhances the polish's adherence but also protects your nails from staining.
#4: Apply Nail Polish
Shake nail polish thoroughly before applying to ensure even color distribution. When applying polish, use the "three-stroke rule." Begin with one stroke down the center, followed by one on each side. This technique ensures even coverage and minimizes streaking.
PRO-TIP: One of the secrets to a long-lasting manicure is applying thin layers of nail polish. Thick layers are more likely to chip and take longer to dry. Multiple thin coats provide better coverage and allow for a smoother finish.
#5. Seal the Edges
Pay special attention to sealing the nail edges. Our Ridge Filler Base Coat fills natural ridges in the nail's surface to deliver a smooth, more uniform canvas for nail color. After each coat, run the brush along the tips of your nails to create a seal. This prevents water and other substances from seeping under the polish and causing premature chipping.
#6. Apply Top Coat & Dry
Allow each coat to dry completely before applying a top coat. Be sure to seal it with the Glass Top Coat Polish to ensure a long-lasting, chip-resistant shine. Let this layer thoroughly dry, then apply a second coat for a more opaque or intense color.
PRO TIP: Two coats will usually be the perfect opacity. Don't be tempted to speed up the drying process with a hair dryer. The heat will hinder the setting process.
#7: Nourish with Cuticle Oil
Want that glossy Instagram nail glow? Massage a nourishing cuticle oil on cuticles and nails after your top coat is dry. The skin around your nail will look supple and shiny, and your nails will look 100% Insta-worthy.
#8: Moisturize
Don't lie: your favorite part of a spa manicure is the hand massage! Us too, of course. Give yourself a relaxing hand and forearm massage with a generous coat of Vanilla Bean Hand Buttercream, which is made with rich cocoa, avocado, and shea butters. This will keep the skin around your nails (and your mood) healthy. Even better if you could recruit someone else to do this step!
For extra dry skin, opt for our French Lavender Hand Buttercream, which is a non-greasy hand cream made with rich cocoa and shea butters. It's fortified with anti-aging vitamins and superfruit antioxidants for soft, supple skin.
PRO-TIP: You can use these hand buttercreams to nourish and moisturize other delicate dry areas, like elbows, knees, and even your feet after a pedicure. For the softest, smoothest feet after your relaxing pedi, exfoliate your feet first. Our Lavender Body Scrub features crystalline sea salt that scrubs and buffs away dry, rough skin while blanketing skin in rich, supple moisture. Then follow with a hand buttercream.
FAQs About Non-Toxic Nail Polish
Do non-toxic nail polishes last as long as traditional nail polishes?
Yes, as long as you stick with quality organic polish brands (hint, hint)! The result is high-quality nail polish formulas that are long-lasting, and look and wear just as amazing as traditional formulas without health risks. Using a base coat, ridge filler, and top coat ensures a longer-lasting manicure.
How can I make my non-toxic manicure last longer?
Be sure you're washing and soaking, as well as properly pushing back cuticles and filing nails. Adding a nail-strengthening coat before polish, like a base coat, helps prep and make for a smoother application of your nail polish. Be sure to finish with a ridge filler and top coat to seal in all the color goodness. Nail and cuticle oils as well as hand creams can extend the life of your nails and manicure.
Where can I buy non-toxic nail polishes?
Non-toxic nail polishes are widely available at many health and beauty retailers, both in physical stores and online. Specialty stores focusing on natural or organic products often carry them. Additionally, many mainstream beauty retailers now have sections dedicated to "clean" or "natural" beauty, which may include non-toxic nail polishes.
Are there any non-toxic nail polish removers available?
While acetone is known to remove days-old polishes seamlessly, it can have adverse effects. The good news is that there are several acetone-free formulas on the market, many of which are infused with nourishing plant-based extracts and vitamins that moisturize nails.
Can non-toxic nail polishes strengthen my nails?
Constant use of conventional nail polish with harsh ingredients can weaken the nail. Since there are more natural ingredients in organic nail polish, your nails will benefit from growth and strength. Use a Nail and cuticle Oil that can help repair dry cuticles and strengthen brittle nails. Base Coat and Top Coat polishes over your organic polish will also help strengthen nails.
When it comes to making the switch to organic nail polish, you probably can tell that we're all in – tooth and nail! If the hands and nails are prominent features that people notice, why not present the perfect set that is not only perfectly approachable but safe for you and your health? The switch from toxin-laden nail polishes to non-toxic alternatives is a huge step towards a safer and healthier beauty routine.
It's time to take control of your beauty regimen and make choices that reflect your commitment to a happier and healthier you. You'll be excited for what's to come in a beauty routine that not only sounds better, it IS better! Here's to the Fuchsia Is Bright!
It's fun to get a manicure, but it's even more enjoyable with friends and family. At 100% PURE, everyone is family! We would love to invite you to share your favorite non-toxic nail polish brands and tips for a long-lasting manicure in the comment section below.
We carefully hand-select products based on strict purity standards, and only recommend products we feel meet this criteria. 100% PURE™ may earn a small commission for products purchased through affiliate links.
The information in this article is for educational use, and not intended to substitute professional medical advice, diagnosis, or treatment and should not be used as such.
Sign up to our email newsletter for more blog updates and exclusive discounts.
< Older Post | Newer Post >