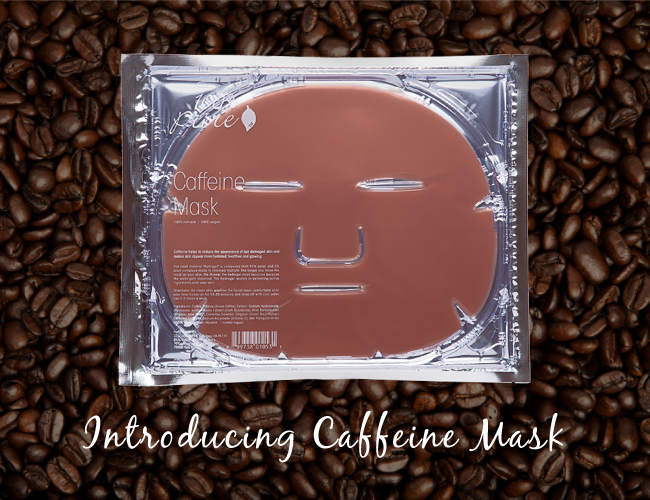 Intensely hydrating, caffeinated mask restores plumpness, elasticity and vibrancy to skin. Unlike most single use masks that are paper sheets, this hydrogel mask is a jelly like material made from 95% aloe water and 5% plant cellulose. The hydrogel mask becomes thinner as it's on your skin because the trans dermal ability allows the aloe water and active ingredients to get penetrated deep into your skin. The immediate results are amazing – fine lines are diminished, complexion looks more plump, glowing and vibrant. It's my secret weapon for days I need my skin to look extra supple and refreshed.
There are 9 ingredients in this 100% natural, 100% vegan mask.
* Coffee ~ restores sun damage
* Hyaluronic Acid (from root vegetable) ~ delivers water into thirsty skin cells
* Abrutin (from bearberry) ~ lightens and evens skin tone
* Aloe ~ calming hydration
* Green Tea ~ antioxidant skin soother
* Vitamin C ~ boosts collagen production; brightens
* Yerba Mate ~ antioxidant
* Glycerin ~ moisturizing
This mask comes in a single use pouch. To use, just apply it directly onto clean skin. The hydrogel material forms to your face shape. Leave mask on for at least 15 minutes. Rinsing off with water is optional, you can just follow your regular skin care regimen. Because this mask is so pure and gentle, you can use this mask daily.
Susie Wang
Founder & Chief Creative Ambassador
We carefully hand-select products based on strict purity standards, and only recommend products we feel meet this criteria. 100% PURE™ may earn a small commission for products purchased through affiliate links.
The information in this article is for educational use, and not intended to substitute professional medical advice, diagnosis, or treatment and should not be used as such.
Sign up to our email newsletter for more blog updates and exclusive discounts.
< Older Post | Newer Post >