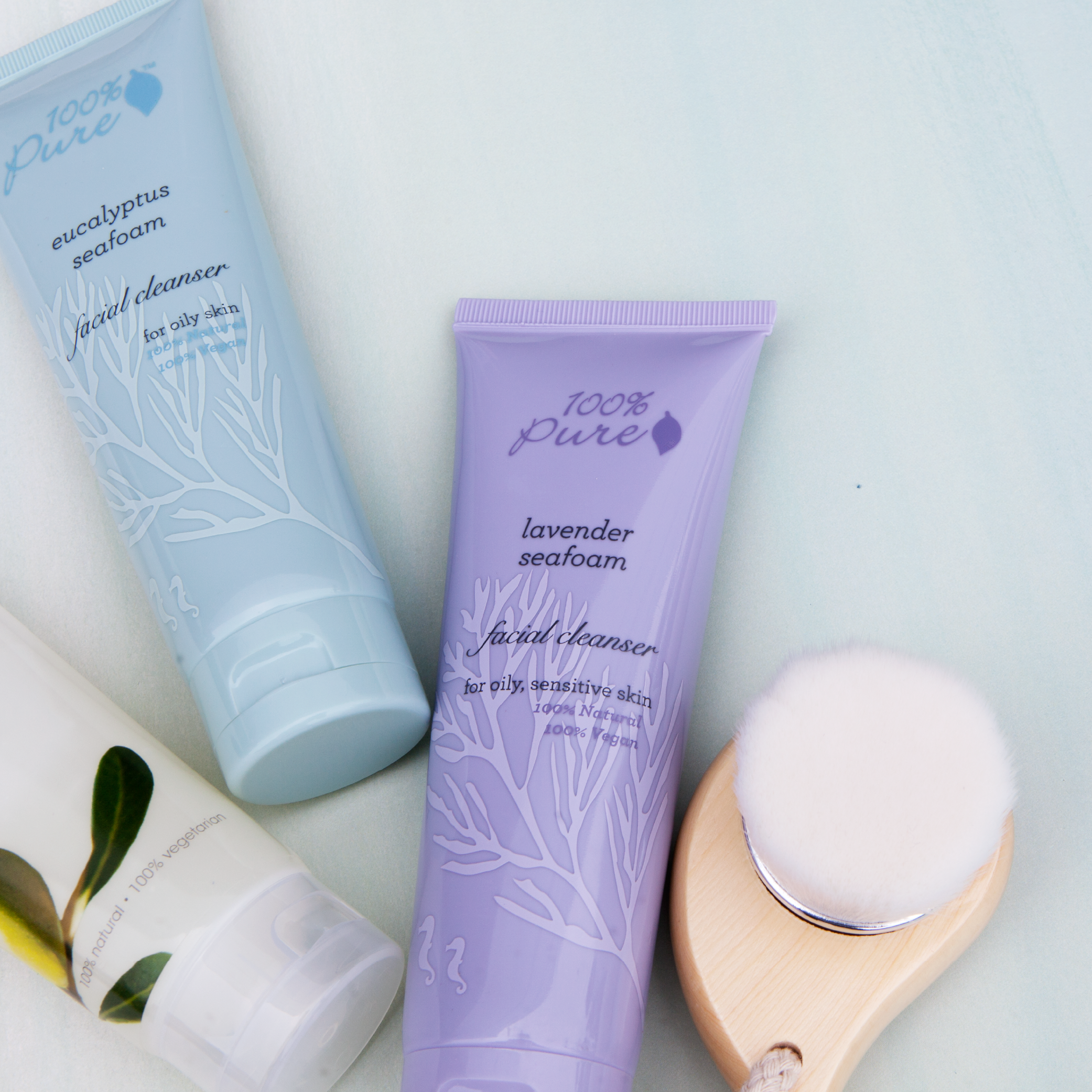 This could be the softest brush you have ever felt. Super soft facial cleansing brush is packed tight so you can have better control. Using a cleansing brush benefits your skin by providing deeper pore cleansing and a mild exfoliation. Regularly exfoliating has many benefits including better absorption of your skincare treatments and smoothing away bumps and flakes to reveal a healthier complexion. Extra soft anti-bacterial bristles are from silky taklon material to fight against bacterial growth on the brush. Ergonimical handles make it comfortable for both left and right handed users. Simple to use~ first wet brush and apply cleanser onto brush. Begin massaging brush onto face in circular motions. Gentle enough to go over eyes. It's recommended to wash your brush, rinse thoroughly and squeeze out excess water and air dry after each use. Although the bristles are anti-bacterial, it's best to replace your cleansing brush every 3-4 months.
As with all 100% Pure brushes, this cleansing brush is vegan instead of animal fur like many other cosmetic brushes. A lot of people don't realize that fur makeup brushes are made of the same material as fur coats and that innocent animals were tortured to have their skin cruelly ripped out when often the animals were still alive. 100% Pure is passionately against animal cruelty. One of our missions is to help as many animals as possible by sponsoring a lot of charities that works on ending animal cruelty. If more people would stop buying fur products, there would be less demand on fur which means less animals have to get tortured in such inhumane, despicable ways. This is a video showing how cruel the fur trade is. Warning: this video is difficult to watch. Although uncomfortable, we want to educate as many people so we can make a difference. Please stop buying fur.
Susie Wang
Founder & Chief Creative Ambassador
We carefully hand-select products based on strict purity standards, and only recommend products we feel meet this criteria. 100% PURE™ may earn a small commission for products purchased through affiliate links.
The information in this article is for educational use, and not intended to substitute professional medical advice, diagnosis, or treatment and should not be used as such.
Sign up to our email newsletter for more blog updates and exclusive discounts.
< Older Post | Newer Post >