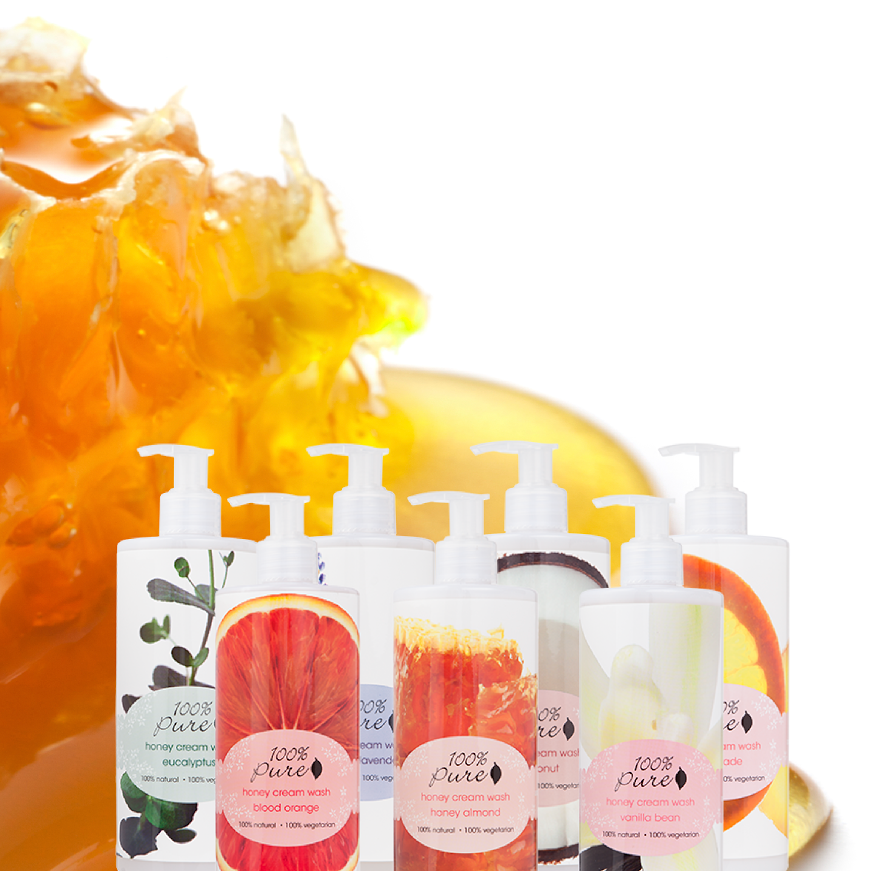 NEW
Honey Cream Washes from 100% Pure
It's no surprise that the beauty world has been buzzing about the benefits of honey. This all-natural golden elixir is full of antioxidants, acne fighting anti-bacterial properties, is a hydrating humectant and full of other skin beneficial trace elements such as Vitamin B6, thiamine, riboflavin, pantothenic acid, calcium, copper, iron, magnesium, manganese, phosphorus, potassium and zinc to name a few. Because honey is so nutrient rich, it's always important to consume RAW honey. Once pasteurized, the honey loses many of it's nutrients which is why 100% Pure only uses raw honey.
These generously foaming, honey drenched body washes will leave skin feeling hydrated and pampered. As with all 100% Pure cleansers, there are no sulfates or any other harsh detergents. Sulfates are the same detergents as oven degreasers and other chemical commercial cleansers. Although cosmetic use of sulfates are diluted down, sulfates are very stripping and dehydrating. Instead of harsh detergents, we use saponified coconut oil as the foaming soaps in these honey creamed washes so they are very gentle and mild and will not dehydrate.
Available in seven naturally-scented flavors:
Honey Almond, Coconut, French Lavender, Eucalyptus, Gingerade, Vanilla Bean and Blood Orange.
Susie Wang
Founder & Chief Creative Ambassador
We carefully hand-select products based on strict purity standards, and only recommend products we feel meet this criteria. 100% PURE™ may earn a small commission for products purchased through affiliate links.
The information in this article is for educational use, and not intended to substitute professional medical advice, diagnosis, or treatment and should not be used as such.
Sign up to our email newsletter for more blog updates and exclusive discounts.
< Older Post | Newer Post >