Your Superfruit Skin Routine
A daily skin care routine full of anti-aging, vitamin-packed superfruits!
Posted on February 8, 2018
Written by: 100% PURE®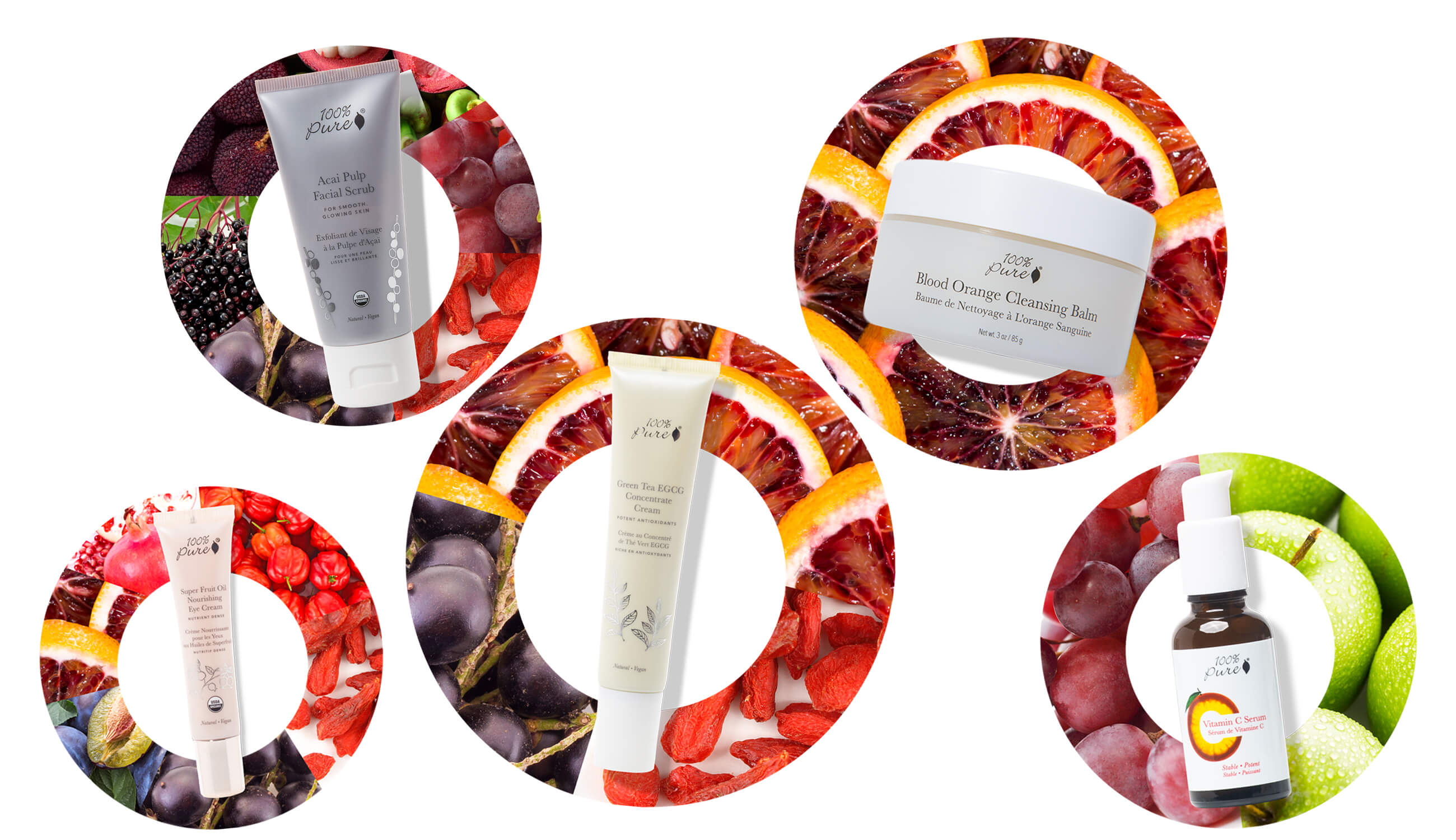 We've said it before, and we'll say it again: superfruits are SO much more than a buzzword! The fruits that we classify as "superfruits" are packed full of protective, anti-aging antioxidants, which makes them perfect ingredients for skin care. In this post, we'll discuss how antioxidants benefit your skin, and put together an antioxidant-rich skin care routine to help you harness the awesome power of superfruits!
Antioxidant Benefits for Skin
Free radicals are loose electrons that are produced naturally as by-products of your skin cells' functions. Your cells can start to produce them in excess, though, in response to certain environmental factors, such as UV exposure and smoking. This is bad news because free radicals are a major culprit responsible for skin damage and signs of premature aging. They can cause cell death, and inhibit healthy cell regeneration. For your skin, this can mean discoloration and inhibited skin healing, plus loss of elasticity and skin brightness.
Thankfully, antioxidants can help to prevent some of the skin damage that free radicals would otherwise cause. Whether they're consumed as food or applied to your skin, many antioxidants have what are known as free radical 'scavenging' properties. This means antioxidants will effectively hunt down and neutralize free radicals, preventing them from damaging the cells in your skin tissue.
Don't forget to optimize your diet by including plenty of antioxidant-rich foods! These can include citrus and other fruits, leafy greens and other colorful vegetables, and even green tea and coffee (careful not to over-do your caffeine intake, though).
5-Step Superfruit Skin Care Routine
To incorporate antioxidants into your skin care routine, you can mix and match or simply follow our superfruit routine. Start with our top recommendations below!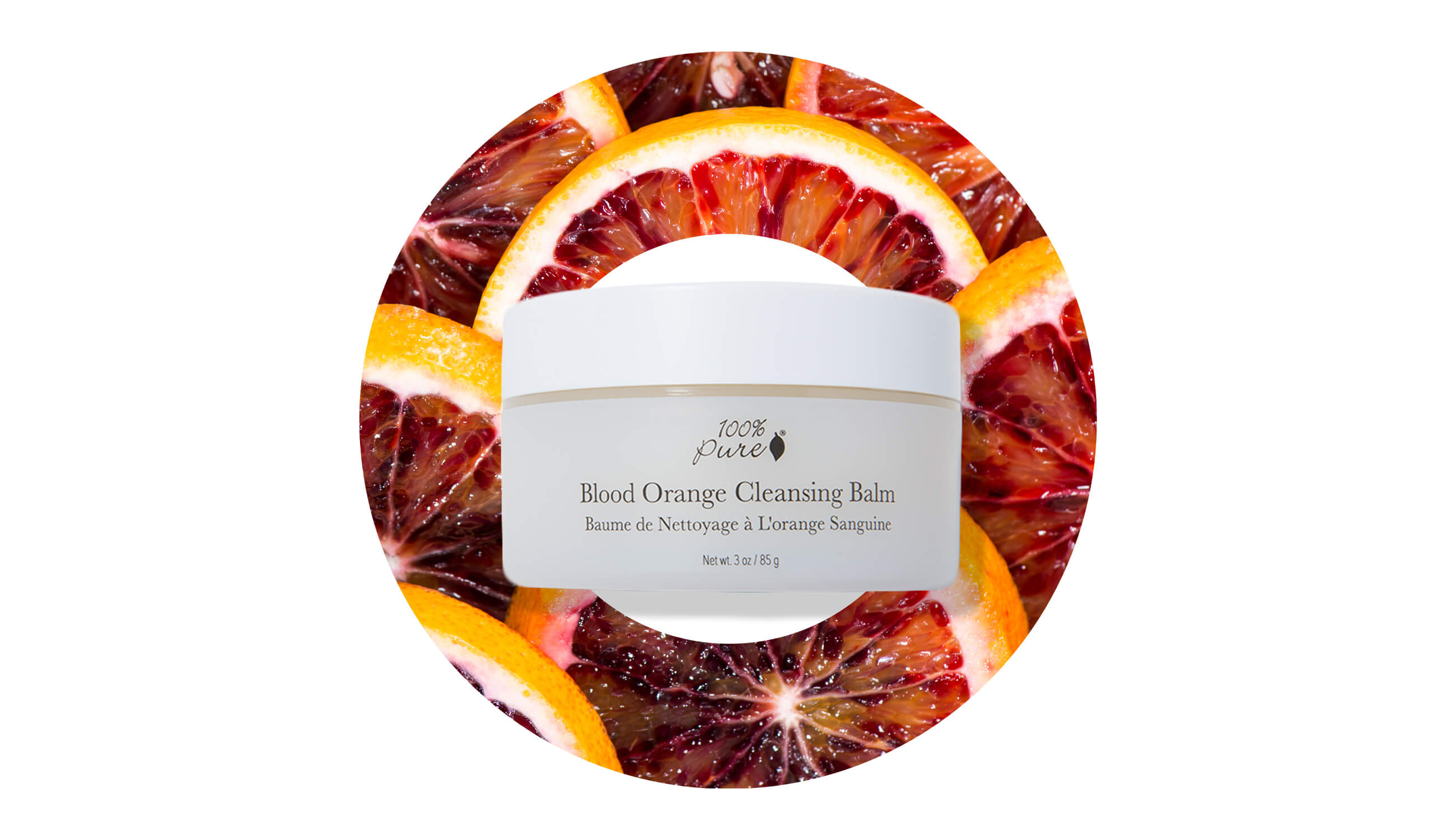 Step 1: CLEANSER
First things first: You'll want to begin your skin care routine by removing any makeup and sunscreen you've been wearing. Thoroughly cleansing your skin ensures there is no barrier to impede your skin from absorbing and benefiting from your skin care products, and helps to cut away excess grease, dirt, and impurities.
Our Blood Orange Cleansing Balm harnesses the power of blood orange, an antioxidant-packed superfruit. Blood orange is extremely rich in vitamin C, an antioxidant vitamin that helps to prevent damage, promote collagen production and brightness, fight acne, and support overall skin health. To use this cleanser, all you need to do is emulsify the balm between fingers, and gently rub it into your skin. Swipe away with lukewarm water and a washcloth, to remove excess oil and buildup.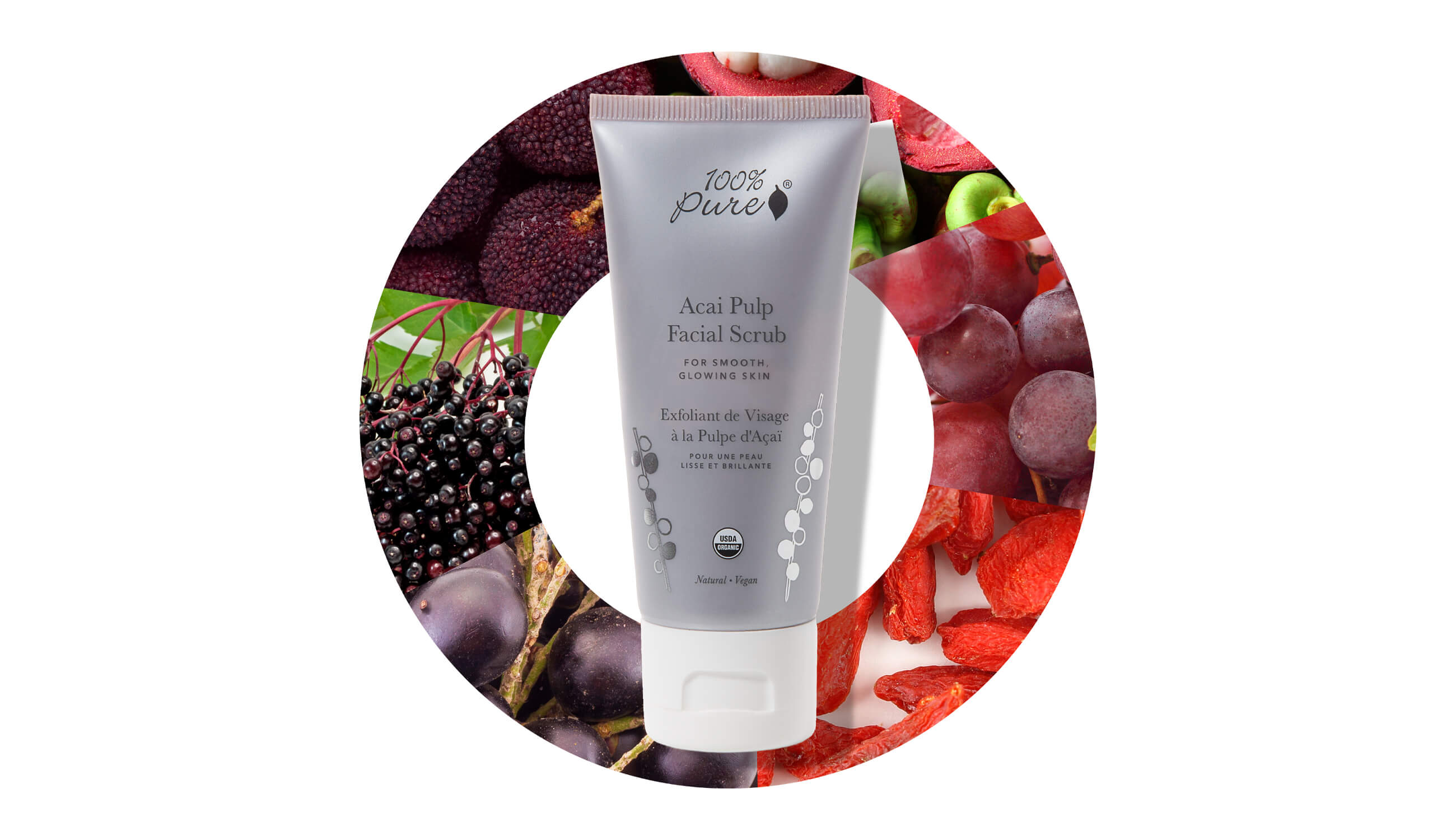 Step 2: MASK
Once all makeup and debris have been removed from your skin, you're ready for a detoxifying and exfoliating mask. Exfoliation helps to keep your skin clear of dead skin cells, preventing your pores from becoming blocked, and reducing the severity of acne. Exfoliating also promotes circulation, which leads to brighter, smoother skin.
Our Acai Pulp Facial Scrub features acai berries, goji berries, elderberries, yumberries, grapes, and mangosteen — all packed with nourishing antioxidants. These superfruits are rich in vitamins A and C to promote skin healing, reduce acne, and supplement overall skin health. It combines the power of mechanical exfoliation with the antioxidant properties of these superfruits, making it a total multitasker for your skin. To use this mask, emulsify some of the product with water, and gently swipe it across your skin in small, upward, circular motions. Allow the formula to sink into your skin for up to twenty minutes, then gently rinse away with warm water.
We recommend that you exfoliate up to three times per week, but no more often than that. Over-exfoliation can lead to inflammation, which in turn can contribute to skin damage over time. If you have sensitive skin, you may want to skip the mechanical exfoliants, and opt for a gentler konjac sponge instead (we're partial to our detoxifying Konjac Sponge).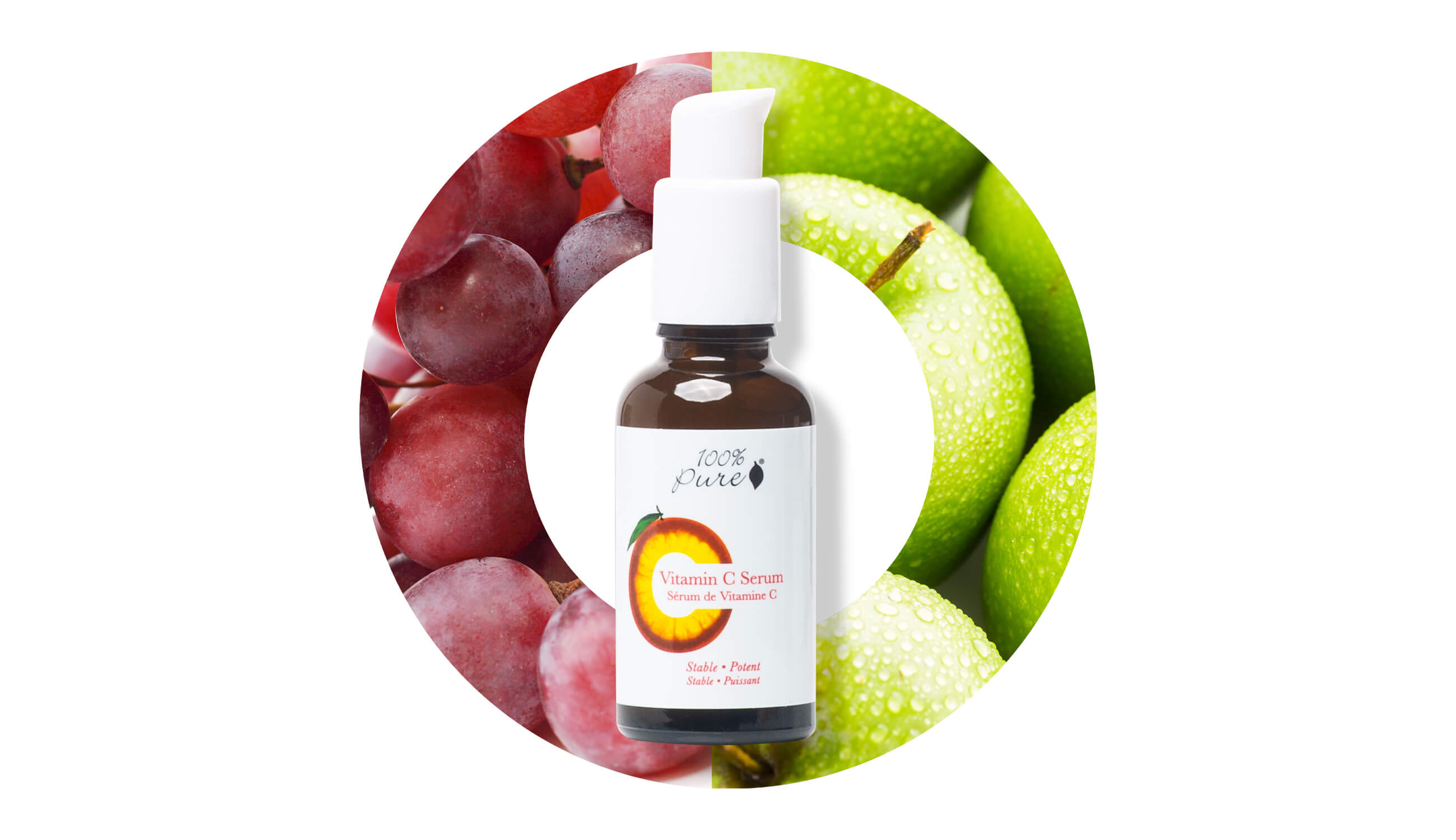 Step 3: SERUM
An exfoliating mask preps your pores to receive nourishment by clearing them of dead skin cells and other debris. That makes this third step of your skin care routine the perfect time to apply a serum to your skin. Your pores will be perfectly primed to absorb the product, so it'll penetrate more deeply into your skin and make its maximum impact.
Our Vitamin C Serum features grape and green apple, both rich in vitamin C and citric acid. These superfruits help to brighten and rejuvenate your skin by scavenging free radicals and promoting cellular renewal. This vitamin C serum also contains vitamin E, a potent free radical known for its reinvigorating properties. At the end of the day, this serum is a powerhouse for aging skin that will combat fine lines and wrinkles, discoloration, and roughness. To use it, just apply a few dots of the product to dry skin. Gently massage and press into your skin's surface and allow to sit for 90 seconds, or until fully absorbed.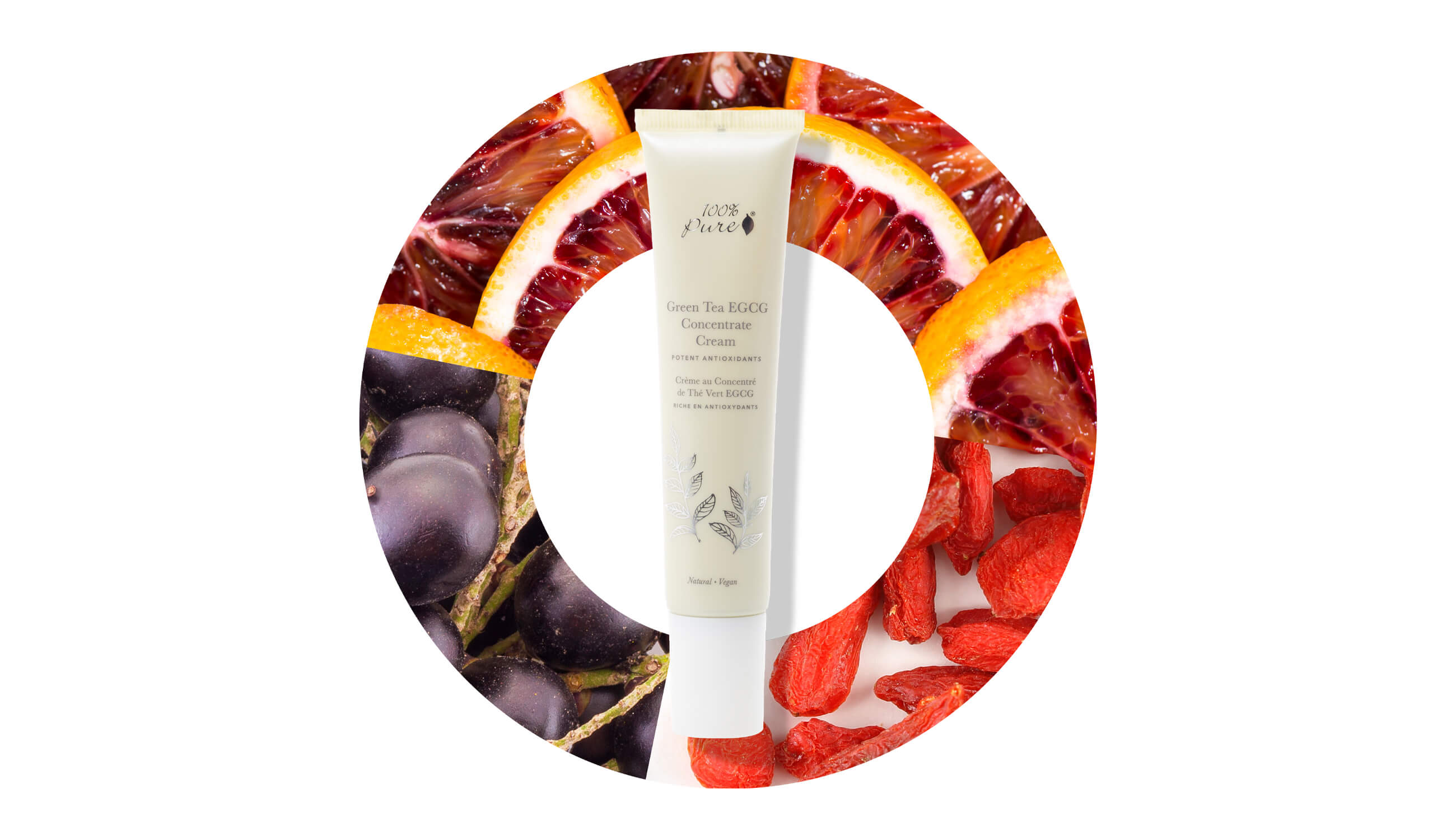 Step 4: MOISTURIZER
Moisturizers help to bolster your skin's lipid barrier, helping to heal damage caused by harsh environmental factors as well as from products that contain artificial chemicals. A good moisturizer will also help to seal hydration into your skin - and defend your skin against daily environmental toxins.
Our Green Tea EGCG Concentrate Cream harnesses the antioxidant power of acai berry, goji berry, and blood orange to heal and protect against damage. Total Beauty recently highlighted this formula as one of the best antioxidant-packed skin care products on the market. "100% PURE isn't kidding around with this one. This impressively formulated cream contains both an oil and concentrate form of green tea along with pure EGCG." Guilty — we definitely don't skimp when it comes to packing in those antioxidants!
This daily moisturizer does indeed contain pure EGCG, a powerful phytonutrient that's naturally found in green tea. While rejuvenating your skin with high-powered antioxidants, this face cream also locks in moisture to keep your skin quenched and supple. Wait for your serum to sink in before delicately massaging and pressing a nickel-to-quarter sized amount (depending on severity of dryness) of moisturizer into your skin.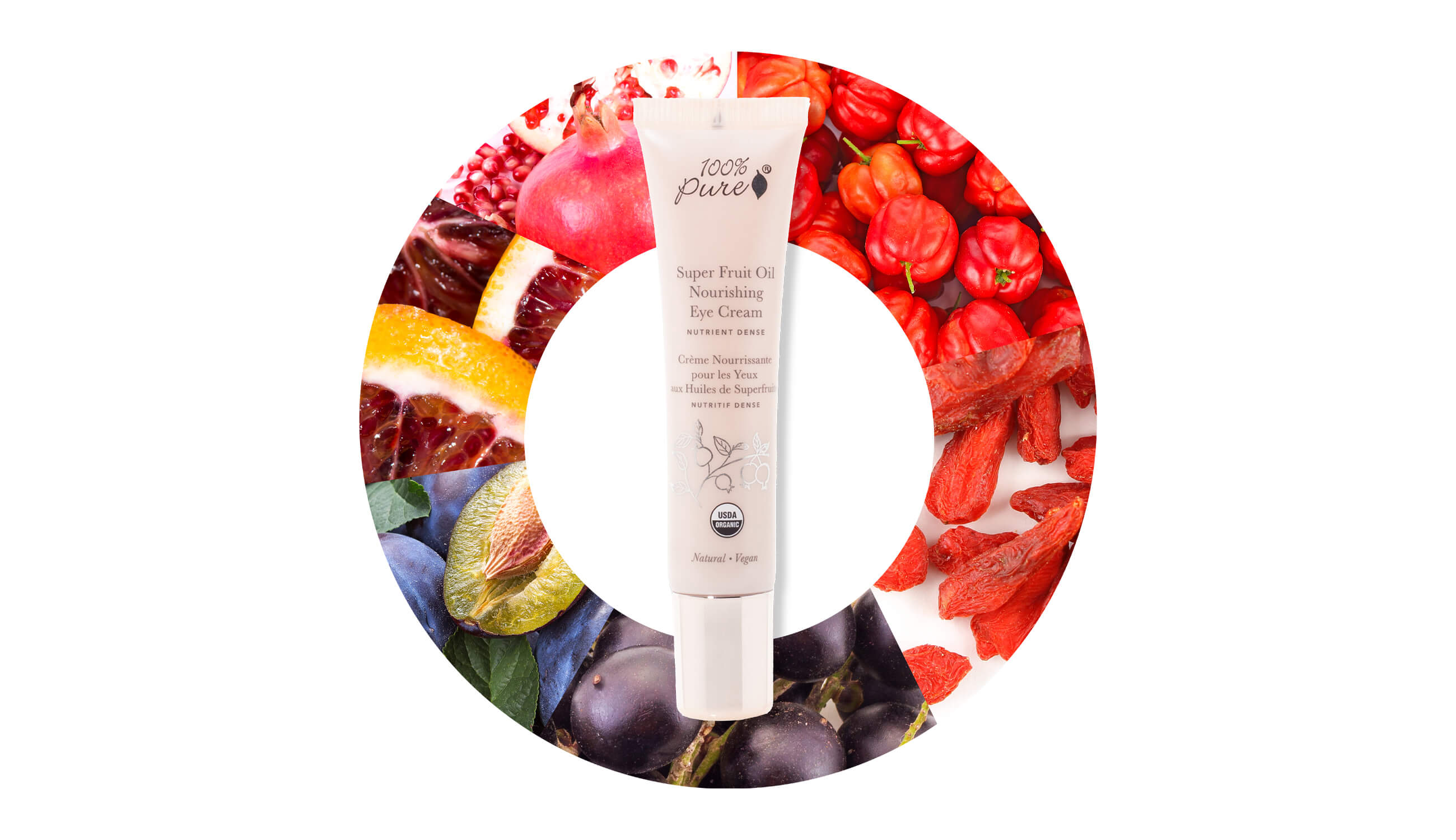 Step 5: EYE CREAM
Antioxidants are especially effective when it comes to treating the under-eye area. Along with alleviating some of the signs of skin aging, antioxidants can help to boost circulation and brighten your skin, making your eye area look healthier and more youthful.
Our Super Fruit Oil Nourishing Eye Cream is packed full of superfruit ingredients: It contains plum, acai berry, goji berry, pomegranate, acerola, grape, elderberry, and blood orange. If you're noticing fine lines, wrinkles, or dark spots underneath your eyes, this antioxidant treatment should be your daily go-to. Just dab a small amount of the product onto the skin underneath your eyes each morning, taking care to be extra gentle while patting into skin for absorption.
To read more about incorporating healthy, antioxidant-rich fruits into your diet, we recommend checking out our Detoxify with 7 Skin-Clearing Foods post. Did you know that your makeup routine can be superfruit-packed, too? Seek out natural makeup products that feature antioxidant-rich ingredients — start with our Fruit Pigmented® lip colors, foundations, and concealers!
We carefully hand-select products based on strict purity standards, and only recommend products we feel meet this criteria. 100% PURE™ may earn a small commission for products purchased through affiliate links.
The information in this article is for educational use, and not intended to substitute professional medical advice, diagnosis, or treatment and should not be used as such.
Sign up to our email newsletter for more blog updates and exclusive discounts.
< Older Post | Newer Post >