What is BB Cream and Why is Everyone Obsessed?
Dive Deep into the World of BB Creams: Benefits, Uses, and All the Hype
Posted on October 28, 2023
Written by: 100% PURE®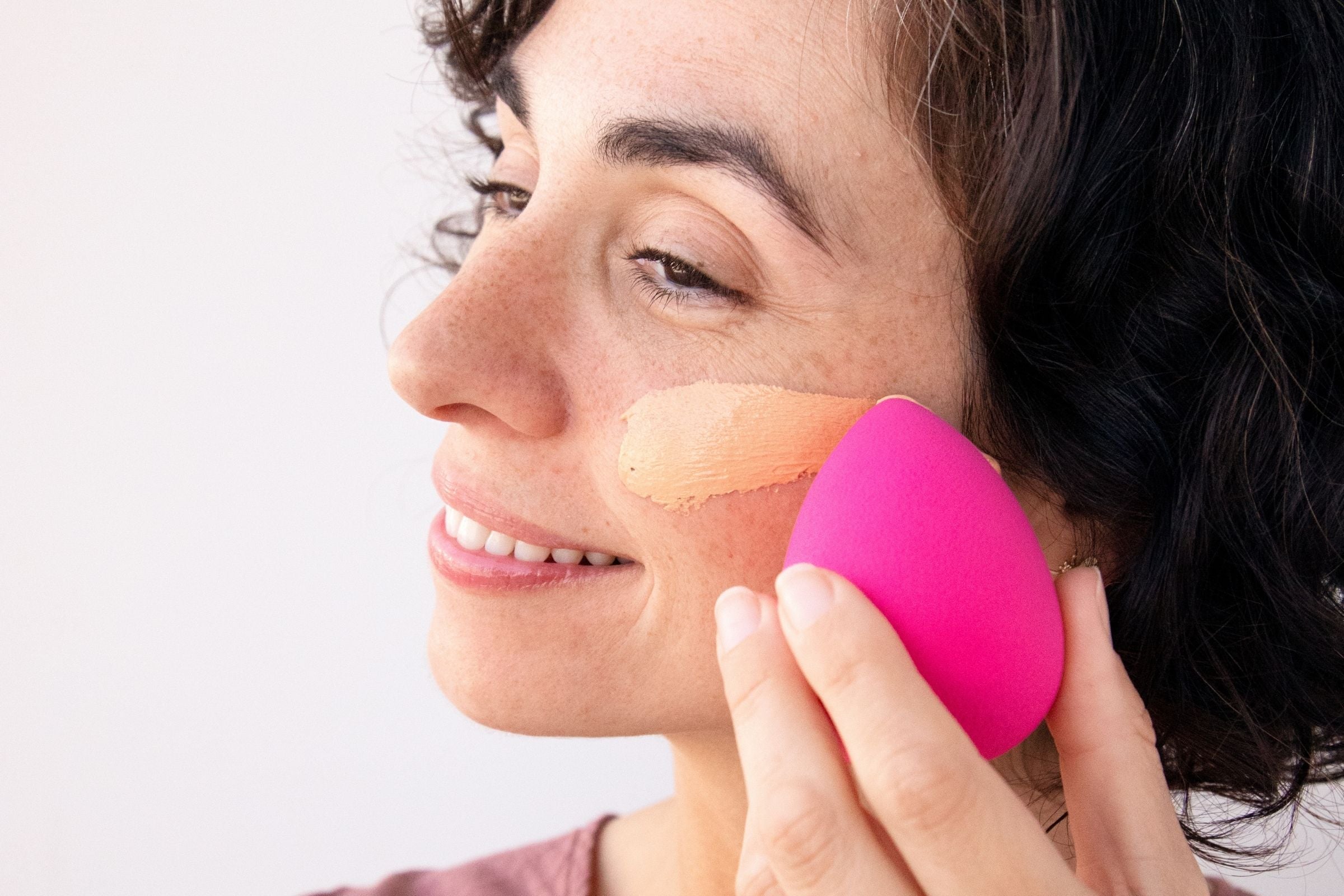 If you've heard of one, you've probably heard of the others. It falls under the cryptic name "BB cream", which doesn't tell us much. To add more mystery, there are other skin tag-along acronyms - CC, DD, and EE! How are we supposed to get all that straight?
Let's focus on a BB cream or "beauty balm" aka "beauty base" since this skin gem has surged in popularity in the beauty industry. What exactly is a BB cream, and why all the obsession over it? It's a minimalist, multi-tasking skin gem, meaning BB creams work great as a sunscreen, moisturizer, light-coverage foundation – and more!
This creamy dream team will have you mastering the perfect natural everyday look with little effort and time – and we're here to help you make that happen. Let's delve into the hyped world of beauty balms for the full scoop on all things – including the beauty alphabet – set on BB cream.
Decoding BB Cream: What Exactly Is It?
Despite often being credited as another top-notch, buzzy product on the Korean beauty scene, BB creams were originally formulated in the 1960s in Germany by dermatologist Christine Schrammek to protect her patients' skin after surgeries, such as peels and laser treatments.
Since skin was left red, sensitive, and inflamed after the harsh treatments, she wanted a single cream that would nourish and protect skin, while providing light coverage instead of using multiple products and a heavy foundation that could adversely affect skin healing and post-operative results. BB cream was born.
In the mid-80s, the all-in-one formulation was tweaked and perfected and became a sensation in South Korea. It was there that Korean-pop and K-drama actors heavily doted on BB creams and their multifunctional use and ease of transforming skin. After beauty enthusiasts became obsessed with BB creams, the trend made its way to Europe, and then the United States and into makeup bags where it has become a mainstay beauty and skin product.
Similar to the global pass-around of BB creams, these multipurpose formulas have fully evolved since their conception. Their initial origin and goal was to safely mask treatment sensitivity. However, BB creams later surge in popularity was for their ability to streamline your daily beauty routine. That's right! Moisturizer, sunscreen, foundation – and more – all wrapped into one. This is b-lightfull news to minimalists, naturalistas, and well, everyone!
BB Cream vs. Traditional Foundations
Since the beginning of the last decade getting the right shade of foundation was like a dream, but now the options are truly limitless. From simple powders to creams, to the multipurpose beauty alphabet, there's a coverage formula for everyone. It really boils down to the level of coverage and time in front of the mirror, mirror. Who's the fairest of them all? Let's check out BB creams versus foundations.
Texture and Coverage Differences:
Unlike the heavy feel of traditional foundations, BB creams are more lightweight and buildable with medium to full coverage as a foundation! Its smoother texture allows BB creams to function as a primer by evening out skin tone while allowing the skin to breathe versus the thick coverage of a foundation.
Whereas people with sensitive or acne-prone skin types might steer clear of using foundation, BB creams are perfect for hiding imperfections without irritating skin or clogging pores. With a few dollops of radiance thrown in, BB creams provide a natural, flawless application. If you're looking for a 'less is more' makeup look, stash the foundation and dash for a natural BB cream.
Ingredients:
BB creams are specially formulated to act as a 3-in-1 foundation. Working together, the three elements of any flawless complexion should consist of a sunscreen, moisturizer, and mild-coverage foundation. Some formulas go as far as to include a primer or specific ingredients to address skincare concerns, like oily or sensitive skin.
Many BB creams are formulated with antioxidants such as vitamin A, C, and E, as well as hydrating ingredients like glycerine and niacinamide, which helps to improve and repair the skin's barrier. Another great thing about BB products is that they can be formulated with SPF to protect your skin from the sun. This can help ward off the signs of premature aging and preserve your skin's youthfulness.
Since BB creams are designed to improve your complexion and let the skin breathe, they will often contain natural ingredients. This is in great contrast to the chemicals in traditional foundations. What you need to know is that your skin is constantly absorbing everything it touches. That includes sunlight, pollution, and yes - even the skincare ingredients and cosmetics you put on your skin.
Ease of Use:
We're all familiar with those extensive beauty tutorials where it takes you ten minutes alone to try and understand the artist's technique or foundation trick before you realize you're missing a tool or product required to replicate the look. Not on our watch! We're all about working smarter, not harder.
BB creams are all-in-one luminous skin gems that hydrate skin, correct imperfections, and protect your complexion, while providing flawless coverage on top of your daily skin routine. The ease of using BB creams for that no-makeup, glowy factor is their crowning glory, while the amount of time saved by using them in in your daily skincare routine is the precious gem.
Key Benefits of Using BB Cream
BB creams are 'queen BBs' for creating a clean, flawless base by using beneficial, skin-healthy nutrients (as a 'balm' would do). As a beauty balm, these all-in-one formulas are meant to provide light, hydrating coverage, with a few dollops of SPF and dewiness thrown in.
Sounds like that's plenty of benefits to be sold! But just in case you're still on the beauty fence, let's uncover more skin-efits of these luminous creams!
Skin protection
The SPF commonly found in many BB creams serves as a bonus, providing essential sun protection. This is crucial because daily sun exposure, even on cloudy days, can accelerate skin aging and increase the risk of skin damage and cancer.
Hydration
BB creams provide a veil of hydration, locking in essential moisture. These creamy-dreamy gems are typically infused with skin-moisturizing ingredients like hyaluronic acid, ceramides, antioxidants, vitamins, and essential oils. These moisturizing ingredients can be a dream come true for those looking to cut down on steps in your daily skincare routine.
Coverage
While a BB cream is more lightweight than a foundation, it still offers medium to full coverage as a normal foundation with a pop of radiance! They often work by diffusing light, giving the skin a soft-focus effect that blurs minor blemishes, fine lines, and imperfections. Its smoother texture also allows BB cream to function as a primer by evening out and balancing skin tone for flawless makeup application.
Anti-aging
If you're looking to enhance your natural beauty while addressing some aging concerns, some BB creams offer wrinkle prevention and skin repair. These formulas frequently contain antioxidants such as vitamins A, C, and E which can help improve skin elasticity and brightness. Some contain hyaluronic acid, which deeply moisturizes and plumps skin. BB creams also typically contain an SPF, which is the ultimate ingredient in your fight against premature skin aging.
Newsletter
Subscribe
for more blog updates and exclusive discounts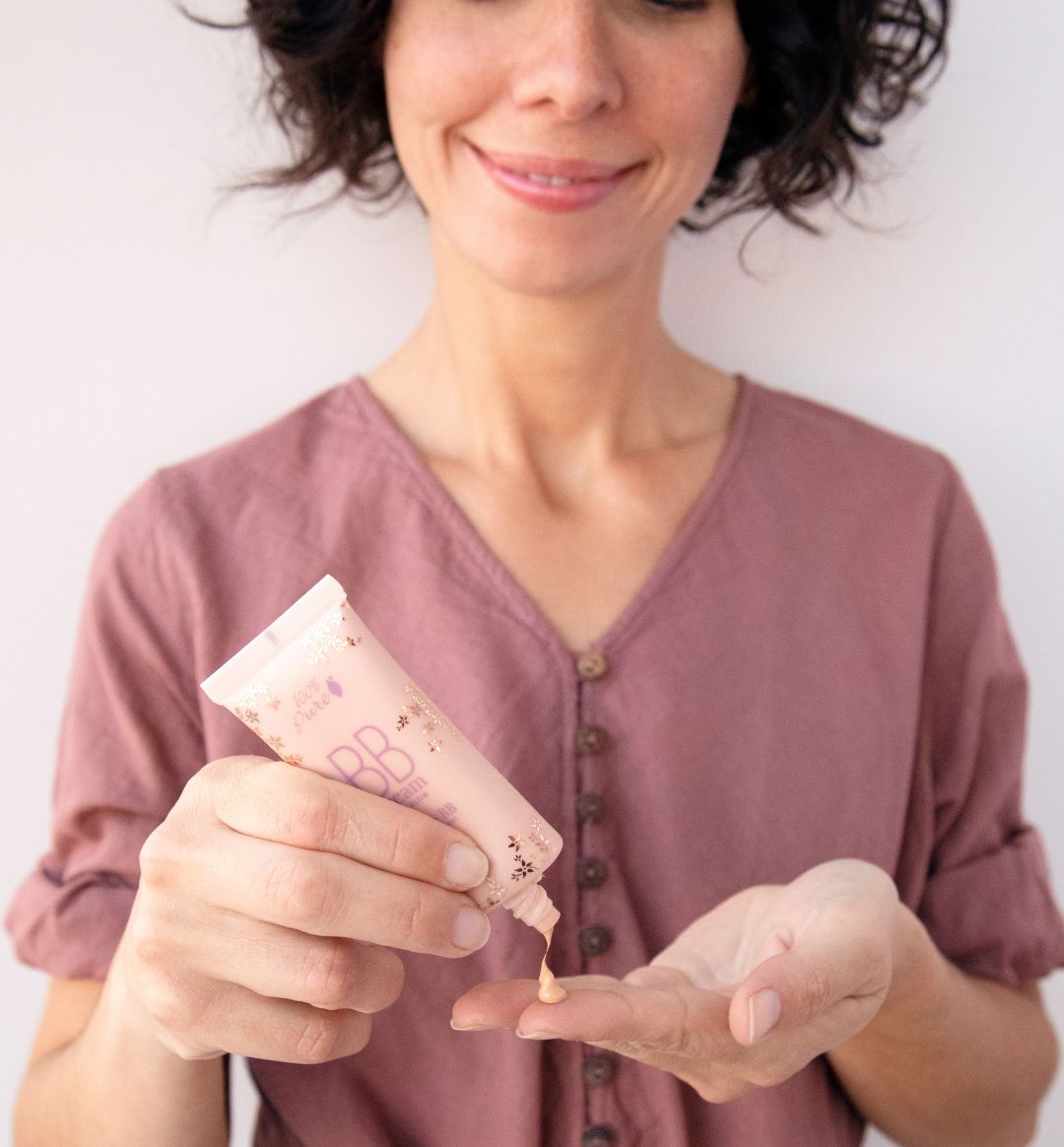 100% PURE BB Cream
Our natural BB Cream is truly a luxe beauty experience and a fan favorite! This all-in-one luminous cream hydrates skin, corrects imperfections, and reinforces skin. Featuring a medium, buildable formula, this dewy skin dream blurs imperfections and gives a balancing sheen to your skin tone. We've also added soft luminosity with mica to help give a naturally flawless and radiant glow to the skin. This same luminosity helps to reflect light, which gives skin a soft-focused healthy glow.
We're all about working smarter, not harder. A natural BB cream is meant to moisturize while providing flawless coverage on top of your daily skin routine. Our BB cream contains antiseptic lavender and rosemary to refresh and soothe skin. Skin-nourishing aloe vera, vitamin E, and shea butter make this formula a great choice for normal to dry skin types. Bilberry and raspberry seed oil lock in moisture to help promote smoother, more youthful skin.
How does BB cream look on the skin? The lightweight texture and adjustable coverage of our natural BB cream make it perfect for a no-makeup look or the base for long-lasting makeup. If you're short on time, blending a layer onto your face to even out your skin tone and texture will have you out the door fast with minimal time spent but still looking fresh, ready, and radiant. But you don't have to take our word for it!
User reviews:
Simply the Most Versatile!
I just LOVE this BB Cream! It is great for a sheer coverage dewy look, but I personally like to mix it with my foundation (which also allows me to customize my shade throughout the year), for a super flawless look! I then set it with the Bamboo Blur Powder and its PERFECTION. I have been using these products for over a decade now and wouldn't change a thing. LOVE, LOVE, LOOOOOOVVVVVVVVVVVVVEEEEEEEEEEEEE!!!!!!!!!!!!!!! ----- AmieO.
Great product!
It's the best BB cream I've ever tried. Good coverage! ----- Ligia
Love it!!!
This BB Cream feels amazing and leaves my skin feeling soft and glowing. I love the ingredients and not having to worry about what I'm putting on my skin! Would definitely buy again! ----- Lily
How to Apply BB Cream for Best Results
Have you tried applying BB cream, but didn't get what all the hype was about? Practice makes perfect when it comes to applying this beauty balm and believe us, once you master the art form you'll feel like a true pro. Follow along below while we give you a handy step-by-step on BB cream application!
STEP ONE:
Apply a small amount of formula to the back of your hand; we recommend starting with a dime to nickel-size dollop. BB cream shouldn't go on your face as a thick paste. It's there to act as a thin veil of foundation, not feel like a thick layer of frosting.
STEP TWO:
Start by dipping your kabuki brush into the formula and lightly dot around your face. Make sure to hit all the main points like the forehead, chin, cheeks, and nose. This will help to evenly distribute your dots of BB cream.
STEP THREE:
Using your kabuki brush, gently stipple and pat your BB cream around your skin in circular motions. You're going to tap and pat, not pull and smear. Start at the center of your face working your way outward. When you get to your chin and neck area, make sure to gently buff, blend, and buff some more to avoid leaving a hard foundation line.
Are you a fan of the ultra-dewy finish? Instead of using a brush to apply your BB cream, use a damp makeup blender and bounce over the skin until completely blended. You can still build coverage as desired, but the result will look far dewier and hydrated.
STEP FOUR:
After applying and buffing in your first layer of BB cream, take a few seconds to assess. Are there any small areas that need a little more love to cover a scar, dark circles, or discoloration? If the answer is yes, tap on a few more small dots and gently blend. It's much easier to add layers than to take them away.
PRO-TIP: If you want an extra flawless finish, you'll need a few natural products that will take you to flawless-ville, population: you!
Additional Touches:
Prime It: Set the tone for glowing, radiant skin by using a primer before applying your BB Cream. Our Luminous Primer is a silicone-free, plant-based formula that helps the skin in two ways: it creates an instant, temporary makeup glow, and it also boosts your skin's vibrance over time with a punch of antioxidants. Made with anti-aging resveratrol, nourishing vitamin E, and intensely hydrating aloe, this formula will take your BB cream look from dream time to prime time!
Even It: Spritz away large pores with our Lavender Niacinamide Pore Minimizer Tonique! This purifying tonique deep cleans and purifies facial pores while lessening their appearance without stripping or dehydrating the skin. This hydrating formula features niacinamide, which evens skin tone while firming it. The addition of lavender hydrosol refreshes and soothes, while witch hazel balances oil production and reduces inflammation. This toner is the perfect blend for achieving that flawless, glowing skin!
Set It: You'll want a setting powder that can blur fine lines, pores, and imperfections – the chief role of a great, natural finishing powder! Our Bamboo Blur Powder can pull this off without over-drying your skin or completely masking any BB-beaming glow. As your one-stop shop, this powder is free of talc, synthetic preservatives, and fragrances. It's designed to be a photo filter for your skin – all thanks to one little ingredient: bamboo silica.
Frequently Asked Questions
Is BB cream suitable for daily use?
Yes! You can apply a BB cream daily. But you'll want to make sure it contains adequate sun protection and use it daily – even on cloudy days.
Can I layer BB cream with other makeup products?
BB cream is great for mild coverage. If you are someone who likes full coverage then you can apply another layer of foundation on BB cream. Keep in mind that BB cream doesn't provide a matte finish so you might have to use powder if you don't like the dewy look.
How do I find the right shade for my skin tone?
Look at your veins. In natural light, check the appearance of your veins beneath your skin. If your veins appear blue or purple, you have a cool skin tone. If your veins look green or a greenish blue, you have a warm skin tone. If you can't tell whether your veins are green or blue, you probably have a neutral skin tone. Those of you with an olive complexion will probably fall into this category.
Do BB creams expire? How do I store them?
One to two years, depending on their formulation. Since many natural products don't contain the often harsh chemicals and preservatives as conventional products, they will have a shorter expiration. When it comes to natural products, once opened, they have an average PAO (Period After Opening) of 6-18 months after they're opened. To check your specific product, locate the jar symbol on the package.
Are there BB creams with natural or organic ingredients?
Absolutely – and you're looking at one of the best ones! 100% Pure BB Cream is great for everyday use. It is made from all-natural ingredients which makes it an excellent choice for everyone. The true purpose of BB cream wasn't just to be a makeup product, it also has the properties of a hydrating skincare moisturizer and skin-loving ingredients that make skin better.
When it comes to the beauty alphabet, and seeing as there are no AA creams (so far), BB creams come out as top performers. We're all about working smarter, not harder, and these skin-tastic balms tick all the boxes as a true beauty multi-tasker.
A BB cream is your key to a perfect no-makeup look while still looking fresh. It also makes a great base for any long-lasting makeup look. Whether you're looking for a dewy finish to complement your inner glowing goddess or opting for a more matte finish for a softened complexion with a dazzle of luminescence, BB creams are where it's at!
We carefully hand-select products based on strict purity standards, and only recommend products we feel meet this criteria. 100% PURE™ may earn a small commission for products purchased through affiliate links.
The information in this article is for educational use, and not intended to substitute professional medical advice, diagnosis, or treatment and should not be used as such.
Sign up to our email newsletter for more blog updates and exclusive discounts.
< Older Post | Newer Post >