TikTok Trends to Try at Any Age
Covering trending TikTok makeup hacks, tips, and beauty looks
Posted on May 18, 2021
Written by: 100% PURE ®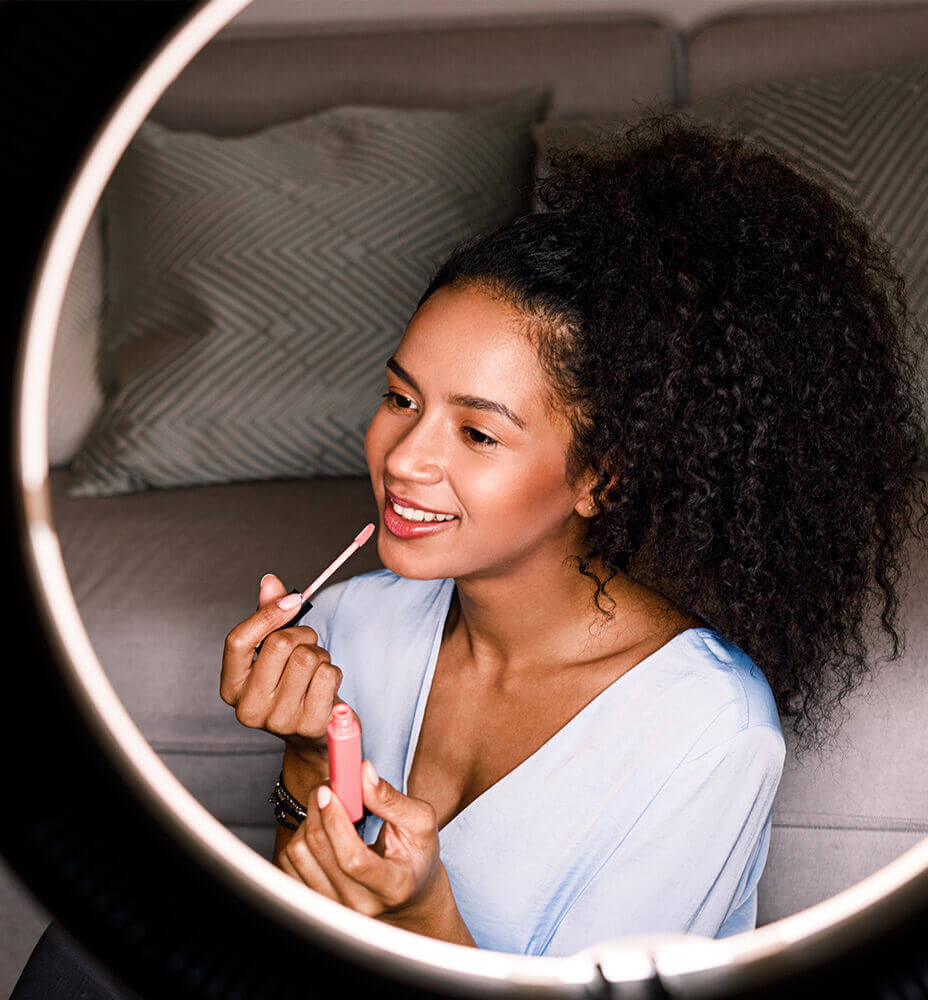 We'll admit it: with any new social media platform, there's a learning curve. And suffice it to say that most older than Gen Z may have felt a bit intimidated (even victimized) by TikTok beauty trends at first.
But with time (and patience), we've realized that there are plenty of TikTok makeup hacks and TikTok trends to try out for any age. We've actually done the hard work for you, by sharing this quick list of some of the best TikTok trends to put on your to-do list.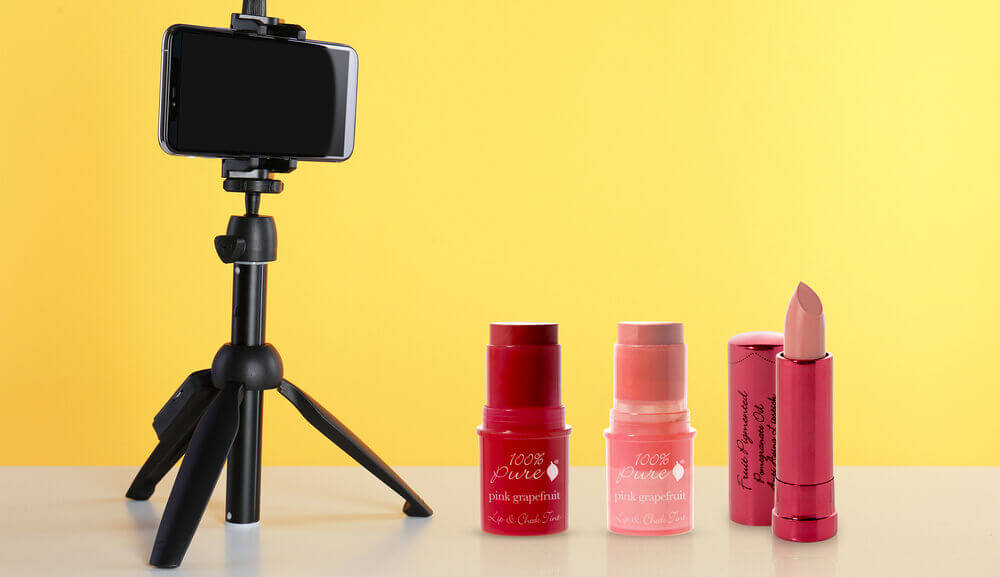 6 TikTok Beauty Trends to Try
#1: Naturally Flushed Foundation
Who doesn't want their foundation to look natural, seamless, and stunning? This surprising TikTok beauty hack combines cream blush with our usual foundation routine to create a skin-like finish that's youthful, rosy, and full of glow.
HOW TO:

This trend starts off with our usual skin prep before makeup – that's eye cream, moisturizer, SPF, and any primer you prefer to use.

Next, we'll apply a cream blush all over the cheeks. Our go-to for executing this trend is our fan-favorite Lip & Cheek Tint. It's a buildable cream blush infused with conditioning vitamin E and vibrant summer fruits.

This trend also embraces lipstick as blush, so try out the Anti-Aging Pomegranate Oil Lipstick for more intense pigment and a wider color range.

To apply this TikTok makeup hack, we'll swipe our desired shade in a rainbow shape across the forehead, on the cheeks, and a dot or two on the nose and chin. We'll also do any spot concealing or color correcting in this step.

Blend out and top with your regular foundation for a natural, slightly flushed glow.
#2: TikTok Concealer Hack
We're saying bye-bye to the Kardashian-style highlight and contour, and going for lighter concealer applications for a fresh, more youthful appearance. This concealer hack helps to create a bright, awake, and lifted eye in just 2 swipes.
HOW TO:

On freshly prepped skin, we'll take our concealer wand and apply a dot on the inner corner under the eye

Next we'll take a swipe from the outer third of the eye, out toward the end of our brow.

With a damp latex-free beauty sponge – or a brush if you prefer – bounce out the concealer with gentle nudging motions. This can help cover dark under eyes, under eye bags, and any fine lines until voila – seamless, natural-looking coverage.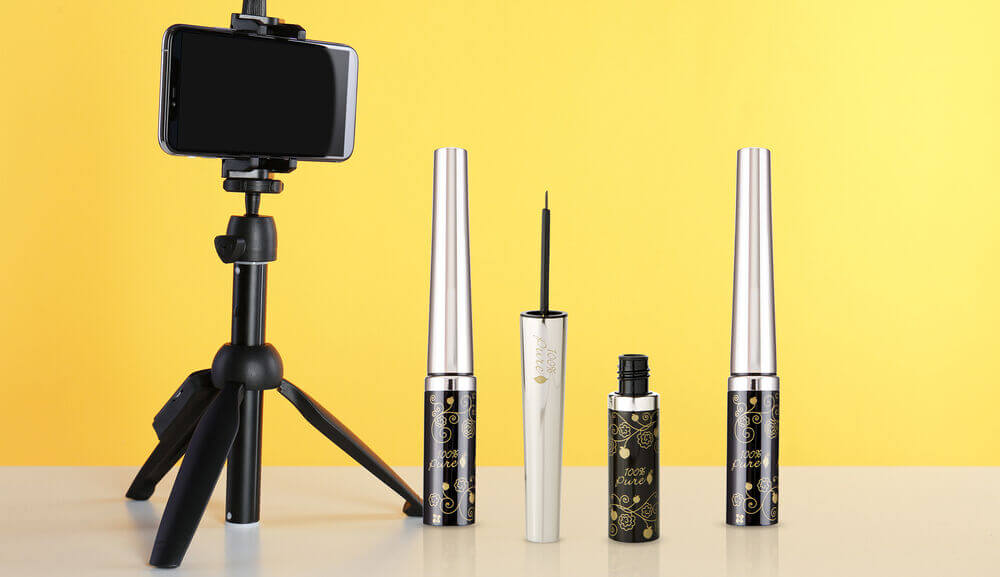 #3: Animal Eyes
About a year ago, this TikTok fox eye trend went viral – and we've been loving it ever since. If you haven't heard of this TikTok beauty hack, the fox eye trend incorporates strategically placed eyeliner on the inner and outer corners of the eyes to create an exotic, animalistic eye shape.
Recently the trend has expanded to include more than just the 'foxy' look; there's also the puppy liner trend to try, as well as an updated version of the classic cat eye liner.
HOW TO:

Let's start with our usual skin care routine, followed by any makeup prep that you prefer.

Next, we'll want to apply a variety of neutral eyeshadow shades to act as shadows and highlights on the eye. Select a neutral, skin-toned shade on the inner two-thirds of the lid. Add a bit of highlight on the inner corner/ tear duct area.

Now you'll blend a darker neutral on the outer third of the lid, building it into the eye crease and out in a wing-like shape.

Finally, for the most transformative element of this look: the eyeliner.

For the fox eye, add a small triangle on the inner corner to create a sharp inner corner of the eye; the point should angle down slightly.

Next, starting about halfway across the lid at the highest point of the lash line, apply a black wing that extends straight out past the edge of the eye and stops near the orbital bone.

The cat eyeliner TikTok trend is similar, but for this look, take the eyeliner all the way across the lash line and extend the wing further out.

Finally, if you'd like to try puppy eye liner, we'd repeat the same steps in the TikTok fox eye trend, then connect the wing to the lower lash line about halfway in.

Finally, smudge out the bottom a bit to recreate that innocent puppy dog look (let us know if it gets you any treats).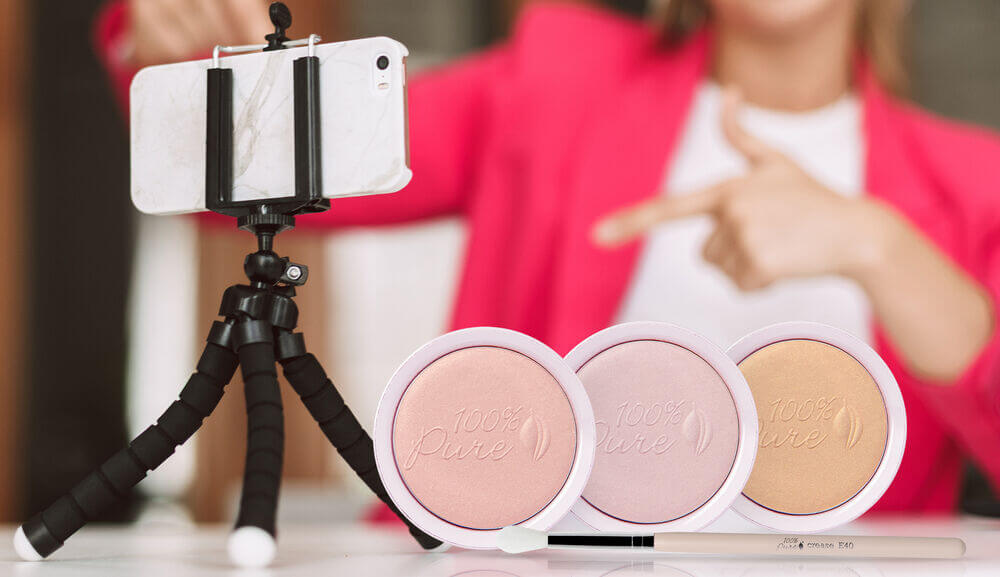 #4: Heart Nose Highlight
We all love a cute little nose highlight any time we do our makeup. We can't resist a little dot of shine right on the tip, but this trend puts a cutesy spin on the look.
HOW TO:

After we've applied our skin care and makeup, we'll move onto the highlighting step of our routine. Take a tiny brush – we find a lip brush works great – and dip into your desired shade of highlighter.

Start by drawing a very small lowercase "M" onto the tip of the nose, and connect it with a little V, then fill it in with your highlighter. It should look like a heart!

Don't forget a line down the bridge of the nose, and this adorable look is complete! For a more diffused effect, take a dry powder brush and buff it once or twice across the highlighter heart.
#5: Easy Overlined Lips
All who want juicier lips without anything permanent or needle-related, listen up! This liner trend has recently gone viral on TikTok because it takes the guesswork out of overlining lips. Instead of the clown lips we usually end up with, this trend makes it easy to get precise lines with a touch of extra pout.
HOW TO:

After our makeup is complete, we'll overline by sucking our lips inside our mouth (sounds weird, but stay with us). This will stretch out the mouth muscles and pull the lip line taut so we're able to get a precise lip line.

Line the lips, hovering just outside of the natural lip line, and meet the line at the actual corners of the mouth.

Finish by filling in with the lipstick or liquid lipstick of your choice, like our buttery Lip Caramels that provide opaque color and subtle shine.
#6: Jellyball Foundation
Okay, when we first saw this trend, we couldn't believe our eyes. Not quite as eco-friendly as we usually try to be, this TikTok makeup hack gets a perfectly flawless foundation finish using a gooey, slick jellyball for application. The goal is a seamless, ultra-dewy finish.
HOW TO:

Start with all the skin care and makeup prep you usually use. For this trend, opt for a really moisturizing and lightweight foundation, like our Full Coverage Water Foundation. Hydrating, dewy, and infused with skin reparative aloe, this foundation provides a stunning finish just wet enough to work perfectly with the jellyball.

Next, either dot the foundation onto your skin, or dot a bit of product onto your jellyball and apply as needed.

First swipe to get coverage, then roll the ball over the skin to blend everything out. You'll end up with stunning, your-skin-but-better coverage and a hydrated, dewy glow.
Keep up with our blog feed for more makeup tips and trends!
We carefully hand-select products based on strict purity standards, and only recommend products we feel meet this criteria. 100% PURE™ may earn a small commission for products purchased through affiliate links.
The information in this article is for educational use, and not intended to substitute professional medical advice, diagnosis, or treatment and should not be used as such.
Sign up to our email newsletter for more blog updates and exclusive discounts.
< Older Post | Newer Post >