The Best Vitamins for Clear Skin
Topical vitamins could be the key to banishing your breakout
Posted on December 9, 2019
Written by: 100% PURE ®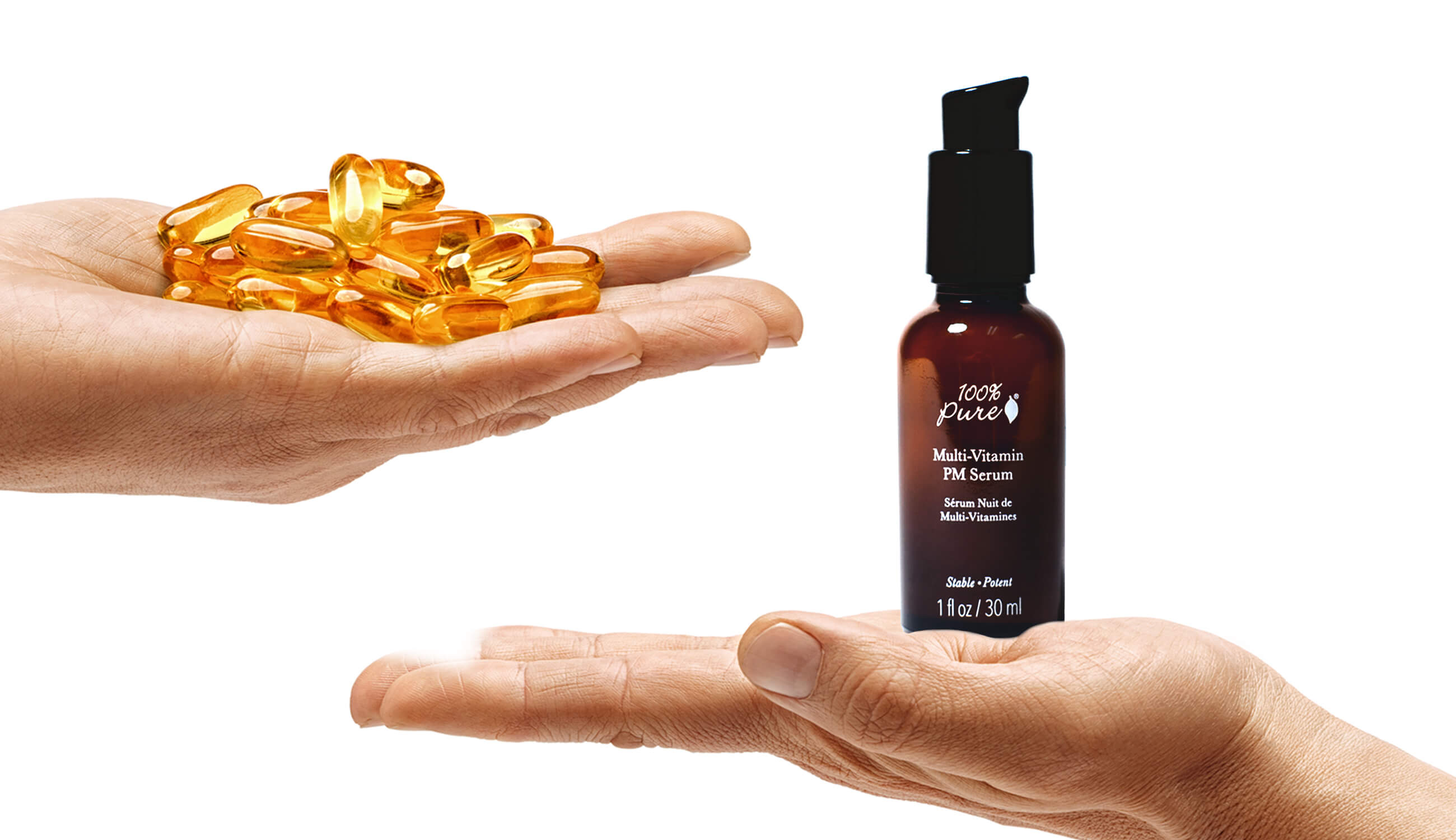 Aside from a cleanser, moisturizer, and SPF, vitamins serve as a key part of your routine – especially if you're prone to breakouts. Applying topical vitamins for clear skin can help soothe some of your worst acneic skin symptoms. This means clearing up breakouts and help prevent new pimples.
Why are Vitamins Important?
Healthy skin starts from the inside. Nutrient deficiencies show up in your bones and teeth, and affect your skin health, too. Vitamins help your epidermis remain clear, glowing, and bouncy. Vitamins tend to have antioxidant and anti-inflammatory properties that can help reduce redness and inflammation from acne, which often make pimples tender to the touch.
To get your fill of these potent vitamins for clear skin, you can apply them topically and ingest them with a strategic approach.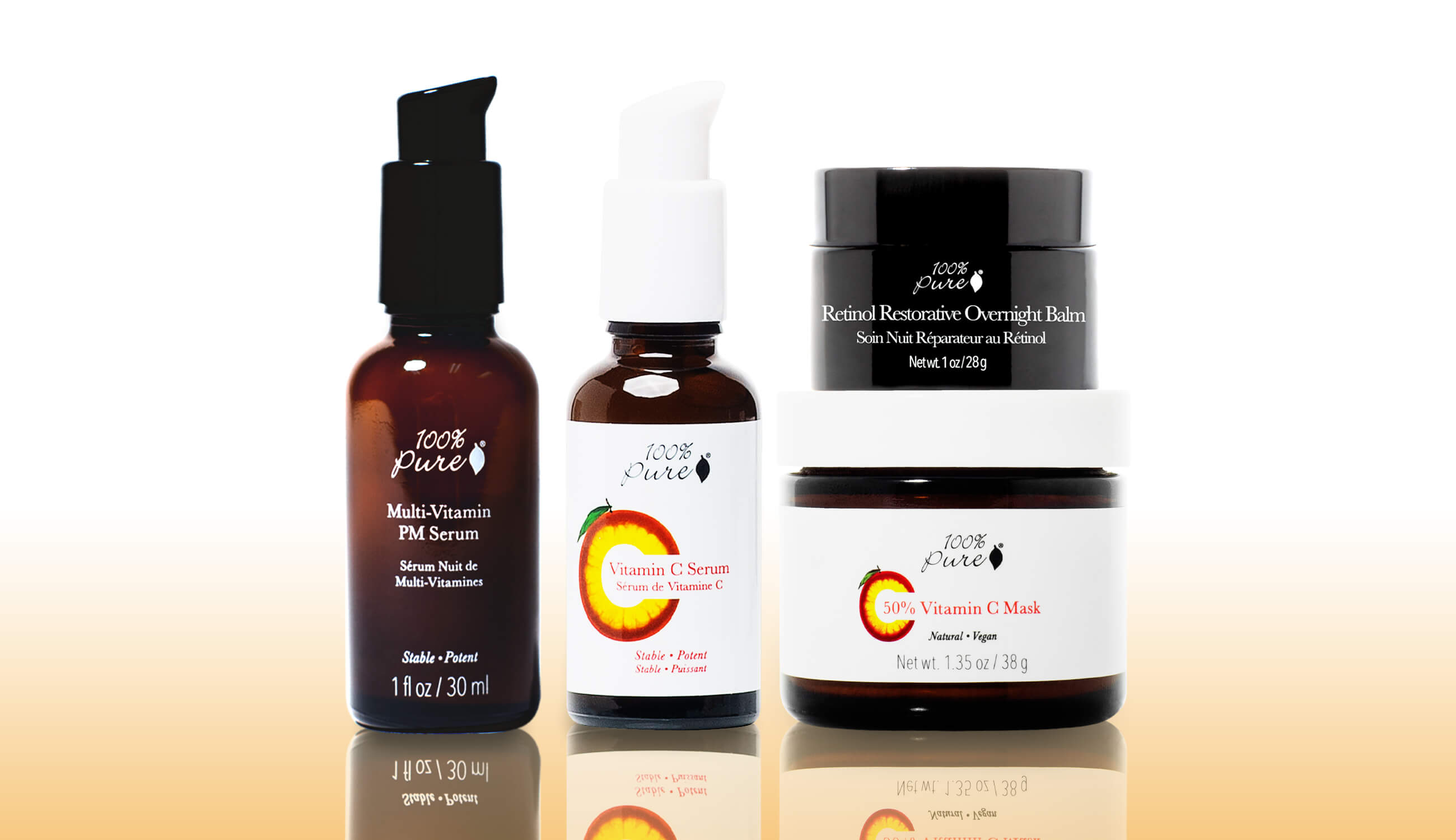 Topical Vitamins for Clear Skin
Retinol
Retinol is otherwise known as a trusty vitamin A derivative. While we usually recognize retinol as an anti-aging ingredient, it can also be a key ally in your acne-fighting routine. Retinol increases cell growth and regeneration – ideal for healing acne lesions and pesky scars.
Since evidence suggests a relationship between low levels of vitamin A and acne, it's a good idea to make sure you're getting enough. In addition to getting enough vitamin A in your diet, you can apply retinol directly to acne lesions. Let this potent antioxidant work overtime by applying an overnight balm or an eye cream in the PM.
Vitamin C
The pollutants and environmental stressors you're exposed to every day can decrease vitamin C levels in your skin. To get a healthy bounce and blemish-free complexion, replenish your supply by using a vitamin C serum and other enriched products.
This vitamin's antioxidant properties help protect your skin from UV rays; sun damage can aggravate acne and degrade collagen. Its brightening properties can clear up and prevent acne scars by interfering with tyrosinase production. Plus, you get the added benefit of collagen stimulation! Always use sunscreen, especially if you use vitamin C products – it can make your delicate skin more sensitive to sun damage.
PRO TIP: For a glowy, hydrating boost before a night on the town, try a vitamin C mask!
Vitamin E
Low levels of vitamin E in the skin are associated with acne. While vitamin E oil is a great moisturizer, it also helps with cell regeneration. Similar to retinol, it may be beneficial for healing acne and fading scars afterwards, especially if combined with another treatment.
Vitamin E also boosts the stability and antioxidant power of vitamin C with its own free radical-fighting prowess. Two vitamins for clear skin and double the potency? Yes, please!
Zinc
Like retinol and vitamin E, a deficiency in zinc correlates with acne. Zinc's antibacterial properties means it can help fight off acne-causing bacteria. Since the 1970s, zinc salts have been used in acne treatments. Since antibiotic overuse can lead to resistant bacteria, the search for other effective treatments is growing. Zinc is an acne treatment that doesn't cause this problem.
Niacinamide
This is a nutrient also known as nicotinamide. It's another one of the vitamins for clear skin that can multitask by targeting dark spots and acne. Some research suggests that a 4% niacinamide gel helps mild to moderate acne. 4% niacinamide gel was even measured against another antibiotic treatment in a clinical trial – each treatment was similarly effective. Like zinc, niacinamide doesn't lead to resistant bacteria, making it a great prospect for antibiotic-free treatments.
PRO TIP: To combine the effects of niacinamide, retinol, vitamin C, and vitamin E – four potent vitamins for clear skin – use an expertly formulated, stabilized multi-vitamin serum!
Linoleic acid
Those with acne tend to have lower levels of linoleic acid in their sebum. These omega-6 fatty acids increase skin moisture levels and prevent water loss – so you can see how a deficiency leads to problems! Facial oils that contain linoleic acid are usually a little drier, which is great for acne-prone skin. Incorporate a sumptuous grape seed or rosehip oil into your moisturizer for a luxurious and acne-friendly treatment.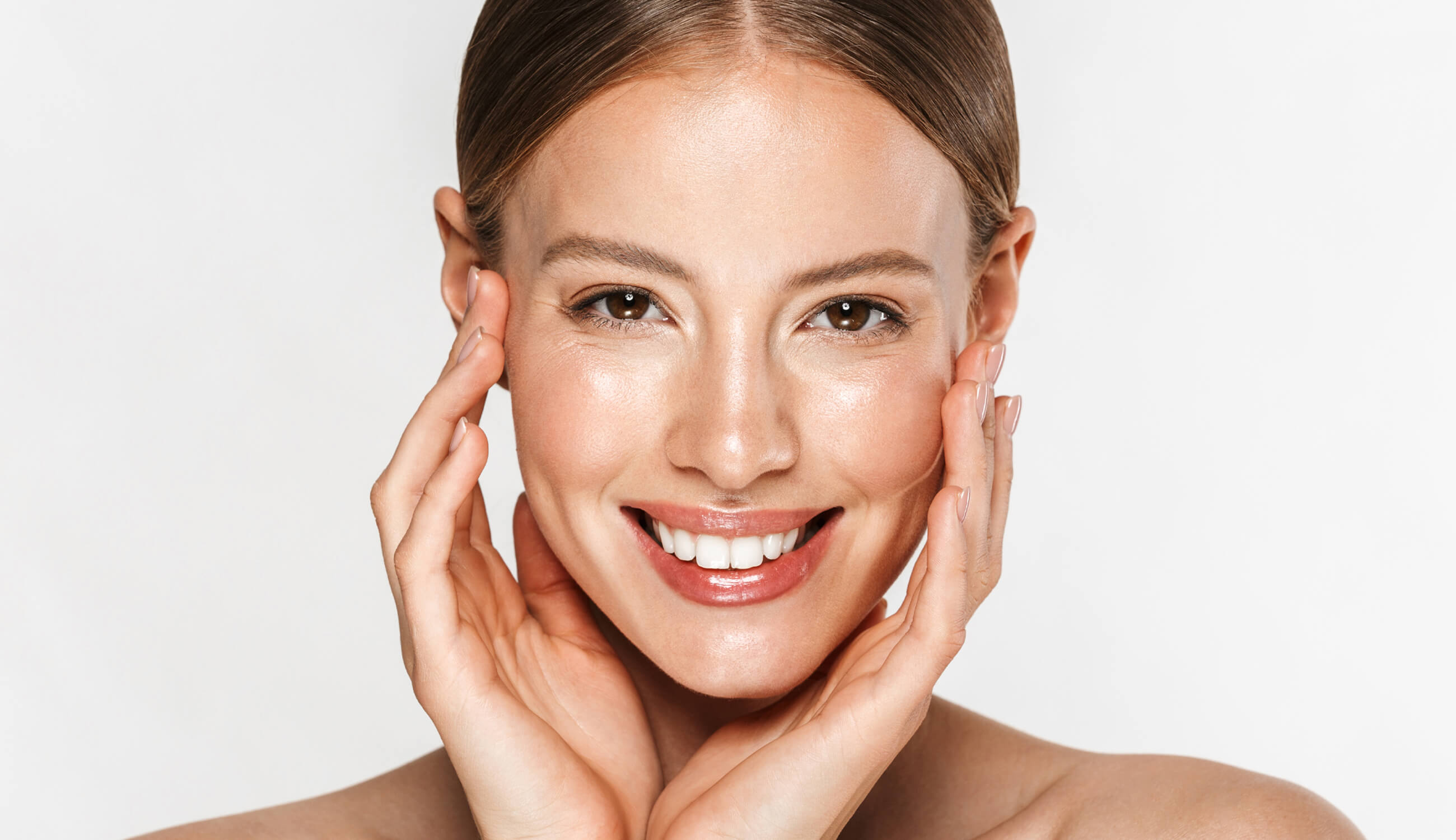 Vitamins to Supplement in Your Diet
While vitamins for clear skin exist as supplements, a great first step is ensuring you're eating enough of these nutrients. If you find that you're still deficient after the fact, then supplements may be a good route for you. Here are a few nutrients you can consume for skin-restoring beauty!
Vitamin D
A lack of vitamin D has been associated with skin conditions like atopic dermatitis and psoriasis. Research suggests that those with acne also have deficiencies in vitamin D, especially if they have red and inflamed lesions. In one study, those who took vitamin D supplements experienced significant improvements in their acne.
It's possible that ingesting this nutrient can help lower inflammation in the body; in turn, it may help to lessen redness and acne inflammation. Make sure you stay within the limit of 100 mcg per day to avoid toxicity.
Vitamin B3
Vitamin B3 can also be known as niacin. If that name sounds familiar, that's because it is! Niacin is closely related to niacinamide, another form of B3 that we've mentioned. While niacinamide is effective as an ingested treatment, a pilot study suggests that niacin is significantly more effective when ingested. You likely aren't suffering from a niacin deficiency as you probably get enough through your diet – foods rich in niacin include peanuts, avocado, brown rice, mushrooms, and potatoes.
Zinc
Zinc is a vitamin you may consider taking internally instead of topically. Mild acne may fare well with topical treatment, but more severe acne may require oral supplementation. According to Dr. Debbie Palmer, a dermatologist and author, zinc reduces the production of DHT in your body. DHT is a hormone that can block pores and increase inflammation.
Zinc may help regulate oil production – a plus for oily, acne-prone skin. If you don't get enough zinc in your diet and choose to supplement, make sure to stay within the limits of 8–11 milligrams per day.
PRO TIP: Choose a multivitamin supplement that includes the vitamins for clear skin we've listed here!
When you have acne, your skin might be lacking in certain vitamins. Replenish your supplies through topical treatments and a well-balanced diet. Nutrient-dense fruits and vegetables should provide all the vitamins for clear skin you need, but if you suspect you aren't getting enough, check with your doctor or dermatologist. You'll be one step closer to getting the hydrated, supple skin you deserve!
*If you are pregnant or breastfeeding or taking prescription medication, talk to your primary care physician before adding new supplements to your diet.*
We carefully hand-select products based on strict purity standards, and only recommend products we feel meet this criteria. 100% PURE™ may earn a small commission for products purchased through affiliate links.
The information in this article is for educational use, and not intended to substitute professional medical advice, diagnosis, or treatment and should not be used as such.
Sign up to our email newsletter for more blog updates and exclusive discounts.
< Older Post | Newer Post >