The Best Natural Eye Creams for Crow's Feet
Can an eye cream *really* help to minimize the appearance of crow's feet?
Posted on December 16, 2019
Written by: 100% PURE ®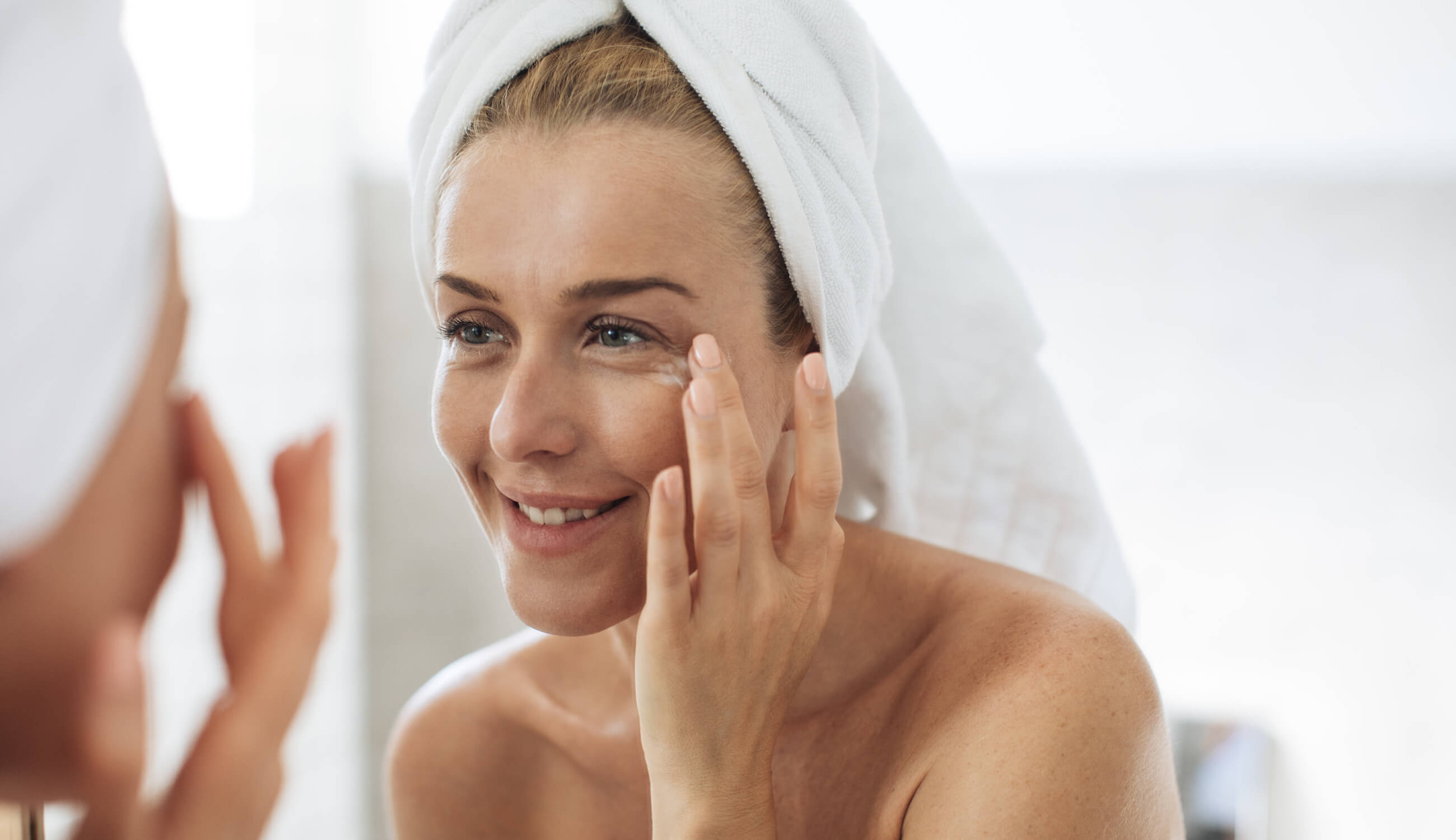 While eye creams may have fallen by the wayside lately, they're far from a thing of the past. Sometimes deemed unnecessary by beauty naysayers (begone!), many still swear by natural eye creams that can help boost skin tone, elasticity, and youthfulness. Color us intrigued!
When it comes to eye treatments, one thing that never goes out of style is an eye cream for crow's feet. As one of the first signs of aging in skin, the demand for natural eye creams with wrinkle-banishing benefits remains stronger than ever. But with a saturated market and a wide variety of formulas, how do you choose the one that's right for your skin?
How Do Crow's Feet Form?
Fine lines and wrinkles are generally caused by a breakdown in collagen and elastin. Repeated movements that cause folds or creases in your skin contribute to this degradation – think blinking, eye-rubbing, or daily free radical exposure. Wondering what habits might lead to wrinkles? Let's go through some of the biggest – and sneakiest – culprits!
#1 – Sleeping position
If you sleep on your side, your face is likely pressed to your pillow for a while; seven to eight hours is a long time for your face to be smushed! This creasing can contribute to lines and droopiness around the eyes even after you wake up.
If you don't suffer from sleep apnea or snoring, sleeping on your back could be an option for you. Can't give up your cozy side snuggles? Try a silk pillowcase; silk is gentler on your skin than cotton or other fabrics. This means less tugging and pulling as you toss and turn – meaning ideally, fewer wrinkles.
#2 – Sunscreen usage
UV rays can contribute to free radical damage, which degrades collagen and elastin in our skin. These two skin components are super important to maintaining bounce and volume. So if you skimp out on sunscreen usage, you might notice more visible aging around the eyes. Use a natural sunscreen that is SPF 30 or higher – make sure it protects against UVA and UVB rays.
#3 – Squinting
If you squint a lot due to sunlight or poor eyesight, these repeated movements might be forming creases around your eyes. Wear protective sunglasses and sunscreen while basking in the sun. Make sure that your glasses or contacts are up to date with your prescription, too!
A Two-Pronged Approach to Wrinkle Prevention
Your approach to fine lines and wrinkles around your eyes should be about repair and prevention, in both your morning and evening routine. Your AM products need to fight possible free radical damage and soften the appearance of crow's feet. Your PM routine needs to help fight existing damage and actively reduce wrinkle depth.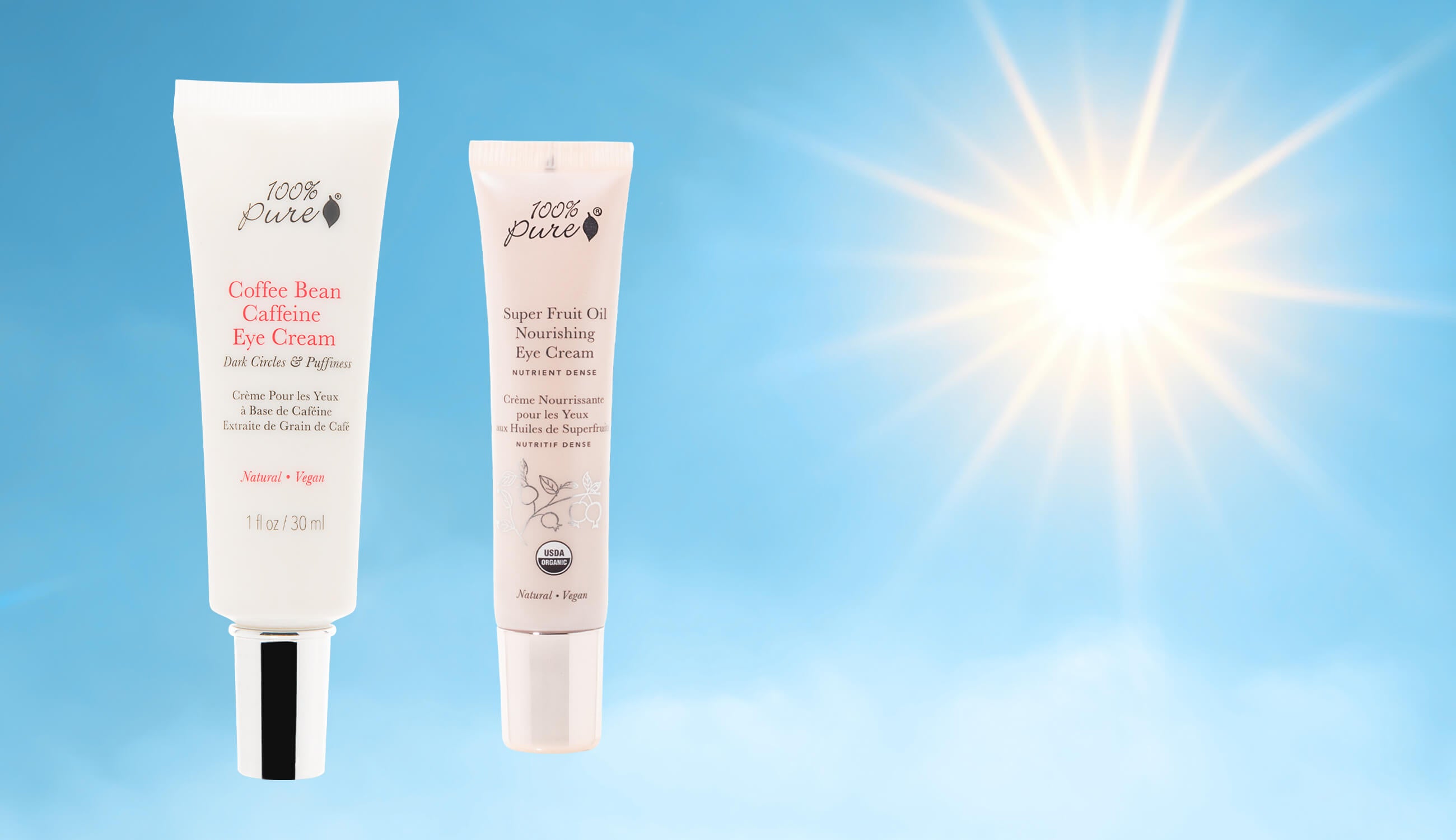 Your first step is AM preparation. While hydration is key to plumping up any fine lines and wrinkles, you also want to make sure you're not causing any additional offenders. For this reason, protection against environmental stressors is a helpful addition to your morning routine.
A natural eye cream that checks both boxes is our Coffee Bean Caffeine Eye Cream. Vitamin C, vitamin E, and green tea extract lend their free radical defenses – vitamin C works overtime to help brighten your eye area and stimulate collagen production, too.
Green coffee encourages healthy circulation, meaning a de-puffed under-eye with fewer dark circles. The cooling aloe in this natural eye cream helps provide a boost of hydration, while rosehip oil softens and promotes elasticity (an enemy of wrinkles).
PRO TIP: The antioxidant-rich oils in our Super Fruit Oil Nourishing Eye Cream make it particularly suited for normal to dry skin types. This formula combines free radical protection with the moisturization your skin needs, especially in winter.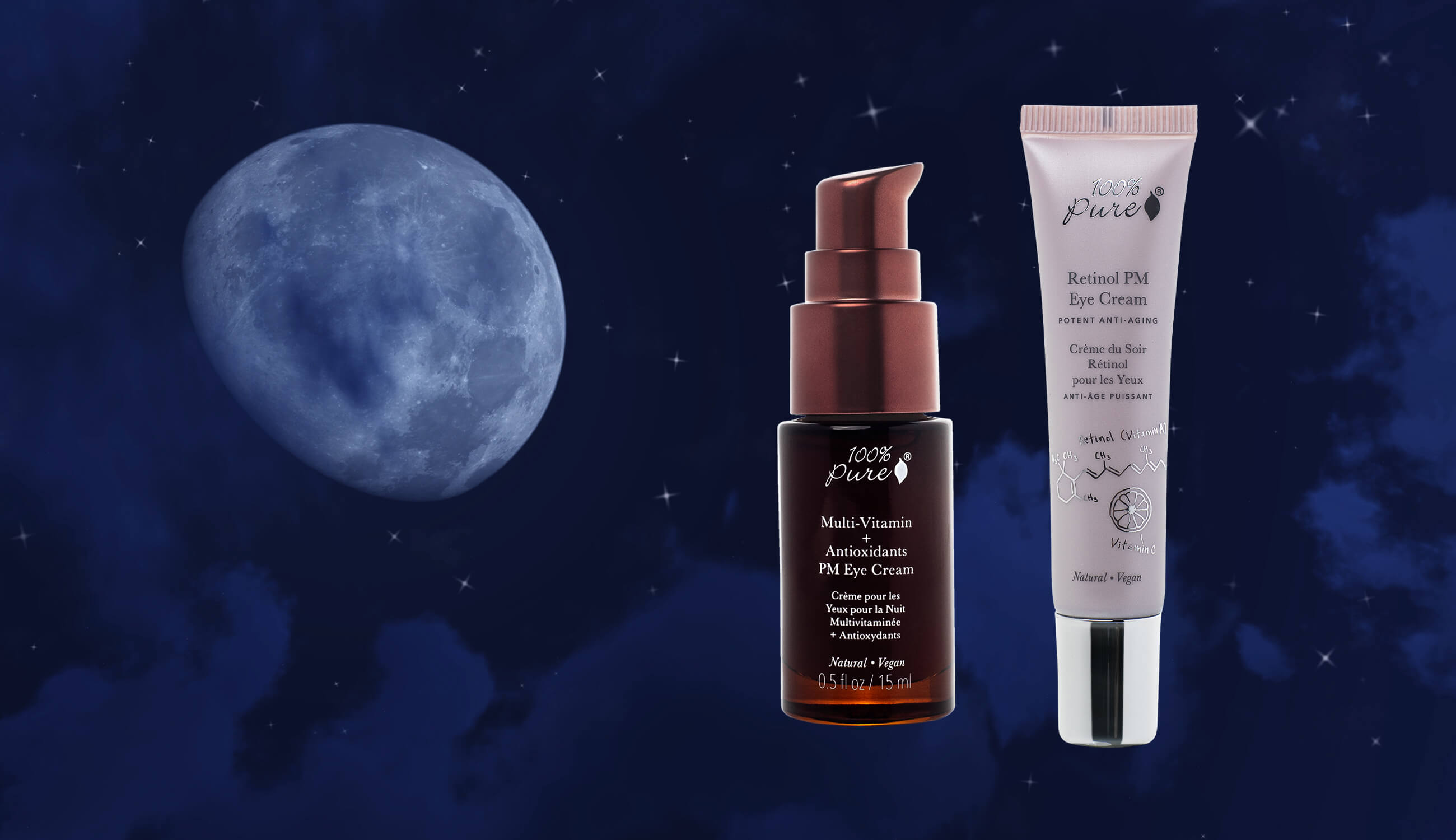 Your second step is intensive PM repair. Since your skin works hard to regenerate itself while you sleep, why not provide it with the best skin-regenerating ingredients out there? Our Retinol PM Eye Cream fits the bill; this is a potent formula made with retinol, vitamin C, niacinamide, hyaluronic acid, and peptides.
Retinol and vitamin C stimulate collagen production in the skin. Here we used tetrahexyldecyl ascorbate: a gentler form of vitamin C that won't irritate the thinner skin around your eyes. As for niacinamide, research suggests that this antioxidant helps improve elasticity and the appearance of fine lines and wrinkles.
Complementing niacinamide's tightening effects is hyaluronic acid, a strong humectant that helps decrease wrinkle depth and promote skin firmness. Pentapeptide-48 stimulates elastin production while diminishing fine lines, wrinkles, and crow's feet.
In addition to retinol and vitamin C, our Multi-Vitamin + Antioxidants PM Eye Treatment contains vitamin D3 and coenzyme Q10. Vitamin D3 is a nutrient that calms skin inflammation from conditions like acne and eczema. Another potent antioxidant, coenzyme Q10, supports collagen and elastin production in the skin, lessening the look of fine lines.
PRO TIP: Retinol and vitamin C can make skin sensitive to sun. Always follow active treatments with sunscreen!
Crow's feet may prove bothersome, but that doesn't mean graceful aging is out of your reach. An effective, natural eye cream can help you achieve a more radiant appearance. Want more tips for a youthful, glowing eye area? Our post on How to Choose a Natural Eye Cream can point you in the right direction!
We carefully hand-select products based on strict purity standards, and only recommend products we feel meet this criteria. 100% PURE™ may earn a small commission for products purchased through affiliate links.
The information in this article is for educational use, and not intended to substitute professional medical advice, diagnosis, or treatment and should not be used as such.
Sign up to our email newsletter for more blog updates and exclusive discounts.
< Older Post | Newer Post >