Summer Eye Makeup Trends to Try
Experiment with these bold, beautiful summer trends using high performing natural eye makeup
Posted on July 23, 2019
Written by: 100% PURE®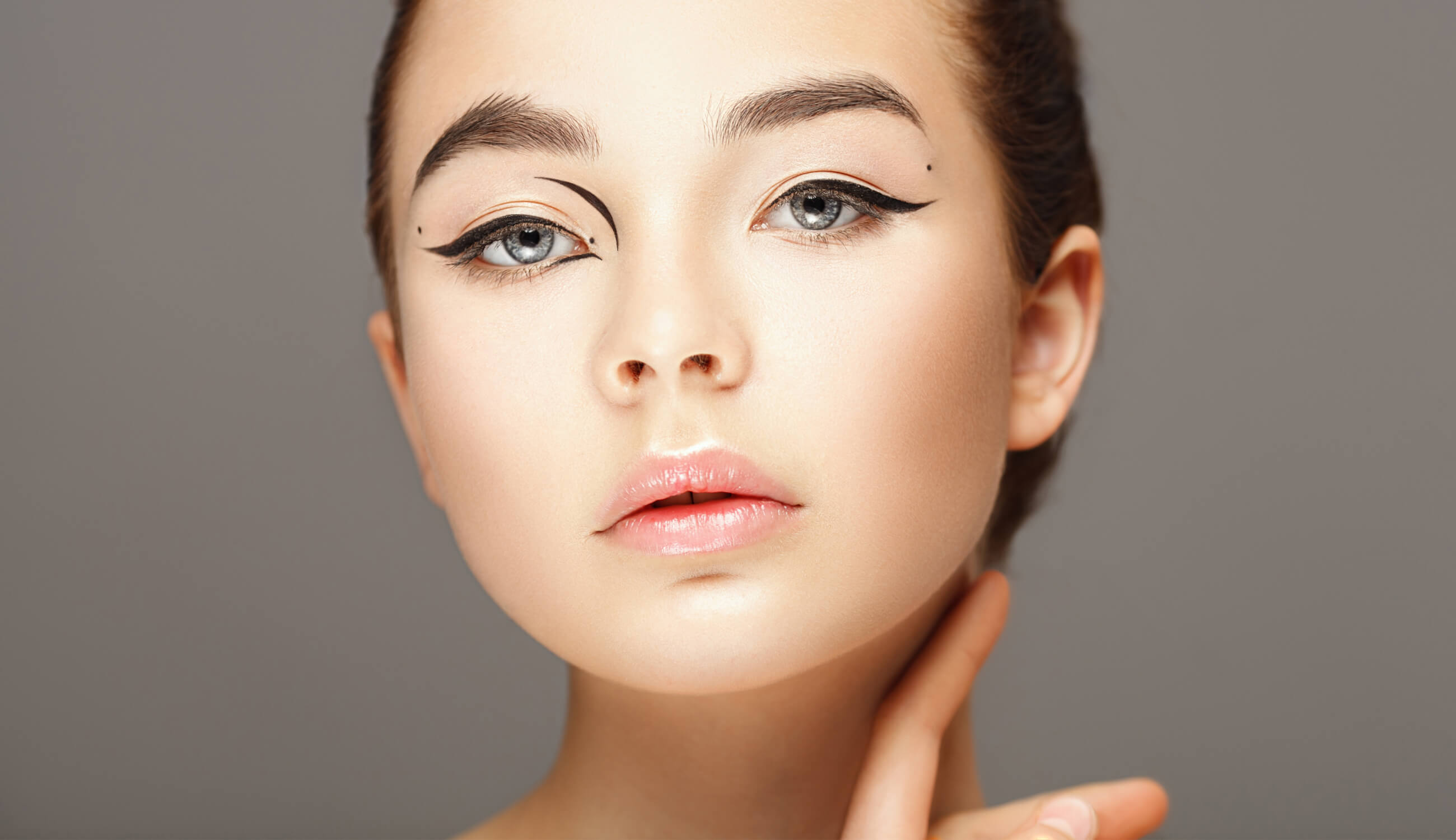 Who ever said that natural eye makeup can't be bold? We're just as passionate about a sparkling smokey eye as we are about clean beauty. We've worked to create rich shadows in metallic and satin finishes for saturated, dramatic eye looks. This summer, we're all about wearable metallics in gold, bronze, copper, and charcoal, and delicate liquid liner. We're tackling some of the top summer makeup trends with natural makeup – get the scoop below!
Before You Begin, Start with Safe Pigments
In the summer, do you tend to skip out on shadow because you can't find natural eye makeup that delivers on color, finish, and application? Fruit pigments are a safe alternative to petrochemical iron oxides, and our mineral shimmer is preferable to the abrasive metal and plastic glitter used in popular glitter shadows. Ever tried removing synthetic glitter from your eyes, after a sweaty summer day or late night out? Ouch – talk about risky!
Swap that toxic coal tar color for micronized black tea pigments and add a crisp, intensely pigmented eyeliner to your summer makeup mix. Coal tar (a known carcinogen) and carbon black are some of the more toxic makeup ingredients, being linked to organ system toxicity, bioaccumulation, and cancer. These two can come into uncomfortably close contact with eyes via sweaty, smudged summer makeup – so don't let them ruin your summer beauty goals.
Below, we'll share 3 exciting eye makeup eye looks for all your summer fun festivities – all made with mineral, tea, and fruit pigments. Be as bold or as bare as you want to be (guilt-free) with our vegan and cruelty free natural makeup – we'll tell you how below!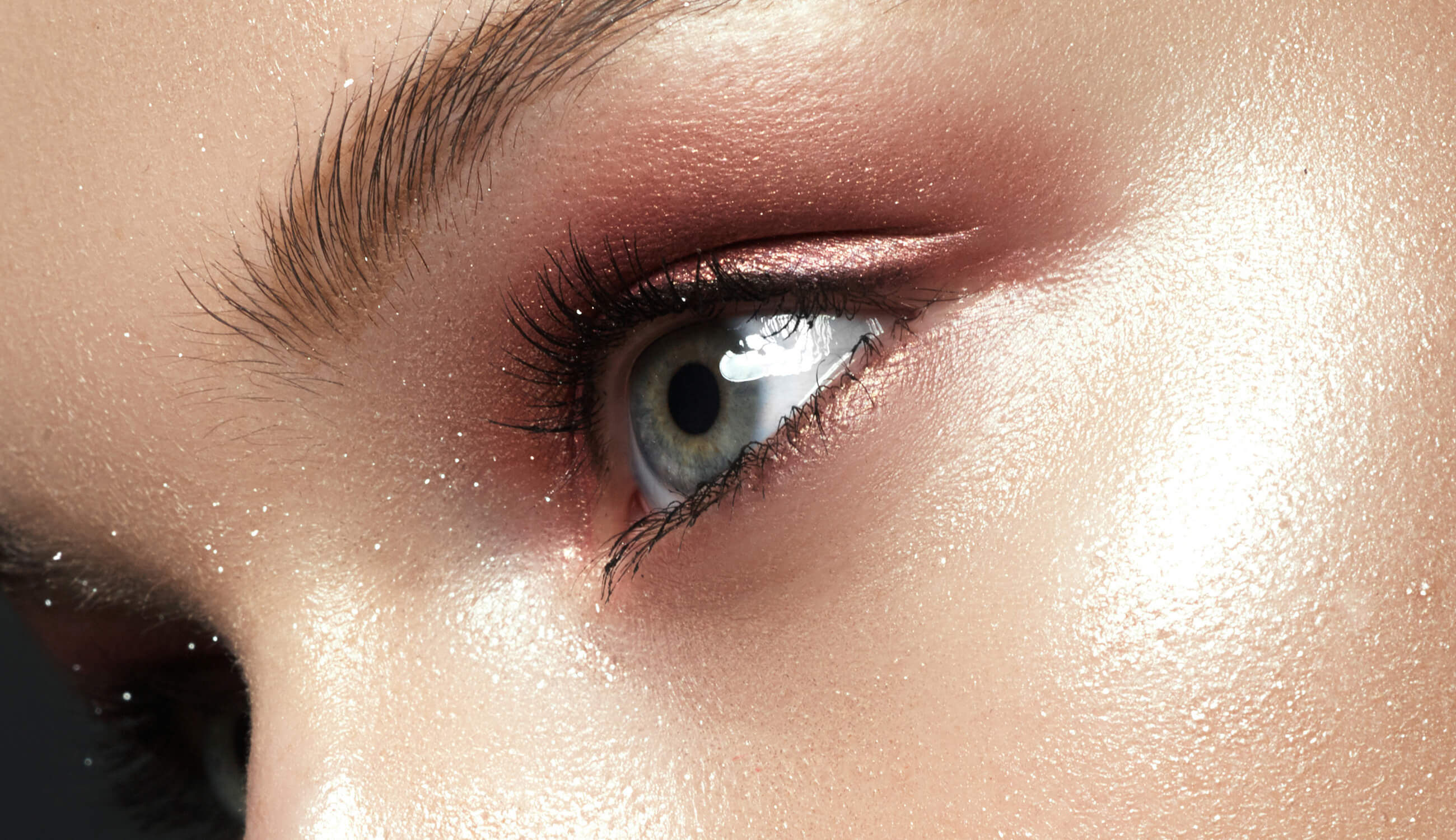 3 Eye-Centric Natural Makeup Looks for Summer
Look #1: Day to Night Smokey Eye
There is nowhere you can go where a subtle smokey eye is inappropriate. This look is one of our go-to's simply because it flatters every skin tone, eye color, and occasion. For this natural makeup look you'll need two colors: Fruit Pigmented® shadows Sugared and Teddy. Teddy is a muted brown with a sheer gold finish that brings a hint of warmth, while Sugared is a medium metallic brown with a rosy pink undertone. Rather than a traditional black smokey eye, these softer metallics make the look more wearable for day to night.
Start with clean eyes, or a mattifying primer base if you have oily lids. Dip into Sugared with a moderately fluffy brush; our Cruelty Free Crease Brush works perfectly here. Deposit a light layer of color over your orbital lid from your crease to lash line, buffing gently into the crease to avoid a harsh line.
Now you'll add a deeper shade over your base, for sultry, delicate dimension. Dip into Teddy with your Cruelty Free Smudger Brush, working the color along your lash line. Don't be afraid of color – you want the smoke to be visible with your eyes open, so periodically open your eyes and add more Teddy where you need it. Finish by sweeping this color along your lower lash line and presto: you've got sexy but subtle drama that's just as suited for brunch with the girls as it is for making eyes at your crush across the bonfire.
PRO TIP: Those with blue and green eyes will see an instant pow by adding a touch of brown pencil eyeliner to your waterline. For more drama, layer up with mascara and finish the look with your favorite lip product.
Look #2: All Over Exotic Gold Eye
Is there ever a bad time for gold? Gold brings out the warmth in brown eyes, the olive tones in green and hazel eyes, adds a smolder to black eyes, and contrasts perfectly with all shades of baby blues. Gold is perfectly suited to our summer palette of go-to colors, and its honeyed tone is unparalleled for popping against tan skin, freckles, and highlights.
To start, dip a clean finger or flat shader brush into our Fruit Pigmented® trophy shade, Gilded. Build up the color all over the lid and tap around the edges (along your crease and orbital bone) for a clean gradient.
For even more drama, dip into the shade and get your finger or brush slightly damp, then tap over the center of your lid. The color takes on a foiled effect when pressed on in layers, and will deliver more intense payoff on a primed lid – Luminous Primer will give you a leg-up on luster. To finish the eyes, add a pop of champagne to your inner corner/tear duct area via the Satin Eye Shadow shade Star.
PRO TIP: For deeper skin tones, trying tracing your lower water line near the tear duct with Bright Eyes or Pewter for a bold hint of crisp white or cool metallic.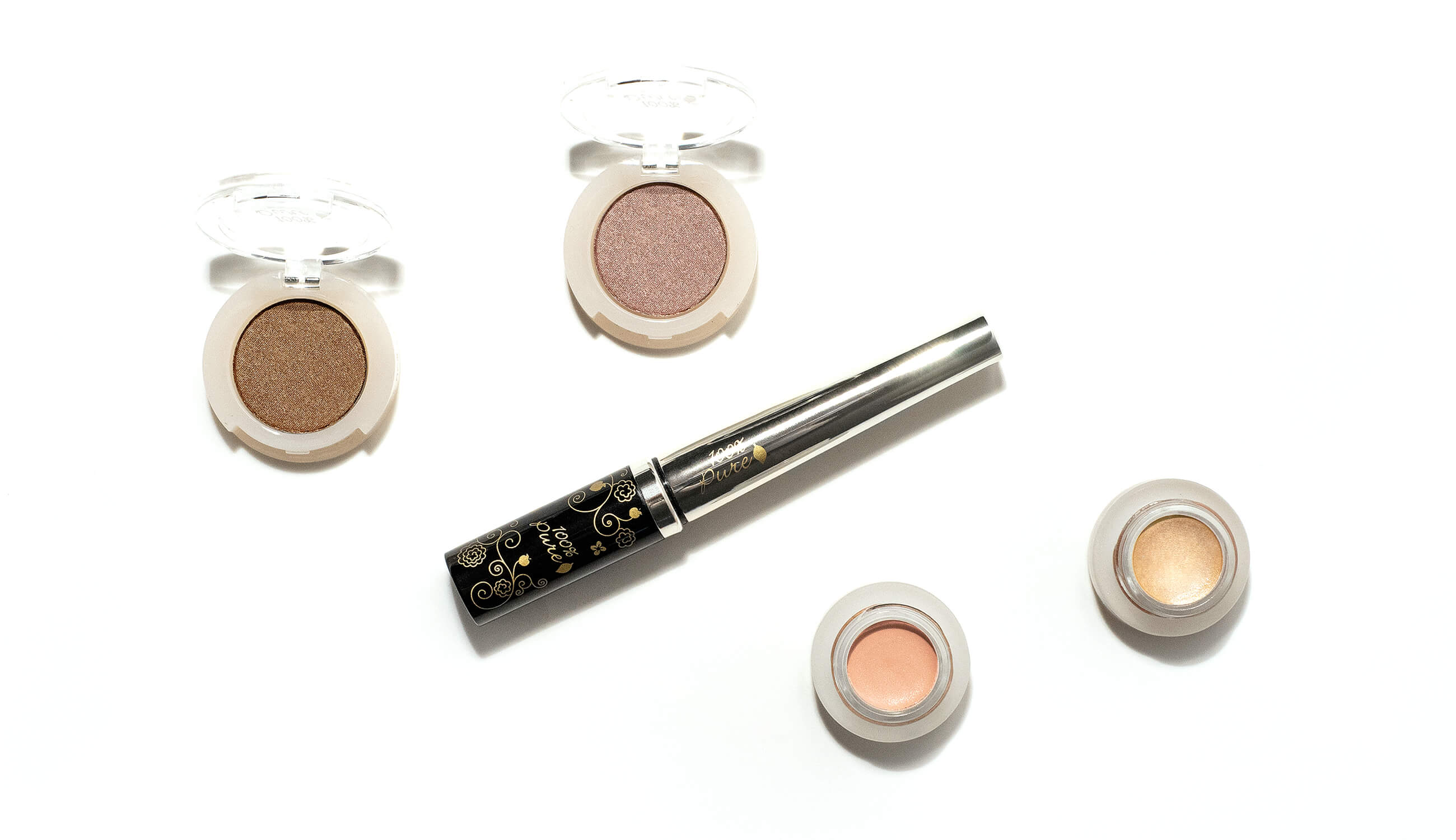 Look #3: Smokey Wings
This final look is like a hybrid between the first and second looks, and is certainly the most dramatic of the three. It spotlights the finishing power of the color black, which pumps up the intensity of this natural eye makeup look.
Again, start out with any preferred primer that works well for your skin. Once that's applied, whip out your Smudge Brush again and dip it into the shade Bronze Gold. This deep bronze color features hues of our favorite dessert flavors: chocolatey brown, warm caramel, and dark espresso.
Sweep the brush loaded with Bronze Gold from your outer corner towards your brow in a winged shape, like you're applying the pointed edge of a cat eye. Next, drag the color back in along your lash line to finish the effect. Repeat this motion until you've reached the desired opacity with your pigment, and be sure to tease the brush around the edges to avoid harsh lines
Next, we're introducing liner for this look: our Long Last Liquid Liner in inky shade, Black Tea. For a kiss of drama, use this liner to make a moderately thin winged liner. Just before the liner sets, very gently drag a tiny bit more Bronze Gold over the edge of the liner for a smudgy, sexy blend between the two.
To make this look your own, try add 2 layers of mascara or even cruelty-free false lashes. Try adding a pop of color on your inner corner in a complementary metallic shade (Gilded from the last look would work well here). Finally, you can go in with Blackest pencil eyeliner on the inner rim of your eye to darken your lower lash line while also making your upper lashes appear thicker.
PRO TIP: For a sultry, youthful juxtaposition to your dramatic smokey eye, pair this look with nude, dewy skin. Add a few faux-freckles with brown liquid liner, and dab a nude gloss onto lips.
We carefully hand-select products based on strict purity standards, and only recommend products we feel meet this criteria. 100% PURE™ may earn a small commission for products purchased through affiliate links.
The information in this article is for educational use, and not intended to substitute professional medical advice, diagnosis, or treatment and should not be used as such.
Sign up to our email newsletter for more blog updates and exclusive discounts.
< Older Post | Newer Post >